Henry Johnson volunteered to serve in World War I and became one of the best-known soldiers in the unit that became known as the Harlem Hellfighters.
Private Henry Johnson (1897?-1929) and fellow soldier Needham Roberts distinguished themselves while serving on sentry duty. The base was attacked, and Johnson and Roberts repelled the German raid. Roberts was badly injured early in the fighting, but Johnson figured out how Roberts could help counter the attack. Together they beat back the Germans. 
Johnson Enlists
Henry Johnson (his first name was William, but he always used Henry) was born in Winston-Salem, North Carolina. When he was grown, he drifted north in search of work, finding a job as a railroad porter based in Albany, New York. Johnson was married when the call went out for men to enlist for service in World War I.
Johnson wanted to serve and traveled to Brooklyn to sign up; he was assigned to Company C, 15th New York (Colored) Infantry Regiment. It was an all-black Natioanl Guard unit that later became the 369th U.S. Infantry Regiment. At that time, African Americans could only join some divisions of the military. They were also always assigned to non-combat, support roles.
Initially Johnson and some of the unit worked guard duty in New York (Albany and Rotterdam) until the men were sent to Spartanburg, South Carolina, for combat training. Southerners resented Black men in Army uniforms. The locals pushed them from the town sidewalks and refused to sell the soldiers snacks and cigarettes. When the military saw what was happening, they did what they could to speed the men's departure for Europe.
Once there, things weren't much better. Because Black soldiers were not permitted in combat, some of the 369th were left at the port to unload ships. Those who were taken inland were assigned to dig latrines.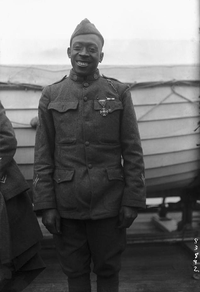 Their colonel, a prominent white New York attorney, knew the men and believed they should be eligible for combat. When the ruling from the military finally changed, American units were not enthusiastic about having these men march alongside them. The French were not as discriminatory about skin color, and they needed the help. The men in the 369th were glad they would be given combat roles, but they faced additional challenges. Orders were given in French, and they were assigned French firearms.
Johnson as Hellfighter Hero
The 369th established camp in the Argonne Forest. On May 15, 1918, Johnson and a fellow soldier, 17-year-old Needham Roberts, were assigned to sentry duty. They were covering the midnight to 4 a.m. shift.
That night, Johnson and Roberts heard something in the bushes about 50 yards away. The sound was faint, but they worried that the enemy was snipping away the barbed wire around their encampment. Johnson knew they would need to alert the base and told Roberts to go wake the others. As Roberts rose to leave his sentry position, he was wounded badly. Both men saw that he could not make it back to warn the others.
Johnson unpacked a box of 30 hand grenades. Roberts was strong enough to pull himself to a sitting position so he could hand the grenades to Johnson. When the grenades ran out, Johnson grabbed his rifle and began firing. He soon ran out of ammunition. The only solution he could think of was to try to load his French-assigned rifle with American bullets. Unforunately, that jammed the gun. In the dark, Johnson began brandishing the butt of the rifle to whack anyone near him until he could reach his bolo knife. "[I] slashed in a million directions. Each slash meant something, believe me," Johnson said later.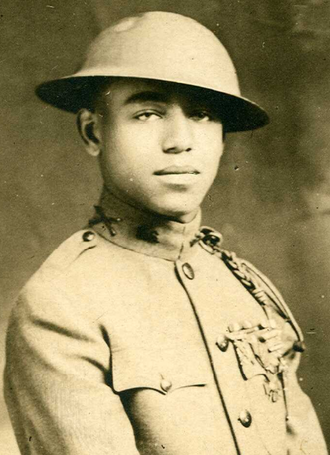 About an hour after the fight began, other men in the unit appeared and helped fight off the Germans.
At daylight, members of the 369th, along with their French comrades, could finally see what remained in the battle area. They estimated that about 20-35 Germans had approached. Four Germans lay dead, and the French were able to recover the weapons of many others.
Henry Johnson and Needham Roberts were taken to a field hospital. Both were patched up, and it was determined that Johnson had incurred 21 separate wounds.
Recognition for Heroic Harlem Hellfighters
After this battle, the Germans began referring to the 369th as "hellfighters." This was soon amended to be Harlem Hellfighters.
Johnson and Roberts were both made sergeants. They also received France's highest military honor, the Croix de Guerre. Johnson's carried the added distinction of Croix de Guerre avec Palme "extraordinary valor." He was the first American to receive this high honor from the French government. Recognition from the United States was slow in coming.
Hellfighter Homecoming
The 369th Infantry was the first unit to return to New York after the war, and a big parade, running from 23rd Street and Fifth Avenue to 145th Street and Lenox Avenue in Harlem, was held in their honor.
Though they were delighted to be recognized with this parade, the U.S. military barred them from the all-encompassing Victory Parade held later in the spring. On February 17, however, they enjoyed glorious honors. There were multitudes of well-wishers all along the parade route. The reporter for The New York Times (February 18, 1919) wrote that candy and cigarettes were tossed to the men by cheering crowds.  Both Henry Frick and Mrs. Vincent Astor were spotted waving flags from upper-story windows of their homes on Fifth Avenue.  In Harlem, the outpouring of people was overwhelming. Schoolchildren were given the day so that they could attend and celebrate the men's homecoming.
Colonel Haywood led his men on the parade route with great pride. However, the most famous face in the parade was Sgt. Henry Johnson—the man who became known as the "Black Death."
Festivities Continue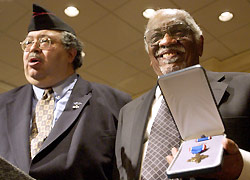 At the end of the parade, the 2900 soldiers were packed on to subway cars to travel to the 34th Street Armory where they were to be honored with a chicken dinner. Their families–so excited to be with them–followed. The reporter from The New York Times wrote: "…the white officers of the regiment …could not have been more courteous or attentive to the visitors….[they held] long conversations with negro mothers wearing gold stars."
Johnson After Service
Henry Johnson achieved such fame that former President Theodore Roosevelt called Johnson one of the five bravest Americans to serve in that war. Initially the military capitalize on his heroism. He was photographed for recruitment posters, and he toured the country for the military, helping to sell Victory War stamps.
"Henry Johnson licked a dozen Germans. How many stamps have you licked?" was the campaign they launched.
Glory Fades
Johnson returned to Albany and tried to resume his job as a railroad porter. Unfortunately, the injury to his left foot was severe enough that he found he could not continue his job.  The initial story about Johnson was that he received no disability benefits, but recent research uncovers the fact that he did receive some help. He was in Walter Reed Hospital in 1920 or 1921, and may have received other care.
There is some indication that he became a heavy drinker. Whatever the reason, his wife and children had left him by 1924.
He died from heart disease (myocarditis) at a very young age. He was only 32 years old. Despite his lack of family, someone realized that Johnson deserved a military burial; and he was interred in Arlington Cemetery.
What Happened to Johnson?
Years later, his son Herman (1916-2004), a Tuskegee Airman during World War II who settled in Missouri and went on to serve in state government (Missouri House of Representatives 1968-72), was investigating his father's military service. (Later the family learned that Henry Johnson wasn't actually their father. That story is explained here: Harlem Hellfighter Receives Medal Of Honor Posthumously. Nontheless Henry Johnson was a lucky man. This family cared for him as if he were their own.)
As the younger Johnson learned about his father's military achievements, he campaigned for his father to receive the honors due him. Herman knew he was eligible for a Purple Heart, and Herman nominated Henry for a Medal of Honor, the military's highest honor. He assumed his father was buried in a pauper's grave in Albany since no one had been around to take care of him.
Based on the work done by Herman Johnson, the Purple Heart was granted to Henry Johnson posthumously (June 25, 1996). However, the Medal of Honor application stalled.
Good News
In 2002 Herman Johnson was buoyed by two pieces of good news:
He discovered his father had been buried with full military honors in Arlington Cemetery. When Senator Chuck Schumer heard about Medal of Honor application and became involved.
Ultimately, the military felt the nation's second-highest award, the Distinguished Service Cross, was more appropriate to Henry Johnson's actions, and a ceremony was held in 2003 to present his son with the medal.
Herman Johnson donated the medal to the Albany chapter of the Army National Guard 369th Infantry Regiment so that it could be displayed to tell the story told of what his father had done to further the Allied cause.
But things changed in 2015. Henry Johnson was to receive the nation's highest honor, the Medal of Honor, posthumously. To read that story, click here.
To read more about the Harlem Hellfighers, click here. The Hellfighters were an amazing group of men. You will also find stories about these Hellfighters: Horace Pippin,a gifted painter who rode the roller coaster of success; and James Reese Europe, who was the conductor of the Harlem Hellfighters Jazz Band.