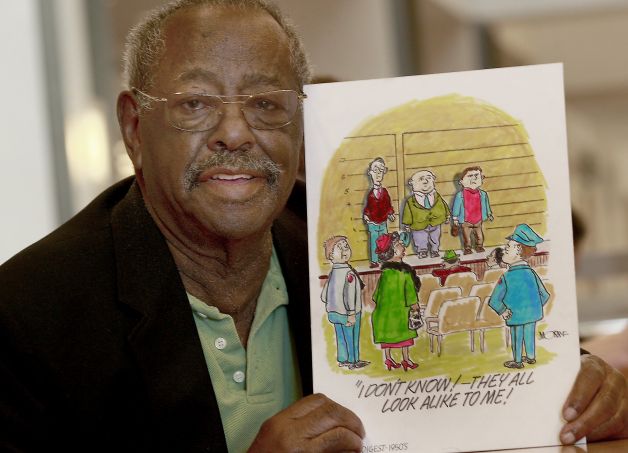 Morris "Morrie" Turner grew up dreaming of being a cartoonist, yet he knew the profession was dominated by white men. Despite that, Turner went on to create and publish the first integrated comic strip.  He hoped that creating a strip featuring children of various ethnic backgrounds might attract new readers and change some minds.  That's how Wee Pals was born.
The Early Years
Morris Turner (1923-2014), grew up in Oakland, California and was the youngest of four children. As the youngest family member of the "Fighting Turner Brothers," he entered school at a distinct disadvantage. However, one Spanish teacher and his principal saw talent in his drawing and encouraged him.

His drawing ability made him popular with other students, and in junior high he was elected to the student council.  The reality was that white students who held office gained honors he was denied. In one case, the other council members were asked to speak at an assembly. Turner was replaced in the speaker line-up by the runner-up in the election, a white girl, as Turner explained to his biographer Mary Kentra Ericsson.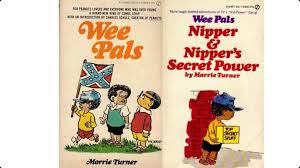 He also participated in the school newspaper but only white students received bylines or masthead credit. Turner was left out.
Eventually Turner followed the path of his brothers and began hanging out with a group of kids that caused trouble.  At that point, his parents moved him to a different high school to give him a new start.
Morrie Turner and The War Years
Just eight months after his high school graduation, Turner was drafted into the military (February 1943).  His first stop was Lubbock, Texas and then on to Biloxi, Mississippi. In these locations, Jim Crow laws predominated over everything from restrooms to movie theatres.  While people of Oakland had ways to discriminate, it was nothing compared to what he saw in the South.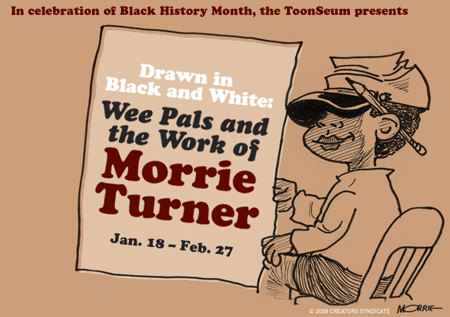 In the military, he was trained to be a mechanic with the 477th Bomber Squad that worked with the group that was to become known as the Tuskegee Airmen. In the evenings, Turner drew and  began submitting cartoons to the military newspaper, Stars and Stripes. The newspaper staff liked his work, and after a time he was brought on staff. Turner was thrilled, as the military newspaper had published many greats like Ernie Pyle, Andy Rooney, and cartoonist Bill Mauldin.
The staff, including another black cartoonist named Greeley Hall, was supportive and offered good advice. Over a few months, Turner developed a strip called "Rail Head" about a guy who always gets everything wrong… but then comes up with a way to fix it.  Rail Head was popular with soldiers as they could identify with him.
After the Military
When he got out of the military he returned to Oakland and proposed to his girlfriend, Letha.  They were soon married; Turner took a day job as a clerk with the Berkeley police department. Letha believed in him fully so when he spent his evenings working on cartoons, she understood it was important to him.
Though he was feeling comfortable with his drawing ability, the challenge ahead of him was marketing the cartoons. He saw that smaller publications needed humor and would pay, and he soon made his first sale to a publication called Baker's Helper. The five dollars he earned there was soon eclipsed by a $75 check from Better Homes & Gardens–his first big break.
In 1963 he joined the Association of California Cartoonists and Gag Writers. He knew he would benefit from learning from other cartoonists, and though he was the only black member, he found friends and advice. One mentor was Peanuts' creator Charles Schulz, and to him Turner posed the question: Why are there no minorities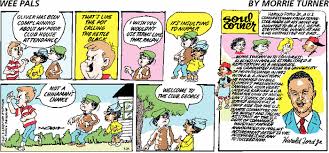 in cartoons?"
Schultz's response was that Morrie should create a strip that was multi-ethnic.
Morrie Turner: Breaking Ground
His first, Dinky Fellas, featured an all-black cast but it sold to only one publication, The Chicago Defender, a national newspaper for African-Americans.
For his next effort, Turner took some of the characters from that strip and added other characters, creating an integrated group of kids. He tried to self-syndicate but he still found publishers resistant.
Then one day Turner got a call from syndicator Lew Little, who said he would try to place the strip.  The passage of the Civil Rights Act of 1964 opened some minds, and Little placed the strip in a few papers.  Then in 1968, the assassination of Martin Luther King was shocking enough that more Americans began to listen. By the summer of 1968, Wee Pals was appearing in more than 60 newspapers; that figure has grown to about 100 today.
The primary gang consisted of five characters: Nipper, based on Turner, was the lead character and always wore a blue or grey Civil War hat. Nipper had a dog named General Lee. Ralph was a bigoted white boy who often gets his come-uppance. Connie, a white character, was active in "Girls' Lib" as was Sybil, an African-American.  Oliver, the chubby nerd with glasses, was important in the strip to explain complex things. Over time, more children of different backgrounds were added, and Turner also added in those with physical disabilities.
As the strip grew in popularity, Turner and wife Letha, added a special feature for Saturday, Soul Corner. That cartoon, researched by Letha, introduced to readers accomplished African-Americans like Dr. Charles Drew (1904-1955) and explorer Matthew Henson (1866-1955).
Life-Changing Event
In the late 1960s, Turner and Bil Keane (cartoonist for Family Circus) and two other cartoonists were invited by the National Cartoonists Society to go to Vietnam to cheer up the troops. Turner came home saying: "Those guys gave me more than I ever gave them." He also told his biographer that it helped reinforce his purpose in life.
In the early 1970s, Turner was approached about turning Wee Pals into a television program.  Titled Kid Power, the Saturday morning cartoon featured all of Turner's characters, and they frequently referred to themselves as Rainbow Power.
San Francisco station KGO-TV also worked with Turner to create an experiential weekly program where the characters from Wee Pals go to visit various venues such as candy factories. This also aired in 1972-73.
Turner received many awards over the course of his career, but his favorite was when he was asked to serve on the White House Conference on Children along with many well-respected educators.
To read about a groundbreaking black female cartoonist, click through to Jackie Ormes' story.