• First African American to have a regular role on a nationwide radio–and then television–program
• Though the character of Rochester was a valet, Anderson, working with Jack Benny, developed the role so that Rochester's status makes him more of an equal to Benny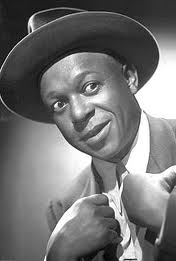 Eddie Anderson was born in Oakland, California, to parents who had been performers. His father had been in minstrel shows, and his mother was a circus tightrope walker until an accident removed her from the business. According to Anderson, the family had come from slavery and escaped the South via the Underground Railroad.
To help earn money for the family, young Eddie sold newspapers on the streets of San Francisco. The newsboys competed for sales by hailing customers as loudly as possible, and over time, Anderson permanently damaged his vocal cords.
Though he started in vaudeville at age 14 as part of a song-and-dance act, it was his raspy voice that made him distinctly recognizable to listeners on radio.
His first appearance on The Jack Benny Show on radio was in 1937 as a Pullman porter. His appearance was intended as a one-time part, but the producers used him a couple of more times—once as a waiter and another time as a fellow who has an altercation with Benny. The audiences wrote to the show, expressing their pleasure in hearing this gravelly-voiced actor. As a result. Eddie Anderson was offered the part of Jack's valet; a character named Rochester van Jones. This was the first time a black performer had achieved a recurring role on a radio program.
In the late 1930s and '40s, Anderson and Benny appeared in films such as Man About Town (1939), Buck Benny Rides Again (1940) and Love Thy Neighbor (1940). Anderson also had parts in films that did not include Benny ranging from Gone with the Wind (1939) to Stormy Weather (1943). Over his lifetime, Anderson appeared in some 60 films.
The Jack Benny Show
The humor and energy between Jack Benny and Eddie Anderson led to the development of a 20-year collaboration that delighted radio, television, and film audiences.
The men's relationship was solid on air and off. Jack Benny refused to tolerate poor treatment of Anderson. In 1943 the company arrived in St. Joseph, Missouri, where they planned to do one of their radio shows. Anderson and his wife were denied a hotel room, and only at Benny's urging did the hotel management find the Andersons a room.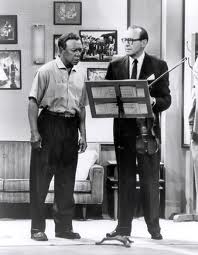 Another time in New York, a Southern couple complained about a black man staying in the hotel so the manager approached Anderson suggesting he find a room elsewhere. The show's producer told the manager Anderson would leave the hotel the next day. The next morning all 44 members of the cast and crew checked out with Anderson and moved to another hotel.
During World War II, Benny often remarked on-air about African American contributions to the war effort. In 1948 after the show re-used a script from the early 1940s that contained issues that were racial stereotypes, Benny was displeased and ordered his writers to refrain from any sort of racial stereotype or slur. Rochester was to be considered an integral part of the show, and as his role evolved it became typical for Rochester to cut through Benny's pomposity with comments like, "What's that, Boss?"). African Americans warmed to the character and appreciated that Anderson had broken a barrier—he was a black man playing the role of a black man; not a white man playing the role in black face.
Here is a classic scene with Rochester carrying the humor of the scene:

Anderson's Success
Anderson was well-paid for his work. In 1942, he was earning $100,000 per year and was the highest paid black actor in Hollywood at that time. He lived carefully but he wanted a home built by African-American architect Paul Williams, so he commissioned that home on what is now Rochester Circle in in the "Sugar Hill" section of Los Angeles (near Central Avenue and West Adams). The house still stands today.
Likely because they felt generally disenfranchised, the African-Americans in the neighborhood held mock elections, and in 1940, Eddie Anderson ran for Mayor of Central Avenue. Anderson was elected to this fabricated post, but he used the experience to speak out on real racial issues that were of concern to the community.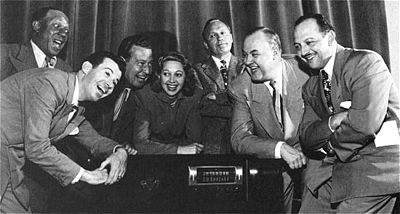 Anderson believed strongly that African Americans should be given the opportunity to fly for the military. He visited the Tuskegee Airfield and met with pilots there, and he owned a flight-related business, the Pacific Parachute Company that made parachutes for the Army and Navy during World War II.
He also tried but failed to get funding from others to help him build a casino in Las Vegas that would welcome African Americans. However when the Moulin Rouge Hotel opened in 1955 and promised to serve both blacks and whites, Anderson was at the opening as a special guest.
He loved horse-racing and began purchasing a few horses. The best-known horse he owned, Burnt Cork, ran in the 1943 Kentucky Derby, making him the first African American owner of a horse in the Kentucky Derby. He and his wife went to Louisville for the race but because of segregation, they had to view the race from the home of Mae Street Kidd, an African American Kentucky politician.
Eddie Anderson died on February 28th 1977, in Los Angeles, California, leaving provisions for a foundation. His son, Eddie, Jr., followed his father's request to convert the Rochester mansion into a treatment center offering mental health and substance abuse services. Those services have moved elsewhere, and the house is now a bed-and-breakfast for artists.
Also see "Allen Hoskins, Played Farina in Our Gang."