Jazz performer and pioneer
Louis Armstrong called her the "second best trumpet player" in the world; Armstrong placed himself first. 
Valaida Snow (1904-1956) was born into a show business family in Chattanooga, Tennessee. Her mother taught Valaida and her siblings to perform, and from a young age, Valaida showed great promise.  Her sister Laveda, eight years her junior, was also a remarkable performer but Valaida outshone all the others.
By the time she was five, she was singing and dancing and playing the violin as Valada the Great. (She changed the spelling of her first name in the 1930s.)  Valada the Great was the star attraction of the Pickaninny Troubadours, trained and managed by the Snow parents.
By the age of 15, she demonstrated professional mastery of the cello, bass, banjo, violin, mandolin, harp, accordion, clarinet, saxophone, and trumpet.   She also sang and danced.  Her preferred instrument was the trumpet, and she soon acquired the nickname, "Little Louis," from Louis Armstrong himself who acknowledged her greatness—he told others she was the second best jazz trumpet player alive.
Most women of the era did not play any of the brass instruments, so her fondness for the trumpet made Valaida a trendsetter.
Full Performance Schedule
At age 17, she started touring cities in the United States, and her acclaim was such that she was soon invited to perform in Europe and China.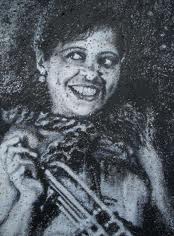 In 1923 she was in a revue where she was spotted and invited to join bandleader and singer Noble Sissle and jazz pianist Eubie Blake in their production of Bamville, which was renamed The Choolate Dandies when it opened in New York in 1924.
Her career hit its high during the 1930s. She was performing a great deal in London and Paris but she also recorded "High Hat, Trumpet, and Rhythm" which brought her to the attention of American audiences again.
As a result she was invited to join Ethel Waters' show, Rhapsody in Black.  The audiences love Valaida, which eventually wore thin for Waters who preferred to be the highlight of the show. Valaida moved on to the Apollo for a time and and then returned to Europe.
Europe More Welcoming
Like jazz performer Josephine Baker, who was far more successful in Europe than she was in the U.S., Valaida Snow, too, found herself enormously popular overseas. She had a huge following and Snow loved the attention.  In a program called American Legacy, cabaret singer and pianist Bobby Short describes how Valaida had a car with a chauffeur, and she added a footman and a monkey to accompany her whenever she was out.  "The chauffeur, the footman, and the monkey were all to dress alike," Short says.
Back in America
On a trip back to the U.S., she met and married Ananias Berry, a dancer who was only 19 when they wed.  Berry opted to leave the Berry Brothers dance troupe in order to perform with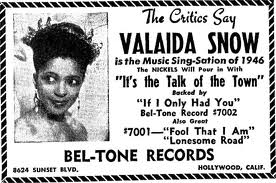 Valaida, and this did not go over well with his father, who was also the dance troupe manager.
Berry Senior did all he could to bring the marriage to an end, and it wasn't that difficult.  A woman in her late thirties dating or marrying a young fellow of 19 was scandalous for the time.  Snow and Berry found themselves entangled in career-stalling publicity, and it just didn't go away. The tension eventually ended the marriage.
Returning to Europe before World War II
Josephine Baker and Valaida Snow were together in Paris before the onset of World War II. Baker urged Snow to return to the U.S. as the news worsened, but Valaida had been invited to Denmark and wanted to maintain the schedule.
Unfortunately Denmark was one of the first countries to fall to the Nazis, and in 1941, Valaida Snow became a prisoner of war, perhaps the only African-American imprisoned in Denmark at that time. She was released 18 months later in a prisoner exchange, weighing only 65 pounds.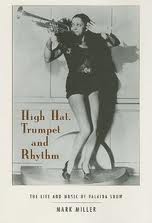 When she returned to the U.S. she asserted that her imprisonment had been at the hands of the Nazis, which her biographer Mark Miller (High Hat, Trumpet, and Rhythm: The Life and Music of Valaida Snow) indicates was an embellishment on the actual circumstances.  Snow had become addicted to oxycodone, so she may have been arrested by the Danish on drug charges or taken into custody initially for her own protection before Germany invaded.
As soon as her health improved somewhat, she attempted to recapture the public attention, but she never reached the performance level she had achieved in the 1930s. The tragic turn of events had broken her spirit and had worn her down physically.
Valaida Snow died of a brain hemorrhage while waiting to go onstage at the Palace Theatre in New York on May 30, 1956.
The earlier clips of her singing and playing the trumpet are audio only, but she's well worth listening to. Here's a 1940 clip of "You're Driving Me Crazy."  Beautiful range, wonderful interpretation, great trumpet-playing.