Moms was a first; no previous stand-up female comedian preceded Mabley
First woman comedian to be featured at the Apollo Theater (1930s); she went on to appear there more times than any other performer.
Oldest person to have a song on the Top 40 Billboard chart. Her recording of "Abraham, Martin and John" reached #35 in 1969.
Jackie "Moms" Mabley (1894-1975) was a trailblazer in every sense of the word—there were no female standup comedians that preceded her—yet, despite a 50-year career in show business, she might have fallen into oblivion had it not been for two women who resurrected her story.
The first woman to step forward to explore Mabley's story was Clarice Taylor, an actress who played Bill Cosby's mother on The Bill Cosby Show. One day at lunch with friends, Taylor realized no one knew who Moms Mabley was, so in the early 1980s, she began working with Harlem-born playwright Ben Caldwell to create a play about Moms's life that went on to be a big hit off-Broadway.
More recently, Whoopi Goldberg took an interest in what Mabley has meant to African-American performers. Goldberg directed Whoopi Goldberg presents Moms Mabley (2013). To Whoopi, it was Moms ability to tell a great story.
Childhood
From Clarice Taylor's research, we now know the story of what Moms Mabley never shared about her childhood.  Born in Brevard, North Carolina, Loretta Mary Aiken—who was to become Jackie "Moms" Mabley—was a great-granddaughter of a slave and part of a very large family of 16 children, who experienced much sadness and trauma.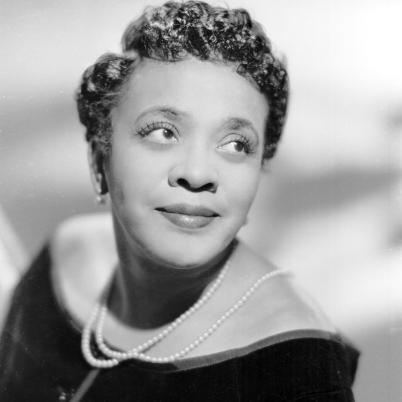 Their father owned several businesses and also volunteered as a community fireman; he was killed in an explosion when Mabley was only 11. Within just a few years, her mother was on her way home from church on Christmas Day and was hit and killed by a truck. Mabley was also the victim of two separate incidents of sexual assault; each resulted in a pregnancy.  It was arranged for both children to adopted.
Getting Away
At 14 she left home, joining a minstrel show on what was called the "chitlins" circuit—the collection of stages around the country that employed black entertainers during segregation. She met a fellow performer named Jack Mabley whom she dated for a time. Her relationship with him led to the idea of adopting the name Jackie Mabley.  Though the relationship didn't last, the name, Jackie Mabley, did; Moms came later as she became a mentor those who followed her career.
In 1921 she was spotted by a song-and-dance team who connected her with a better agent. As a result, she was soon performing at some of the Harlem Renaissance theaters including the Cotton Club.  With this move, she also found herself performing before or after people like Louis Armstrong, Count Basie, Duke Ellington, and Cab Calloway.
In the 1930s, she appeared on Broadway in Fast and Furious and was cast in one of Paul Robeson's "race" films," Emperor Jones (1933).  (At a time when commercial films provided demeaning roles for blacks, race films were independently produced movies with black performers that tackled the difficult race issues of the day.)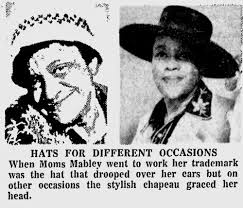 Stand-Up Act
As a standup performer, Mabley wore a housedress and a floppy cap, and many of her routines were X-rated in the style of a "dirty old lady." One of her running gags had to do with her preference for young men over older men. Offstage, however, she was very glamorous and was open about her preference for women.
By the mid-1930s she had been invited to appear at the Apollo Theater. She was the first comedian to appear there and went on to lead the number of performances for any single act working the Apollo.  At the height of her career, she was earning $10,000 per week there.
Mabley knew just how to play an audience: "I can keep laughter in a certain range, building higher and higher 'til when I tell the last joke, they're all laughing like mad."
Though she was an extraordinary performer and very popular among African-Americans, she was not well-known to white audiences until the 1960s.
Comedy Albums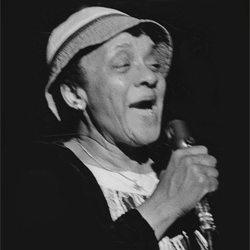 Starting in the late 1950s comedy albums became wildly popular.  Mabley recorded her first in 1960, The Funniest Woman in the World. That recording went gold, which set Mabley up to make another 19 comedy albums.
Between the comedy albums and new interest in African-Americans because of the civil rights movement, producers for national shows began to take an interest in Mabley. Her first appearance on national television was in 1967, and she went on to appear on The Flip Wilson Show, The Ed Sullivan Show and was guest of Merv Griffin and Johnny Carson.  She was a frequent guest on The Smothers Brothers Show.  With her growing popularity from the comedy albums, she was invited to performed at Carnegie Hall and the Kennedy Center.
Mabley's Humor
Moms Mabley, like the best comedians, used humor to expose hard and uncomfortable truths about society. Because she incorporated race-related stories in her act, Mabley is considered one of the pioneers of social satire.
An example of how she wove in digs against bigotry lies in this story she told about driving in the South:
"I was on my way down to Miami…I mean They-ami. I was ridin' along in my Cadillac, you know, goin' through one of them little towns in South Carolina. Pass through a red light. One of them big cops come runnin' over to me, say, 'Hey woman, don't you know you went through a red light?' I say, 'Yeah I know I went through a red light.' 'Well, what did you do that for?' I said, 'Cause I seen all you white folks goin' on the green light…I thought the red light was for us!'"
While humor was her strength, she makes an emotional connection with the audience that can be demonstrated via her recording of "Abraham, Martin and John," the song that reached #35 on the Billboard chart in 1969 (making her the oldest person, age 75, to ever have a hit song in the Top 40).  The song was written in 1968 by Dick Holler as a tribute to the memory of four assassinated Americans: Abraham Lincoln, Martin Luther King, Jr., John F. Kennedy and Robert F. Kennedy. Her performance of it remains deeply touching.
Later Life
David Parks, son of Gordon Parks, has memories of Moms Mabley being part of the Parkway Gardens (Greenburgh) section of Westchester where Parks, Cab Calloway and Eddie Heywood, and singer Hazel Scott all lived. According to David Parks, Moms loved having him come down to be fed when he was a young boy. "And could she cook!" David reminisced in a 2013 interview with me about life in Westchester with his family.
Mabley was filming Amazing Grace, a film in which she had a starring role, when she had a heart attack (1974). She was able to complete the movie but she died in May 1975.
At her funeral comedian Dick Gregory said, "Had she been white, she'd have been known fifty years ago."