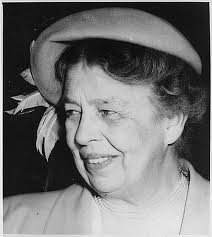 Throughout her life, Eleanor Roosevelt (1884-1962) was a humanitarian, always finding ways to play an active role in helping others. She was particularly affected by the plight of those whose lives were disrupted—often destroyed— by World War II.
President Roosevelt was in a difficult position when it came to helping war refugees. Because the United States had just experienced the Great Depression, immigration numbers had been severely curtailed as the President and Congress did not want newcomers to take badly needed jobs away from Americans. As the war began, Congress had not voted to change the immigration quotas. As a result, the U.S. was facing a long waiting list of people from all over who were seeking to immigrate; many desperate cases were asking for asylum but essentially our borders were closed
The First Lady was very aware of the national situation, and so the efforts she made were personal.
An Author's Discovery
Author Gillian Mawson was at work on a book documenting stories of the refugees who were forced out of their homes in Guernsey (part of the Channel Islands and part of Great Britain but located off the coast of France), when she came upon the Eleanor Roosevelt story.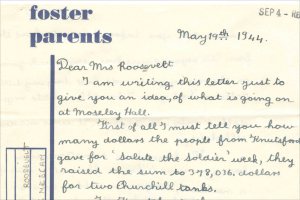 In an interview with writer Mary Metcalfe, Mawson, whose book is entitled Guernsey Evacuees: The Forgotten Evacuees of the Second World War, said that when she began the book several years ago, she tracked down Guernsey residents who stayed in England as well as those who returned to Guernsey. On one trip to the island she was interviewing a woman named Beryl Merrien who had evacuated with her school, La Chaumière. A few of the schools on Guernsey received permission to remain intact in England, and La Caumière established itself in Cheshire, providing space for the children to live and study. (Since many children had evacuated without parents this was very helpful during this period when Britain was working to accommodate 3.5 million refugees and dislocated citizens.)
Turned to Foster Parent Program for Help
The school needed support to keep going so its administrators turned to an organization created by private citizens in America–the Foster Parent Plan for War Children. The program had originally been founded in 1937 to help those disrupted by the Spanish Civil War. As World War II got underway the program redefined itself: "To help …the little victims of Nazi oppression receive food, shelter and loving care through the Foster Parent Plan." From its inception, the program included among its donors many well-known Americans in show business (Jack Benny, Bing Crosby et al) who were willing to donate to the young who were affected by war.
The program solicited donors in Britain and the United States to "adopt" a child to support. Foster parents sent a set amount for the child's educational expenses and extra money for clothing; some sent parcels as well. The children wrote updates to their foster parents so that the donors knew how they were getting along.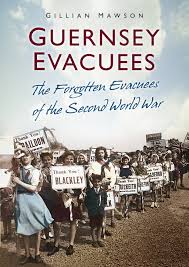 When interviewed by Mawson, Beryl Merrien mentioned that one of her friends had had a foster parent named Aunty Eleanor who lived in the White House. Of course, to a young child in another country, this information would not have had great significance, but Gillian Mawson knew she had to track down more information.
She learned that Eleanor Roosevelt was in London in 1942 and stopped to visit the Foster Parent Program's offices. At the time, she decided to sponsor three children; one of them was Paulette Le Mascam from Guernsey. Paulette was born in Paris, but her mother died when she was 18 months old, and when her father joined the fight against the Nazis, he sent Paulette and her sister to live with their grandmother in Guernsey.
Mrs. Roosevelt asked to be kept informed of how her children were doing, and Mawson found this excerpt from one of Paulette's letters to the First Lady:
"I hope this dreadful war will soon be over so that I may return to my beloved native home in Paris with my father and sister…Thanking you over and over again for your kindness to a poor helpless refugee from Guernsey.
"Your loving foster child, Paulette."
When Paulette returned to Guernsey after the war, her grandmother had passed away. She went to live with an uncle whom she did not met before, and she was never reunited with her sister and father. She was invited to visit the White House but the opportunity never presented itself.
The U.S. Finally Establishes a Refugee Program
As for the United States, there was eventually some effort to help refugees. At the behest of Henry Morgenthau, Jr. (1891-1967), head of the U.S. Treasury at the time, a War Refugee Board was finally created in 1944. The Board also funded the work of Swedish diplomat Raoul Wallenberg (1912-ca. 1947; date of death uncertain) in rescuing tens of thousands of war prisoners, and it loosened the policy of the number of Jewish people permitted to enter the United States. However, it was late. Many of the people had died or been killed in Nazi concentration camps.
To read more about Gillian Mawson's book and the Guernsey Evacuees, visit her website.