World-class athlete specializing in the high jump
First African American woman to win an Olympic gold medal (1948 in London); paved the way for other young women to follow their dreams
She formed the Alice Coachman Track and Field Foundation to support and encourage young athletes as well as to provide support for older, retired Olympic veterans
Alice Marie Coachman was born in Albany, Georgia, in 1923 to Fred and Evelyn Coachman. She was one of ten children. As a child, she loved sports, but living in the heart of the segregated South she was kept from training or competing in most organized sporting events in the area.
She also faced parental admonishments to "be more ladylike." But she loved being active, and one of her aunts and a fifth grade teacher encouraged her to be what she wanted to be. Running was easy for her, and she ran barefoot in fields and on dirt roads; she also figured out ways to rig up a high jump bar so she could practice the sports she observed others doing.
Coachman in High School
When she reached high school, she caught the eye of the boys' track coach, Harry E. Lash. He began working with her to develop what he saw as a special, natural talent. When she was 16, her ability was noted by a representative from the athletic department at Tuskegee Preparatory School in Tuskegee, Alabama. The school offered her a scholarship to come there. Though her parents had not encouraged their daughter's athletic dreams, the scholarship offer got their attention, and they gave their blessings for her to enroll.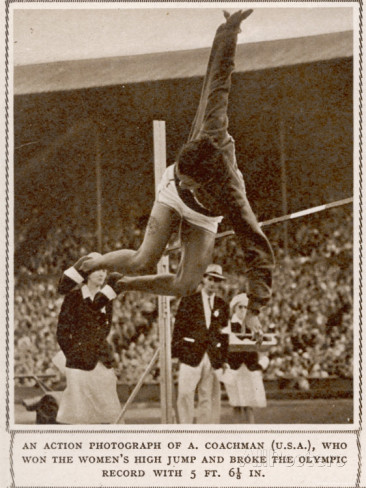 Before classes even started, Coachman began working out with the Tuskegee team, and in 1939 she won her first Amateur Athletic Union Championship in the high jump, breaking both the collegiate and national high jump records. Alice, of course, participated in the way that she had trained herself—barefoot.
The coaches at Tuskegee worked to encourage her talent in all track and field events, and by 1946, she was the national champion in the 50- and 100-meter races, 400-meter relay, and the high jump. She also played on the Tuskegee basketball team, and they won three national titles while she was there.
While Coachman and her coaches had their eyes on the 1940 Olympics, world events intervened. The onset of World War II caused the cancellation of two Olympics—1940 and 1944.
On to College and the Olympics
In 1946 Alice Coachman graduated from Tuskegee and enrolled at Albany (Georgia) State University.
Coachman was 25 by the time the next Summer Olympics (1948) were held, that year in London. Though Coachman was nursing a back injury, she was able to set a record in the high jump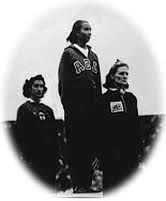 finals; Coachman leaped 1.68 m (5 ft 6⅛ in) on her first try. Coachman was the only American woman to win an Olympic gold medal in athletics in 1948, and her medal was presented to her by King George VI, father of Queen Elizabeth II.
Returned to Honors
When Coachman returned to the United States, she was reminded of the current state of her own country. While the life at the Olympics had been fully integrated, Coachman returned home to a "hero's welcome" in the segregated South. A parade was held in Albany, Georgia; the parade culminated at the local theater where there was a ceremony in her honor. However, audience members and the people on stage all obeyed the segregation practices of the day. In an undated interview (but certainly conducted within the last 10-15 years) with the National Visionary Project, Coachman explained that when she was congratulated publicly by the white mayor, he did not offer to shake her hand. "That's just the way it was at that time."
Coachman also said that she received numerous gifts and flowers, but many of them were given anonymously. "It wouldn't do for their peers [of the white people] to know they had sent flowers or a congratulatory gift to a black woman."
"I didn't compete for black or for white; I competed for America," said Coachman. That's just the way it was at the time."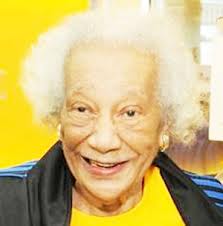 After the 1948 Olympics, Alice Coachman retired from athletic competitions, but she remained in the public eye and was a role model. In 1952, the Coca Cola Company offered her a contract to be a spokesman for the company, making her the first African-American female to benefit from a commercial endorsement deal.
Later she established the Alice Coachman Track and Field Foundation to help support young athletes and provide assistance to retired Olympic athletes.
A Lifetime of Honors
Few have dominated a sport in the way that Alice Coachman dominated the high jump, and as a result of her excellence there as well as her athletic prowess in many areas, she has received numerous honors. She has been named to five All-American teams (50m, 100m, high jump, and 50 yard dash, and the national relay team), and inducted into eight different halls of fame. In 1998 she was named an honorary member in the Alpha Kappa Alpha Sorority, an international service organization founded in 1908 and the oldest Greek-lettered organization established for African American college-educated women.
At the 1996 Summer Olympic Games in Atlanta, she was honored as one of the 100 greatest Olympians in history. An elementary school in Albany, Georgia has been named in her honor, and in 2011, Coachman published a children's book about her life, Touch the Sky.
Coachman died in 2014.