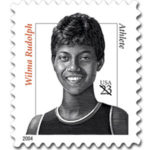 First American woman to win 3 Olympic gold medals in track and field, 1960
Wilma Rudolph was born in St. Bethlehem, Tennessee, and she weighed only 4 lbs 8 oz; her initial survival was in doubt. Her father was a porter for a railroad, and her mother was a maid, so care of the younger children –even for a tiny infant—relied for care on the older siblings (and there were many).
At the age of 4, Wilma contracted polio, a disease that attacks the central nervous system and often leaves a person crippled. She survived the illness, but the use of her left leg was severely compromised. After doctors said that Wilma would never walk again, Mrs. Rudolph began taking her to Meharrry Hospital, the black medical college at Fisk University in Nashville. Though it was 50 miles away, Mrs. Rudolph got Wilma there twice a week and learned the massage technique recommended by the doctors. She also taught it to Wilma's siblings so there were many hands to help and encourage Wilma to get better. By the time she was 12, Wilma could walk without her leg brace. From walking she turned to running and regularly joined her brothers and sisters in neighborhood basketball and running games.
In high school she played basketball and participated in track and field, where a Tennessee State University coach spotted her and he began working with her to develop what he saw as great potential as a sprinter.
At the age of 16, Rudolph qualified for the Summer Olympics in Melbourne, Australia, and four years later, she became the first American woman to win three gold medals in track and field at the 1960 summer Olympics. In both the 100-meter and the 200-meter dashes, she finished at least three yards in front of her closest competitor, and she tied the world record in the 100-meter and set a new Olympic record in the 200. Rudolph also brought her 400-meter relay team from behind to win the gold in the relay. The French called her "La Gazelle."
After the Olympics, the women's team competed in Greece, England, Holland and Germany. Sports Illustrated reported that mounted police had to keep back her admirers in Cologne. In Berlin, fans stole her shoes then surrounded her bus and beat on it with their fists until she waved.
But at home, Rudolph faced a different scene. Tennessee Governor Buford Ellington, planned to welcome her at a segregated event. Rudolph said she would not attend, and the governor gave in: Rudolph's parade and banquet were the first integrated events in her hometown of Clarksville.
Rudolph chose not to enter the 1964 Olympics, feeling she had reached her top performance in 1960. She married and raised four children of her own, while also working as a track coach at Indiana's DePauw University.
Rudolph says her greatest accomplishment was creating the Wilma Rudolph Foundation, a not-for-profit, community-based amateur sports program.
"I tell them that the most important aspect is to be yourself and have confidence in yourself," she said. "I remind them the triumph can't be had without the struggle."
Rudolph died in 1994 of a brain tumor, but she is remembered today by the Woman's Sports Foundation. Each year the organization gives a Wilma Rudolph Courage Award to a female athlete who exhibits extraordinary courage in her athletic performance, demonstrates the ability to overcome adversity, makes significant contributions to sports and serves as an inspiration and role model to those who face challenges, overcomes them and strives for success at all levels.