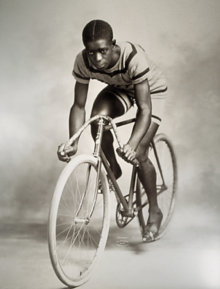 Marshall "Major" Taylor (1878-1932) was a champion cyclist who set numerous world records and was the first African-American cyclist to become an international sports star.
At the time Taylor raced, cycling was a relatively young sport, but its popularity grew quickly. Endurance races, long distance races, and sprints all drew huge crowds for the thrill of the sport and the heart-stopping finishes. In the U.S., these races outdrew boxing matches, baseball games, and horse racing.
Major Taylor (as he was known) held seven world cycling records by1898. In 1899 he went on to win the one-mile world bicycling championship, and for two years he held the title of world sprint champion.
Taylor was a true "first" both at breaking a color line and accomplished his goals against great odds.
Major Taylor's Beginning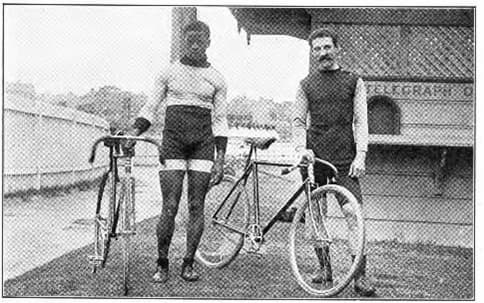 Marshall Taylor was born on a farm just outside Indianapolis, one of eight children. Taylor's father, a Civil War veteran, worked as a coachman for a well-to-do family named Southard. Taylor's father sometimes took Marshall with him to work and let the boy do odd jobs around the stable. The Southard family had a young boy, Daniel, who was Marshall's age, and they soon asked the Taylors if Marshall could live with them and be Daniel's companion.
The Taylors agreed and Taylor soon found himself being raised in the same manner that Daniel was raised—the two were tutored together, played together, and shared white friends from the neighborhood. However, when the boys were 12, the Southards needed to move to Chicago. Marshall's mother would not permit Marshall to accompany them. Young Taylor came back to work around the farm.
Taylor's most treasured reminder of the Southards was the bicycle they had purchased for him. Both boys had been given the newest style of bicycle—called the "safety" bicycle which featured two solid rubber wheels of the same size. This style had only recently replaced the "Ordinary," the bicycle that had the huge front wheel.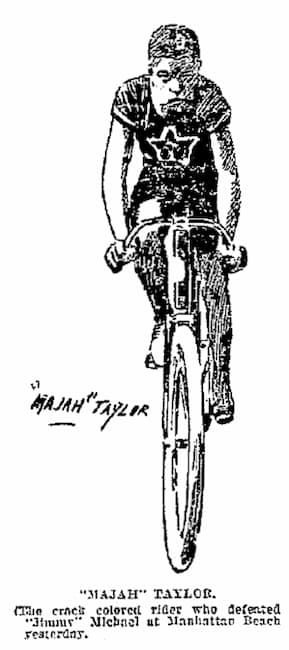 When Marshall Taylor finished his farm chores and completed his in-town newspaper route, he would go on very long bicycle rides, all
of which built muscle and increased his cycling skills. One day his bicycle needed repair so he visited a bicycle shop in town, and after the fellow repaired it, Taylor jumped on the bicycle in such a way that he impressed the shop owner, Tom Hay. Hay asked Taylor to come outside and show him a little more of what he could do.
Tom Hay realized that Taylor's skills might help promote bicycle sales, so he offered Taylor a job working in the shop during the day and demonstrating his riding skills in the late afternoon. Taylor was paid $6 per week and given a free bicycle. Taylor chose to wear a crisp soldier's uniform with shiny buttons for his demonstrations, and that was how he acquired the nickname "Major."
Major Taylor Starts Racing
In 1891 with the encouragement of Tom Hay, Taylor, only 13, entered and won his first amateur race. Two years later he set the amateur record for the one-mile race; soon after he was barred from the track because of his color. (This pattern was to follow Taylor throughout his racing career. The more he won, the more likely he was to encounter new rules that barred his entry. If he was allowed to ride, competitors as well as those on the sidelines were known to throw things at him or taunt him.)
Former bicycle champion Louis "Birdie" Munger lived in Indianapolis and noted Major Taylor's form and skill. He hired Taylor to work as his "house boy" so that Munger could spend extra time with him training.
As Taylor continued winning, the cyclists of Indianapolis were getting angrier and angrier. Eventually Taylor was banned from all local races.
Real Estate Promoter Sees Way Around Ban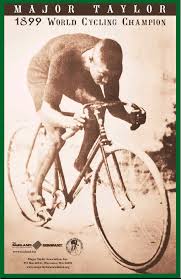 George Catterson, a real estate developer who was trying to increase interested in Mathews, Indiana, a town he was developing, saw that Taylor's situation offered an opportunity. People loved to see Taylor race, so why not put together a race that circumvented the rules? Catterson sponsored a 75-mile road race from Indianapolis to Mathews. Because the race was not "local," Taylor was eligible.
Thirty-six riders began the long-distance race; Taylor began slightly behind the others as his participation was not widely known. Once the other riders spotted him, they began calling him names and threatening what they would do if he didn't turn back. However, heavy rain overtook the cyclists who then had to give their full energy to making their way through the difficult clay roads.
At the three-quarter mark, only six riders were still on the road. At the finish line in Mathews, one lone rider came in: Major Taylor. His prize was a house lot valued at $300 that he immediately deeded to his mother, according to a book on Marshall Taylor by Marlene Targ Brill.
Anti-Black Backlash
Starting in the South, cyclists began urging restrictions on who was eligible to race. The League of American Wheelmen, which served as the main national bicycling organization, began to tighten its guidelines and dis-allow blacks. The only state to reject this change was Massachusetts.
Munger decided he needed to move Taylor to the only state where he could participate. Munger selected the town of Worcester where he planned to open a bicycle manufacturing company.
Taylor kept up his training, helped out with the business, and began racing. In one of his first races after the move, however, he was head-to head with the lead rider when someone threw a pail of ice water in his face. By the time, Taylor recovered from the setback the other rider had crossed the finish line.
Major Taylor Known as the Black Cyclone
When Major Taylor turned 18 in 1896, Louis Munger convinced Taylor that it was time to turn pro. One of his first professional races was a six-day endurance race inside Madison Square Garden. A banked track had been specially constructed in the Garden. It was a cycling marathon, where the bikers rode for as long and as far as they could. Taylor took to cycling for eight hours and sleeping for one; but he was not an endurance racer and was miserable. Ultimately he finished, however, thought he was behind seven or eight other riders. He had logged 1787 miles. Five thousand people visited the arena to watch the competition.
Turning pro did not mean racing was safer or better monitored. In 1897 he was racing in Taunton, Massachusetts, but when he began to outdistance the fellow, W.E. Becker, who was second in the race. As Taylor passed him, Becker attacked Taylor from behind and choked him unconscious, according to a report in the Cleveland Gazette.
But Taylor continued to win more than he lost. By 1898 he had seven world records from .25 miles to 2 miles. The following year—1899—Taylor established seven new records over a six-week period. For two years in a row (1899, 1900) Taylor was the world sprint champion, the first African-American to hold that title.
That year he also picked up his first money earned from product endorsement. He signed with E.C. Stearns Company to promote the gear mechanism on the latest Stearns bicycle.
International Racing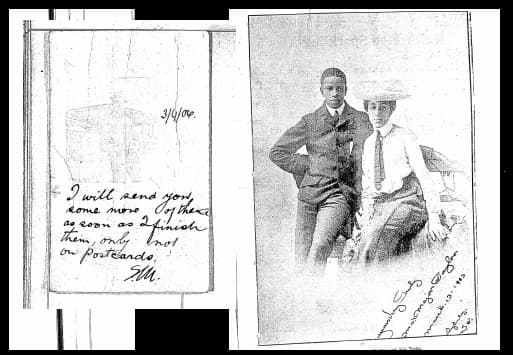 Taylor and Munger began entering Taylor in international races. His fame preceded him and he was warmly received. It was so heartening to be welcomed that Taylor considered withdrawing from all U.S. racing. Munger reminded him that without the backing of the U.S. cycling organization, he would lose his standing in Europe.
In 1902 Taylor was back in Massachusetts on a badly needed break. He had earned $35,000 that year and could afford to rest a bit. During that visit, he met and married Daisy Morris. He was miserable when he was on the road without her, so she often traveled with him.
About this time, Taylor was also considering retiring. A U.S. competitor, Floyd McFarland, was doing all he could to make Taylor's life miserable, before, during, and after the races, with taunts and threats and generally creating trouble wherever Taylor was to race.
Then he got an offer for an Australian tour that he couldn't refuse. The agreement respected his request not to race on Sundays for religious reasons, and he could take Daisy with him to race in a country where he was beloved. He and Daisy spent the next two years dividing their time between Australia and France; in both places he appreciated the warmth of the welcomes.
In Australia, Daisy gave birth to their daughter, Sydney. Her name was selected to recognize the warm treatment they received there.
MacFarland Arrives in Australia
Taylor's second year in Australia was marred by the arrival MacFarland who began stirring up trouble for Taylor there.
In one particular race, one of MacFarland's buddies stayed near Taylor and caused one of the worst crashes of Taylor's career. Lawson was suspended for the offense, but Taylor was injured and had to cancel the rest of his season.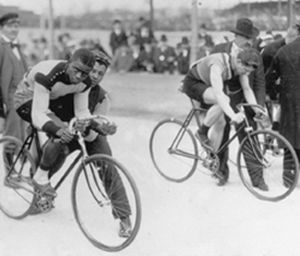 By this time, Taylor's primary interest in racing had to do with being able to support his family, but cycling was a struggle by this time—mentally and physically. He had one more successful circuit in 1907. After that it was time to retire.
The press was still fascinated by Major Taylor, and when Taylor was asked if he was angry about all he went through, Taylor quoted the late Booker T. Washington: "I shall allow no man to narrow my soul and drag me down by making me hate him."
"I shall allow no man to narrow my soul and drag me down by making me hate him."

Marshall Taylor quoting Booker T. Washington
Dies Alone and Destitute
Though he was well-to-do when he first quit racing, Taylor knew little about business or investing, and he lost big chunks of money trying to start businesses. Sydney grew up and moved out on her own, and soon Daisy left him, too.
Taylor spent his remaining years alone at a YMCA in Chicago. He died of a heart attack in 1932 and few people attended the funeral.
Belated Remembrance of Major Taylor
In 1948 a group of cyclists realized that Taylor was buried without a fitting tombstone. They approach Frank Schwinn of Schwinn Bicycle Company who agreed to provide the needed funds. The group settled on the following wording for the tombstone to sit above Major Taylor's new resting place:
"World's champion bicycle racer—who came up the hard way—without hatred in his heart—an honest, courageous and God-fearing, clean living, gentlemanly athlete, a credit to his race who always gave out his best—gone but not forgotten."
In Taylor's hometown of Worcester, a group of people also began to worry that the town's greatest cyclist would be forgotten, so they formed the Major Taylor Association. Their goal was to find ways to remember the Worcester Whirlwind.
Eventually they erected a monument to him in Worcester, but more important is the annual living memorial created in Major Taylor's honor: the George Street Bike Challenge.
George Street Bike Challenge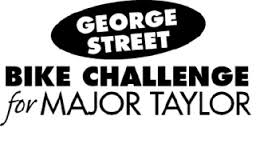 In downtown Worcester there is a 500-foot long stretch of road with an average grade of 18 percent (going up to 24 percent in some places) Major Taylor was said to have used this section of town for part of his regular training.
Every July Worcester now sponsors the George Street Bike Challenge. The event attracts cyclists from teens to adults who see if they can make it up that daunting hill.
Over time there have been other remembrances including a bike track in Indianapolis named for him; a bike trail in Chicago bears Major Taylor's name; in addition, a good number of cycling clubs are now named for him.
In 1989 he was posthumously inducted into the U.S. Bicycling Hall of Fame.
But perhaps most stunning, the League of American Wheelmen had not enforced the "no blacks" membership for years, but they also had not bothered to remove it. In 1999 they finally did.
To read about another impressive Black athlete, read about Kenny Washington who broke the color line in the modern NFL.