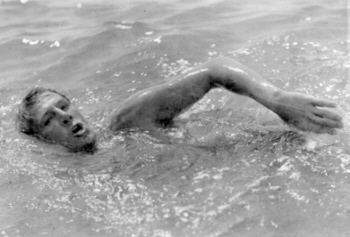 Leroy Colombo became deaf when he suffered spinal meningitis when he was seven years old (1912). He grew up to be a remarkably good lifeguard. Being deaf might have disqualified him for lifeguarding under certain circumstances, but Leroy's deafness seemed to make him even better at his job.
When he was on the beach of Galveston Island, his eyes scanned the water constantly. The sound of the surf, children playing, or seagulls cawing did not distract him. Having grown up blocks from the ocean, he knew the tides and the currents so well that he could sense any alarming disruption in the water. Simply put, he was one of the best lifeguards ever.
For many years he was listed in The Guinness Book of World Records for the record number of lives he saved. Galveston's Chamber of Commerce documented it at 907; in all likelihood, there were even more.
To understand, Leroy Colombo (1905-1974) and his noteworthy accomplishments, we need to look at his background, consider the waters of the barrier island of Galveston (27 miles south of Houston and a big tourist destination), and recognize that lifeguarding was in its infancy.
Leroy Colombo
Leroy's parents emigrated from Italy to Galveston, a town that was then known as the Ellis Island of the West, because there were many jobs. Up until 1900, Galveston was the main deepwater port in Texas, shipping out almost as much cotton as New Orleans. It was a great place for immigrants. Many found jobs at the port, and others found work in town to keep the port workers housed and fed. It was a true melting pot, and though it was located in the Jim Crow South, townspeople of all backgrounds tended to get along.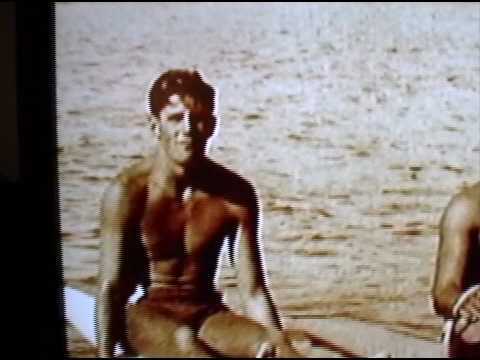 Leroy was the 5th child out of what would be a family of 8 children–three sons and five daughters. In 1912-13, an outbreak of spinal meningitis swept through Texas, and Leroy was among its victims. Antibiotics had not yet been discovered, so the only hope for a return to health was giving a patient rest and plenty of hydration.
Leroy's Recovery
Leroy was among the fortunate who recovered, but he was initially paralyzed from the waist down, and the illness permanently cost him his hearing. In some patients, the paralysis can ease over time, and Leroy was helped by his two brothers who refused to give up on him. They took him swimming daily, and they encouraged him to walk some of the time by holding him upright between the two of them so that he could try to use his legs. Within a year, Leroy was walking again.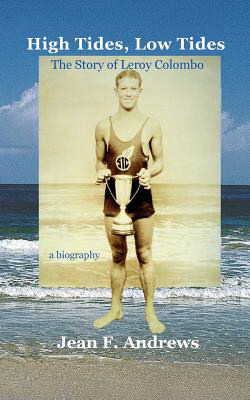 A year after Leroy's illness, his father died from a heart condition. The oldest son, Nick, needed to leave school to support the family. The family faced the added burden of Leroy who was not doing well in a classroom where he could not hear. One of his uncles heard about the Texas School for the Deaf (a public school established in Austin in 1856) and encouraged his sister to send Leroy there.
School for the Deaf
This move altered Leroy's life for the better. In addition to gaining an education, he learned sign language and found a community with whom he could talk. There was a creek nearby, and when he was not in class, Leroy could be found swimming. He was only 12 when he rescued his first drowning victim.
Colombo Returns to Galveston
After almost 6 years in Austin, Colombo returned to Galveston. He was thrilled to be back near the water.
Colombo was a gifted athlete and very strong swimmer; he was among the early surfers in the Galveston waters; he swam in races of all lengths but excelled in deepwater swimming. Colombo also loved to perform. He could clown around and dive from high boards with the best of them.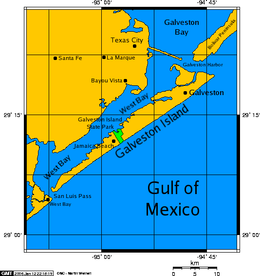 But Galveston was a tricky area for all levels of swimmers. On the Gulf side of the island the water is treacherous. There are sandbars and places where the ocean floor drops away unexpectedly. The riptides are a constant issue, pulling under experienced and inexperienced swimmers alike.
The peril was increased because in the early 1900s, few people learned water safety. The first swimming programs in the U.S. began in 1912 (see Wilbert E. Longfellow), and the programs were slow to spread throughout the country. Those who came to Galveston for vacation often did not know how to swim, because few towns and cities had public access to pools.
Yet summers were hot, and there was no air conditioning until the late 1920s-1930s. Many traveled to Galveston to enjoy the cooling ocean breezes, and of course, they went into the water.
Take unpredictable currents and mix in crowds of people who don't know how to swim (or how to swim well), and Galveston had the makings of daily disaster.
Lifeguarding in the Early Days
Throughout the country, most lifeguards were volunteers—self-appointed groups of men (and a very few women)—who made it their job to patrol the waters. In Galveston, they created an official club for lifeguards. The young men who qualified for the Galveston Toboggan and Surf Club were the first tier of lifeguards along the beachfront.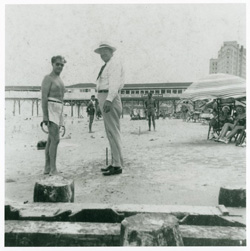 To become a member, there was a stiff entrance exam: Swimmers had to swim for three straight hours without floating or using any form of outside support. Colombo, at age 18, passed on his first try in 1923.
Would Colombo have qualified if there had been an interview process as well? Probably not. Then—and now—deaf people face obstacles in getting hired for many mainstream jobs.
Aince that time, researchers have learned that Colombo may have been a better lifeguard because he couldn't hear. Almost all lifeguards see a problem before they are able to hear someone crying for help. The roar of the ocean or the shouts of children often block out other sounds. Colombo's senses were particularly well tuned for what needed to be observed.
Galveston Lifeguards
Colombo's additional advantage was that he grew up near the Galveston waters. He had intimate knowledge of how the ocean could behave in all types of weather. When he was on the beach, he was constantly scanning the waters looking for abnormal movement of people. Drowning does not always involve wild waving; sometimes a swimmer is worrisomely still. All those signs were ones Colombo recognized as possible calls for help.
Lifeguarding in the Galveston waters in that day was generally a three-step process. The best first step was throwing a line to a victim. Second was swimming out with a float. The third step—and the one that Leroy primarily used–was a swimming rescue.
Swimming rescues are difficult as the drowning victim may panic and make a too-tight hold around the rescuer's neck or thrash about so wildly that the rescuer can't take hold of the person to swim in. In that day, lifeguards were encouraged to knock out a swimmer who was inhibiting the rescue. Colombo sometimes resorted to that.
Daring Rescues
Colombo's rescues often made news—he rescued drivers from cars that went into the ocean; he often had to bring out multiple victims when well-intended family members entered the water thinking they could save the struggling person. Colombo often had to rescue the original victim as well as those who were trying to help.
One summer a big group of deaf people came down to visit Leroy. Six of the men were standing in what started out as calm waters. Then the undertow took all six off their feet. Colombo was left to bring them all in one by one.
During World War II, the beaches were overrun by soldiers on leave before shipping out, and the crowds were overwhelming. On one single afternoon, he saved 19 people.
One of Colombo's most dramatic rescues was when a tugboat hit a barge, and the barge burst into flames that quickly engulfed the tugboat. To rescue those on board, Colombo dove under the flames several times to save the men.
Colombo Continued to Compete
Throughout the 1920s and '30s, Colombo also performed and raced. His specialty was sea-water distance racing. (This is a sport that is no longer encouraged, as it's viewed as too dangerous.)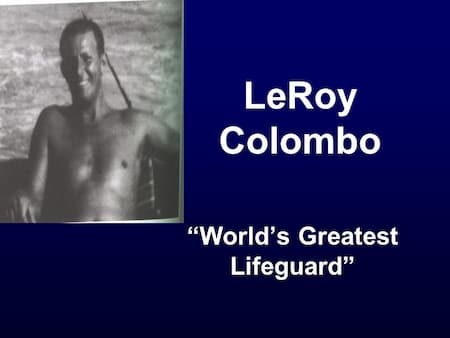 In addition to a 5k race held at the opening of the Galveston beach season each year, there were also competitions to swim across the Gulf—a 15-mile journey that many who entered could not finish. One year fourteen swimmers began the race. Leroy Colombo was the first come in. Forty-five minutes later, his brother finished—all the other swimmers quit before the end of the race.
Another year, Colombo raced against the fellow who held the amateur Athletic Union National Endurance title. In both 1924 and 1925, Colombo bested him—one year he did so by a full 90 minutes.
Those who saw Leroy Colombo swim said that his secret was an unwavering pace. He just kept swimming.
Colombo remained active in several sports teams made up of alumni from the School for the Deaf. As part of the team, he traveled to Houston, San Antonio, Biloxi, and St. Louis for races and frequently won. Galveston loved the publicity for the city. The Chamber of Commerce attempted to raise money to send him to England to train for the Olympics but it never came to pass.
Lifeguard Duties
In addition to saving lives, lifeguards tended to many other matters. They aided swimmers stung by jellyfish; they policed the beach, cleaning up around the bathhouses; and they scolded children who didn't clean up after themselves.
Because they were volunteer workers until the mid-1940s, they all did what they could to make money. Some split the small profits from a concession renting umbrellas, chairs and floats. Most also took jobs at restaurants and casinos that would hire extra people for the night shifts.
Galveston Changes
Attracting tourists became even more important after Hurricane Isaac wiped out so much of the area in 1900. (Isaac holds the record as the deadliest natural disaster in the U.S. Between 6000-8000 people were killed.) While Galveston was re-building, other companies were dredging out a deepwater port in Houston so that the region would be less dependent on the storm-prone Island.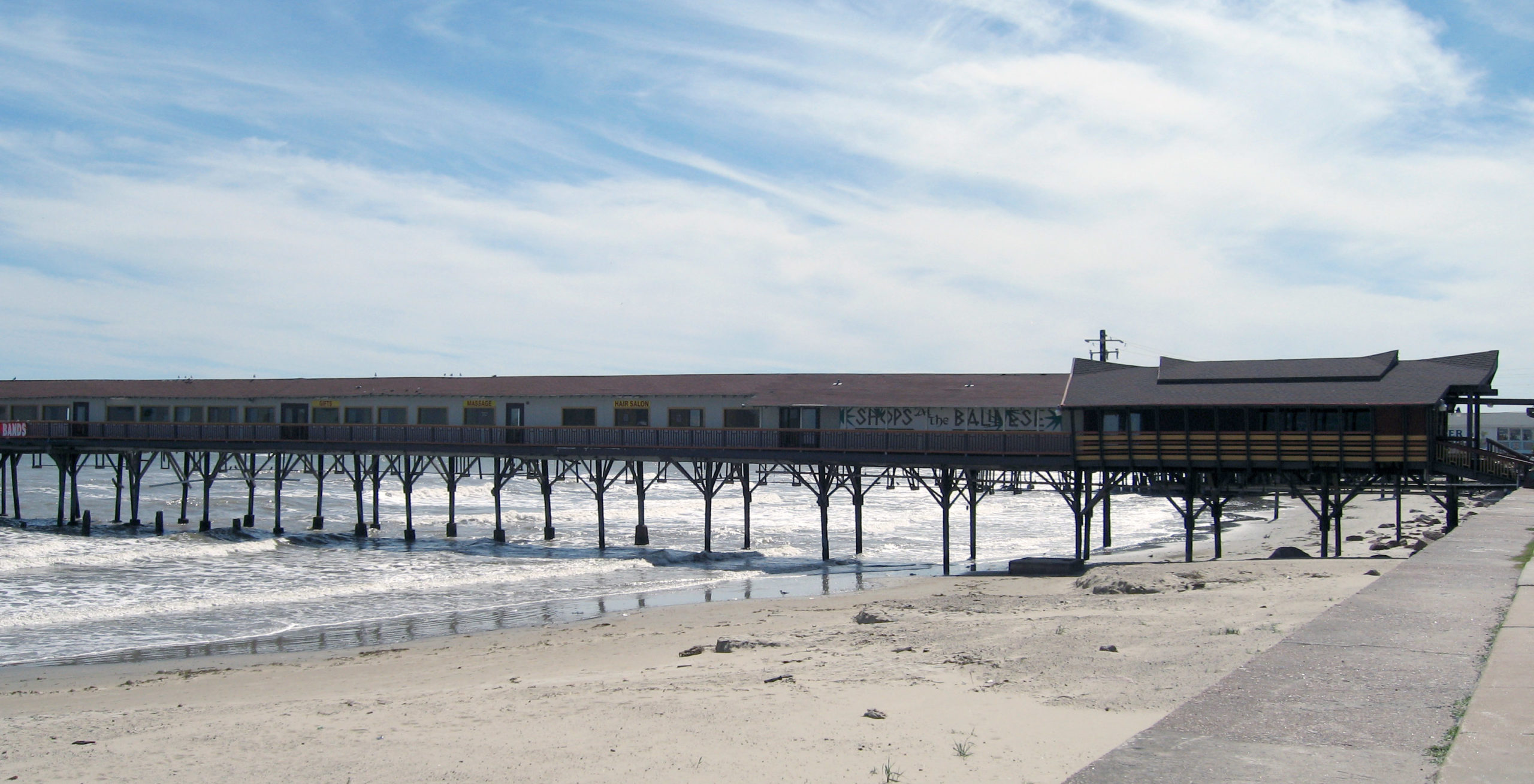 In response, Galveston worked hard to earn their title as "the Riviera of the South." Engineers recommended building a 10-mile long, 17-foot high seawall to protect against floods and hurricane storm surges. It still helps protect Galveston today.
Professor Jean F. Andrews, who has written extensively about Colombo, including her book, High Tides, Low Tides, The Story of Leroy Colombo, notes that all Colombo's rescues were good for Galveston, and the newspaper was happy to write them up. Galveston had a vested interest in assuring future tourists that it was a safe place to come for a visit.
More Leisure Attractions
When prohibition was enacted in 1920, Galveston's geography meant that they could bring in liquor or store it offshore with very little trouble. The town became Vegas before there was a Las Vegas. Major entertainers made a point to appear in Galveston, and casinos, partying, and prostitution were the order of the day. There was never a shortage of liquor.
Like most lifeguards, Colombo loved being a part of the Galveston "scene." He was a drinker, so he loved the night life. As a strong well-built man, he was used as a bouncer at a lot of the clubs, and no one particularly monitored whether he'd had a few beers.
Law Comes to Galveston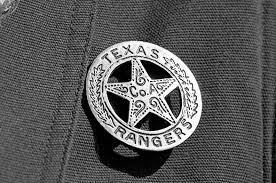 After World War II, the Texas legislature wanted the town cleaned up. The casinos began cat-and-mouse games they played regularly with the an arm of the sheriff's department, the Texas Rangers. The Balinese Room, one of the clubs where Colombo worked, was built on a pier. If you walked the length of the covered pier (about 200 feet), you would come to the "members only" casino.
One summer, the Texas Rangers arrived every night for 64 nights running hoping for a bust. They never achieved it.
Each evening followed a similar pattern. The Rangers entered the pier, and a signal from the business manager would go to the casino. Crap tables became bridge tables and slot machines were folded into the wall. If the owners had time to spare, then they cued the band. As the Rangers entered, the bandleader would announce: "And Ladies and Gentlemen, we give you in person, the Texas Rangers."
The Balinese Room finally closed in 1960.
Personal Life
Leroy Colombo was fortunate to have six years within a community of deaf people. While he loved being on the beach in Galveston, it was a lonely existence. No one in his family ever learned to sign, and while some classmates came down to visit him, there were many days when he could only share simple lip-reading conversations with others.
And he never lost interest in trying to find a way to re-gain his hearing. During these years, medicine men circulated throughout the U.S. promising cures for everything from arthritis and "dropsies" to deafness.
Leroy bought into one fellow's theory that Leroy could regain his hearing through a "plane cure." He became friends with Army Airman Lt. G.H. McHenry, and McHenry took him up daily for a period of time. They would fly up to 11,000 feet and then McHenry would bring the plane down quickly to 7000 feet. Colombo said he heard some of the sounds of the plane, and he desperately hoped it would restore more of his hearing.
Deaf Fraternal Society Important
Health insurance was virtually impossible for a deaf person to obtain during those years. Most deaf people are just as healthy as anyone else, but fear kept insurance companies from writing policies for them.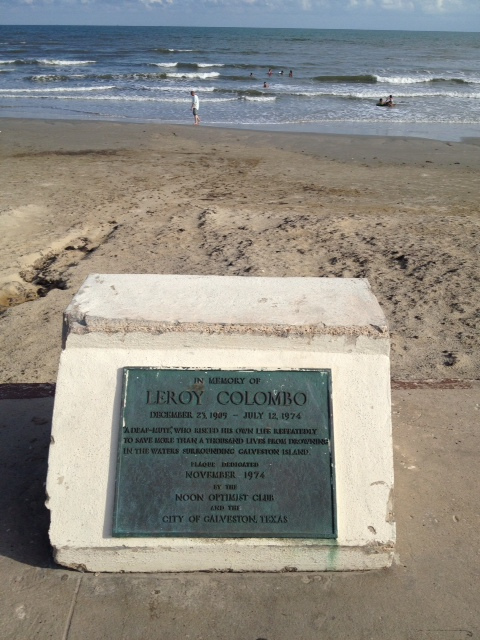 The Fraternal Society of the Deaf (FRAT) grew out of graduates from the Texas School for the Deaf, and among their accomplishments was negotiating group health insurance rates for its members.
As Colombo grew older, his health worsened. He inherited his father's heart condition, and he drank heavily, eventually causing a bleeding ulcer.
When he didn't feel well, he couldn't do the odd jobs that helped him support himself. He finally had to turn to his deaf friends for help in paying dues to the fraternal order so that he could continue to get the healthcare he needed.
Colombo's Last Years
Colombo retired from his position as a lifeguard at the age of 62 because of his health. He continued to swim a mile daily, winter and summer, for the next six years until he just couldn't do it anymore. After that he lived for only another few weeks.
After Colombo's death, the Galveston Police Chief, D.K. Lack said: "He was one of greatest lifeguards that ever lived. He saved more people that I ever heard of or knew. Colombo could sense anything going on in the water and see it before anyone else could. He's a legend in the city of Galveston." (Lack was quoted in The Deaf American, 1974.)
Leroy Colombo Honored in Many Ways
Leroy Colombo's passing was noted in the Texas Legislature by a moment of silence. Many towns in Texas flew flags at half mast.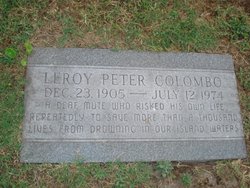 Other honors followed. The 5K race held annually in Galveston is known as the Leroy Colombo race. Fittingly, it is a fundraiser for the beach patrol. Several markers in Galveston note the life of Leroy Colombo. He would have particularly loved the one that is by the seawall that is just blocks from the house where he grew up. That stretch of the beach is also known as Colombo's View.
The Texas School for the Deaf also honored him. In 2002, Colombo was inducted into the Texas School for the Deaf Athletic Hall of Fame. In 2006, the school named their Swim Center after him.
Despite Colombo's ups and downs, he lived as he wanted where he wanted. One of his friends said: "He couldn't hear the roar of the surf, but he saw the sun and water, and he felt the sand between his toes every day."
Water safety is important for people of all backgrounds and ages. To help children with special needs, www.safety.com has put together a special guide: Water Safety Guide for Children with Special Needs. Very helpful!
To read about another deaf person who excelled in her career, read Kitty O'Neil, Stuntwoman.
And to read about how deaf education came to the U.S. read Alice Cogswell: Bright Child Who Inspired Deaf Education.