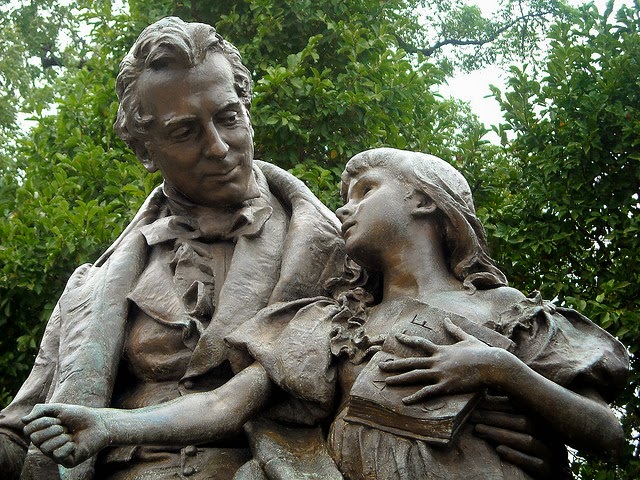 Alice Cogswell (1805-1830) was two years old when she suffered "spotted fever" (likely meningitis). She recovered but lost her ability to hear. Her bright, inquisitive manner attracted the attention of neighbor Thomas Hopkins Gallaudet (1787-1851). After getting to know Alice, Gallaudet was inspired to learn about and introduce deaf education to the United States.
In the early 1800s, Americans were behind Europeans in their knowledge of how those who were deaf could learn. In Scotland and Paris, efforts were underway to develop methods to communicate with and teach this population. In the U.S., educators provided no resources to communicate with or educate the deaf.
Alice Cogswell's Story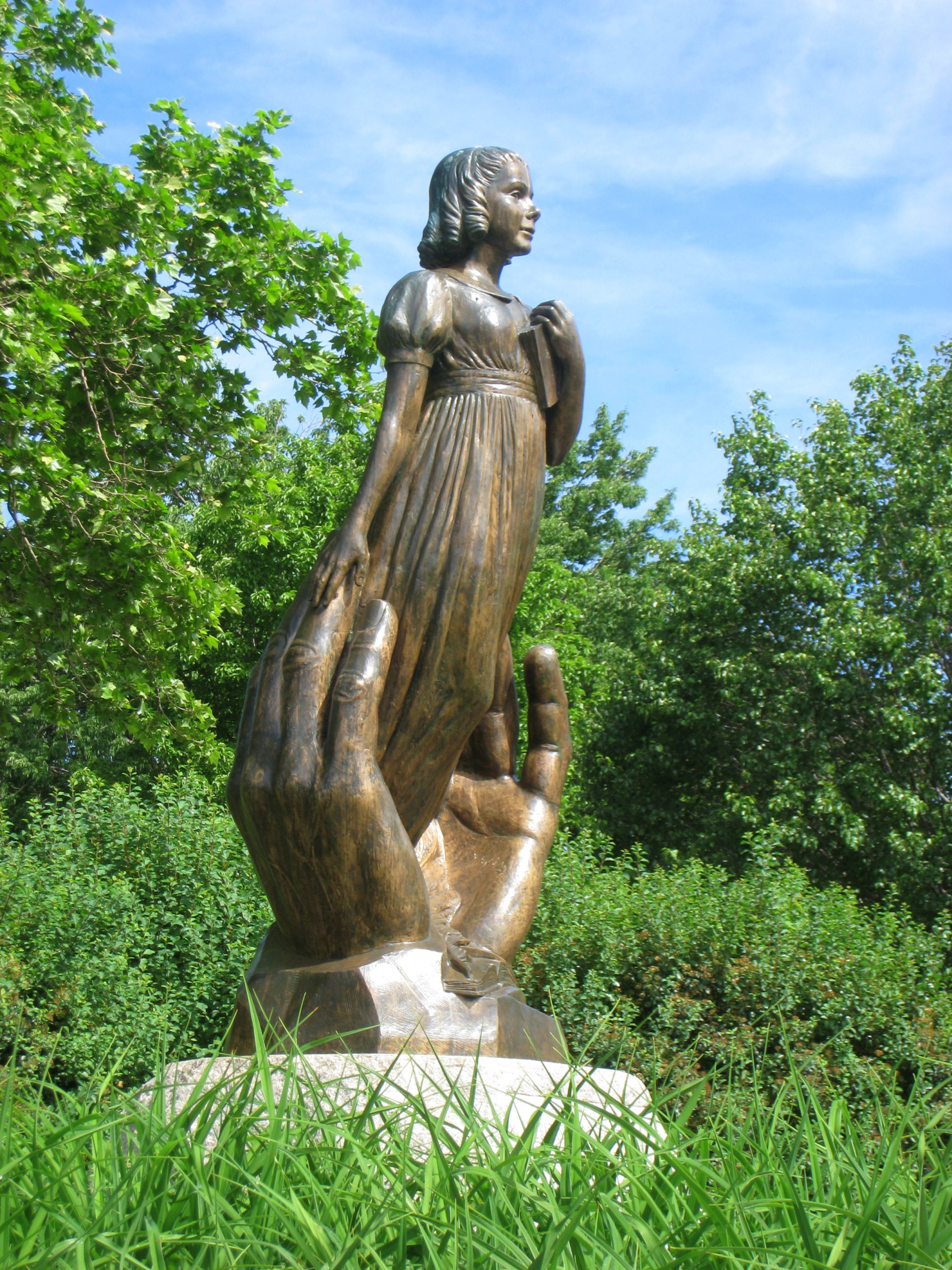 Because Alice became ill and lost her hearing at such a young age, she had only minimal language skills. These were hard to maintain since she could no longer hear.
The man who was to change Alice's life and bring education to the deaf in America was a young man from Hartford, Connecticut (the city where Alice's family lived). Thomas Gallaudet attended Yale University and then trained for the ministry, attending Andover Theological Seminary.
Gallaudet met Alice when Gallaudet came home on weekends or during vacation from his studies at the seminary. Alice sometimes came along with her siblings to the Gallaudet home. The Cogswell children enjoyed playing with the younger Gallaudets. Alice, however, was generally left out. She sometimes sat in the garden on her own, watching the others play.
Gallaudet noted her presence and sometimes sat with her, trying to find ways they could communicate. Over time, they came to experiment with using sticks to draw in the dirt and using facial expressions to "talk" back and forth. The more time he spent with Alice, the more interested Gallaudet became in developing a way to expand her knowledge and her ability to communicate.
[An article recently brought to my attention notes that Hartford, Connecticut resident Lydia Huntley Sigourney started a school for girls in 1814. She may have been Alice's first teacher and introduced the concept of reading and writing.)
Gallaudet Searches for Effective Methods
After graduating from Andover Seminary in 1814, Gallaudet came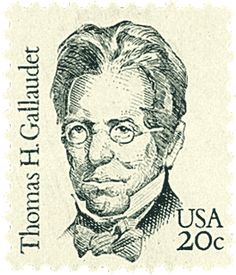 home to regain strength after an illness, putting off his acceptance of a ministry. During this time, he also continued to work with Alice.
Alice's father, Dr. Mason Cogswell, was a very successful surgeon in Hartford, Connecticut. He loved the fact that his daughter was responding so well to Gallaudet's efforts. Dr. Cogswell began to consider what possibilities there might be to help Alice and other children. He learned there were at least 40 children in Connecticut who were also deaf. Cogswell also heard about what was happening in Europe. He then asked Gallaudet if he would be willing to go to Europe to learn what he could. Gallaudet agreed, and Cogswell solicited friends to help fund Thomas Gallaudet's trip to Europe.
Gallaudet's first stop was London but his effort to connect with someone to help him there did not work out. However, Gallaudet met cleric Abbé Roch-Ambroise Cucurron Sicard (1742-1822), who was there giving a lecture. Sicard was head of the school for the deaf in Paris started in 1760 by Charles-Michel de l'Épée. L'Epee developed his educational methods after meeting two sisters with hearing impairments who used gestures and facial expressions—what we now know as sign language—to communicate.
When Gallaudet arrived at the school, then known as L'Institut National de Jeunes Sourds de Paris, Abbé Sicard re-connected him to to two former students whom Gallaudet met briefly at the lecture in London. remained at the school to teach: Laurent Clerc (1785-1869) and Jean Massieu (1772-1846). Both men were deaf from birth or from a very early age, and they studied under Sicard.
Alice Continues School
In Hartford, Alice Cogswell continued to attend school with one of her sisters. By this time, her teacher was Miss Hanley. A letter reprinted in a biography of Thomas Gallaudet, provides insight into her student-teacher view of Gallaudet. In her letter, Alice writes to say she misses their lessons and then she explains a story told to her by Miss Hanley (October 11, 1815). She does a good job of conveying the gist of the story. Her father added a separate note that gave Gallaudet a better understanding of how the circumstances of the story came about. (The letter can be read in a biography of Gallaudet that has been digitized and is available here. Page 10 of the book.)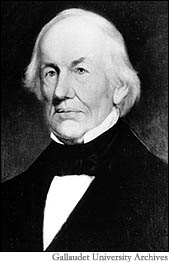 As Gallaudet saw how much there was to learn in Paris, he began to worry about Alice. He needed to return to share what he was learning. He received permission from Abbé Sicard to invite Laurent Clerc to accompany him to the U.S. to start a school. The ocean passage was described as a time of mutual learning. Clerc continued to school Gallaudet in sign language while Gallaudet taught Clerc some basic English in preparation for their arrival.
School Funded and Started
Once Gallaudet and Clerc were in Hartford, Dr. Cogswell was able to put into motion his plans for getting the school underway. It was to be based in Hartford. It was initially called The Connecticut Asylum for the Education and Instruction of Deaf and Dumb Persons.
Alice Cogswell and six other students enrolled in the first class. The school was acknowledged relatively rapidly by the federal and state governments. They were soon providing aid, recognizing what was being accomplished.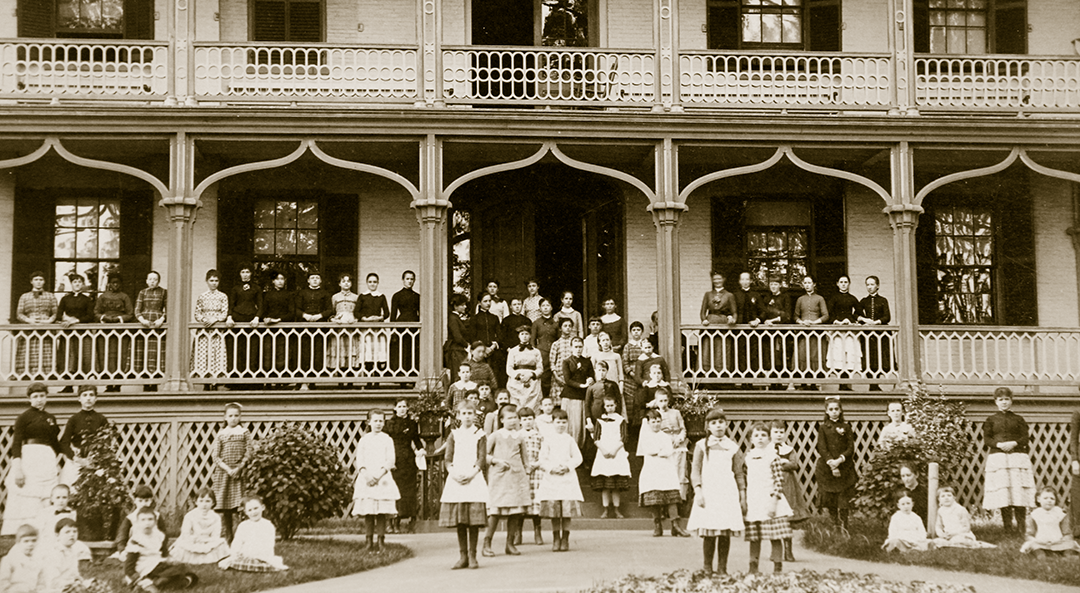 Clerc was inclusive and adaptable in what he taught. In several cases, the students came from a single community where genetics created a population of people who couldn't hear. Within these groups, however, a way to communicate developed. Clerc and Gallaudet saw the wisdom of incorporating this language into the French sign language that Clerc brought with him. The teaching method used soon became known as American Sign Language. This is the basis for what is taught today.
By the 1820s the school became known as the American School for the Deaf.
Deaf Education: Alice Cogswell as Ambassador
Alice enjoyed the time she had in the school and graduated in 1824. She became an ambassador for the school. She traveled throughout the country to spread the word about the learning opportunities that were now open to students who couldn't hear.
Unfortunately, Alice Cogswell died prematurely. Her father passed away in November of 1830, and barely 2 weeks later, Alice died as well.
Alice Cogswell demonstrated that people with hearing deficits were fully capable of learning and communicating—they just needed tools that factored in their inability to process sound.
Other Ambassadors
Alice Cogswell was not the only student who helped spread the word on deaf education. As more students graduated from the school, they accepted teaching jobs elsewhere in the country.
Over time, the movement spread—all inspired by Alice Cogswell, whom Thomas Gallaudet believed should be given the opportunity to be the vibrant, educated person he knew she could be.
Monument Honoring Cogwell and Gallaudet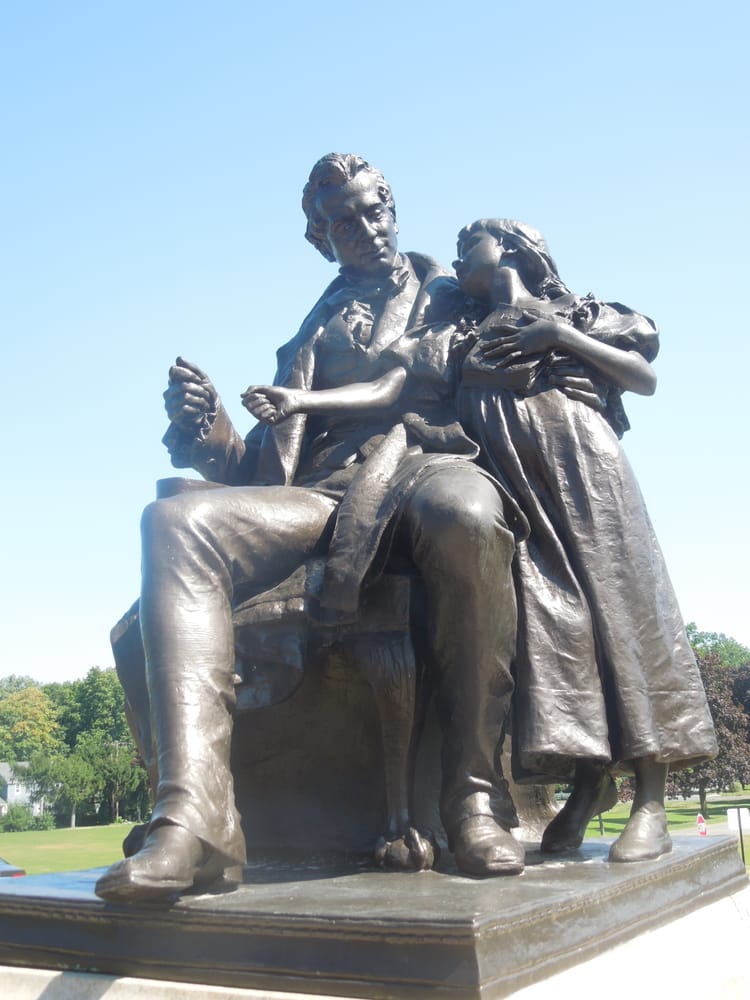 In 1883, members of the National Association of the Deaf passed a resolution for a bronze statue to be erected in memory of Thomas Hopkins Gallaudet. This monument was to be on the campus of a college for the deaf in Washington, D.C., a school founded by Gallaudet's son, Edward, who continued his father's life work.
The statue was to be of Gallaudet and Alice Cogswell, the child who inspired the movement. The sculptor selected was Daniel Chester French.
At the formal dedication ceremony, the statue was presented to Edward Miner Gallaudet. Later, Edwin A. Hodgson, the former president of the National Association of the Deaf, said: "The statue does not pay off a debt; it simply acknowledges an obligation so great that it can never be cancelled. It forms but the outward expression of a widespread reverence and love."
The Gallaudet University art teacher of the time observed that the true beauty of the statue was in the emotional bond that is depicted between Gallaudet and young Cogswell.
For the story of how the quarterback for the Gallaudet football team created what we know as the football huddle, click here.
And to read about a 20th century record-setter who was deaf, click on Kitty O'Neil, Stuntwoman.