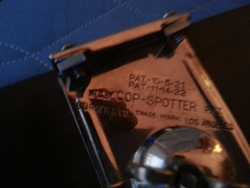 The first widely distributed rearview mirror for automobiles was sold as the "Cop-spotter" by a fellow named Elmer Berger. Available as an auto accessory, the "Cop-spotter" retailed in hardware stores for about $4. (Cars did not routinely have any sort of mirrors until the late 1920s.)
We think of the rearview mirror as an aid to safe driving, but in 1921, it was an aid to knowing when to drive safely!
About Elmer Berger
Elmer C.A. Berger (1891-1952) was born in St. Louis and studied electrical engineering at the University of Pennsylvania. After graduating, he moved to Southern California, establishing Berger & Company. By 1921, he was making and selling the rear-view mirror as an auto accessory.
Berger and his new mirror were featured in a short article in Hardware World: Plumbing & Heating, Volume 15. The mirror was described as a strong plate glass mirror, measuring 3 x 7 inches, that attached to the top of the windshield. Once attached, the mirror was adjustable. The retail price at the time of the article was $3.50. The article praised Berger and his relationships within the hardware industry; one would assume that he had other accessories he sold via hardware stores, as Berger & Company pre-dated the advent of his line of mirrors (1921).
Berger's Success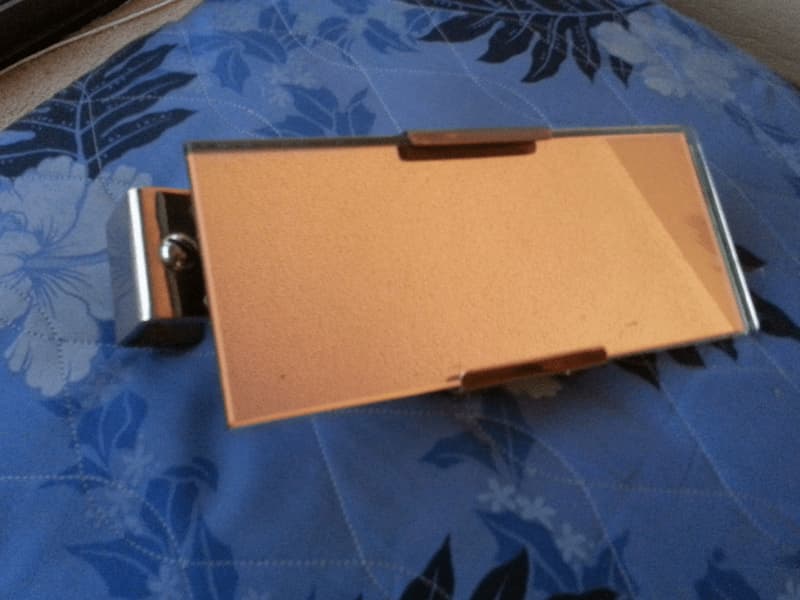 Many sources say that Elmer Berger held a patent on the mirror. From my research, it seems that he applied for a patent twice. (The top photograph shows the two different years when an application was filed.) Because there is no patent on file for him, we must assume that he never received the patent, though he certainly sold the mirror successfully. What Berger accomplished, however, was popularizing the addition of mirrors to cars, which eventually aided in safety.
Later reports show that Berger's business must have been quite successful. He married an opera singer and actress, and the couple bought a house in Huntington Palisades, a new development between Brentwood and Santa Monica. They lived there through the 1930s and '40s. They also owned a thoroughbred racing stable. Several of their horses went on to be highly competitive in the major horse races of the day.
Though Elmer Berger's Cop-spotter was the first widely-marketed auto mirror, it was not the first to be attached to early automobiles.
First Publicized Use of a Rearview Mirror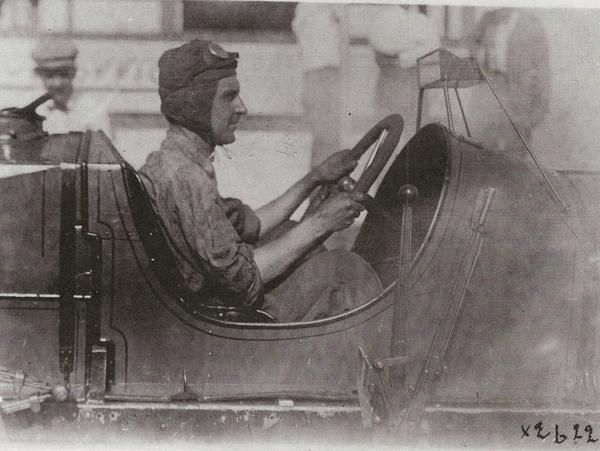 The first well-known use of a rearview mirror for automobiles was by a race car driver in the very first Indianapolis 500, held in 1911. Ray Harroun was driving an Indianapolis-built Marmon "Wasp," a crowd favorite. The rules of the day specified that drivers were accompanied in their cars by their mechanics. If the car broke down, the mechanic was right there to get to work. When the car was in motion, the mechanic's job was to keep an eye to the rear and to side of the race car to keep the driver informed of what was coming up around him.
But Harroun had a plan. He didn't expect his car to break down, and he convinced officials to let him install a rear-facing mirror to replace the need for a mechanic. Less weight in the car would mean faster speed, and Harroun was playing for every advantage he could.
Ultimately, the officials went along with the rearview mirror plan, and Harroun won that first Indy 500. race. Certainly, a lighter-weight car had its value, but did the mirror make the difference in race strategy?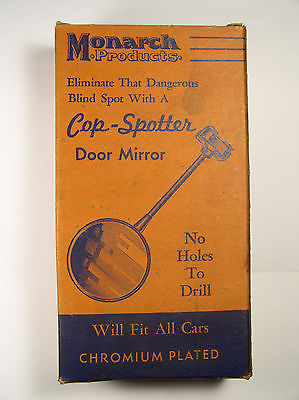 It turned out it didn't. Later, Harroun said that the mirror did him no good. In 1911, the raceway at Indianapolis was called the "Brickyard," as the surface chosen for the roadway was brick. Harroun explained that as the Marmon rolled over brick after brick during the race, the vibration was so strong that Harroun was unable to see images in the mirror.
And when asked about how he came up with such an innovative idea as the rearview mirror, Harroun took no credit. He said that in 1904 he saw a driver of a horse-drawn buggy using a rearview mirror. Harroun thought it was a great idea. He copied it and installed it on his race car.
Others Experimented with Rearview Mirrors
Even before Harroun and Berger, others were experimenting with the use of mirrors on cars. As early 1906, a European car, the Argus, had dash mirrors installed.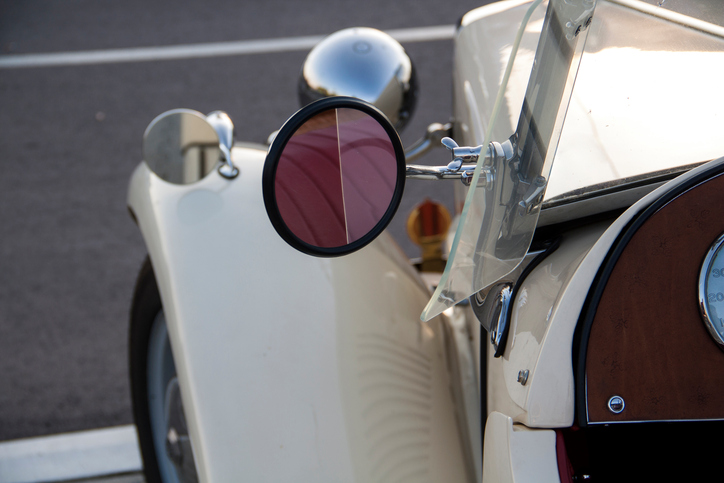 The first U.S. patent on a rearview mirror was issued in 1914 to Chester A. Weed of Brooklyn. Weed's patent was for a "mirror attachment for automobiles" to avoid blind spots. The patent application is somewhat unusual as it recommends that drivers also add a "reflecting" mirror so that their automobile would be more easily seen. The patent application itself described a "reducing" mirror–the images appeared smaller than they really were but thereby could give a more complete view of the view behind the driver.
Women Drivers and the Rearview Mirror
Once cars were invented, many others were thinking about the importance of an occasional glance to the rear. Writing in his column on Jalopnik (8/10/15) Jason Torchinsky tells an interesting story about a British driver and adventurer, Dorothy Levitt. Levitt wrote a book called, The Woman and the Car: A Chatty Little Handbook for All Women Who Motor or Want to Motor (1906). The book advises women to carry a mirror with them when driving, preferably one with a handle. "Just before starting, take the glass out of the little drawer [presumably a little drawer in the car] and put it into the little flap pocket of the car. You will find it useful to have it handy—not for strictly personal use, but to occasionally hold up to see what is behind you."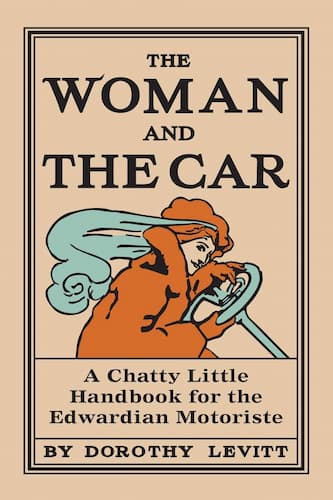 Along with carrying a hand-mirror for help while driving, Levitt recommended some additional items: a revolver (when driving alone) and some chocolate. (Interesting.)
Cars then had only front window shields, no closed cab to protect people from the elements. In addition, roads were unpaved, so Levitt also advised bringing hairpins, a pair of clean gloves, an extra handkerchief, a clean veil, and a powder puff for neatening up later.
***
Since that time, there have been hundreds of patented alterations to the rearview mirror. Inventors have filed applications for mirrors of different sizes, different placement, day-night mirrors, and anti-glare mirrors. Rearview mirrors now signal if a car is in a driver's blind spot, and rearview cameras are becoming a common supplement to a driver's regular mirror. With the camera, drivers are finally given a view of items that are lower than the back window.
For more information about the early days of driving, read about a couple who should have been using a rearview mirror— they were the first people arrested for drunk driving.
Mary Anderson was the first person to patent the windshield wiper, though she didn't make any money on it.
To read about the Crusaders who Campaigned for Car Safety, click here.
And here's the story of how early drivers obtained gasoline when towns did not yet have gas stations.