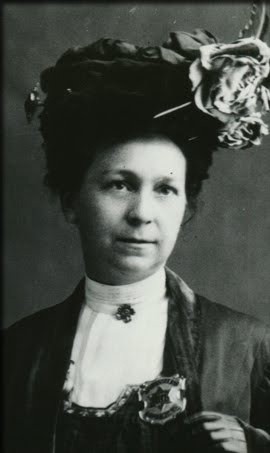 Alice Stebbins Wells (1873-1957) was among the first women in the United States to work in law enforcement.
Alice Wells spent her early career working as a pastor. During that time she saw that communities would be safer places if women, too, were on the local police forces. She urged passage of a law in Los Angeles that would permit women to be officers. Finally, in 1910, she was hired as a policewoman and given a regular beat, which was almost unheard of for a woman.
As Wells's police career progressed, she founded the International Policewomen's Association. This led to her traveling all over the country to promote the concept of hiring more women for law enforcement.
Early Life
Alice Stebbins Wells was born in Manhattan, Kansas. She was the daughter of well-educated parents, both of whom attended Oberlin College. After her birth, the family moved to Hiawatha, Kansas (about 70 miles north of Topeka), where her father started a local newspaper.
Alice attended high school in Atchison, which would have been about about 40 miles away from their home in Hiawatha. The family must have moved, or she stayed with someone in Atchison. After she graduated from high school, she studied at Oberlin College.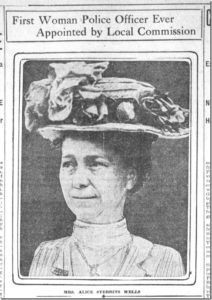 By 1900 she was a pastor's assistant to Dr. Newell Dwight Hillis at Plymouth Church in Brooklyn. She was intrigued by religion and wanted to learn more about the philosophy behind it. She enrolled at the Hartford (Connecticut)Theological Seminary where she studied Old Testament history for two years. During this time, she filled in for vacationing pastors at churches in and around Maine, becoming the first woman to hold church services in that state.
On a trip to Perry, Oklahoma, she was offered and accepted a full-time position as a pastor of one of the local churches. During that time, she met and married Frank Wells, a pioneer who made his way to Oklahoma after leaving Wisconsin. The couple had three children.
At some point, the Wells family moved to Los Angeles.
Wells Believed Women Belonged in Law Enforcement
While working as a pastor, she developed the belief that there were situations where women could be more effective at policing than male officers were. This was what led to her campaign for women to be hired by police forces. If women police officers went into dance halls, skating rinks, and "picture houses," children and women in trouble might find it easier to ask for help.
Wells began talking to anyone she could about her new cause. Slowly she gained support from community members. By the time her legislative proposal reached the Los Angeles City Council, she had popular opinion on her side. The City Council had little choice but to enact the law, which went into effect in 1910.
On August 13, 1910, Alice Stebbins Wells was hired as the first policewoman in L.A. Some sources identify her as the first in the nation, but as more and more local papers are digitized and used for research, historians see that she was among the first, but others preceded her. (See the end of the article for a few other names.)
Alice S. Wells: On the Beat in L.A.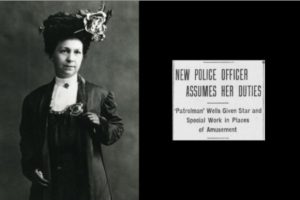 Once hired, Alice Stebbins Wells was not issued a gun or a baton, but she received a telephone rule book, a first aid chart, and a telephone call box key so that she could report crimes and call for reinforcements. She also wore a badge.
Because it was so unusual for a woman to be on the police force, the badge did not always gain her the respect it should have. One of the perks of the position was that police could ride on trolley cars at no charge. One conductor ejected her from his trolley, accusing her of using her husband's badge.
When she brought this problem back to headquarters, it was remedied. She was given a new badge: "Policewoman Badge No. 1."
Initially, the police department did not intend for her to be in uniform. Early photographs show her in a lace blouse with a jacket. But Alice Stebbins Wells wanted recognition, so she took the matters into her own hands. She sewed a khaki-colored jacket and long skirt that became her uniform and the model for future uniforms for women of the day.
News Coverage of Wells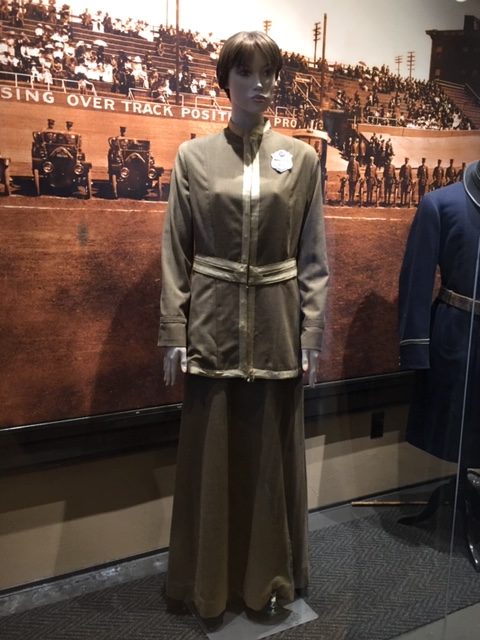 News reporters were eager to write about the new female member of the Los Angeles police department. However, the reporters got off to a bumpy start. They didn't know what to call her. Early references in the press describe her as the "first woman policeman," "Officeress" or "Officerette Wells" Clearly, these were not titles Wells favored. Eventually women on the force became known as policewomen.
Alice Stebbins Wells wanted acceptance. In an interview with the Los Angeles Times, she said: "This is serious work and I do hope the newspapers will not try to make fun of it."
The Los Angeles Herald reported: "Her salary is not as large as a policeman for she will receive but $75 a month, while a policeman receives $102. But she will have to conform to the regulations of the department just like any other member of the force."
Starting to Patrol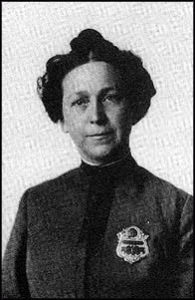 After learning the patrol process under Juvenile Officer Leo W. Marden, Wells developed her own systematic method for visiting penny arcades, skating rinks, "picture theaters," and any place where women and children might be in trouble.  She also became part of the "purity squad." Sometimes she would report back to headquarters with information on theatrical shows or billboards that were unwholesome.
L.A. soon added a law that women in custody needed to be questioned by a woman investigator. After this, Wells was often called in to conduct these investigations.
Wells Saw Need for Special Services for Women
As Wells worked, she saw that women needed special services in order to feel comfortable about approaching the police. Wells helped found a bureau for women who needed help. She also founded a missing person's bureau for women and children.
A third need was covered by the "Minnie Barton Home." Wells and a woman parole officer named Minnie Barton teamed up to create a safe place for women just released from jail. Over time, the house was used as a halfway house where some young offenders lived instead of being sent to jail.  Today this home is part of the Children's Institute of Los Angeles.
Serious Work
One of her jobs representing the department was visiting schools and women's organizations as a speaker.  In 1913, Los Angeles experienced a rash of robberies. Some were done by a group called the boy automobile bandits.  Women's groups began inviting Wells to speak to them about crime and safety.
On August 14, 1913, Wells addressed a group of Los Angeles clubwomen to give them tips: "If she has the pluck, when she meets an annoyer or a hold-up man, scream first. Then use the first weapon at hand. Don't forget the trusty hat pin. That or a few well-chosen jiu-jitsu tricks will help women when sneak thieves appear or burglars invade the home.
"Remember that a burglar is under greater nervous strain that you are."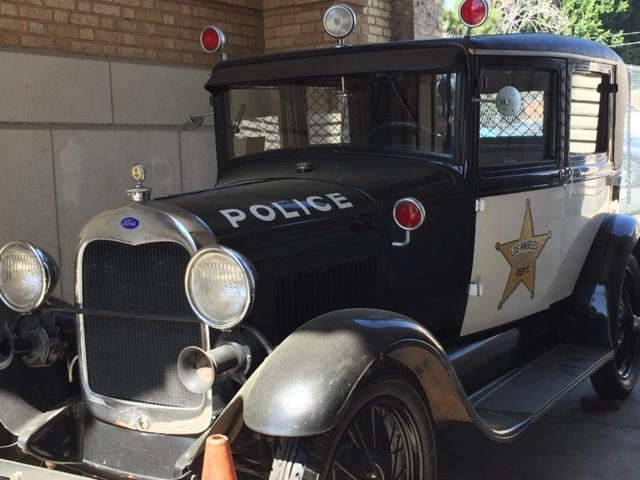 She concluded by reminding audiences that "The weapon nature gave a woman was a scream. But she notes that in more rural communities where someone might not hear you then "It would not be bad to know a few bone-breaking tricks."
Wells also brought groups information about female hygiene which included sex education. This was a new but badly needed topic for that day.
Requests from Elsewhere
Because Alice Stebbins Wells advocated publicly for the need for women on police forces, her office received many inquiries.  By 1914, the LAPD permitted Wells to undertake a speaking tour promoting women in law enforcement.  She traveled widely conveying her message.
Reaction from the citizens and the press in the locations she visited was very positive. Toronto's City Controller J.A. McCarthy wrote: "Not in many years of social work and interest in social problems have I heard an address so comprehensive, so intelligent and so full of 1913 common sense as that to which we listened last night…
"There is in this day no lack of speakers who criticize, but there is a dearth of speakers who are able to suggest as you did, the preventive and educational measures which are practical." (Jan 14, 1913)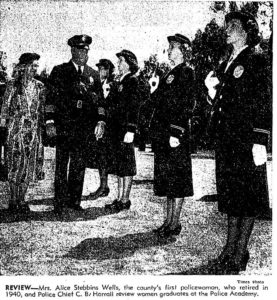 In Albany in 1914, she addressed the New York Assembly, urging passage of a bill for policewomen. And just as women today find that reporters can't resist commenting on their clothing or their looks, Wells faced the same thing. A reporter for The Albany Times wrote: "She wore a khaki uniform and a large shield. Her brown hat, with an attractive plume, was distinctly feminine."
Wells Tireless On Behalf of Her Cause
In May of 1915, she scheduled a conference to organize an international association of policewomen, to work with the National Conference of Charities and Corrections. Policewomen from 14 states came that first year and elected Alice Wells president, a position she held for five years.
At the second conference, 22 states were represented. The organization took an official stand on what the women should be called: "Policewoman" was to be used for regularly appointed police officers with the power of arrest.
Urged Other Changes
As she advocated for more policewomen, she realized that women would be better served by specific training since they were not given all the equipment that their male counterparts were. Here, Wells approached the University of California Southern Division (now UCLA) and urged them to offer a course to train women in law enforcement. That class became a reality in the summer of 1918. It was run by the School's Criminology Department.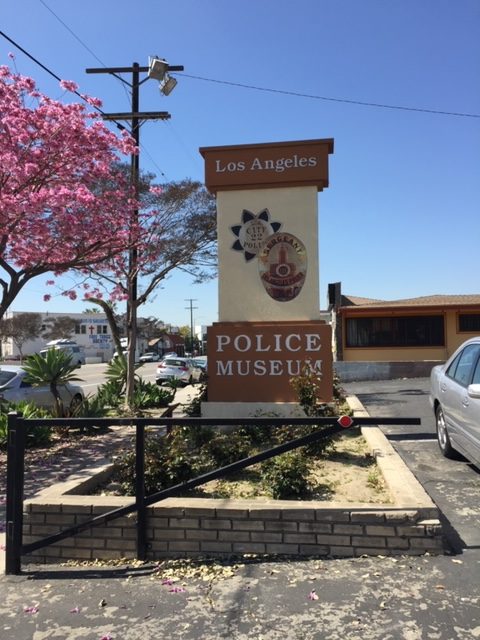 Wells was active in many other causes. She founded the Pan-Pacific Association for Mutual Understanding in 1924 and this group met regularly. She was also chairman and first present of the Women's Peace Officers Association. (1928)
She stayed with the Los Angeles Police Department until retirement in 1940. In 1934, she requested what became her final position: to establish and curate a police museum. The Los Angeles History Museum still exists today in Highland Park section of Los Angeles.
Wells died in 1957. Her funeral was well attended by all the senior officers in the police department. Her casket was accompanied by a 10-woman honor guard—something that would have made Alice Wells proud.
Alice Stebbins Wells deserves to long be remembered for introducing the concept of women in police work.
***
Other Women in Law Enforcement
The first women employed in any form of law enforcement jobs were hired as matrons in the jails. As early as the 1840s, they were used to help with women and children who were arrested or brought into the police station for protection. The matrons played a vital role in the system, but they did not patrol, nor could they arrest anyone.
Besides Alice Wells, a few other women worked as police officers long before women were commonly hired:
Marie Owens was hired by the Chicago Police Department in 1891. She had the power to arrest, but her duties were limited to child labor law violations.
Lola Baldwin joined the Portland (Oregon) Police Department in 1908. Prior to that, she headed a team of social workers who helped with moral issues and challenges that arose as a result of the Lewis and Clark Exposition being held in Portland in 1905. Afterward, the police were respectful of the work the group had done and installed Baldwin as the "Superintendent of the Women's Auxiliary to the Police Department for the Protection of Girls." She, too, had a badge and the power of arrest but her office was in the local YWCA.
Read, too, about the Invention of the Polygraph.