In 1909 Alice Huyler Ramsey (1886-1983) became the first woman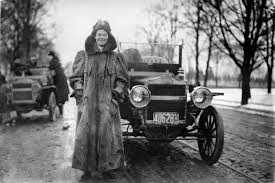 ever to drive from coast-to-coast. Horatio Nelson Jackson (and his dog, Bud), who had made a San Francisco-to-New York drive in 1903, inspired interest in the challenge; Ramsey was the first woman who opted to take it on.
Alice Huyler Ramsey: Early Years
Alice Huyler was born in Hackensack, New Jersey and educated at Vassar. By 1909 when she made the cross-country trip, she was married and had a two-year-old son.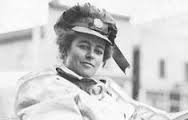 Ramsey loved being out on the road on horseback, but as the number of cars in her town began to increase, her husband, John, began to think she would be safer in her own automobile. At that time, very few women drove, but in 1908, Alice's husband John presented her with a new Maxwell as a gift. (Ironically, John Ramsey never learned to drive.)
That first summer she had her car, Alice drove all over New Jersey. She loved exploring, and when the men at the dealership heard about Alice's love of the road and how far she had driven in just a few months, they suggested she enter an automotive endurance test they planned. The test involved a 200-mile course on unpaved roads.
Alice Ramsey handled her vehicle well and came back in record time.
The Ideal Maxwell Promotion
This gave the sales manager an idea for what might be a huge coup for Maxwell… to show that their car was so well-built that even a lady could take it across the country.
The Ramseys were approached with the idea. The Maxwell Company offered to provide a new 30-horsepower four-cylinder touring car and would cover all expenses. They would also alert Maxwell dealers across the country to make themselves available to help with repairs and provide navigation. (Most of the country was unmapped at the time; there were also very few paved roads.)
Alice and her husband struck a deal with Maxwell. Alice was able to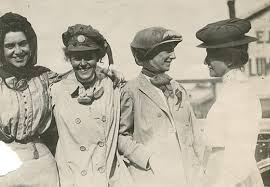 bring along three other women –two sisters-in-law and a young friend.
Maxwell sent along another car carrying a press person who arranged stops for Alice to meet and chat with local townspeople. Of course, Alice also was made available for local press interviews.
The women departed from New York City on June 9, 1909 amidst a heavy downpour. The women were dressed in rain slickers, and Alice wore a rubber helmet and visor—the only protection she would have against mud that easily few above the inadequate windshield.
Alice Huyler Ramsey: On the Road
None of the other women knew how to drive but they were as helpful as they could be with navigation and some efforts at car repair. For directions, the Maxwell Company had provided Ramsey with what was known as the Automobile Blue Book, a Guide for Bikers and Road Travelers. These guides were long on advertising, and maps were printed on an "as available" basis. Many of the directions concerned which way to go at certain landmarks, because most roads weren't named and didn't have numbers.
Once Ramsey and her passengers crossed the Mississippi, the maps were even more primitive. They had general directions to Maxwell dealers along the way, but it was a long distance from town to town (or dealership to dealership). In her book, Veil, Duster and Tire Iron (1961), Ramsey wrote that in the West they primarily followed the telegraph poles. At a crossroads, they would follow the poles carrying more wires, assuming that would take them to the larger population center.
Challenges of the Road
Along the way, the Maxwell Company would take out newspaper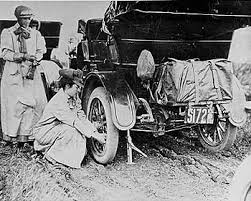 ads in advance of the women's arrival. The ads stressed the durability of the Maxwell. The reality for the women was that there were plenty of crises along the way. The car had to be cranked to start—already a physical challenge, and any number of things went wrong, often when they were far from any Maxwell dealership. Alice cleaned spark plugs and changed a dozen flat tires, and all the women took turns filling up whatever receptacles they had in order to add more water to the radiator when the engine overheated.
At one point they found themselves surrounded by Indians and were quite worried, but it turned out the Native Americans were out hunting jack rabbits and the women and the car were mere curiosities to them.
Another time they came upon a sheriff's posse out hunting a killer. These men, too, were simply interested in the oddity of finding women in a car along the road.
In Iowa and Nebraska they hit particularly rainy weather, making the un-graveled and unpaved roads particularly difficult to navigate. When the water in rivers rose too high to cross, they camped nearby and waited for the water to recede somewhat before driving across.
If the automobile was hung up in a gully, or the tires were stuck in a particularly rutted area, they had to find a way to get going again. Sometimes they could maneuver by getting a board under the tire; other times they relied on a friendly fellow traveler with a horse and wagon to pull them out. Very occasionally there would be another car and driver that would help them.
Ultimately the trip took 59 days. They had covered 3800 miles, and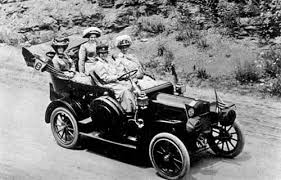 only an estimated 152 of those roads were paved. When they arrived in San Francisco on August 7, 1909, big crowds awaited them. The Maxwell Company couldn't have been happier; sales that year more than doubled.
Going Home
Alice Ramsey and her friends returned home by train. The following year Alice gave birth to a daughter . A few years after that, John Ramsey became a Congressman and represented the people of Hackensack, New Jersey for two terms (1917-1921).
Alice Ramsey's life became much less publicized but that didn't mean she was at home. She went on to repeat the cross-country drive at least thirty more times.
In 1960 she was named "First Lady of Automotive Travel" for her trek across a "trackless land" as the Automotive Manufacturers Association put it. On October 17, 2000 Alice Huyler Ramsey was the first woman to be inducted into the Automotive Hall of Fame.