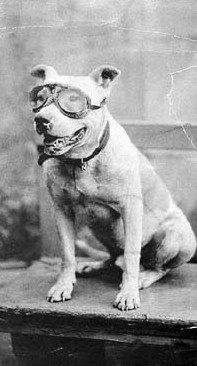 In 2003 Ken Burns released a delightful documentary, Horatio's Drive, telling the story of the very first cross- country trip by automobile. The trip was undertaken in 1903 by a Vermont doctor, Horatio Nelson Jackson, who agreed to attempt it in order to win a $50 bet. Along the way he acquired a dog who very happily made the trip as well.
Jackson and his wife were in San Francisco because Jackson was recovering from health problems and could not spend the winter in Vermont. On May 18, Horatio Jackson was having a drink at the San Francisco University Club when he got into a discussion about the future of automobiles. Most people felt they were a useless fad but Jackson believed they were the next big thing. He accepted the other men's challenge: to be the first to travel cross country by automobile. The wager placed was $50 (about $1200 today).
Horatio Jackson's Bet
The terms specified that Jackson could travel with a mechanic, and he selected a 22-year-old fellow named Sewall Crocker who was given the job of choosing the car. Crocker selected a twenty-horsepower, 2-cylinder automobile made by the Winton Motor Carriage Company.
Jackson purchased the supplies they would need which included fishing gear, pots, pans, and sleeping bags as well assorted items for keeping the car going through what promised to be challenging terrain. Jackson provided an ax, a spade, extra tools, a pistol, and spare containers for water and gas…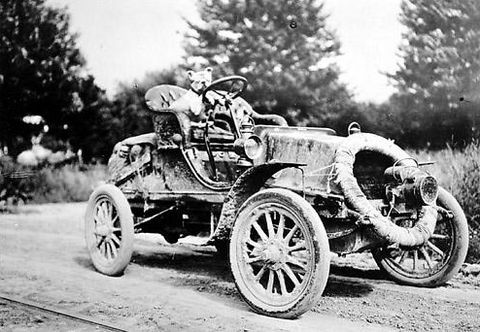 there were no gas stations along the route as there was not yet a route at all.
They had a few basic maps of some areas that had been used by cyclists, but otherwise they planned to prevail on the kindness of strangers to point the way.
Blew a Tire Early
Fifteen miles into the trip, the car blew a tire—the first of many mishaps. Just outside Sacramento they lost all their cooking gear fell off the back of the car without them even noticing. The trip proceeded with many similar challenges—getting gas or fixing a tire often became a major ordeal.
In addition, people were so excited to see the travelers that some of them would purposely tell them a route that took them out of the adventurers' way but directly into the path of friends or relatives of the person giving directions.
Bud the Dog
They were in Idaho and had stayed in a hotel in Caldwell. A few miles out of town, Jackson realized he forgot his coat so, according to the PBS website,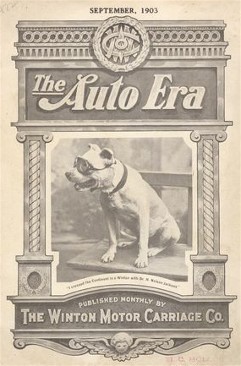 they turned around. On their way back to Caldwell, a man offered to sell them a bull terrier pup for $15. Jackson accepted the offer; they named the dog Bud, and Bud became a big attraction everywhere they went.
Cars were totally open in that day, so road dirt and dust flew directly at the passengers all day long. When it became clear that Bud's eyes were as irritated by the dust as the men's were, Dr. Jackson took a pair of goggles and fit them to Bud's head. He wore them the rest of the trip.
Part of the challenge of the bet involved making the trip in under 90 days, and this caught the interest of car manufacturers. Soon a team of men driving a Packard and another group driving an Oldsmobile were trying to keep up with Jackson and win what they had turned into a cross-country race.
The Finish Line
But Bud, Sewall Crocker, and Horatio Jackson were the victors. They had averaged 71 miles per day, and they drove down Fifth Avenue in New York City at 4 a.m. on July 26, 1903. Jackson claimed his $50 winnings and noted that it had cost him $8000 to win the bet.
Bud had been the perfect companion. He had become quite skilled at watching the road and bracing for hills and bumps, and Jackson noted that was the only member of the trio who "used no profanity for the entire trip."
Epilogue
Bud was perfectly happy to trade in his life on the road for retirement at Jackson's home in Vermont with occasional car trips into Burlington.
Crocker eventually got sponsored to do a two-year auto tour of Europe.
Jackson used his fame to become a successful businessman in Vermont, and his health must have improved as he eventually enlisted to be among the older men fighting in World War I.
Speeding Ticket?
And Dr. Jackson and Mrs. Jackson seemed to have lived contentedly in Vermont with only one driving incident to mar their memories. One day in Burlington, Jackson got ticketed for speeding—he was going over 6 miles per hour.
No word as to whether Bud was along to witness the humiliation.
For more on Vermonters and their early dislike of automobiles, see "Automobiles in the Days of Crank and Sputter."