Car seat belts are a safety measure that most people take for granted. While compliance is at an all-time high—90 percent of front seat passengers use their seatbelts—car crashes are still the leading cause of death for people under age 54. And statistics show that more than half the people killed in car crashes were not restrained at the time of the crash.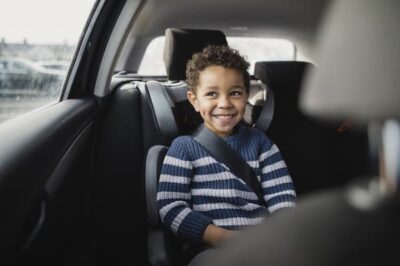 In other words, many of these deaths could easily be prevented.
Habits Change Slowly
As recently as the late 1950s and early '60s, auto manufacturers were comfortable with letting people feel that cars were a safe form of transportation. Few cars had seat belts, and the sentiment was that people wouldn't use them anyway. The government was reluctant to step in to regulate the industry.
As more people bought and drove cars, the death toll from traffic accidents mounted. It took public pressure, Congressional hearings, the cooperation of car manufacturers, and public education campaigns to reach the current state of seat belt usage compliance.
Early Innovators/Early Crusaders
The first safety harnesses were actually used by pilots experimenting with flying machines. The very first harness we know of was used in a glider created by a British gentleman, Sir George Cayley (1773-1857) in 1849. (Cayley's machine has been overshadowed by the many stores about the Wright brothers.)
Sir Cayley was a member of the British upper class. Because he had the money and time to investigate different things, he wrote about a diverse range of subjects, rail safety among them, but his primary interest was in aerodynamics. Could man fly?
As a younger man, he built contraptions and tested them himself by jumping from upper porches of his home. He continued to experiment well into his seventies, but his wife finally took a strong stand: He could no longer test these machines himself. He was too old.
Glider Success
In 1849, he completed work on a glider that he felt would fly. Because his wife's words echoed in his brain, he asked his coachman to test the machine. Coachman John Appleby was strapped into a safety harness, and he navigated a short but impressive flight across a 900-foot valley (Brompton Dale) in Yorkshire.
Despite the successful flight, the only way to conclude the experience was to crash land. Thanks to the safety harness, Appleby walked away from the crash, but he was not happy. He tendered his resignation, saying his job was as a driver, not a flier.
As more planes were built, safety harnesses became standard equipment. Everyone acknowledged that early flying was dangerous. It only made sense to add lap belts or safety harnesses to protect the pilots whose experimental flights often did not end well.
First Seat Belt Patent
The first American to patent a seat belt of any kind was Edward J. Claghorn of New York, N.Y. He was issued a patent in 1885 for a "safety-belt for tourists, painters, or firemen who are being raised or lowered."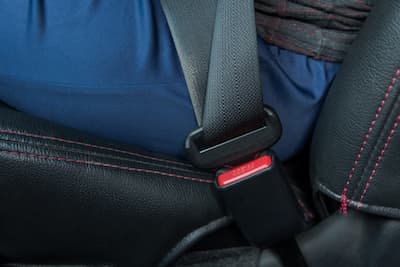 Early Automobiles
Early cars were open air, and a prevailing myth was that drivers and passengers were safer if they were thrown out of a car before a crash. Automobiles were prone to catch fire in an accident. If the people were thrown out, the reasoning was that they would be safer.
That said, race car drivers knew their line of work was dangerous. Many flouted the danger, but esteemed driver Barney Oldfield (1878-1946) lost a good friend to a race car crash. This made him highly aware of safety. In 1917, he and a friend created a car with a rollbar and safety "cage" to protect the driver in the event of a crash. Five years later–in 1922–he ordered a safety harness from a parachute company for use in one of his cars.
More Automobiles Meant More Accidents
In 1935, DeWitt Wallace (1889-1981), publisher of Reader's Digest, commissioned writer Joseph C. Furnas (1905-2001) to prepare an article about auto accidents. Furnas' article, "—And Sudden Death!", was the most reprinted article in Digest history and brought to light the topic of car safety.
As it happened, Furnas relied on experts who agreed that in case of a crash, the interiors of cars were dangerous. Several of them espoused that passengers were actually safer being thrown out of the car rather than restrained.
Next Crusaders, Medical Doctors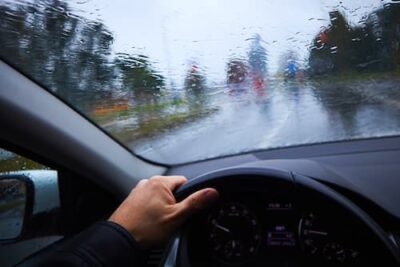 Plastic surgeon Claire Straith (1891-1958) disagreed. He was so upset by the types of injuries he saw on car crash victims arriving at his Michigan clinic that he began visiting sites where car accidents occurred. He took along a camera and photographed the crash in an effort to determine the cause of the injuries.
Straith's observation was that car dashboards were a huge part of the problem. They had sharp edges, and control knobs stuck out from the dashboards so they could poke and injure a passenger who was thrown forward. The steering wheel shaft was also an issue and placed the driver at high risk of being impaled.
Based on these observations, Dr. Straith started an organization called the Automobile Safety League of America. Straith urged that dashboards be padded and that control knobs flush-mounted. He experimented with lap belts and also patented a dashboard crash pad. He and a group of friends tried to modify their own cars to some extent but there was a limit to what could be done to retrofit a car.
For the first few years of Dr. Straith's safety campaign, he did not get much attention. However, by 1935, he managed to arrange a meeting with Walter Chrysler. Mr. Chrysler took to heart some of Straith's points, and he saw that his factories implemented certain changes. From 1937 forward, the Chrysler, Plymouth, Dodge, DeSoto, and Imperial cars featured recessed knobs, rubber buttons, padded seat tops, and gently curved door handles. This was the first time an auto manufacturer promoted designs for safety instead of styling.
Another Doctor Stands Up for Safety
In 1946, Dr. C. Hunter Shelden opened a neurological practice at Huntington Memorial Hospital in Pasadena. Like Straith, he became concerned about the car crash injuries he saw.
In November 1955, the Journal of the American Medical Association printed an article by Dr. Shelden suggesting retractable seat belts, recessed steering wheels, reinforced car roofs, roll bars, door locks, and elevated head rests to protect against whip lash. Shelden was also a very early proponent of the air bag.
Safety Didn't Sell
Car manufacturers preferred to promote automobiles as a safe form of transportation. Car accidents were inevitable, but safety wasn't a good selling point.
However, safety organizations were pressuring car manufacturers. During the 1950s, interstate highways were beginning to criss-cross the country. This led to increases in car speeds, and faster cars often led to more serious crashes.
The car industry began to feel some pressure to make improvements. As they stepped gingerly into the field, they decided safety features could be optional. In 1956, Ford offered to pad the dashboard and install seat belts in their cars for any consumer willing to pay an additional $27. Only 2 percent of Ford buyers spent extra for safety.
Congressional Hearings
In 1960, Congress agreed to hold hearings on car safety since the number of cars on the road were increasing monthly. Some of the items under discussion then were features we take for granted today: good brake systems, defrosting systems for front and back windows, and windshield wipers that work better than early wipers did.
Seat belts were also discussed. American Motors noted they were installing brackets in the 1960 car models and dealers could then use these brackets to attach belts for those car buyers who wanted them. Other manufacturers were making indentations in the floorboards with a similar plan in mind. However, Chrysler dealers claimed that less than 1 percent of customers asked for seat belts.
Ralph Nader's Well-Deserved Claim to Fame
Ultimately, pressure on Congress and car manufacturers had to come from the public, and the public needed to be educated about the issue. Ralph Nader, a 32-year-old attorney and consumer advocate, worked tirelessly to heighten awareness. In 1959, while still a student at Harvard, he began writing on the topic of car safety.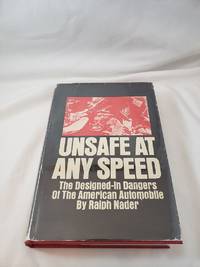 The 1965 publication of Nader's book, Unsafe at Any Speed: The Designed-In Dangers of the American Automobile, stirred interest throughout the country. The book became a bestseller and prompted the passage of the National Traffic and Motor Vehicle Safety Act of 1966. This led to the creation of the National Highway Safety Bureau. This marked a historic shift in responsibility for automobile safety from the consumer to the government.
Despite the statistics that proved that riders wearing seat belts were more likely to survive a crash, many Americans did not like being told what to do. There was still great resistance.
In 1974, car manufacturers experimented with a guaranteed method for assuring that seat belts were worn: Drivers couldn't start their car engines without first buckling up.
The uproar from the public was overwhelming. As you know today, you do not have to buckle your seatbelt to start your car. Once again, Americans resisted what was deemed to be "good for them."
Ultimately, consumer compliance improved when driving without fastening your seat belt became a ticket-able offense. New York was the first state to pass such a law in 1984. Other states soon followed.
Consumer Compliance
When it comes to auto safety, it's the consumer that ultimately makes the difference. From the use of seat belts to resisting driving while distracted (or drunk) requires mature individuals behaving responsibly.
And while seat belts save lives, more than 38,000 people still die every year in crashes on U.S. roadways. An additional 4.4 million are injured seriously enough to require medical attention. Obviously, consumer organizations would like to see 100 percent compliance on seat belt use.
Today most safety organizations are focusing on greater safety for those in the backseats of cars. Some backseat passengers have been killed when the front seat becomes unmoored and falls back, crushing the person in the backseat.
Some manufacturers have added side airbags to protect those in the back seat. Others are experimenting with seatbelts that inflate in a crash. Most modern cars have headrests that protect adults against whiplash.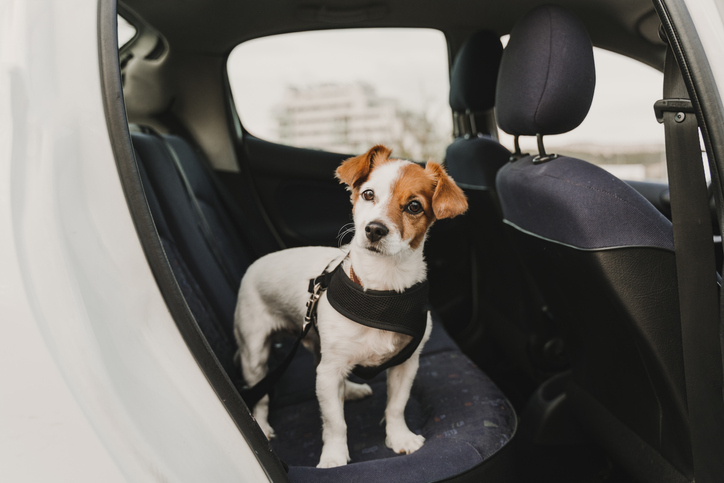 History tells the story. We can do better when it comes to car safety.
For other safety-related articles, read School Safety Patrols; the invention of the rearview mirror for cars; or the invention of an early traffic light.