Today some Christmas cards are sent by email, but many cards are still mailed through the U.S. postal service. The tradition gives us all a pleasant way to keep in touch.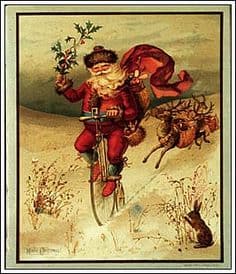 In America in the 1870s, businessman Louis Prang came up with a way to print beautiful cards at relatively low prices. This is how he became known as the "Father of the American Christmas Card."
Who Was Louis Prang?
Louis Prang (1824-1909) was born in Breslau, Germany. His father was a Huguenot textile manufacturer. Louis was a sickly child, so he received little formal education. His parents arranged for him to have private instruction in drawing, chemistry and languages.
When he was 13, he started work in his father's factory. Both he and his father hoped that one day he would be the superintendent. His father started Louis at the bottom to learn all aspects of the trade. He worked with the staff that bleached the cloth before it could be used for printing. Then he learned about designing, mixing colors, dying fabric, and printing from blocks and rollers.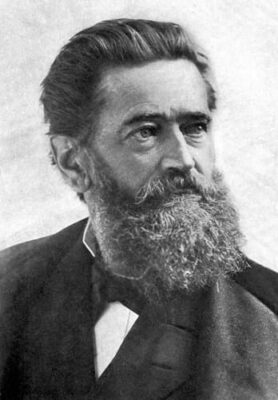 Louis Prang was in a perfect position to learn information that would prove valuable later on. Prang's father also arranged for Louis to travel to factories in France and England as well as elsewhere in Germany to observe the various processes that were being used.
Revolutionary Crisis in 1848
With the revolutionary uprising in Germany in 1848, Louis Prang opted to leave the country for America. The young man hoped there would be better opportunities for him there.
Prang arrived in New York on April 7, 1850. He soon saw that he would not find work in textile printing. Initially, he took whatever job he could find but then started learning to engrave on wood. This was another technique that would be useful in his printing company later on.
Cards of the Day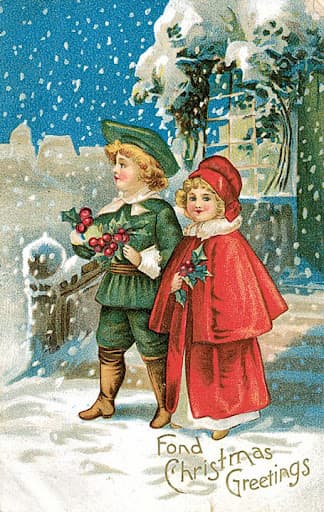 In the mid-19th century, greeting cards were for the rich. Some Americans imported their cards from England. A British artist, John Callcott Horsley (1817-1903) is credited with popularizing the sending of Christmas greetings. Most were hand-made, and many were also hand-delivered.
Early cards were often black-and-white as printing in color was complex and expensive. Some companies like Currier & Ives hired young women to add a bit of color to each card.
Louis Prang was about to change all this.
Started Prang & Meyer
In 1856, he and a partner established a lithographic firm in Boston, Prang & Meyer. Together the men created a press that made it possible to print lithographs in greater number and with greater speed.
By 1860, his partner was less interested in the company, so Prang took it over. Now called L. Prang & Company, the company blossomed, despite the war taking place.
On a visit to Europe, Prang studied new methods used for printing in color and returned to perfect chromolithography, a process that prints color using a series of lithograph stones.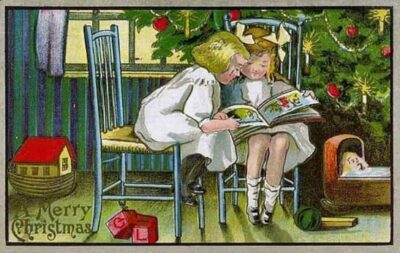 About Chromolithography
Lithography was first used in Germany in 1796. Using a flat stone (later a metal plate was used), an art image is etched with a substance that would selectively transfer ink to paper. Some printers found that they could use a greasy substance so that the ink would adhere to the greasy parts. Initially, lithographs could only be printed with one color.
The development of chromolithography offered an opportunity to print in various colors. The color process was similar to making a lithograph. Various stones—from a few (four or five) to as many as 80 stones would be created with the etching in different colors on each stone. Then the stones were printed layer by layer on the originally lithograph. Initially, the process was cumbersome and very time-consuming.
Christmas Cards
After seeing Christmas cards that were being produced in England in 1874, Louis Prang decided to produce them in the U.S.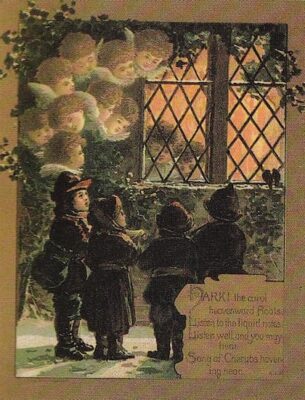 The cards created by chromolithography were beautiful. Prang's artists were able to refine the image so that the coloration was subtle and realistic, and Americans loved them.
By the early 1880s, he was producing 5 million cards in a year. Small cards cost 10 cents; bigger ones a dollar. For the day, these prices were considered high, but the cost was justified as the production of color printing required time and care.
Prang's cards were so well-regarded, it was common for people to comment on how many Prang cards they had received that year.
Other Ventures
In addition, L. Prang Company created album cards (sets of cards featuring flowers, birds, and animals). He also printed Civil War scenes painted by Winslow Homer.
Maps, ads, business cards, and color magazines were soon being printed by Prang's company. His work was becoming known around the world.
In 1880, he began Prang Educational to print textbooks and art supplies for public schools.
His holiday card business fell off in the mid-1890s when other printers came up with cheaper ways to print in color. Because the educational division was on form footing, Prang continued to do very well.
Many Honors
Louis Prang was frequently recognized for his work, and many organizations presented him was awards. He took home medals of recognition from every World's Fair from 1873-1900.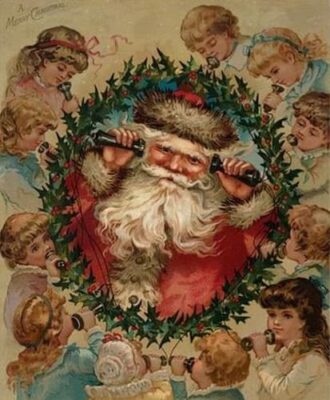 His memberships in various organizations reflected his interest in many things. He was a member of many organizations: American Archaeological Society, the American Association for the Advancement of Science, Society of the Arts, and the Metropolitan Museum of Art.
Death in 1909
Louis Prang died of pleuropneumonia in Glendale, California, in 1909.
Nine years after Prang's death, his company was sold, perhaps fittingly, to the American Crayon Company in Sandusky, Ohio.
For a story about the woman who popularized Valentines read about Esther Howland.