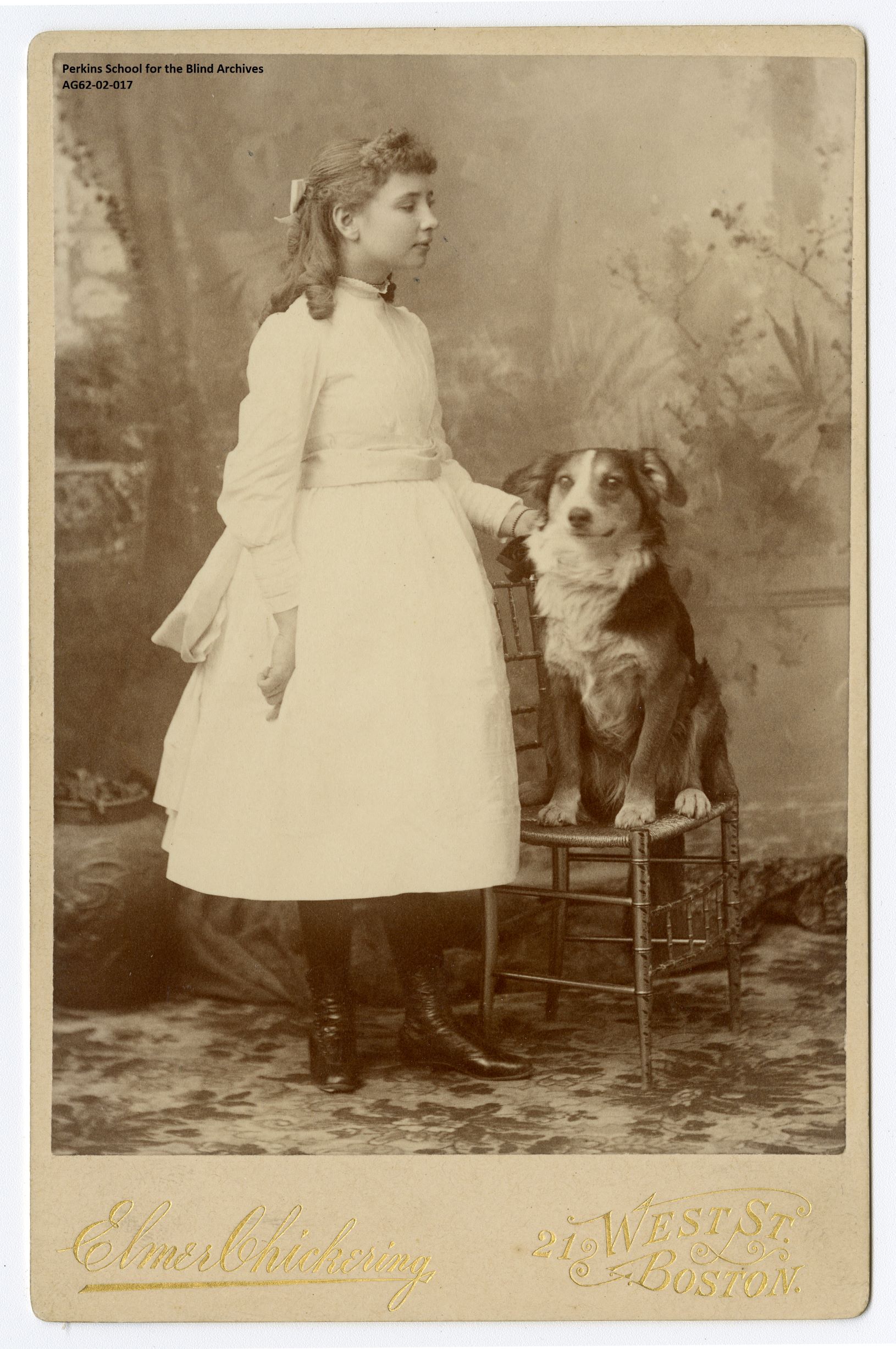 Helen Keller's life was filled with dogs. Though she was born before dogs were being trained as guide dogs for the blind, Keller knew what dog lovers around the world know—dogs are great companions. "A dog never let me down," she once wrote.
Helen Keller's Childhood
Helen Keller was born to a well-to-do family in Tuscumbia, Alabama. When she was just 19 months, she became ill with what was probably scarlet fever. When she recovered from the illness, she was deaf and blind.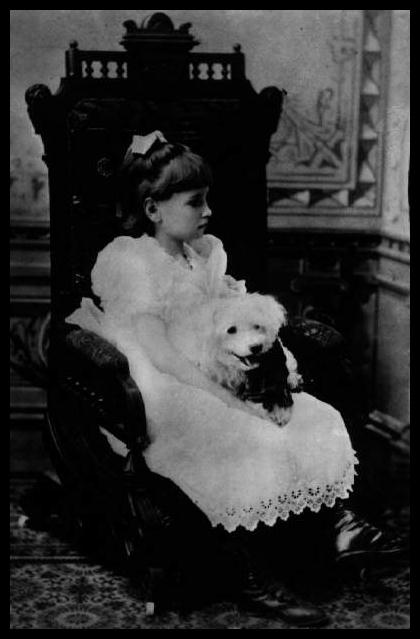 The family looked for solutions, consulting doctors and other advisors. For Helen, they hired an aide to be with her at all times. Helen encountered much frustration and vented her emotions by having tantrums. By necessity, she and her companion devised a personal form of sign language so that Helen could make her basic wants known, but she was young, and the process was imperfect.
Her calmest, happiest moments were with the family dogs.
Anne Sullivan Arrives
Helen was almost 7 when the family connected with Anne Sullivan who was recommended by the staff of the Perkins School for the Blind. Sullivan could identify with some of what Helen experienced as she had low vision, even after several surgeries on her own eyes.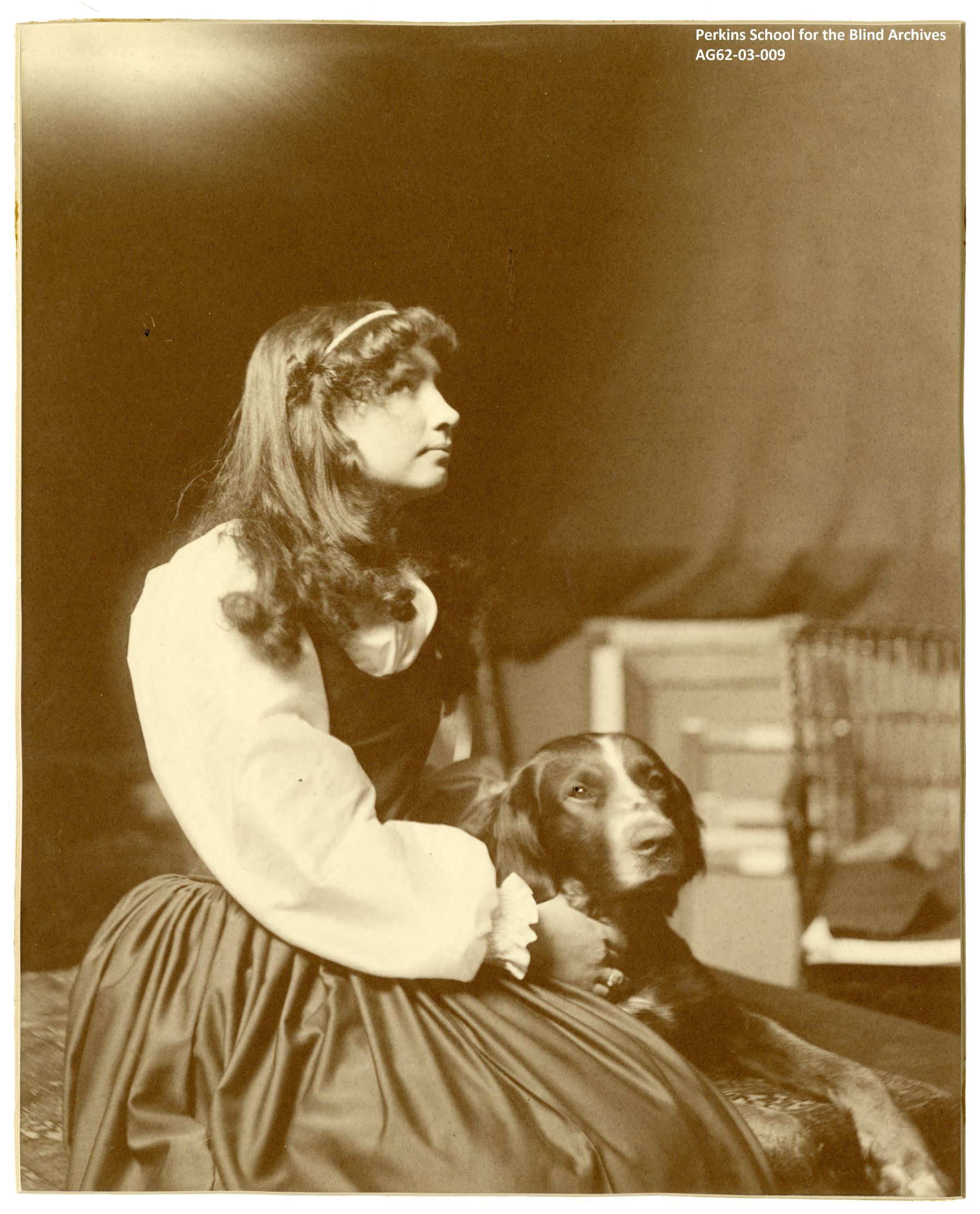 Sullivan's early work with Helen required patience. Helen was accustomed to getting what she wanted, and she fought and kicked if she was not satisfied. Sullivan asked that she and Helen be permitted to live alone in a small cottage elsewhere on the property so that Helen would learn to trust and rely on her.
Sullivan knew that if there was a way to build more advanced communication between the two of them, then she needed to teach Helen sign language. Because Helen could not see the signing, Anne would teach by making the signs in the palm of Helen's hand.
The Breakthrough
As they worked together, Sullivan signed various words in Helen's palm over and over again. Helen learned to mimic some of the spellings but did not understand the purpose of what she was doing.
As correctly depicted in The Miracle Worker, it was Sullivan's spelling of the word "water" followed by putting Helen's hand under cold running water that opened the world to Helen. Once Helen understood that the hand movements provided information on specific objects, she was hungry for knowledge. She eagerly went from object to object for Sullivan to provide her with the name. Within a matter of days, Helen learned more than a hundred words.
Family Dogs
Numerous photographs of Helen Keller depict her with various dogs. When Helen was a girl, her dog Belle was a particular favorite. She writes that she tried to teach Belle sign language, but Belle was utterly bored by the process and napped instead.
The family also had a dog named Jumbo that may have been a Chesapeake Bay Retriever, and there was a bull mastiff named Lioness.
Teaching Continues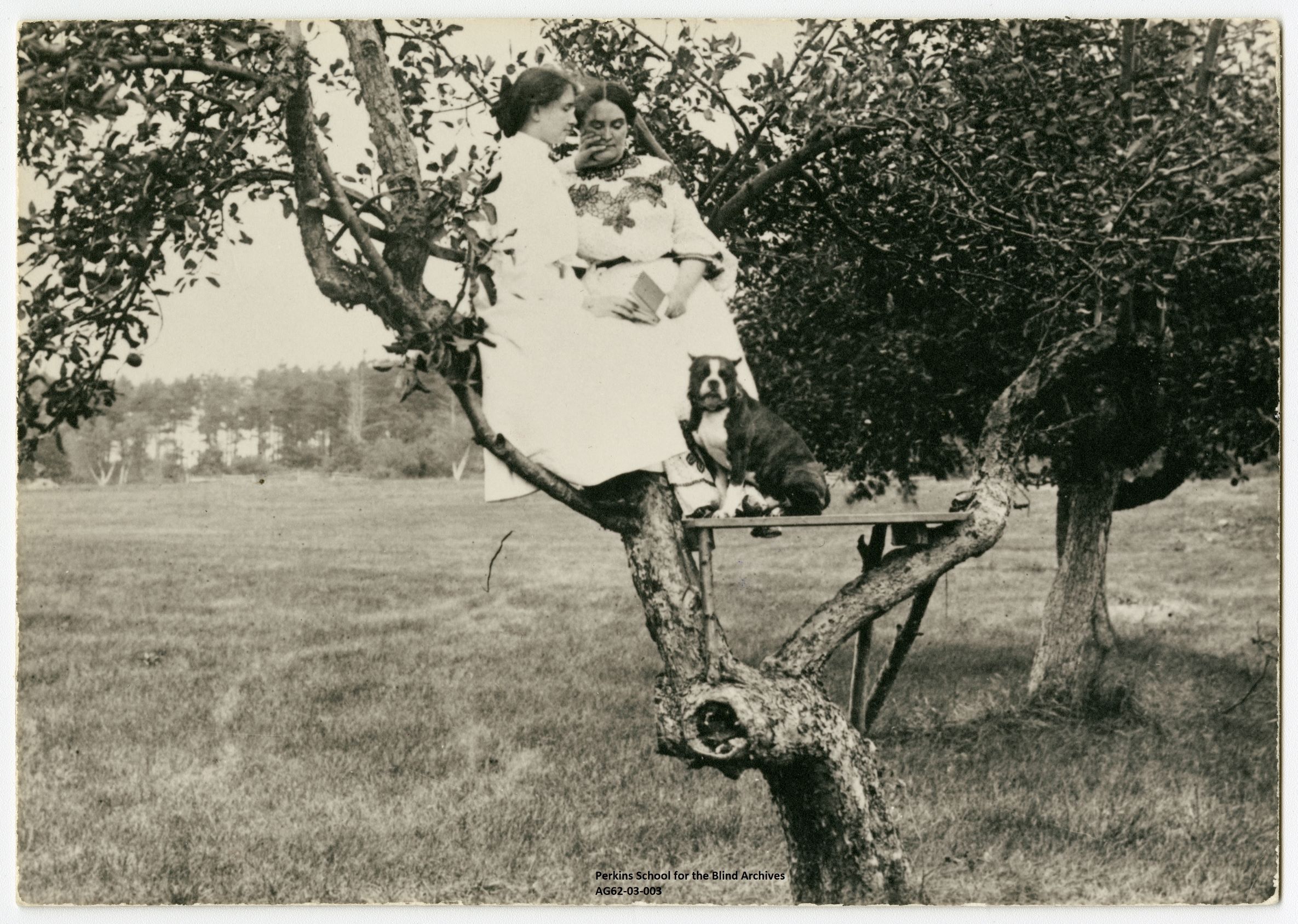 The Kellers managed to work out a plan where Anne Sullivan remained with their daughter for the rest of her schooling and beyond. Sullivan accompanied her to boarding school, and Helen fulfilled her dream of being accepted to attend Radcliffe.
During this time, Sullivan married a fellow named John Macy who also became a part of Helen's life.
Dog at Radcliffe
By the time, Helen Keller entered Radcliffe, newspaper reporters often took note of her whereabouts and her activities. One story that became syndicated concerned a visit Helen and classmates made to a dog kennel in nearby Newton, Massachusetts:
"Last October the group visited the Newton Kennels. One of the keepers released the dog, Sir Thomas. Though the dog was said to be averse to strangers, he deliberately looked over the group of girls and walked over to Miss Keller and laid his head on her knee. Efforts to entice him away were in vain.
"Since that time, the blind girl [sic] often expressed a wish to own Sir Thomas [identified as a Boston terrier], but without any expectation of doing so. Her college friends took up a collection and purchased the dog to present to her."
Helen was thrilled when she received the little dog as a gift. At some point, Sir Thomas Belvedere became known as "Phiz." Phiz was with Helen on campus at all times, patiently sleeping through college lectures.
Life Continues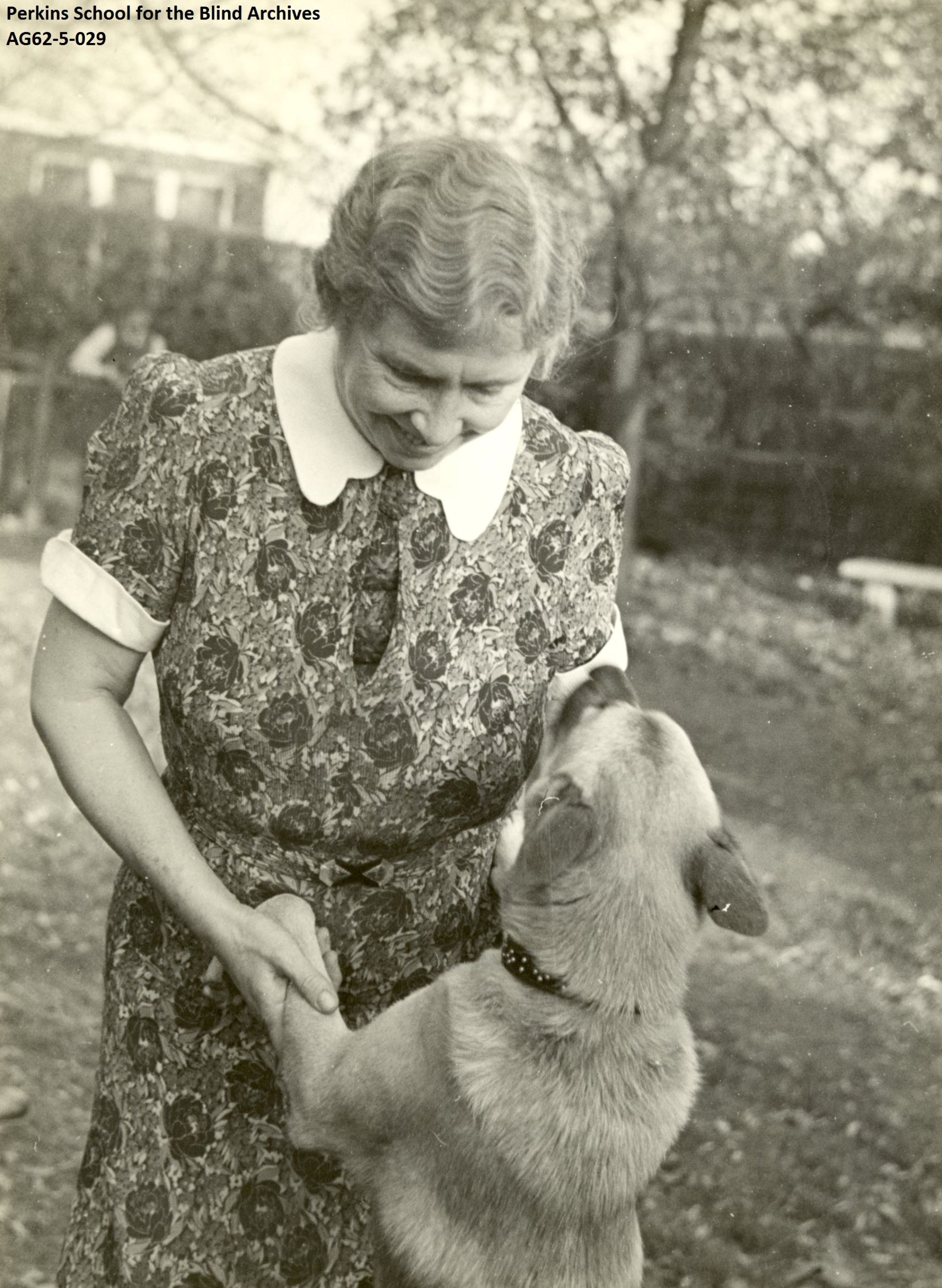 After receiving her college degree, Helen Keller lived with Anne Sullivan Macy and her husband John Macy, who was now part of Helen's support team.
During this time, Keller devoted herself to writing and campaigning for what she believed. She stood up for worker rights, women's suffrage, and became involved in the newly-formed American Civil Liberties Union.
However, her primary focus was campaigning for funds to help the blind. She became the official representative of the American Foundation for the Blind and traveled the world for the cause.
During the Depression, administrators with the AFB established a trust for Helen to take care of her financial needs for the rest of her life. She continued to travel and speak on their behalf until she suffered a stroke in 1961 and had to curtain her work.
People and Dogs in Her Life
Anne Sullivan Macy's devotion to Helen was life-long. Though she and John Macy eventually divorced, Helen continued to live with Anne, and John remained part of their support system.
Later when Anne Sullivan Macy suffered health problems, Helen and Anne added an assistant to their team. Polly Thompson became an important figure in the household and traveled frequently with the women.
As an adult, Helen always kept dogs with her. One dog was named Stubby, and a French bull terrier was called Kaiser. Helen described Sieglinde, a Great Dane, as the most beautiful and intelligent of her dogs. (More on Sieglinde in a moment.)
First To Bring Akita to U.S.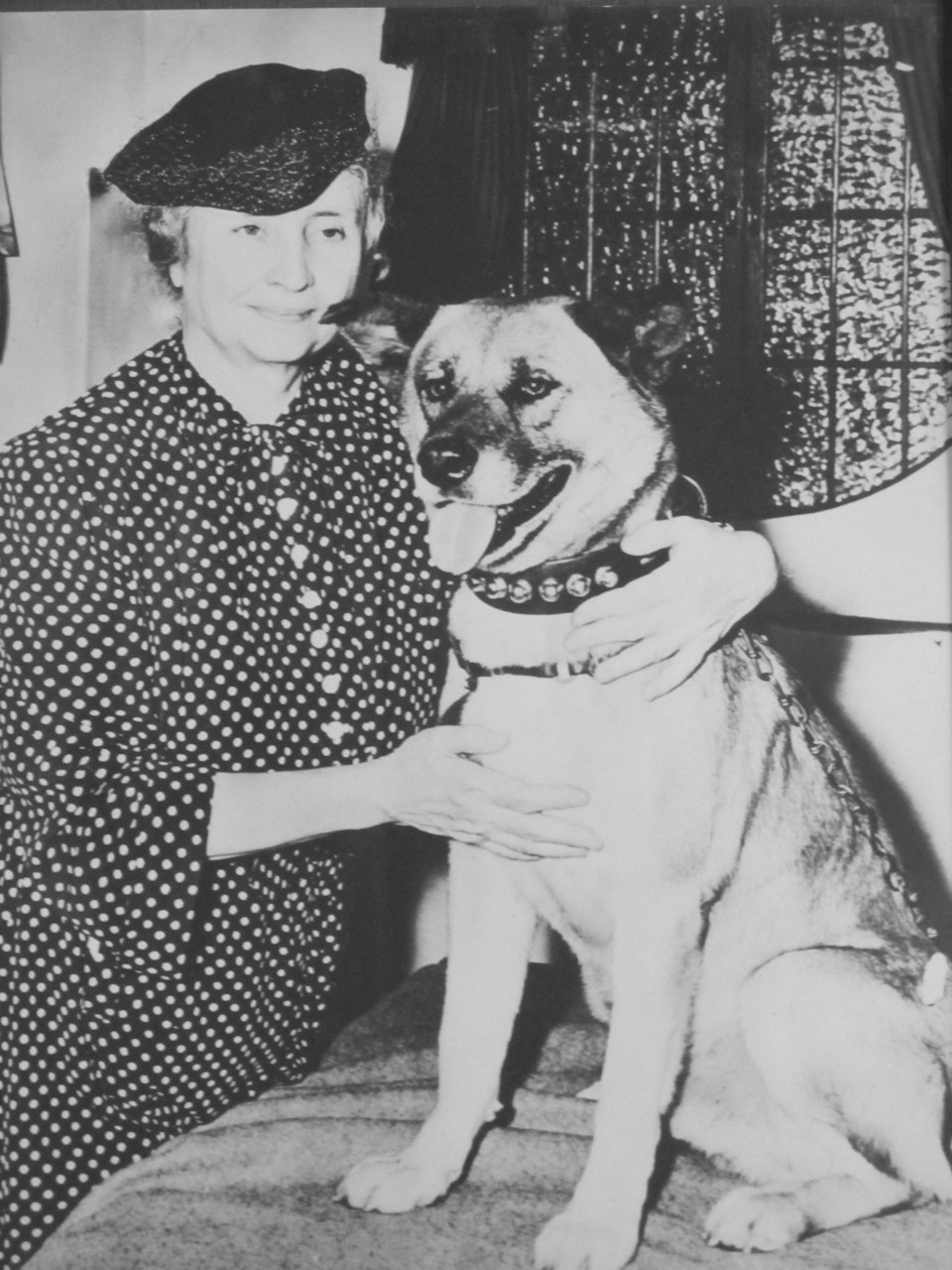 In the late 1930s, Helen Keller visited Japan on behalf of the American Foundation for the Blind. She was enormously popular with the Japanese, and she loved her experiences there.
During her trip, she heard the story of Hachiko, a loyal Akita (a medium-sized Japanese breed). Hachiko lived with his owner near Shibuya (the business center of Tokyo). One day the man left on a business trip for Hong Kong, leaving the dog with others. The fellow died during his travels, but for the rest of his life, Hachido met the train that should have brought his owner home. At the Shibuya train station, there is a bronze statue honoring Hachiko.
Keller loved meeting other Akita dogs while there, and the story of Hachido's devotion truly touched her. She asked if she could have an Akita to take back to the United States. A few months later, a well-known Japanese Akita breeder sent a staff member to the United States by ship with a gift for Keller… an Akita named Kamikaze-Go.
New Akita Arrives
Only months after the dog's arrival to live with his new mistress, he died of distemper. (There was no commercially available vaccine for the disease until 1950.) When the breeder heard what happened, he sent Kenzan-Go, a younger brother of Kamikaze as a replacement.
Kenzan lived many years with Keller. She referred to the breed as "angels in fur—gentle, companionable, and trusty." Kenzan-Go, however, must have been a bit of a wanderer. There are two separate mentions in Connecticut newspapers (Keller and Sullivan Macy lived in Easton, Connecticut for a time) noting that the police received a call about the fact that "Helen Keller's Japanese dog" was missing.
The dog was always found, but the household members must have been very worried.
"If I Could Choose but Two Items…"
In late 1929, Helen Keller was in Paterson, New Jersey, where her purebred Great Dane, Sieglinde, was to be shown in a dog show. While there, she visited a school, and a local columnist named Arthur Dean reported on her visit with the children:
She told them: "Were my Maker to grant me but a single glance through these sightless eyes, and I could choose but two objects to behold, I would without question pray that my eyes portray of all things beautiful, first a child and then a dog."
And More About Sieglinde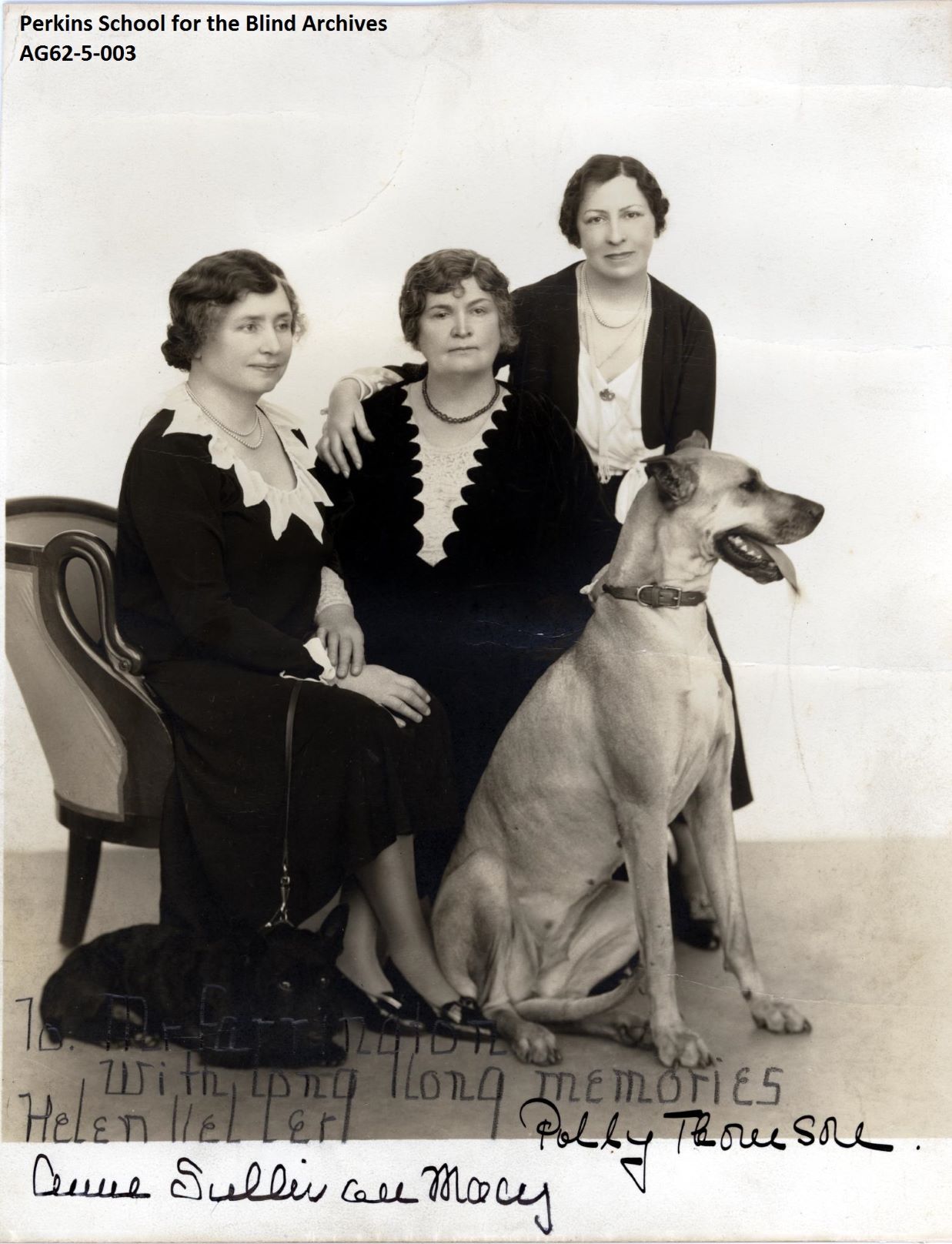 Sieglinde, the Great Dane, was to make headlines later for learning to talk. In 1926, a reporter named Virginia Swain visited the Keller household to learn more about this amazing feat.
The sub-headline to her resulting story read: "Virginia Swain Hears Canine, Taught Like Blind Girl, Say Mama."
The article is priceless on many levels, but from the beginning, Swain realizes this is no ordinary pet. She is let in by a houseman and Swain writes: "A great tawny animal catapulted against me and I staggered."
"Sieglinde won't hurt you," the houseman reassured her about the animal Swain describes as "the color of honey and "smaller than a pony."
Swain is then joined by Helen Keller's assistant, Miss Polly Thompson. Thompson enters the room and speaks to the dog. Swain: "Sieglinde ceased her gyrations and climbed upon the davenport."
As Thompson talks of the dog, she explained to Swain that Sieglinde never gets out of anyone's way—except for Helen's.
"If we stumble over her, she considers it our own affair." But when Helen enters the room, Sieglinde steps aside and watches her master until she is settled. Once Miss Keller sits down, Sieglinde runs to her puts her head in her lap to be petted.
Teaching the Dog to Talk
Sieglinde lived in the household for a few years, and the women were impressed by her intelligence. One day Mrs. Macy announced that she thought the dog could be taught to talk. She used cakes for training and started with the word "mama." Though Helen learned to voice sound by feeling the vibrations in Sullivan's throat, the women felt Sieglinde could be taught to imitate sound by hearing it.
Work with the dog became a pleasant entertainment for the women, but when nothing happened, Helen asked them to stop. She felt Sieglinde was unsettled by not being able to learn what was being taught.
"Mama"
Then Thompson explained: "A couple of months later we were all in the study when Sieglinde suddenly sat up and said "Mama!
"We all startled at the noise."
Over time, Mrs. Macy worked with her further to refine the sound, and now Sieglinde very clearly says "Mama!" Swain verified that the dog really did say the word. She concluded the article with:
"The dog now knows that's her trump card.
"We are quite accustomed, when the meat platter passes, to hear a pathetic voice calling 'mama from Sieglinde's side of the table," says Miss Thompson.
"If anybody questions the story, we are always ready to prove it."
Thompson noted that they had not shared this story before was "because we should have to carry Sieglinde around country with us to prove the story. And she is too heavy to travel with."
One presumes Sieglinde got to travel a little more than before.
The Love of a Dog
"Nobody, who is not blind, as much as they may love their pet, can know what a dog's love really means," Helen Keller once told an interviewer. Even without sight or hearing, she could feel the inquisitive nudge of a dog's wet nose and sense the love from a canine as he rested his head in her lap.
While any lover of dogs will feel that they, too, understand the importance of the love of a pet, no one will disagree with the fact that Helen Keller set a stellar example of human spirit and potential.
If she achieved what she did with a dog by her side, so much the better for her and for the world.
***
To read about the first guide dog brought to the United States, click here..