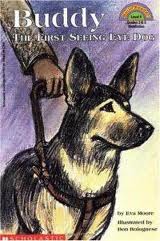 "Buddy delivered to me the divine gift of freedom," said Morris Frank (1908-1980), an early trailblazer in using a Seeing Eye dog. (Buddy has often been described as the first seeing eye dog brought to the United States. An alert reader notified me that a man in Minnesota brought a dog to the United States two years before Buddy arrived. To read that story, see: Lux, First Guide Dog Placed by Master Eye.)
Before there were guide dogs, people with any type of disability–including a visual disability–were simply marginalized. There were no provisions for them to be in public or hold jobs–they were totally dependent on others for whatever they needed.
Frank Blinded at Age 16
Morris Frank lost the use of one eye in a childhood accident. The other eye was poked out during a boxing match. At 16, he had no sight. His family had money, so if he needed to go somewhere, he could hire young boy to be his guide. Frank found this an imperfect solution as sometimes the boys would become bored and wander off. This left Morris Frank in a strange place (off in downtown Nashville) to unexpectedly fend for himself.
In 1927, The Saturday Evening Post ran an article that changed Morris Frank's life. Dorothy Harrison Eustis, an American dog breeder living in Switzerland, was training German shepherds to work as police dogs. The magazine assigned her to write an article about her own training program. Eustis decided, instead, to write about a program she knew was underway in Potsdam, Germany. There, dogs were being trained to be guide dogs for the many German soldiers who were blinded by mustard gas during World War I.
Morris Frank's father often read to him after dinner. In 1927, he was reading Eustis's article to his son who was only 19 at the time. When his father finished the article, Morris Frank announced his intention to write to Dorothy Eustis the next day. He needed a dog like what she described.
Learned of New "Seeing Eye" Program
Dorothy Eustis was touched by the letter. While she had never trained a guide dog, she told Morris Frank she would work on it. She invited him to Switzerland to judge for himself how she could help him.
She began working with two of her dogs, instilling in them some of the command responses she observed in Potsdam. When Frank arrived in Switzerland, he could choose between two dogs. The one with which he worked best was named "Kiss." Frank quickly changed the dog's name to Buddy.
Coming Home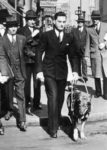 In 1928 Frank returned to the United States. He and his dog disembarked in New York City. Buddy proved adept at guiding Morris Frank through a throng of reporters. On a dare from one of the newspapermen, Frank instructed Buddy to take him across busy West Street. The street was filled with taxi cabs and trucks and throngs of people. Frank worried that he expected too much from Buddy, but they made it.

Later that day, Frank sent a one-word telegram to Eustis: "Success."
That was the beginning of Frank's campaign "to get Buddy accepted all over America with no more fuss than if she were a cane."
Worked Ceaselessly For Buddy To Be Accepted
In 1936, Morris Frank sat down with The New York Times for an interview about his work on behalf of the visually impaired.
By that date, the Seeing Eye school had 250 dogs placed with blind owners. Frank himself had logged 50,000 miles by foot, train, subway, bus, and boat. He was fully committed to meet with people and demonstrate the life-changing aspect of having a guide dog.
By 1938, Frank knew that Buddy's health was failing, but they had one more task to accomplish. Together, the two of them needed to be permitted to fly on a commercial airplane. That spring, on May 16, 1938, Frank, with Buddy lying at his feet, flew from Chicago to Newark. The trip was made under a newly implemented ruling by United Air Lines that "grants to all Seeing Eye dogs the privilege of riding with their masters in the cabins of any of their regularly scheduled planes."
Other Buddies
After Buddy I died, Morris Frank determined that all of his future guide dogs would be called Buddy. Buddy II was with Morris Frank for 10 years. Frank was then vice president of the Seeing Eye School. He and Buddy II traveled throughout the United States as well as on trips overseas.
The obituary read: "During the last war alone he guided his master on travels of over 49,000 miles, when Mr. Frank lectured at Army and Navy hospitals on Seeing Eye dogs for the blind."
In describing how much Buddy brought to his job, Frank is quoted as saying that when Buddy was posing for television he "…would lick his paws…" in preparation for the appearance. And to the end, Buddy liked to conclude his work day with a roll on the floor and a romp with Mr. Frank.
Buddy II was to be buried next to the grave of Buddy I on the grounds of The Seeing Eye School.
Reading More
To read more about Dorothy Eustis and how she and Morris Frank connected, click here.
For more information on this program which is as vital today as when Morris Frank needed his first dog, refer to the Seeing Eye website, or read the story Dorothy Eustis and how she and Morris Frank launched an industry in "The First Seeing Eye Dog Used in America."
And to read more about the dogs with Master Eye, read Lux: First Guide Dog Placed by Master Eye.