A scruffy fox terrier made his way into the back door of the Albany Post Office during the winter of 1886. He was cold, tired, and hungry. When the postal workers arrived that morning, they found him sleeping on a bag of mail.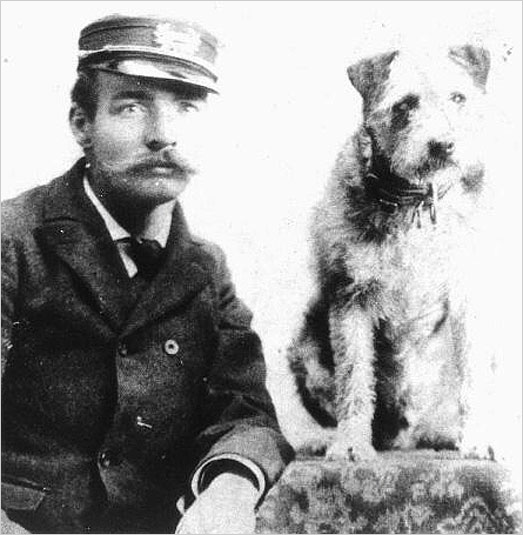 Initially, the staff thought the dog had come in with one of them—a man named Owen. When Owen corrected that perception, the staff still decided "Owney" was the perfect name for him. They enjoyed having him around. They fed him, and let him sleep on his choice of mail bags. As soon as a uniformed postal worker needed the bag, Owney was happy to move to another comfy spot.
As the weather got better, Owney decided it was his job to follow the mail wagons from the post office to the rail station and back again.
A story goes that one day a worker was returning from the rail station with a wagon of mail. At the post office, he realized one of the bags was missing–and so was Owney. When the clerk re-traced his steps, he found Owney guarding the mail bag that had fallen off the wagon.
Owney Decides to Travel
One day, Owney slipped on to a rail car, and several days later he caught another train back to Albany. The dog was probably encouraged by some humans, but he clearly liked it and began to travel regularly. He always returned to the home office. The clerks in Albany worried about losing him, so they gave him a collar with the inscription, "Owney, Albany P.O., N.Y."
Rail travel in the 1880s and 1890s, could be dangerous, particularly for postal workers whose job involved standing throughout most of trip, sorting the mail within the postal car. (The Railway Mail system made a huge difference to the post office. Because postal clerks were assigned to ride the rail cars, the mail could be sorted in transit. This greatly sped the rate of delivery.) According to the National Postal Museum, more than 80 mail clerks were killed in train wrecks, and more than 2000 were injured between 1890 and 1900.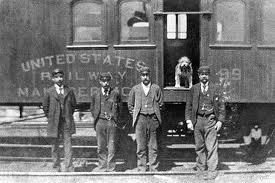 Owney became known as a good luck charm for the trains. The men believed that if Owney was traveling with them, the rail trip would be a safe one.
Owney Visits Much of the U.S.
For eleven years, Owney traveled the U.S. from New York to California, and he had the tags to prove it.
Just as letters are postmarked, someone decided to start tagging Owney with something that showed the places he visited. Often it was a town button or a pin, but in Colorado, miners inscribed molded silver to attach to Owney's collar to demarcate their mining town. Other communities added tags of leather or scraps of cloth. It was said that he "jingled like sleigh bells" when he returned from a trip.
Before each trip, the staff in Albany made certain that Owney's "travel card" was starting fresh. They removed and preserved the tags from his previous trip.
The tag collection became so large that Postmaster General John Wanamaker, presented Owney with a coat on which to display all his tags. Wanamaker also named him the official mascot of the Railway Mail Service.
A Report from New Orleans
In that day, the arrival of Owney was great feature news for many local newspapers. In New Orleans, the Times-Democrat noted in July 1894 that Owney was in the city for a second visit. His last visit to the city had been in the winter of 1892.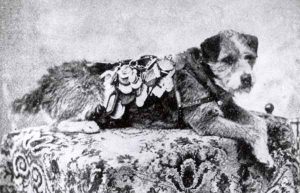 From the newspaper article: "He never travels in any but mail cars, and when he reaches a town that he forms a good opinion of from the car door, he follows the mail wagon to the Post Office. When he is ready to travel again, he follows he wagon to some train and is off for parts unknown.
"Since he was here, Owney has taken in the World's Fair and a part of the widespread labor troubles…[traveling] to Seattle, Washington, Kansas City, Mo.; Memphis, Fort Worth, Taylor, Texas; Waco, San Antonio and Houston."
"He never travels in any but mail cars, and when he reaches a town that he forms a good opinion of from the car door, he follows the mail wagon to the Post Office.

The New Orleans Times-Democrat
Eventually Owney traveled internationally. By this time, the postal service realized they had a great public relations opportunity in Owney. In 1895, he traveled from Tacoma, Washington, to Japan and through Asia and Europe. Eventually he came back home to Albany.
International Trips, Too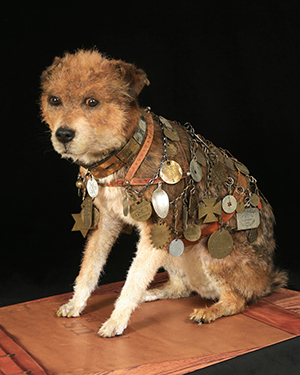 One of his medals documents an audience with the prime minster of Japan. Owney had become quite a celebrity.
Meets Sad End
After 11 years of travel, Owney was aging, but he was still popular on the road. In Toledo, Ohio, the post office administrators may have requested his presence for a newspaper story. A postal worker wanted to restrain Owney until a newspaper photographer arrived to take his picture. He chained Owney to a post. Owney became agitated at the unexpected treatment.
When the man next approached him, Owney snapped at him, biting the man's hand. At that point, the fellow called a U.S. Marshal. The local postmaster ordered the marshal to shoot and kill Owney.
It was a tragic end for a loyal dog.
Postal Workers Raise Funds
In Albany, a fund was started to bring Owney home. The clerks had no plan for burial. They wanted to raise money for Owney's body to be preserved by a taxidermist to have a reminder of the dog they loved.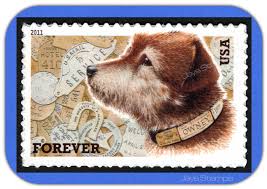 For a few years, he was displayed in Albany. Then in 1911, he was donated and displayed at the Smithsonian Museum.
Prior to the centennial celebration of his arrival at the Smithsonian, the museum brought in conservators to clean up Owney and make any necessary repairs. Today visitors can see Owney and his medals on display at the Postal Museum in Washington, D.C. (part of the Smithsonian). 
On July 27, 2011 the postal service released a commemorative stamp in Owney's honor. Those who learn Owney's story will be reminded of the importance of goodness and loyalty.
Another dog who had a mail route was Dorsey, who delivered mail in gold rush days.