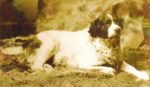 In 1886 a steamship from San Francisco, the Santa Rosa, arrived in San Diego, and among those who got off the boat was a stowaway… a dog described as a St. Bernard-Spaniel mix.
Someone began calling him "Bum" and the name stuck. He quickly adapted to life on land and made himself a member of the community. His primary "go to" place was an establishment run by a Chinese fisherman, Ah Wo Sue. However, Bum was really a dog of the people. He liked sleeping on the streets and never wanted to go home with anyone particular, perhaps because he knew he would do just fine begging for food at local restaurants and the neighborhood butchers. One restaurant capitalized on Bum's appearances by putting up a sign that read, "Bum eats here"—nothing better than an endorsement from the town dog.
Bum thought nothing was more exciting than when the fire bell rang. Along with the volunteer firefighters, Bum was always available to report to a fire.
Bum's Story Documented at the Time
We know as much as we do about Bum because of James Edward Friend, a journalist and a part-time telegrapher, who took time to write about Bum's life at the time. Many years later, author William Edward Evans brought these reports to light in the July 1967 San Diego Historical Society Quarterly.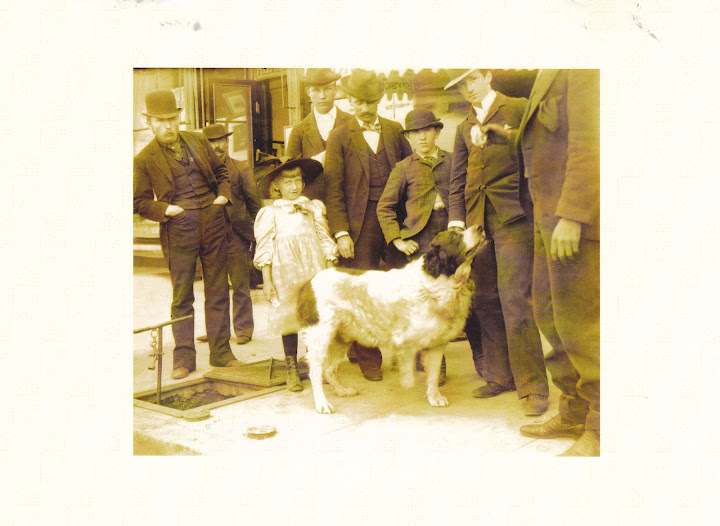 One of the stories Friend wrote explained why Bum was missing the lower portion of his right front foreleg. Friend wrote that Bum and a bulldog got into a fight that played out across the train tracks. An oncoming train hit the two dogs; the bulldog was killed and Bum was seriously wounded. When a doctor took a look at Bum, he felt he could save him if he cut off the badly mangled right front paw. Bum eventually healed and was still able to get around San Diego just fine with a somewhat odd three-legged gait.
Another "track story" also involved Bum, this time as a hero. A puppy had gotten on to the train tracks, and while journalist James Friend did not mention any oncoming threat, he did give Bum credit for saving the puppy by getting it off the tracks. Perhaps this is an example of "it's the thought that counts."
Bum, The Traveler
James Friend happened to be near the train station one day when he saw Bum attempting to climb aboard a north bound train; the porter discouraged Bum by turning him around on the steps and pushing him back on to the platform.
Friend notes that "…when the cars began to move away I heard the old dog's well known music. He was lying full length in front of the door, on the rear platform of the rear palace car; thumping the wood with his glad tail, his red tongue hanging from a wide opened mouth and his sonorous voice telling everybody that he was off for the upper country."
Because Friend was also a telegrapher, he stepped into the rail station's telegraph office and sent a message that Bum, San Diego's "town dog," was bound for "Lord knows where." Friend requested that wherever Bum alighted that the people should show him the town and then send him South again…that the train employees would give him free passage.
Friend also sent a direct message to a fellow reporter, Dick Clover, who had worked in San Diego but had more recently moved to the Los Angeles Herald. After receiving the telegram about Bum, Clover met the train in L.A., collected Bum and kept him in Los Angeles for a couple of days before sending him back to San Diego.
Greatly Beloved
In 1894 Bum was visiting George Magwood's general store; Magwood was outside putting a halter on a rather nervous horse. Bum got too close to the back of the horse and was kicked, and his hind leg was broken. Magwood summoned a doctor and Bum's leg was soon set. The newspaper account mentioned: "Dr. Stone will today take off the bandages and redress the fractured leg. He says Bum will be out and about again in about eight weeks." Readers were told they could stop by and visit Bum at Magwood's after 2.
Though Bum was never required to have a dog license, when San Diego passed an ordinance requiring other dogs to have licenses, they knew the perfect dog to depict on the paper document—Bum.
In 1898 Bum was having difficulty getting around because of arthritis so the Board of Supervisors ordered that he be given a home at the County Hospital. He died there on November 19, 1898 and was buried on the grounds.
Memorialized Today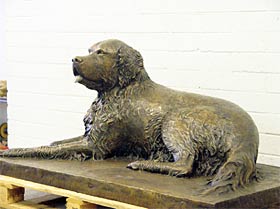 There is a life-size bronze statue of Bum in the pocket park in the Gaslamp District just outside the William Heath Davis House, which is now a museum and information center for the Gaslamp District. (The house is the oldest wooden structure in the Gaslamp District. It was a pre-cut saltbox style house that was shipped from the East Coast to San Diego via Cape Horn in 1850.)
Why does Bum continue to fascinate? Last week I contacted Bob Marinaccio, the executive director of the Gaslamp District Historical Foundation, to get his opinion. "I think it was Bum's independent spirit," says Marinaccio. "Many of the townspeople would have gladly taken him home, but he wasn't interested. He wanted to belong to the whole community. I think even today people are captured by the idea that the entire town shared this dog."
In 2007 when Bum's' statue by artist Jessica McCain was unveiled, the people of San Diego were invited to the ceremony and dog owners were encouraged to bring their dogs.
Two Dogs Honored
Beside the statue of Bum sits a statue of another beloved dog, Greyfriar's Bobby. San Diego and Edinburgh took on "sister city" status because of their two respective town dogs. (Bobby was a Skye terrier who became famous in the 1860s and '70s when the dog insisted on standing watching over his owner's grave in Edinburgh. The dog made his home in the cemetery for 14 years, until he died in 1872.)
Both San Diego and Edinburgh have matching statues of both dogs, and each year ceremonies are held in both cities to commemorate the loyalty and love of Bum and Bobby.
If you live in San Diego, stop by and give Bum and Bobby a pat. Think back, too, to the time when Bum would have wandered the streets looking after his people.