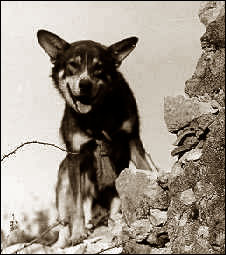 Chips was a mutt–a mix of German Shepherd, Collie, and Siberian Husky–living happily with the Edward Wren family in Pleasantville, New York when World War II began.
The United States realized the worth of dogs on the battlefield after observing them in use by other countries during World War I, but at the start of the Second World War, the military had not yet put together a canine unit. To solve this problem, the military put out a call to people willing to donate their pets for the war effort. Chips came to the military in that way.
Chips was well-loved by his family and was very protective of the Wrens' two daughters, Gail, 8, and her younger sister Nancy, but in his role as "protector" he was also known to be aggressive. After biting a local garbage man, the Wren family decided that perhaps the right thing to do was to let Chips be trained by the military so that his aggression could be used for the sake of the country.
He was sent to the War Dog Training Center in Front Royal, Virginia, and he was trained to be a sentry dog; his handler was Private John P. Rowell. Chips and Rowell were with the U.S. Army 3rd Infantry Division, and over several years, they accompanied the division in fighting in Africa, Italy and other parts of Europe.
Chips, Valued Team Member
Chips was a valued team member. Soldiers on sentry were sometimes killed by the enemy at night when the attacking forces had the advantage of darkness. Once dogs began being assigned to sentry duty, no soldier on guard duty with a dog was ever killed as the dogs alerted their masters about the approach of strangers.
Chips and Rowell first encountered battle when their ship landed at French Morocco. As the soldiers came up the beach they were under attack, so Rowell quickly dug a shallow foxhole for himself and another for Chips. When it quieted down, Rowell started to deepen his foxhole to make it more safe, and Chips got the point and started digging his deeper as well.
His heroism became legendary during fighting in Sicily. About 4:20 a.m. Rowell and Chips were working their way inland toward what they thought was a grass-covered hut where Rowell hoped the might rest. But they soon were being fired upon by a machine gun. Chips pulled away from Rowell, and moments later he was in the pillbox (a term describing a dug-in guard post, usually with holes from which soldiers could shoot). He seized one man and forced four others to surrender by forcing them out of the pillbox. One of the soldiers got off a shot with his revolver that grazed Chips' scalp but they patched him up, and later that day he helped capture ten Italians.
The Army awarded him the Purple Heart and Silver Star, but later they were taken away because at the time honoring an animal was "contrary to Army policy." The company took matters into their own hands, and they unofficially gave him a battle star and campaign ribbons.
Chips was known for another "first," this one embarrassing. After the Battle of Salerno in which Chips and Rowell had taken part, General Dwight D. Eisenhower came to congratulate the unit, and he bent to pet Chips. Unfortunately, only the handler is to touch a war dog, and so Chips responded as he was trained…he nipped Ike.
Despite this gaff, Chips was still well-respected, and he and Rowell also served as sentry at Casablanca for the historic conference between the President Franklin Roosevelt and British Prime Minister Winston Churchill and their military commanders.
Chips accompanied his unit through two campaigns in Italy, moved on with his unit to southern France and served through the French, Rhineland, and Central Europe campaigns, but by early 1945, Chips as getting weary.
Returning Home
His family had requested his return after service, so in the fall of 1945 he was taken back to Front Royal where he was retrained so that he could go back to his family. (For more information on how the military originally intended to euthanize animals coming home, click here.)
In December he traveled home to Pleasantville, riding in the baggage car of a train. He was accompanied by six reporters and photographers who wanted to cover the story. Mr. and Mrs. Wren and son Johnny, who was only a baby when Chips left, met Chips at the train, and the girls ran home to see their dog as soon as school was out.
Chips lived only four months before his kidneys gave out, but as one of the first military war dogs, he blazed a trail. The K-9 units today are now recognized for the good work they do and the human lives they save–tackling tasks that their keen sense of smell, hearing, strength, and loyalty make them perfectly prepared to handle.
In researching this piece, I came upon a delightful story from Mary Ann Whitley, a woman whose father was in the same division as Chips. While her father left a photo or two of Chips, there was no additional anecdotal material on the dog but her summation of her father's term of service adds insight to the time. See "A Dog Called Chips."