Lux, a German shepherd, was a former police dog that was trained as part of a German program to guide the blind. The dog was brought to the United States by John L. "Jack" Sinykin, a Minnesota businessman who became interested in the plight of the blind. Sinykin eventually devoted his life to the cause, forming the "Master Eye Foundation."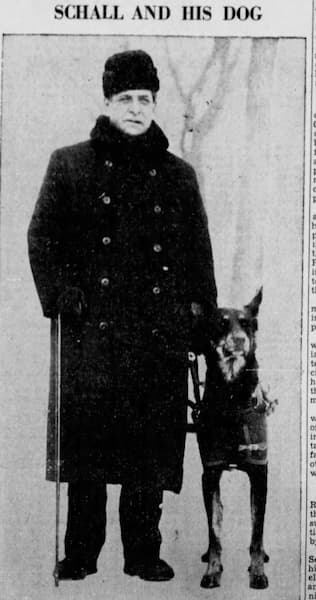 Many Blinded in World War I
When America entered World War I, the U.S. troops became part of what is sometimes called the "chemist's war." It was the first large-scale use of chemical weapons. Even when soldiers survived with their limbs intact, they often suffered lung damage and blindness caused by gases such a chlorine, phosgene, and mustard gases. These proved very damaging.
European countries saw a high level of men blinded as well. A German military officer, Lambert Kreimer, was assigned to train police and military dogs during the 1910s. As he saw German soldiers returning with vision damage, he began experimenting with how dogs could help the sightless.
Kreimer's program started in Potsdam, Germany, and expanded in Germany. Slowly word about his work spread to other countries. American Dorothy Harrison Eustis, who worked in Switzerland training dogs for the Swiss police, helped spread the word. In 1927, she was asked to write an article for The Saturday Evening Post. Instead of writing about her own efforts, she visited Potsdam and wrote about the work taking place there. She also began training guide dogs, eventually coming to the United States with more dogs for soldiers. She and blind businessman Morris Frank created the Seeing Eye School, initially in Tennessee.
Businessman John L. Sinykin was at a train station one day when a blind veteran was finding his way to the exit after getting off a train. Sinykin was alarmed by the fact that the man was alone, navigating new territory. (At that time, most blind people stayed home. If they needed to go somewhere, they waited until a family member could escort them. Canes did not come into use until the 1920s and '30s.)
When Sinykin heard about the program in Germany, he was intrigued. Maybe there was a way to help.
About John Sinykin
John Sinykin lived in St. Paul, Minnesota, and ran a very successful cosmetics company.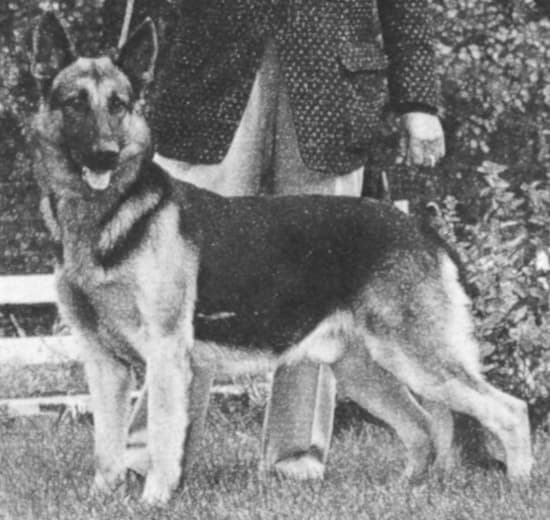 Sinykin's family originally came from Lithuania. His father longed for the freedom promised by America, so he and two of the older sons came to the United States in the early 1900s. They made their way to South Dakota and started a successful cattle ranch. In 1912, the family finally had enough money for the next oldest son—Jack—to join them. He loved working on the ranch and was particularly good with the horses and training the ranch dogs.
John Sinykin wanted to explore other careers besides ranching. He moved to Minneapolis and started the cosmetics company. As Cinderella Cosmetics grew, Sinykin hired a Hollywood cosmetician, V.E. Meadows, to tour the country giving makeup demonstrations. When John Sinykin threw a party to open his new factory and offices in 1930, some two thousand people attended the grand opening.
The success of this business eventually provided the seed money for starting his nonprofit organization, The Master Eye Foundation.
Sinykin Raised German Shepherds as Hobby
From the time he was a young boy, Jack Sinykin loved dogs. He adopted strays whenever he could, but his favorite breed was the German shepherd. For that reason, it was no surprise when, as a businessman, he took up the hobby of breeding and raising these dogs. The strain of dogs he raised, the LaSalle strain, was eventually recognized by the American Kennel Club. The dogs were known for their intelligence and loyalty.
After witnessing the veteran at the train station, Sinykin began to pay more attention to the blind When he heard about the program in Germany, he determined that he should import one of these dogs.
Working through governmental channels, he eventually received a dog. That dog was Lux, the first guide dog ever brought to the United States. The year was 1926. Just two years later, one of Dorothy Eustis's dogs came here with owner Morris Frank. Eustis and Frank eventually started the Seeing Eye School.
Working with Lux
As Sinykin described to his great niece, Catherine Orkin, Lux knew basic commands, but it was not clear how or what commands he had learned for guiding the blind. Sinykin knew he needed help. He worked through government channels again, and eventually made a deal for trainer Lambert Kreimer to come work for the Master Eye Foundation for two years, teaching how to best to train the dogs.
In the meantime, Sinykin worked with Lux on some of the command he thought would be helpful. Some of the training was logical. The dog needed to stop before streets and at curbs or before staircases to give the blind person an opportunity to assess the situation. Sinykin later reported that the most difficult behavior to teach a dog was to ignore a command that might expose the blind person to a hazard such as stepping into a street.
Who Should Get Lux?
John Sinykin knew his decision here was very important. If the right person were found, the news of the program could grow. As he thought about it, he realized he had the perfect person in his state.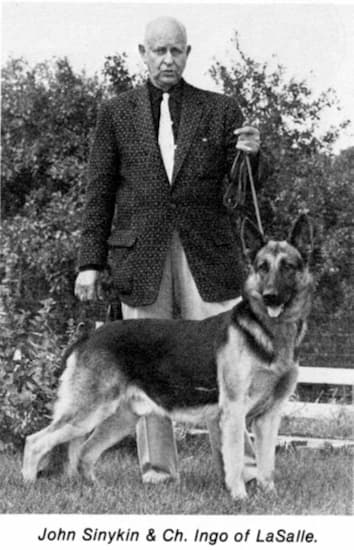 Thomas Schall (1878-1935) was a Minneapolis attorney who served in the House of Representatives from 1915-1925. In 1926 he was elected to the Senate.
Schall came from a poor family, but he was smart and after earning a scholarship to the University of Minnesota, he was able to continue on to attend St. Paul College of Law. He graduated in 1904.
Schall was blinded as an adult. This gave him added perspective. He knew what the world could be if there were a way to open it to the sightless.
Only three years out of law school, Schall was in Fargo, North Dakota, trying a case. During a break, he and another lawyer went out for cigars. Schall used a newly-installed device at the court house to light his cigar. Unfortunately, it was improperly connected and blew up in his face. Schall's arm was scorched, and his vision seemed fuzzy, but he thought he would be okay. He returned to court to finish presenting the case.
Over the course of the year, he lost all of his vision. He and his wife Margaret visited numerous doctors hoping that someone would have an answer. No one did, and Thomas Schall needed to go back to work. One of his friends provided office space for him in a building in downtown Minneapolis. Margaret, who had earned money in school by reading to a professor whose vision was poor, was able to step in to be his secretary and offer him additional help as he needed.
Schall and Politics
Schall was well-liked. He loved giving speeches and frequently spoke on behalf of businessmen running for local and state offices. In 1913, Schall decided to run for office himself. He successfully won a seat in Congress. In 1914, he became the first blind Congressman.
During his first year in the House of Representatives, Schall successfully petitioned for a young man to serve as his page. The fellow accompanied him everywhere and was available to read documents to him when he was on the House floor.
Schall had several important committee assignments, but he was also interested in helping those in similar circumstances. He always accepted invitations to speak at the state meetings of the Minnesota State Organization of the Blind.
This era was very early for any type of push for disability rights, but Schall laid legal groundwork where he could. He obtained pension rights for the blind. He also helped pass a bill that was the forerunner of the Randolph-Sheppard Act. This act gave blind people the preference in running vending stands on federal property.
Was Schall Right?
Thomas Schall was a senator by the time John Sinykin was considering a person who could help bring fame to his program. Schall was also a very active and visible man. He and his wife were often seen riding horses together. His sons obtained pilot licenses, so they frequently took their father flying.
Another advantage to Thomas Schall was that he was well-connected. Among his friends were William Randolph Hearst. Any cause that interested Schall was guaranteed an opportunity for good press.
Sinykin Approaches Schall
John Sinykin knew that the hallways of the Senate were always the best way to snag the attention of a senator. Security was different at that time, and Sinykin was able to wander the halls around Senator Schall's office.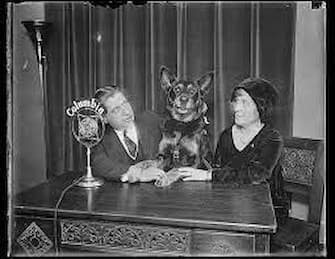 When Senator Schall emerged from his office one day, Sinykin moved forward. The senator assumed the man was an aide. Schall asked to be taken to the cloak room. When Sinykin explained he was constituent, Schall asked what help he needed. Tickets? A letter of support?
Sinykin then explained he was there to offer the senator something—a guide dog.
Schall had managed his life as a blind person for a dozen years. His initial reaction was dismissive. But as Sinykin explained to his great-niece, Schall eventually called to him and asked a few more questions.
Eventually, Senator Schall was at John Sinykin's training kennel in Wayzata being introduced to Lux, the dog that Sinykin brought in from Germany.
Lux soon proved his worth and was adept at getting Schall to his office, the Senate chamber, and the Capitol's barbershop. The two became inseparable.
Obstacles Everywhere
He gained permission for the dog to accompany him onto the Senate floor and laid the groundwork for other types of legal challenges.
As Schall and Lux made their way around D.C. and to Minneapolis, Schall became aware of the obstacles that sightless people faced. Transportation was one major issue. When Schall traveled between Minneapolis and Washington, D.C., he did so by train. The railroad personnel insisted that Lux had to ride in the baggage car. Even when Schall booked a private compartment, the dog was taken away. Schall kept a list of situations that he knew needed to be addressed.
Summoned by President
President Calvin Coolidge and his wife loved animals of all types. When the president and Grace heard about Lux, President Coolidge invited Senator Schall to bring Lux to the White House. Lux and Coolidge reportedly shook hands. Though service dogs were very uncommon at that time, Coolidge was wise enough to consult Schall as to whether Lux could be petted as well. (Service dogs are not generally supposed to be petted when in harness.)
Trainer Joins Master Eye Foundation
Lambert Kreimer arrived in Minneapolis in 1929 bringing with him 4 other dogs.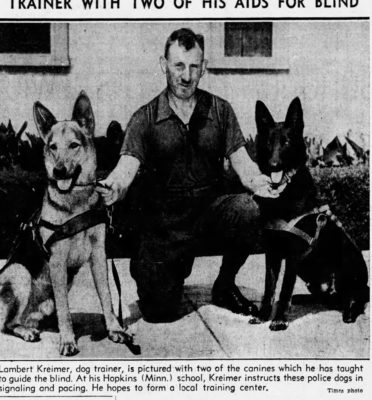 One of the first things Kreimer did was recall Lux. He wanted to be certain the dog was properly trained. He had Senator Schall return briefly as well. It was important that both fully understood the necessary protocol.
Kreimer spent two years with Master Eye Foundation. Afterward he remained in the United States but move on to work with the International Guiding Eyes, Inc. and other organizations.
Schall Announces Lux Died of Grief
In 1933, Senator Schall's good friend, Senator Thomas Walsh of Montana, passed away. Schall knew he needed to attend the funeral but he worried that the train trip to Montana would be too arduous for Lux, who was growing older. He decided to leave the dog at home in Minneapolis.
But Lux was said to be bereft. He was not used to being apart from his master. Those caring for him in Minneapolis said the dog refused to eat. By the time Senator Schall returned home five days later, Lux passed away.
Senator Schall was beside himself. When he returned to Washington, he asked permission to eulogize Lux from the Senate floor so that it would become part of the public record:
"For this strange division from me, he knew no reason or cause. No question that sorrow killed him. No doubt that he was the victim of mourning and love for me. Lux was so completely mine. …None but the blind will understand the whole of what I mean…"
Replacement Dog
John Sinykin and the Master Eye Foundation always did what they could to put recently trained dogs in the hands of owners who were used to having them. Rex was the dog given to Senator Schall, but the two were not as good a fit. Schall sometimes left Rex behind and reverted to using an aide.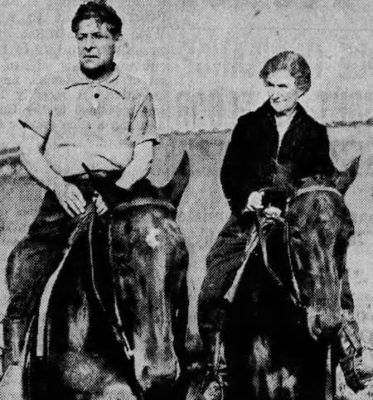 Unfortunately, on December 19, 1935, he and the aide stopped the car to run into a corner grocery. As they came out of the store and crossed the street, neither saw the oncoming car. Senator Schall was killed on impact. The driver was never caught. Schall was only 58.
He was buried in Lakewood Cemetery in Minneapolis.
The Master Eye Foundation
John Sinykin's commitment to developing dogs for the blind was unending. In addition to raising dogs, he made certain that no person ever had to pay for a dog or for the training that was needed to use a guide dog.
Sinykin estimated that each dog costs about $1500 to breed and train. This cost included costs related to the dog but also a 3-5 week stay for the individuals chosen to receive each dog.
Much of the financing for Master Eye Foundation was from John Sinykin's own business success but he also accepted donations from others.
One fellow, Edward Gayord, who owned a beauty supply business in Chicago, relied on Master Eye dogs for almost 14 years. Gaylord often made donations to Master Eye, but he also volunteered for them. He frequently accompanied his dog, Major, on marketing tours for a brand of dog food. The dog food company donated funds to the organization based on the number of labels sent in by consumers. Publicity helped increase the donations.
Bumps Along Way
Dog training is an art not a science, and there were bumps along the way. In 1941, there was a news story about a man and dog who were out for their final walk under tutelage of the Master Eye school. Frank Mazza (July 20, 1941) was hit by a car and broke his shoulder. Both dog and man survived, but Mazza was expected to go home with a different dog.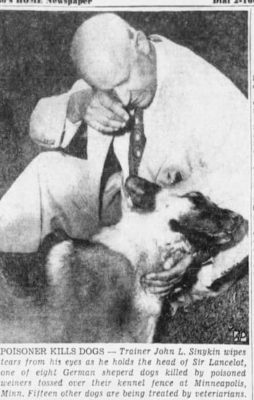 Owning a kennel was also problematic. Wayzata town had to mediate with Sinykin about noise complaints. Most of the time the issues could be resolved. However, in 1954, someone decided they had had enough and tossed poisoned meat into the kennels. Ten of the dogs died the day of the poisoning. Sixteen more required the careful watch of the vet.
Community reaction was strong, and there was an outpouring of sympathy sent to Sinykin for his loss. The police canvassed the area and conducted at least 550 interviews, but no person was found.
With the publicity from the poisoning, the foundation herd from a blind girl who wanted a guide dog. She was only 5—too young for the training. Her plea was so earnest that John Sinykin provided her with a puppy. He promised that she and the dog would be trained when they were both a little older.
John Sinykin Helps Many
Ultimately, John L. Sinykin provided training and funding for hundreds of dogs to be placed with those who needed them.
He died in Robbinsdale, Minnesota, at the age of 93.
To read about the Seeing Eye School started by Morris Frank and Dorothy Eustis, click here.