Unalaska, a lead sled dog with the Admiral Byrd Antarctic Expedition in 1928-30, showed bravery and intelligence at every turn. Despite icy barriers, gaping crevasses, massive swirling snowstorms, and sub-zero temperatures, he avoided serious difficulty for his team.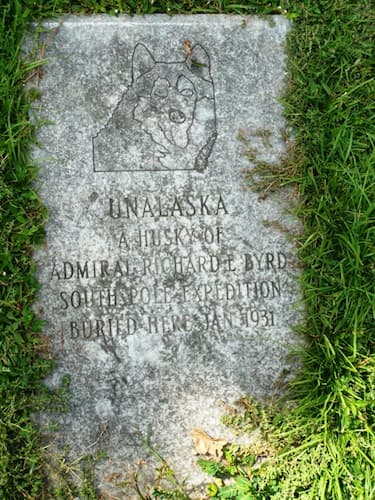 The dogs were in Antarctica for two years while Admiral Richard Byrd and his men explored the continent, conducted scientific experiments, and picked samples to bring to the U.S. for more study.
Despite the dangers and difficulties of the two-year expedition, Unalaska flourished, only to meet his end in Monroe, Louisiana. He was killed by a hit-and-run driver.
It was not a heroic death, but Unalaska remains a hero.
"He never turned back," were Admiral Richard Byrd's words when he heard the news.
Here's what we know of Unalaska's story:
Unalaska
Unalaska was reported to have been born in 1923 in the Northwest Territories of Canada near the Arctic Ocean. He was a mix of wolf, St. Bernard, setter, and Siberian husky. With that genetic makeup, he was a good-sized puppy who grew strong quickly. The kennel where he was born soon made use of him as part of a team.
By the mid-1920s, Admiral Richard Byrd (1888-1957) was a renowned explorer. He received several recognitions for his military service during World War I. And after a successful trans-Atlantic flight in 1927, he was welcomed back to New York with a ticker tape parade.
Because of his fame, he had the opportunity to hand-pick many of the dogs that went with him on his journeys—Unalaska must have been one of them. Dog handlers knew their kennels grew in value if Byrd chose one of their dogs.
Dog Puncher
Byrd's selection of his "dog puncher" (the man chosen to oversee all the dog teams) was equally important. A fellow named Arthur T. Walden (1871-1947) was Byrd's choice.
Walden became well-known during the Klondike Gold Rush in the late 1890s. Like many other men, he found the promise of gold in the Klondike region of Canada very enticing. Walden tried mining for a time, he soon saw that the odds of making a successful strike were very low. But Walden saw that other men did well by finding a need and filling it. (See the story about Levi Strauss.)
At the turn of the century, the only way to navigate the Klondike and Alaska during winter months was via dog sled. Walden realized that he could provide a service miners needed and for which they would pay—freight-hauling with his dog teams. He hauled supplies in—and occasionally hauled gold out during those years.
Developed New Breed
His new business also gave him time to study the dog traits he preferred for the work. Most sled dogs at that time had some genetic mix of wolf in them. That often works well. At times, however, the part-wolf animals became dangerous.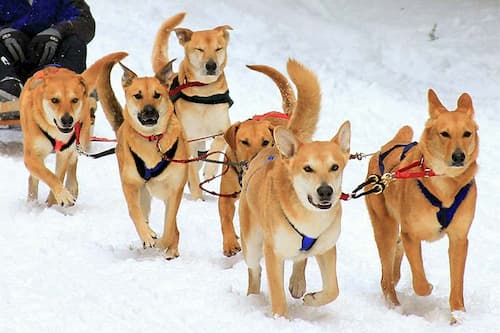 Walden experimented with other ideas. His home base was in New Hampshire, where he had an opportunity to trade thoughts with naturalist and writer Ernest Harold Baynes, who also lived in New Hampshire. Baynes was given a Greenland Eskimo Dog after he visited the island where Admiral Peary's dogs lived and were bred. The dog was a beautiful, well-built dog named Polaris.
Either Walden or Baynes saw the possibilities in using Polaris for breeding. He was eventually mated with a farm dog that was part bullmastiff. Three puppies resulted.
From that group, Walden developed the dog we now know as the Chinook breed. Chinook dogs are a tawny-coated animal with power, endurance, and speed. They were also gentle dogs who had friendly dispositions.
Walden and the Antarctic Trip
Sixteen of Walden's Chinook dogs were selected to make the Antarctic trip.
Walden preferred running seven-dog teams. This meant that Walden would need 8-10 dog teams for Antarctica. Coming up with enough trained sled dogs was always challenging. Dogs acquired from the Eskimos could be used. Because the Eskimos guided the dogs by running alongside the team themselves, the dogs were not lead dog material, but they were strong. They were perfect when added to the back of the pack.
Unalaska's strength, intelligence, and ability made him an easy choice as one of the lead dogs.
Mushers
Mushers were also carefully chosen. Most of these men work without recognition, but three achieved some recognition after making Admiral Byrd a hard-to-refuse offer.
Norman Vaughan grew up in a community not far from Admiral Byrd's home in Boston. As a young boy, Vaughan longed for adventure and read widely about various expeditions. Tales of Arctic expeditions and travel in Alaska with sledge dogs always fascinated him.
He and a neighborhood friend decided their dogs could become sled dogs if they trained them. Vaughan owned a German shepherd mix named Rex; his friend, Eddie Goodale, provided his dog, Fido. Using a long rope and a wagon, they harnessed up the two dogs.
When Norman called "Mush!", he discovered that both house pets thought that meant "come!" The dogs awkwardly turned around in harness and rushed back to deliver slobbery kisses to Norman.
With that, the boys saw that the training needed to proceed with one of the boys running alongside the animals so the dogs would know where to go. (Eskimos often work with their dogs in this way. The dogs pull the laden sleds, and a couple of the men run alongside them as they travel.)
As the boys grew older, the dog games must have fallen by the wayside, but the friendship continued. Both Vaughan and Goodale were accepted by Harvard University where they met another like-minded fellow, Freddie Crockett.
Harvard Men
When the news headlines "Byrd to the South Pole" appeared in newspapers, Norman Vaughan, Ed Goodale, and Fred Crockett determined this might be their moment for adventure.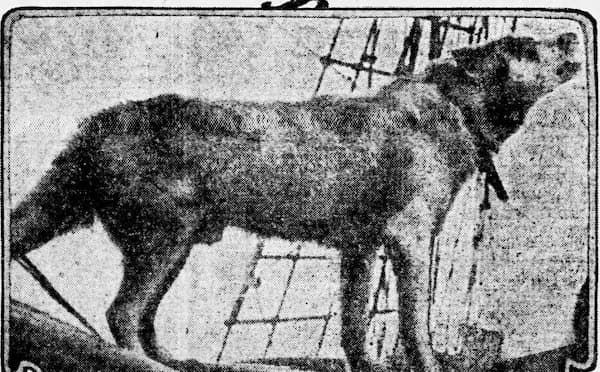 Vaughan sent a letter to Admiral Byrd, offering to work with dogs at no pay if he might be considered when Byrd made the final choice on the mushers. Byrd saw the wisdom of adding smart men to his crew, and he agreed.
Vaughan, Goodale, and Crockett worked hard that year. When it came time for Byrd to make his selection, the three Harvard men made the cut. They answered to Arthur Walden, the head dog puncher.
The Purpose of the Trip
Antarctica was briefly visited by American explorer Charles Wilkes in 1840, but no other American had ventured back. Essentially, the continent was still unexplored.
During the early 1900s, explorers began venturing out, and the era became known as the "heroic age of Antarctic exploration." Those who visited Antarctica included British explorer Captain Robert Falcon Scott who was there in 1901. Shortly after Scott, Ernest Shackleton led three major expeditions. Norwegian Roald Amundsen spent 1911-1912 exploring the area, and geologist Douglas Mawson led a very difficult journey there on behalf of Australia.
Admiral Byrd, an American, saw that his contribution needed to be for science. His plan involved what they could study onsite and what they could bring back to learn more. His plan necessitated two ships, three airplanes, 42 men, and 95 dogs. The cook also took along a cow so that the men could enjoy fresh milk for as long as possible.
Special Tag-Along
Admiral Byrd's terrier, Igloo, was among the travelers on this expedition. Igloo required a special snowsuit to withstand the cold as terrier fur was not designed to withstand Arctic temperatures.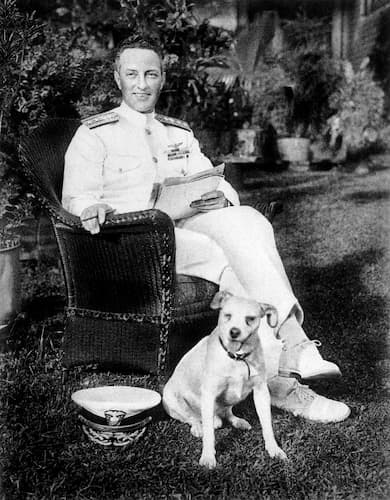 And as terriers will, Igloo followed his nature and loved stirring up the sledge dogs—on shipboard and on land. The dogs often gave back what Igloo likely deserved. Unalaska himself more than likely took a nip or two out of Igloo at some point. (When the men heard Igloo's yelps, they always rescued him. Igloo often needed stitches, but he certainly had fun. For more details on this story, see Admiral Richard Byrd's Dog, Igloo.)
The Trip
The Byrd Antarctic trip was to be the largest and best-equipped expedition that ever set out for the southern continent.
In the fall of 1928, the expedition established a large base camp called "little America" on the Ross Ice Shelf near the Bay of Whales. As Byrd planned it, the dogs would be used to travel and establish four substations on the way to the South Pole. By leaving supplies at each substation, they put in place stopping points for the aviation team to conduct repairs and to refuel as necessary.
And if perhaps, the plane did not fare well, the dog teams would be able to reach the substations to bring the men back to the ship.
Work Begins
Photographic expeditions and geological surveys were undertaken the first summer. A point of pride was that the men maintained constant radio communications with the outside world.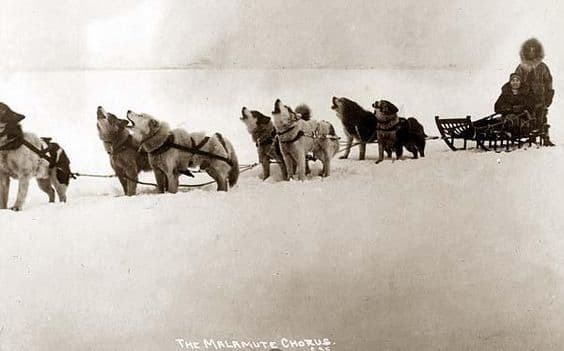 The following autumn, November 28, 1929, Byrd was ready to make the first attempt at flying to the South Pole. Leaving from Little America, Byrd, along with a pilot and the co-pilot, flew the plane, the Floyd Bennett, to the South Pole and back in 18 hours, 41 minutes. It was an arduous flight that necessitated many last-minute emergency measures. Ultimately, they were successful flying over the geographic South Pole.
They also conducted flights across the Antarctic continent and discovered much unknown territory.
The expedition was considered a big success. In June of 1930, the ships returned to North America.
Several months after their return, the expedition was honored by the American Geographical Society with their gold medal.
Cultivating Support
Admiral Byrd did a great deal of networking with wealthy men who were likely to invest in future expeditions, President Franklin Roosevelt, Henry Ford, Edsel Ford, John D. Rockefeller, Jr. and Vincent Astor were among them. But Byrd also knew the importance of sharing the information with the public.
At that time, there was no television news, and certainly no Internet. The custom was for explorers—or anyone with a story to tell—to mount a road show. That way the American public could visit the traveling exhibition and hear speakers. The adventurers loved sharing their experiences, and it brought publicity to the cause.
For this expedition, Carroll Foster, a member of the Antarctic team, was put in charge of traveling with Admiral Byrd's South Pole Exhibit. The dog teams weren't working at that time, so the trip organizers often arranged for one or two of them to go along. The dogs were guaranteed crowd pleasers.
Unalaska and a dog named Lady were the pair of dogs scheduled for visits in Louisiana. C.B. Foster was devoted to their care and made sure they got plenty of exercise each day. Most days, Foster drove them to a park where the dogs could run without restraint.
Unalaska Hit
On the early morning of January 3, 1931, Carroll Foster drove Unalaska and Lady to Forsythe Park. Foster parked along the roadway as he usually did. When he opened the car door, the dogs jumped out, eager for their run.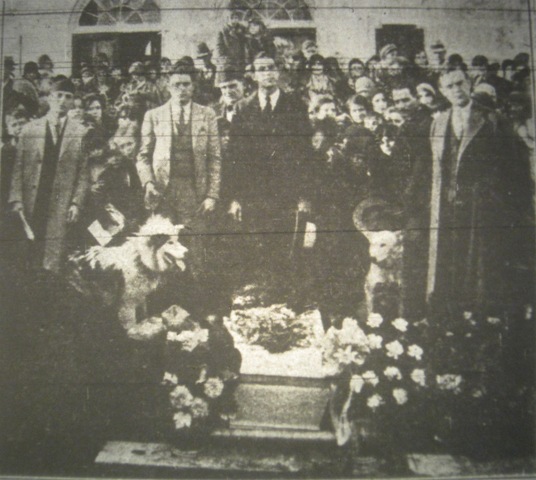 A speeding car caught Foster and the dogs by surprise. Unalaska was hit and dragged for about 50 feet until his body finally unhooked from the car.
The driver barely slowed down and never confessed to the crime. Despite a reward offered to anyone who could identify him, no one was ever found.
Well-known writer Alfred Payson Terhune wrote: "Unalaska had gambled with death a thousand times in blizzards and across ice floes. Through his courage and brains and muscle, he had won. But it profited him nothing. For at the last he died at the wheels of a carelessly driven car, whose owner had not the decency to stop and mutter a word of regret at his wanton dog-murder."
The Aftermath
The news traveled through the community. Sorrow was matched by horror among the residents at what happened in their small town.
Arrangements were quickly made to have a funeral for Unalaska. He was to be buried on the grounds of property belonging to the American Legion. The Cory-Davis funeral home volunteered its embalming services. Unalaska was placed in a white velvet casket linked with pink silk cushions.
On January 6, 1931, schools closed early so that children of Monroe could attend the funeral.
Before the service, the open casket was on display. The Boy Scouts stood beside the tiny bier. Those who wanted to could pass by to pay their respects.
When the service was to begin, the scouts closed the casket and carried it to the flower-bedecked grave. Carroll Foster gave the eulogy.
One of the men from the trip later wrote: "He [Unalaska] was the only leader known to me that could handle four timber wolves at the same time in one team. I estimate that in all, Unalaska led his teams over 5,000 miles. He could foresee danger and not once did he lead his teams into dangerous places."
A Proper Memorial
Though the funeral was appropriate, the children of Monroe wanted an official marker for the grave. They began a fundraising campaign, but they quickly received help from businesses. The construction company that was building the local high school donated a 700-lb Indiana limestone marker and put it in place.
And the J.M. Supply Company in town provided a bronze tablet that was inscribed with Unalaska's name and history. The plaque read:
Sacred to the memory of Unalaska, killed by automobile in this city, January 3, 1931, a dog of the Byrd Antarctic expedition, whose dauntless courage played an important part in that great scientific adventure. "A great leader and a true friend—he never turned back—Admiral Byrd."
Unveiling
The marker was unveiled at a special service on July 9, 1931. Eight-year-old Armond McHenry made the dedication speech:
"The dog we have met here today to honor was a noble animal. He could remember more things than can some small boys, and I suspect he enjoyed work a little more. Unalaska was faithful, loyal, honorable, never betrayed a trust placed in him, and was loving and kind."
Schoolgirls pulled back the fabric covering the marker. The crowd applauded, and respectful silence followed.
A Bad Surprise the Next Day
A day later–July 10–the marker was gone. This was no easy feat as the granite marker weighed 700 pounds. Someone with big equipment seemed to have come on to the property and broken up the marker before hauling it off.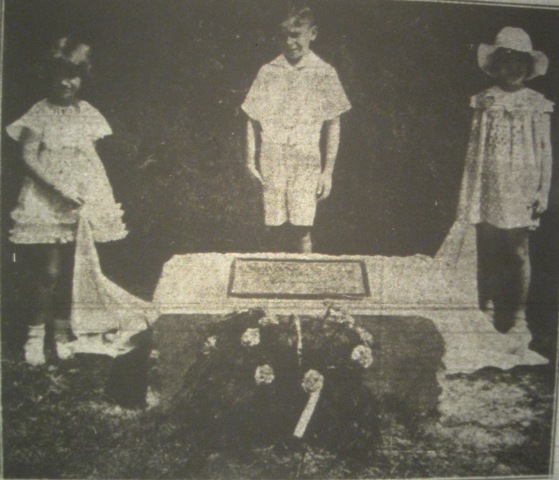 A local rumor spread that there had been disagreement among the members of the American Legion. Many felt that only humans should be memorialized on their property. Some felt the gravesite of a dog dishonored the Legion.
Unalaska Grave Moved
Whatever happened, supporters of Unalaska moved quickly. The casket was retrieved, and the school principal suggested that Unalaska be re-buried at the Georgia Tucker Elementary School.
A second service followed shortly after. A new marker was made. Unalaska's image was etched into the stone, and it was inscribed: "Unalaska, a husky of Admiral Richard E. Byrd, South Pole Expedition, buried here. Jan 1931."
Over time, Unalaska's grave had to be relocated again due to construction. As of 2018, the grave site is safely placed on the property of The Gardens at Georgia Tucker Assisted Living Community.