If the American population divided itself into pet people and non-pet people, Calvin Coolidge—our 30th president (1923-1929)—and his wife Grace, would definitely be on the "pet" side of the line. They had cats, birds, two pet raccoons, and of course, dogs.
Peter Pan, a terrier, came with the Coolidges to the White House but he did not like the hustle and bustle of Washington life, so the Coolidges found a quieter home for him. Paul Pry, an Airedale, was the next dog to arrive, and he was fiercely loyal to the Coolidges, to the point that he would not permit the housekeepers to enter a room where the president was.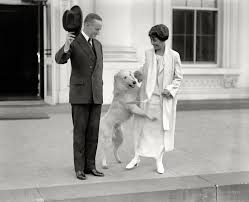 Rob Roy and Prudence Prim were two white collies that joined the family. Prudence was a particular favorite of Grace's.
Beans was a Boston bulldog who arrived and took position as lead dog, which put Rob's nose out of joint so the Coolidges gave Beans to Mrs. Coolidge's mother who lived in Northampton, Massachusetts.
Tiny Tim and Blackberry were chows. Tiny Tim soon became "Terrible Tim" in the president's eyes, so he was soon moved to other quarters. The family picked up Blackberry on a trip to the Black Hills. Blackberry was all black including the inside of her mouth, and she was became a gift to their son John Coolidge's "intended."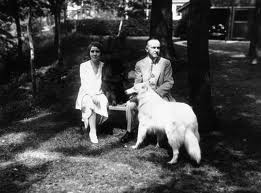 Calamity Jane was a Shetland sheepdog who joined the family, but there were still more (though not all were at the White House): There were two other collies, Bessie and Ruby Rouch, and a German shepherd named King Cole. There was also a bird dog named Palo Alto.
As definite pet people, they also created homes for many other animals. Rebecca was a raccoon given to the Coolidges to be part of Thanksgiving dinner but Grace Coolidge spared her. They built a pen around a tree at the White House, and they got her a friend, Reuben, but he soon escaped.
In addition, the Coolidges received a wallaby, a bobcat, a black bear, a donkey, a Pygmy hippo, and two lion cubs (named Tax Reduction and Budget Bureau) , a duiker (a small antelope), and 13 Pekin ducks (a type of domestic duck from Long Island) while Coolidge was president. The Coolidges attempted to raise the ducks in one of the bathrooms in the White House, but they soon became too large, and along with the other more exotic animals, had to be given to the zoo.