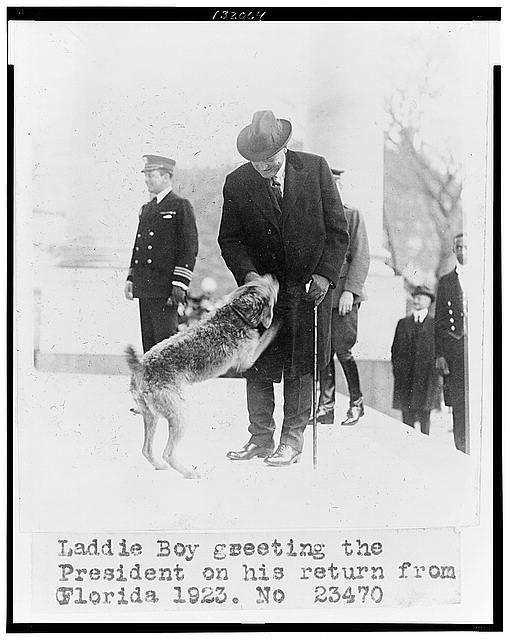 Laddie Boy was an Airedale belonging to Warren G. Harding, the 29th president of the United States (1921-23). Had Harding lived to serve a longer term of office, Laddie Boy might be as well remembered as Fala or LBJ's beagles. No dog before or after Harding received as much press coverage as did Laddie Boy. Harding had started his career as a newspaper man, eventually becoming full owner of the Marion Daily Star in Ohio. Perhaps for that reason, he was willing to provide access to Laddie Boy that most presidents do not give.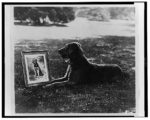 Born on July 26, 1920 at the Caswell Kennels in Toledo, Ohio, Laddie Boy was six months old when he arrived at the White House on March 5, 1921, the day after Harding's inauguration. Harding had asked that he be told as soon as the dog arrived, and indeed, a cabinet meeting was interrupted so that Harding could see his new pup.
Seven days later, a reporter for The New York Times wrote of Laddie Boy's having learned to carry the paper to the breakfast table to deliver to the President. "The Airedale has been working on the 'stunt' for several days but this was the first time he got through it without a hitch…" (The New York Times, 3-12-1921)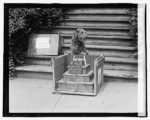 Laddie Boy's Birthday
While the White House has kennels for owners who want to keep their dogs there, the Hardings kept Laddie Boy with them at almost all times. He participated in the logical "photo op"events such as the Easter Egg roll on the White House lawn, but he also had his own chair to sit in during cabinet meetings.
On Laddie Boy's first birthday at the White House, the press corps was given photo access to snap pictures of the First Dog with a dog-biscuit birthday cake sent by his father Champion Tintern Tip Top from Ohio. His father had also supposedly penned an encouraging letter to his famous son "whose pictures appear so often in the newspapers and magazines…" Along with the cake, the kennel enclosed some invitations for Laddie Boy to send out to his favorite canines or humans so that they could be invited to attend his party. (The New York Times 7-24-1922)
Harding also wrote to the press in Laddie's voice expressing Laddie Boy's opinions on things. In one letter, Laddie Boy wrote of life in the White House: "So many people express a wish to see me, and I shake hands with so many callers at the Executive Mansion that I fear there are some people who will suspect me of political inclinations. From what I see of politics, I am sure I have no such aspirations." (The New York Times, 2-8-1922)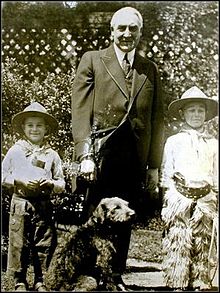 In July of 1923 the Hardings wanted to escape Washington where the press corps was working overtime looking into the scandals that arose during Harding's presidency (among them the Teapot Dome scandal). President Harding and the First Lady planned a trip to visit the West Coast and Alaska. (Harding was the first president to visit Alaska).
Over the course of a few weeks, Harding's bouts of 'not feeling well' became worse, and on August 2, 1923, Harding passed away in San Francisco. Laddie Boy had not accompanied them on the trip, and newspaper reporters made note of the fact that there was no way to explain Harding's absence to one White House member, Laddie Boy.
Louis Newman, President of the Roosevelt Newsboys' Association hit upon a way to create a unique tribute to President Harding; he asked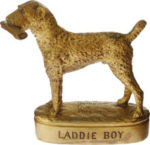 newsboys across the nation to donate one penny a piece in memory of the president. The plan was to take the pennies and melt them down so that they could be sculpted into a statue of Laddie Boy. Nineteen thousand one hundred thirty-four pennies were collected from boys all over the nation. Laddie Boy sat patiently for some 15 sittings so a sculptor could capture his image. The sculpture was completed and now belongs to the Smithsonian Institution (copies are rare but can sometimes be found on eBay).
Shortly after the president's death, Mrs. Harding wanted to reward Secret Service agent Harry L. Barker for his kindness to the couple, so she suggested that Barker should have Laddie Boy. Barker was soon transferred to the Boston office, and Laddie Boy lived out the rest of his life with the Barkers in Boston. The newspapers took note of the dog's death from 'old age' in 1930. Florence Harding died of renal failure in 1924 so it was fortunate that Laddie Boy had already been placed in a loving home.