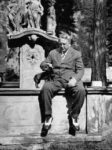 When most pets die, their passing is noted by the family with great pain and feelings of loss, particularly at those odd daily moments when you expect to see his or her face there to greet you.
A few Americans are in positions where they elevate their mourning to a public level. A few weeks ago, The Dog Days of Summer featured Governor Percival Baxter of Maine (1876-1969) whose beloved Irish setter died while Baxter was governor. Baxter ordered that the state flag should fly at half-mast in memory of his dog.
In 1942, another well-known American, William Randolph Hearst (1863-1951), made note of his dog's death by publishing a eulogy to his dog, Helen, in his "In the News" column. Helen was a toy dachshund, a breed Hearst greatly favored, and the powerful newspaperman was clearly devastated by the loss.
Time magazine (5-11-1942) quoted Hearst as writing: "…A boy and his dog are no more inseparable companions than an old fellow and his dog. An old bozo is a nuisance to almost everybody —except his dog. . . .
"She always slept on a big chair in my room and her solicitous gaze followed me to bed at night and was the first thing to greet me when I woke in the morning. Then when I arose she begged for the special distinction of being put in my bed. . . .
"Aldous Huxley says: 'Every dog thinks its master Napoleon, hence the popularity of dogs.' That is not the strict truth. Every dog adores its master notwithstanding the master's imperfections of which it is probably acutely aware. . . .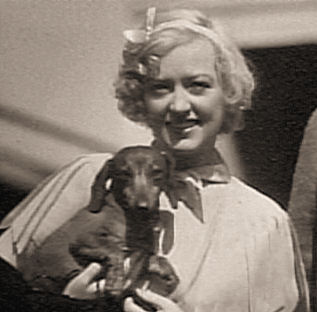 "So as your dog loves you, you come to love your dog. Not because it thinks you are Napoleon, not because YOU think you are Napoleon. Not because you WANT to be Napoleon. But because love creates love, devotion inspires devotion, unselfishness begets unselfishness and self-sacrifice. . . .
"Helen died in my bed and in my arms. . . . I will not need a monument to remember her. But I am placing over her little grave a stone with the inscription:
"Here lies dearest Helen —my devoted friend."
(Newsweek, March 17, 2003)
On Another Note
While I find this story to be an honest expression of one's emotions at such a time, the story is a sad one, so I want to shift my tone and conclude with a quote from former Secretary of Defense Donald Rumsfeld who was asked by a reporter from Newsweek magazine in 2003, whether he had supplies at home as the government was recommending in case of an emergency –duct tape, plastic sheeting, and a three-day supply of bottled water.
Rumsfeld replied, "I would like to say I did. I don't believe we do. But I do have a miniature dachshund named Reggie who looks out for us."
While I have to say that we are the type of family who has the emergency supplies on hand, I do think Donald Rumsfeld made a good point about Reggie…At a time of any kind of stress, there can be no greater friend looking out for you than your dog.