Stubby was a mixed breed dog who adopted an infantry unit long before the military added a K-9 Corps.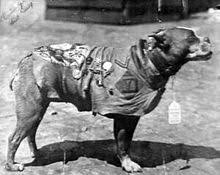 Stubby was a pup (probably part pit bull or Boston terrier) when he started following the men of the 102nd Infantry (part of the Army's 26th Division). He was never trained for the battlefield, but Stubby's great hearing, strong sense of smell, and most important—his loyalty to the men–made him a valuable asset to the troops.
He came home a war home a hero and the mascot of World War I.
Finding Stubby
Corporal Robert Conroy was one of many men assigned to the 102nd Infantry. They were training near the Yale Bowl in New Haven, Connecticut, in preparation for going overseas. Conroy came upon a stray pup who kept showing up at the men's drill practices. Whether Conroy called him Stubby because of his short tail or his chunky body is unclear, but Stubby was friendly and remained a constant presence around the men while they were drilling.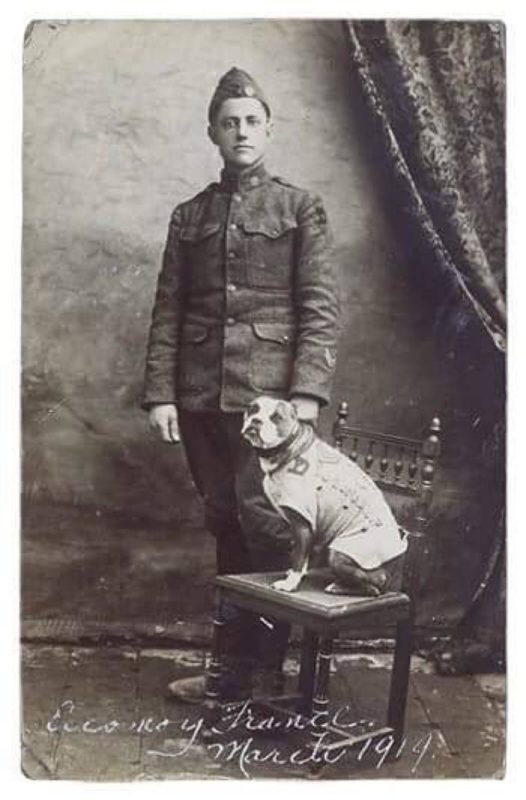 The unit was to ship overseas from Newport News, Virginia. Conroy hid Stubby in some of the equipment to get him to Virginia. Then he found an open-minded military policeman who helped him find a place on the ship for Stubby. Soon Stubby was on his way to France with the unit.
Stubby spent the next year and a half on the front line. He participated in 17 battles, including those at Chateau-Thierry, the Marne, and Saint-Mihiel. His acute sense of hearing and smell were invaluable to the men. He could hear the high-pitched whine of the shells before the soldiers did, so the men took to watching Stubby to see if he had noted anything.
Gas Attacks
His sense of smell alerted him to gas attacks before the men realized one was coming. Stubby would run through the trenches to alert the men. With one of the attacks, Stubby breathed in enough gas that Conroy had to take him to the base hospital to be revived. Conroy tried to develop a gas mask for Stubby but it was hard to get anything that fit around his wide nose. (During WWII, the United States began issuing gas masks for dogs.)
On another occasion, Stubby awakened Conroy. Conroy grabbed his gun and followed Stubby outside where he found that a German soldier had infiltrated the American camp. Stubby sank his teeth into the fellow's leg, while Conroy got the upper hand with the German and handcuffed him. Stubby was more obstinate; he was not certain that letting go of the man was the right thing to do.
Stubby Injured
During fighting in the Toul area, Stubby was hit by shrapnel when a grenade exploded. Again, Conroy took Stubby for medical care, and six weeks later Stubby returned to be where he belonged–with his unit. Over time, word got out about this brave dog that was loyal under fire and willing to risk all for his men.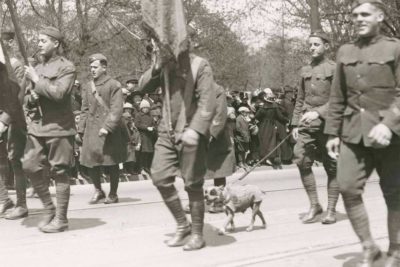 The people of France were first-hand observers of all that Stubby did. Some French women made a coat for Stubby out of a U.S. Army blanket, and people began pinning on medals.
As the story of Stubby's loyalty and heroism became known, it was both comforting and inspirational.
Stubby a Hero
When Conroy and Stubby returned to the United States in 1919, the dog was highly sought after. He was honored by the Humane Society, the American Red Cross, and the American Legion. The YMCA gave Stubby a membership card promising "three bones a day and a place to sleep."
Stubby led many parades and appeared in photos with several presidents–Wilson, Harding, and Coolidge all had their pictures taken with Stubby.
Off to Law School
Robert Conroy enrolled in Georgetown Law School in 1921. Stubby went with him. Soon Stubby was mascot of the football team. People in the stands loved halftime when Stubby was given the ball to push around the field.

In 1926, Stubby died of old age. Conroy held him in his arms until the dog had taken his last breath.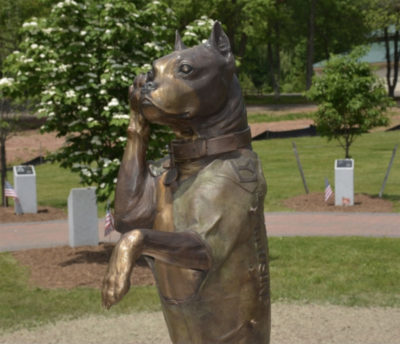 Stubby Remembered
Stubby is still remembered in many ways. Stubby has been the lead character in several books, and an animated film Sgt Stubby: An American Hero was released in 2018.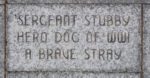 In 2006, Stubby was honored as part of a World War I monument in Kansas City There is a brick in memory of Stubby along the Walk of Honor. In 2018, Robert Conroy's descendants dedicated a life-size bronze statue of Stubby created by artist Susan Bahary. "Stubby Salutes" is part of the Connecticut Trees of Honor Memorial at Veteran's Memorial Park in Middletown, Connecticut.
For another story about how messenger dogs were used in Europe in World War I, see A Remarkable Messenger Dog.