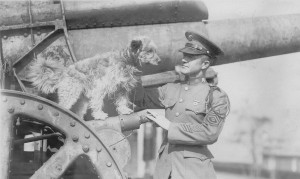 Rags, who became a World War I dog hero, was originally just a stray pup picked up by a couple of American soldiers in July of 1918. James Donovan and George Hickman, part of the 1st Infantry Division, had been celebrating Bastille Day in a bar in the famous Montmartre section of Paris, when they stumbled on what they thought was a bundle of rags.
The accidental bump of one of their boots aroused the bundle and it barked, revealing that the men had come upon a dog, not rags.
A Dog Not Rags
The men must have stooped to quiet him, and the dog—now fully awake—had the good sense to follow them back to base.  Rags cheerfully became the companion of Jimmy Donovan though everyone in the unit enjoyed him and slipped him scraps of whatever they were eating.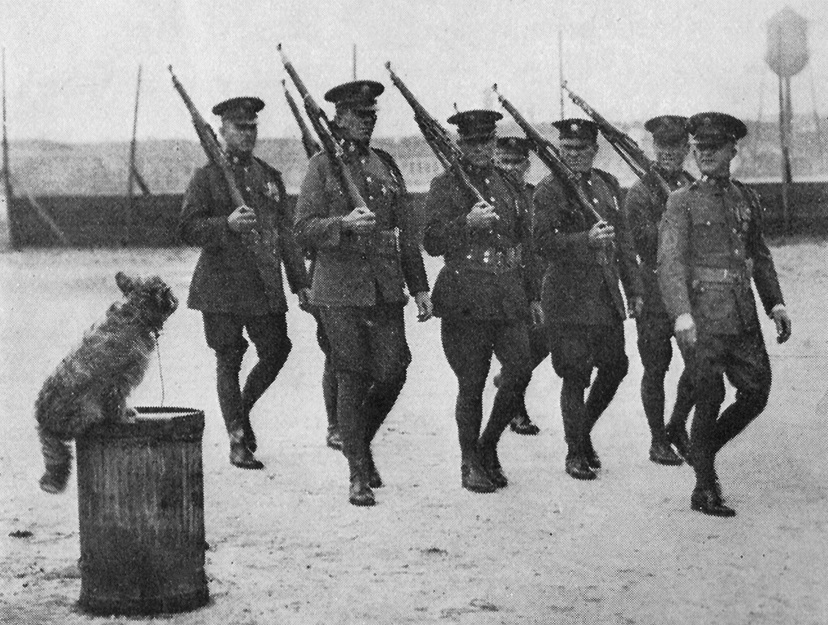 Rags's story has recently been carefully researched and movingly written by Grant Hayter-Menzies. Though a biography of Rags had been written by a fellow named James Rohan in 1930, Hayter-Menzies saw that the dog had lived six years beyond the date of that biography and that there was still a great deal more to be reported. His book, From Stray Dog to World War I Hero: The Paris Terrier Who Joined the First Division was published in 2015.
Dog Hero During the War
The officers saw that Rags was great for morale, but it soon became obvious that Rags could function as an early warning system.  When Rags heard the sound of an incoming mortar attack, he would immediately flatten himself on the ground and stay down.
After the first incident when the men remained standing, they learned. If Rags went down, so did they. Paying attention to Rags saved lives.
Jimmy Donovan was part of the Signal Corps so he was often busy stringing telephone lines. Rags worked alongside him and somehow became adept at spotting breaks in the lines, perhaps by noting a different smell to an open wire. Rags would mark a spot and Donovan would then set up to repair it.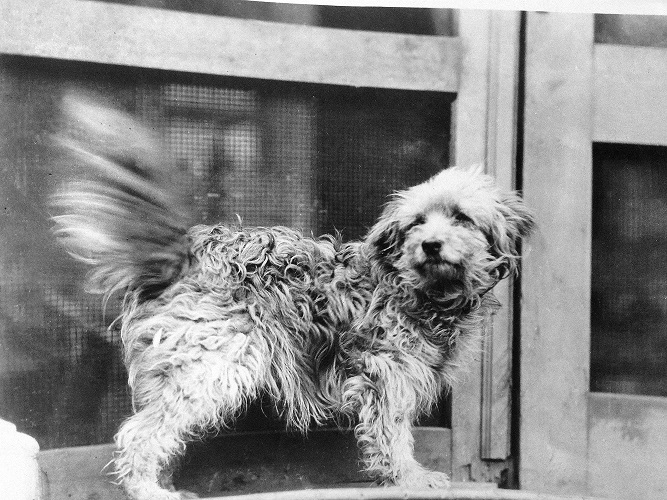 Donovan also taught Rags to carry messages. This is a difficult skill to teach a dog as it means that the dog must leave its handler on command, going into the unknown to another "master."
As he mastered the skill, Rags was soon counted upon for message-carrying. He did so willingly, often having to cross open areas while being shot at.
No matter where Rags was he brought inspiration to the men with whom he fought.
Dog Hero and Donovan Brought Down
In the prolonged fighting in the Meuse-Argonne–the final American campaign of World War I–Donovan and Rags were caught in a mustard gas attack. Both were seriously injured and sent to a field hospital.
Rags suffered leg injuries and was blinded in one eye and lost hearing in one ear. He eventually recovered well enough to get around.
Jimmy Donovan was much more seriously wounded. He was to be sent back to Fort Sheridan in Chicago for added medical care. Rags had been a frequent presence on Donovan's bed in the field hospital so some of the other patients made certain that Rags was smuggled on to the ship that was taking Donovan back to the U.S.
At first, the hospital at Fort Sheridan prevented Rags from visiting his favorite soldier, but as the story of Rags and Donovan spread, Rags was soon permitted in the ward. This must have brought great comfort to the Donovan who never recovered from his injuries, dying in the hospital in 1919.
Telling Rags the News
Some of the soldiers worried about how to tell Rags his master had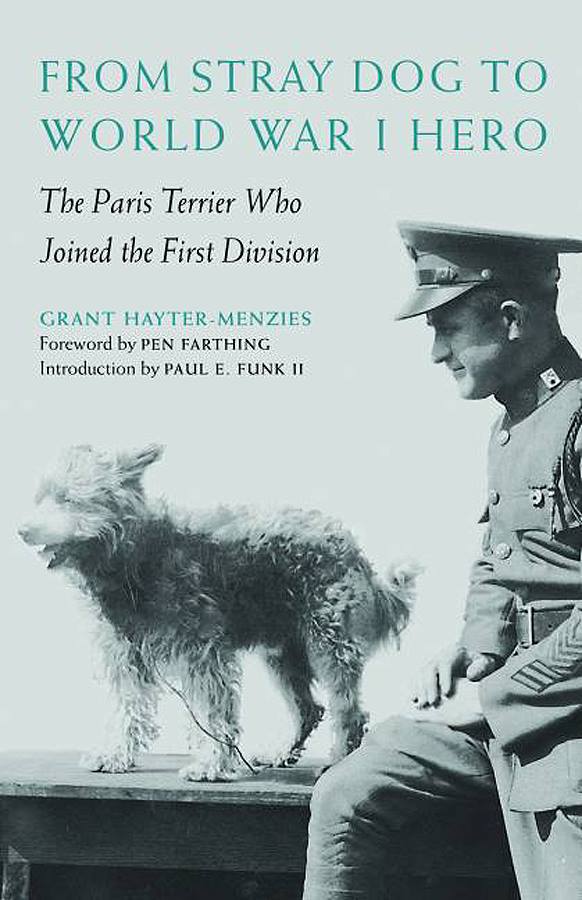 died. In one of my favorite passages of the book, Hayter-Menzies describes how dogs mourn—and how Rags did.
A few of the men brought Rags to the bed in which Donovan had died. The body was gone but the sheets had not yet been stripped:
"Anyone who knows dogs is aware of the stages of their grieving," writes Hayter-Menzies. "Their favorite person leaves for only a few days, but for the dog it is forever. There is waiting and pining at the doors and windows and jumping to investigate every remotely familiar sound, which could be the longed-for person returning home.
"…[But] the dog seems gallantly determined to face loss by adopting new loves, new faces to watch and footsteps to listen for. Behind it all, the longing for the original person is still there, and if that person does return, the dog's joy is uncontainable. Rags, was no exception to this pattern, but as with every challenge in his life, he quickly adapted. Rohan [the first biographer] was told that on being placed on the bed, Rags "sniffed, stretched himself, his forepaws extended and his nose buried between them, and lay motionless for more than a minute. He then hopped to the floor and headed for the ward's exit."
Rags then spent about a week not eating much and simply lying quietly at the firehouse, his latest home. After about a week, he perked up and went about life as he knew it with one exception.
It was said he never again returned to the hospital where Donovan died.
Rags Becomes the Base Dog
For about a year, Rags was simply the base's dog. But an officer's daughters soon found this funny little dog was always waiting for them when they finished school and came for their bikes. Initially, they were fearful, but soon they were begging their father to let Rags sleep in the house.
For the rest of his life Rags belonged to the Hardenbergh family. It was his first true home, and he was well-cared for and very much loved. The family was frequently moved from base to base, and so Rags would become a participant at each base at which they were posted.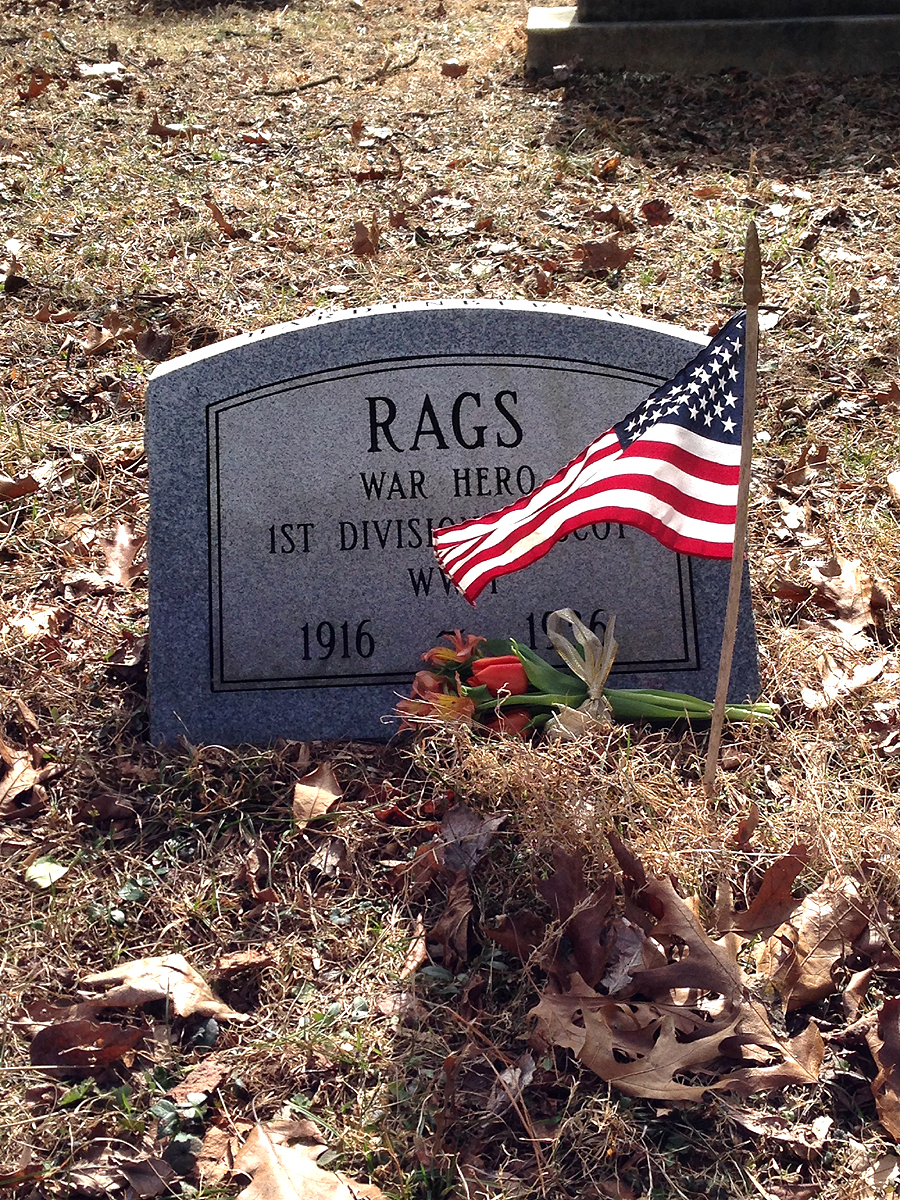 When stationed in New York, the Army press department decided to circulate Rags's  story. After that, Rags became a well-loved celebrity. He was awarded medals and ribbons and participated in parades.
All this is lovingly documented in Grant Hayter-Menzies's book, From Stray Dog to World War I Hero.   
Why This Dog Hero?
When contacted for his thoughts on choosing Rags as a subject, Hayter-Menzies wrote in an email: "As a stray, Rags's vital statistics are a mystery and may forever remain so.  The life he was enduring on the streets of Paris, at a time when war was creating famine across Europe, might have been a short one. …Rags was lucky. Humans intervened, scooping him up out of harm's way, allowing him to be reborn as the beloved companion animal he was meant to be.  All animals should be loved, but especially the abused and abandoned of this world."
Indeed.
To order the book, click here.  Rags also has a facebook page.
For another story of an amazing dog that served in world War I, see "First War Dog to Carry Messages in World War I."