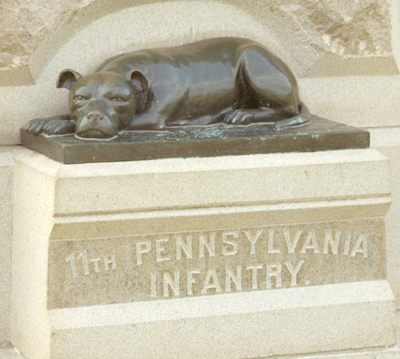 Sallie was just a puppy when she was given to the captain of an infantry regiment drilling in Pennsylvania. She became the unit's beloved mascot.
Sallie Joins the 11th Volunteer Infantry
In 1861 the captain of the brand new Pennsylvania infantry unit (the 11th Volunteer Infantry) was busy training his regiment in West Chester, Pennsylvania, when a townsperson presented him with a four-to-five week old puppy, a bull terrier (also known as a Staffordshire terrier or pit bull).
With so many people around, the puppy was quickly absorbed as part of the unit. The men named her after one of the more beautiful young ladies who had caught their attention in West Chester. Sallie was fed and played with during the weeks and months that followed. When she heard the sound of reveille, she came immediately and was always among the first for roll call.
Sallie's First Battle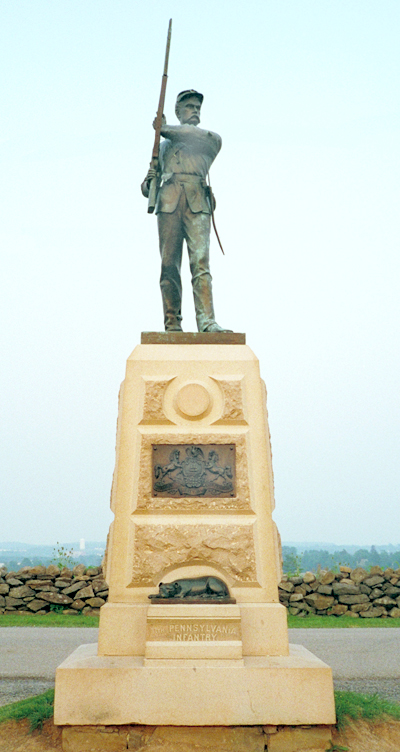 Sallie's first battle was at Cedar Mountain in 1862. It was reported that she remained right with the color guard throughout the entire fight. She continued this pattern of staying with the front line at Antietam, Fredericksburg, and Chancellorsville. The soldiers reported that she raced around and barked at the enemy, providing moral support and inspiration to the men.
At Gettysburg, Sallie was separated from her unit when the men fell back during the first day of fighting. She returned to the field where the regiment started and waited with those who had fallen there.
Found after Being Separated
After the Confederate retreat, a soldier from a Massachusetts unit found her on the field and recognized that she was the dog that accompanied the Pennsylvania infantry. He returned her to her regiment.
In May of 1863 she was wounded at Spotsylvania. One of the men patched up her neck and she stayed with the unit. At Hatcher's Run (February 1865), Sallie's luck ran out. She moved forward with the first line of men and was shot and died instantly. As the second line moved through, they found her body. The soldiers, many of them weeping, buried Sallie in the field where they found her.
Remembered in Pennsylvania Memorial
In 1890, survivors from the 11th Pennsylvania Infantry dedicated a monument at Gettysburg. The monument is dedicated to those from Pennsylvania who fought for the Union, and it shows a vigilant soldier, standing watch. At the base of the statue is a bronze likeness of a dog…it is Sallie.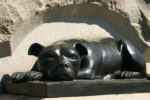 If you visit Gettysburg, be sure to stop at this monument on Oak Ridge. People who drive by too quickly will miss the statue of the loyal little dog who gave her life in order to be true to her unit.
To read about other Civil War mascots, try Harvey and the Barking Dog Regiment of Ohio, or A Dalmatian in the Civil War.