The shopping cart was invented in the mid-1930s by Sylvan N.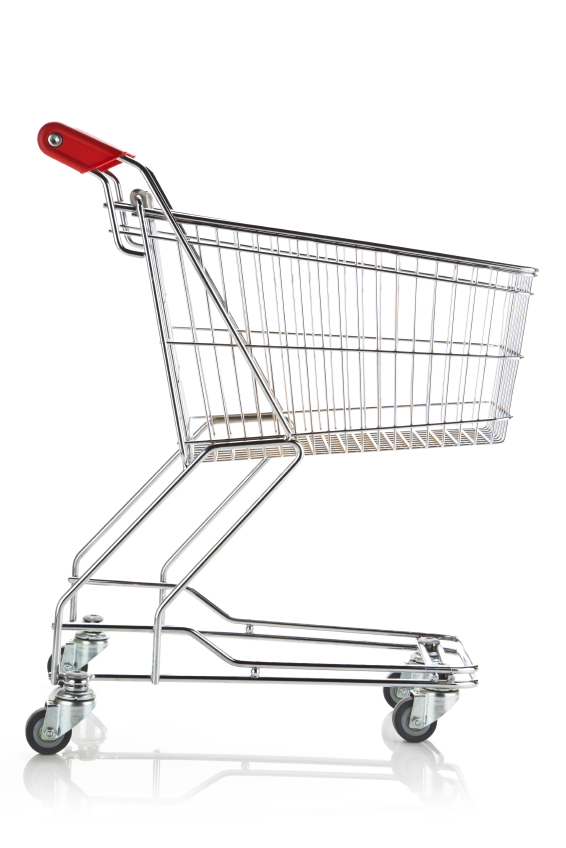 Goldman (1898-1984). Goldman ran a grocery store chain called Humpty Dumpty, and he observed that shoppers struggled with the "hand carry" shopping baskets.
"They had a tendency to stop shopping when the baskets became too full or too heavy," said Goldman in a quote cited in his obituary in The New York Times (November 27, 1984).
Self-service grocery stores were created in the 1920s. The first to implement a self-service system was Clarence Saunders's Piggly Wiggly chain in 1916. Other stores followed, including Humpty Dumpty stores in Oklahoma.
Creating the First Shopping Cart
Goldman's concept began with the idea of stacking two hand-carry baskets onto a frame on wheels. He gained the help of a carpenter and a maintenance man, and the three men used a folding chair for the basic model on which the cart was built.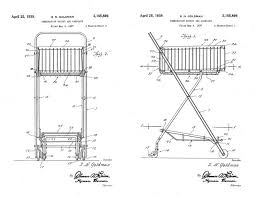 One basket was positioned at the top of the frame. The second basket was placed lower down and in a position where shoppers could easily place purchases in both baskets. Wheels and a handle were added when they were satisfied.
As they perfected their creation, they devised a method for folding the cart with one basket nesting in another when folded. This made it somewhat more compact for grocers to store these carts when not in use. By 1940 Goldman had his patent for the Folding Basket Carriage for Self-Service Stores.
Shopping Carts Not Well Received
Surprisingly, these carts met with resistance. Women felt they put their time in pushing baby carriages so they didn't want to push a grocery cart. Men felt they personally were "too manly" to push a cart when they could easily carry a hand basket.
Goldman noted these problems and took a three-pronged approach to overcoming them:
He ran ads that showed a tired-looking woman struggling with an overloaded hand basket while clutching a purse. The ad read "No more of this at your standard stores."
He also hired good-looking men and women to "shop" the stores, pushing carts.
Finally, he paid an employee to do nothing but stand at the front door to greet customers and offer them a cart. If they refused, she would gesture to the "model shoppers" and note that everyone else was using them.
By the 1940s, shopping carts were so popular that as new grocery stores were built, they were being designed with wider aisles to accommodate the carts.
Big Success
Ultimately Goldman was wildly successful. Between the Humpty

Dumpty chain of grocery stores and the creation of the cart-manufacturing company, the Folding Carrier Corporation, he made a sizeable fortune.
He and his wife lived in Oklahoma and gave generously of their wealth, donating to a range of organizations—from youth groups to the School of Continuing Education at the University of Oklahoma.
Later Changes to the Shopping Cart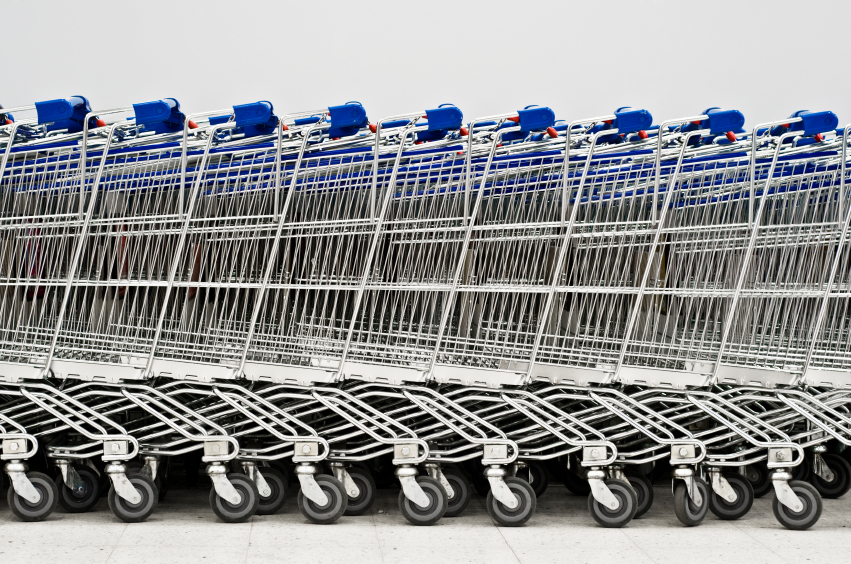 The shopping carts we use today feature larger upper baskets and a rack beneath for bulky items like water or big bags of pet food. The key element that made this style possible was the invention of the hinged rear section of the basket. Because the back panel of the basket can be swung upward, multiple carts can nest neatly until a shopper needs one. This modification was patented by Orla Watson in 1947.
Child seats were added in the mid-1950s. Though they still exist on most shopping carts, safety experts say the accident statistics for children in these seats is high. Some groceries offer lower ride-on kiddy cars with a normal grocery cart behind; these are much safer for children.
Shopping Carts of the Future
Shopping carts of the future will likely have screens that may do anything from provide the layout and location of items in a grocery store to actually recording what you put into the cart to save time at checkout.
What else do you think the cart could or should do to make shopping easier?