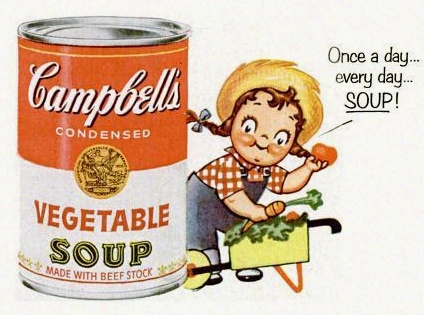 The creator of the iconic Campbell Kids was illustrator Grace Drayton (1877-1936), a highly successful artist, illustrator, and cartoonist. The Kids first appeared in 1904 and have been used on and off in advertising throughout Campbell Soup history.
Today dolls based on the characters as well as products featuring the ads are highly sought-after by collectors.
So who was Grace Drayton?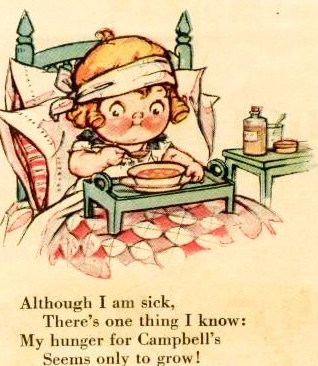 Grace Gebbie Wiederseim Drayton was one of seven children born to a successful art printer in Philadelphia. Grace had five sisters and one brother. While all the sisters had artistic talent, she was the most successful of them.
She made her first art sale when she was only 17. Her first illustrations were of cupids and pretty women and were used to decorate place cards. In 1895, she made her first magazine sale, selling an illustration of a young girl holding a kitten. It was called "Puss."
After that, she worked steadily drawing for magazines, and greeting card and paper doll companies. She also illustrated children's books and eventually sold comic strips to newspapers and syndicates.
In these early years, Grace honed her style. She used realism for her domestic settings, and the adult women she pictured were shown as beautiful society women.
Grace's style became evident in her drawings. Calling them her "funny babies," she developed a round-faced, rosy-cheeked chubby-legged child that became very popular. Other artists of the day also featured cherubic children, but Grace was among the first to develop the look. (Rose O'Neill's kewpie dolls were also everywhere, but they did not appear until 1909.)
Women Working as Illustrators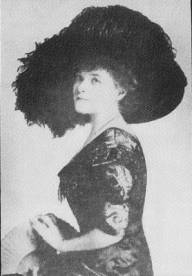 While the turn of the 20th century seems early for women being employed regularly, the field of art soon needed them. Advances in print technology made it easier to produce general and special interest magazines, so there was a growing need for illustrators.  The era, 1880-1914, became known as the Golden Age of Illustration, and there simply weren't enough men for the jobs.
Women also had the skills. As more people moved to cities, women had less to do around the house. Studying art became socially acceptable. Illustrators often worked freelance, and this offered additional opportunity to women. During this era, some companies like Tiffany Studios employed women, but those women had to leave the workforce when they married. Freelance work helped women skirt that issue.
Grace Drayton Background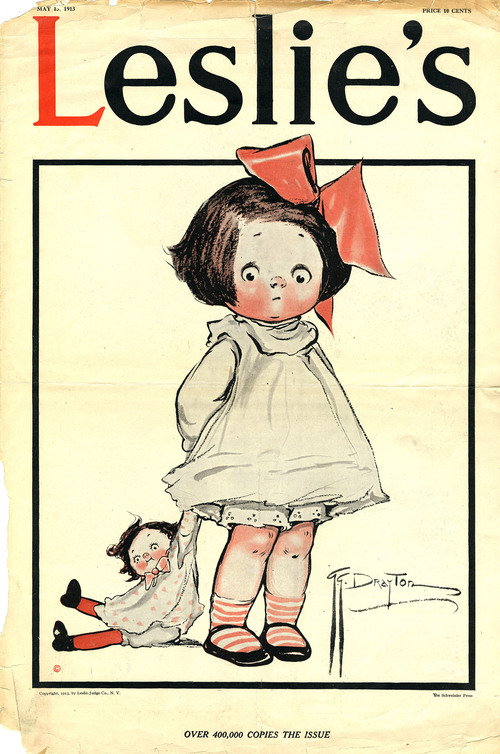 Two factors favored Grace Drayton's entrance into the art world. Her father, George Gebbie, was a well-respected fine art publisher who was known throughout the art field. The Gebbie family also lived in Philadelphia where there were several excellent art schools that accepted women. Grace studied at the Philadelphia School of Design for Women. She also took some drawing classes at Drexel Institute (now Philadelphia's Drexel University) where many well-regarded illustrators taught.
The supportive atmosphere for women illustrators in Philadelphia led to community-building. Grace Drayton was among the founders of the Philadelphia Plastic Club, which functioned as both a community and a collective for women artists.
Campbell Kids for Campbell Company
Grace Drayton (then Grace Wiederseim) and her work were brought to the attention of the Campbell marketing staff by her first husband, a lithographer named Theodore Wiederseim. Wiederseim did the printing of the street car signs used by Joseph Campbell Company (later to become the Campbell Soup Company).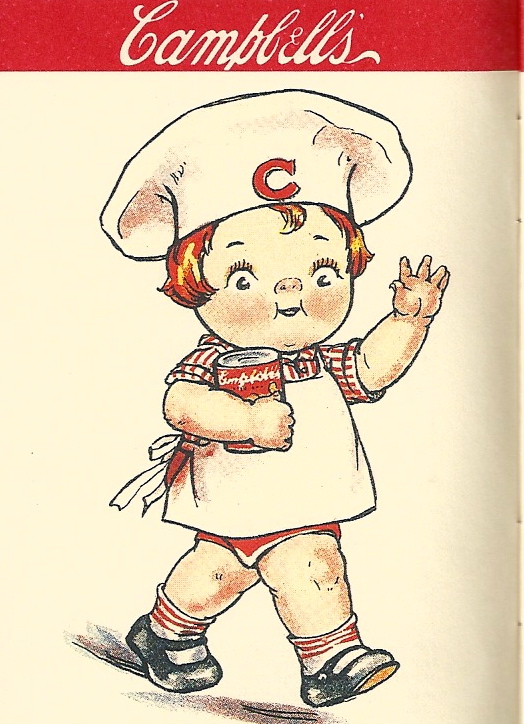 In 1904, Wiederseim took a sample of his wife's work with him for an account meeting. He suggested the healthy-looking children might be a good addition to the streetcar advertising for Campbell's new condensed soup product. (The Campbell Company was initially a fruit and vegetable purveyor, but in 1897, they turned their focus to condensed soup invented by one of their chemists.)
Soon Grace Wiederseim's children were cavorting across the sides of streetcars. The original ads were black and white, but the ads soon began to print in color. Grace created about 16 variations of children that Campbell could draw upon for their ads. Campbell advertising people saw that the children were perfect to promote the health benefits of eating soup. Their ads read in part:
"The main object in life of these rollicking youngsters is to remind you of Campbell's soup…[It] adds to enjoyment of life just as its wholesome equality helps you to promote good digestion and robust health."
As the company grew, they not only used the Kids in ads and on paper products, but they licensed the right to use the Kids on everything from cooking sets to children's pajamas.
Licensed Campbell Kids for Dolls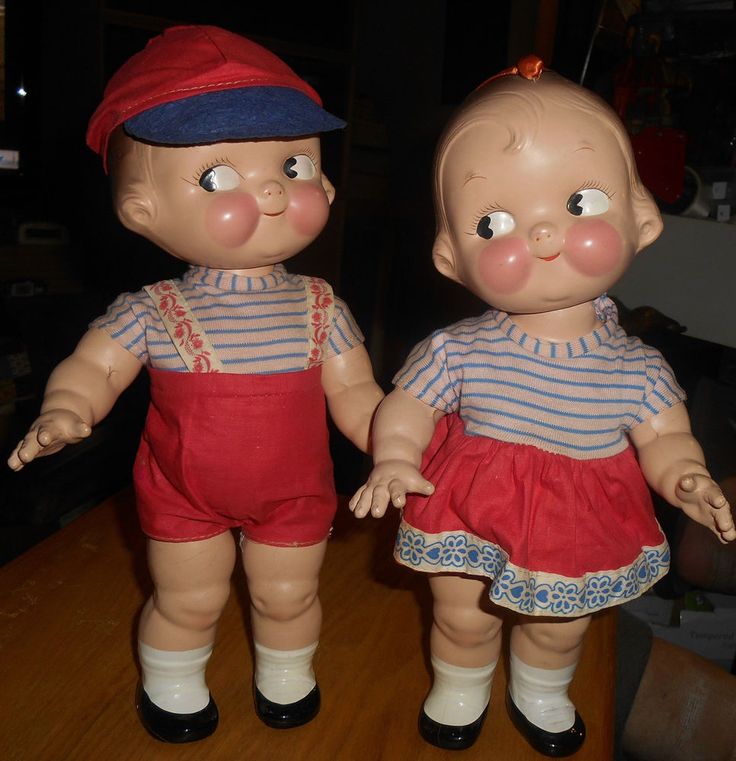 The Joseph Campbell Company licensed the rights to make Campbell Kid dolls to E.I. Horsman Company, a well-respected doll company. The dolls were a huge success and sold by mail order through Montgomery Ward and Sears but also in the mom-and-pop toy stores that proliferated at the time.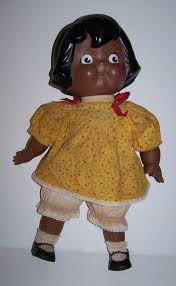 There is no information on whether Grace Drayton benefited financially from the licensing. She probably received a small fee but maybe nothing grand. She continued to draw children that were very similar to the Kids, and she sold them to become paper dolls or characters in children's books. If the company had paid her well for their rights to the kids, Grace Drayton would have had to limit her character likenesses.
Out of Favor in the Mid-1920s
From the mid-20s to the mid-40s, the Kids were not used in Campbell advertising. But in the early 1950s, the advertising department decided the Kids needed to be brought back for their 50th anniversary. In 1954, 500,000 dolls were released. (This was also the year that Campbell Soup Company went public.) Since that time, the Kids have continued to appear occasionally.
The dolls and products that feature them have become a popular item for the collectible market.
Personal Life
Grace's marriage to Theodore Wiederseim (1900) ended in 1911. There is no information on what led to the divorce, but later that year, Grace married William Heyward Drayton III, the head of a brokerage firm. This may have had something to do with it.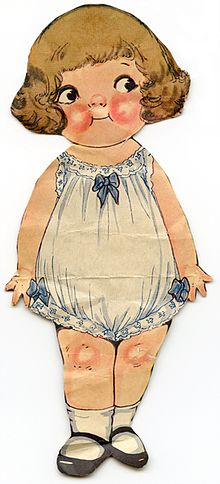 Divorce at this time would have reflected badly on a family, but society seemed to forgive. Grace and William Drayton lived at fine addresses and were included in New York society's Blue Book. They also frequently took part in high society events in Philadelphia. (In reading about other female illustrators of this era, Grace Drayton was not alone in having multiple marriages. Because they were earning money, the women may have felt empowered to break with the norms.)
Her second husband, William Drayton, had also previously been married and perhaps that should have been a warning to Grace. By 1923, The New York Times reported that Grace Drayton was granted a divorce. In court in White Plains, New York, a witness testified to Drayton being seen in the company of a young woman on a night boat bound for Albany and at a hotel in Saratoga Springs, New York. Another witness said Drayton was sharing a cottage with a woman in Long Beach.
Grace was awarded legal fees and $333.33 per month in alimony. The judge also granted her the right to use her maiden name again—a choice she ultimately did not take.
Selling Comic Strips
Grace Drayton was very successful in the comic strip world.  The first strip she sold was in 1903. It featured Toodles, a little girl who was always getting in trouble. Each strip outlined the mess Toodles found herself in, followed by some type of resolve where she was aided by her mother or her nanny.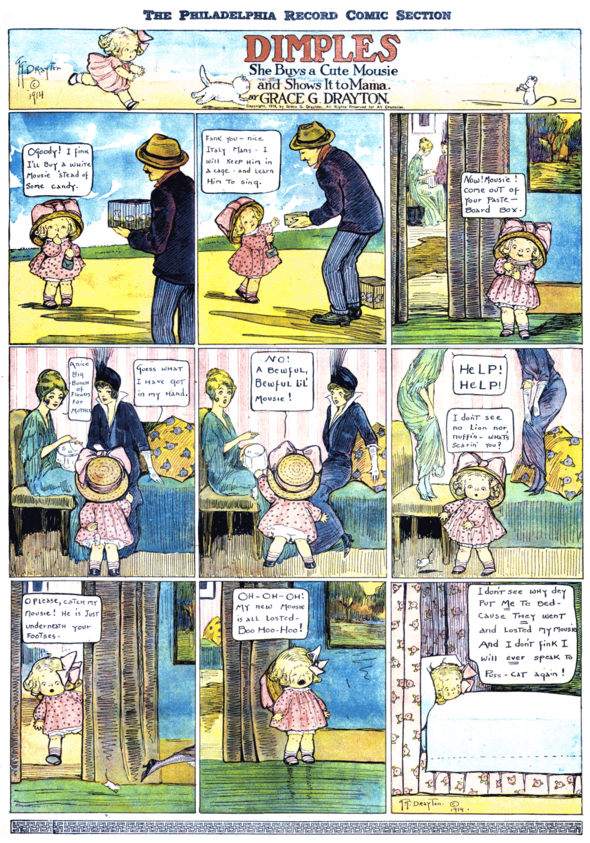 She and her sister, Margaret G. Hays, collaborated on several comic strips. Their first was called The Adventures of Dolly Drake and Bobby Blake in Storyland (1905).  Later, they sold The Turr'ble Tales of Kaptin Kiddo to an early syndicate, The Philadelphia North American Company.
In 1908, she became the first female cartoonist to sell to Hearst. Her strip, Dottie Dimple, ran for three years.
Her comic strips were well enough thought of that they brought her success in other mediums. In 1926, The New York Times printed an article about a dinner being held in honor of Drayton. Her comic strip of Anthony and Cleopatra was the first among several of her cartoons that were made into a motion picture.
Pussycat Princess, about a fabulously rich but sweet royal family of Tabbyland and their adventures, was the last strip she sold (1935).  She did not live long enough to finish its run. Grace Drayton died of heart disease in 1936.
The strip was created with Ed Anthony. He brought in Ruth Carroll to fill Grace's role. The comic strip continued until 1947.
Fine Art
Probably every illustrator aspires to also be considered a fine artist, and Grace Drayton was no different. She produced and sold paintings of fashionable young women. These, however, were note the money-maker.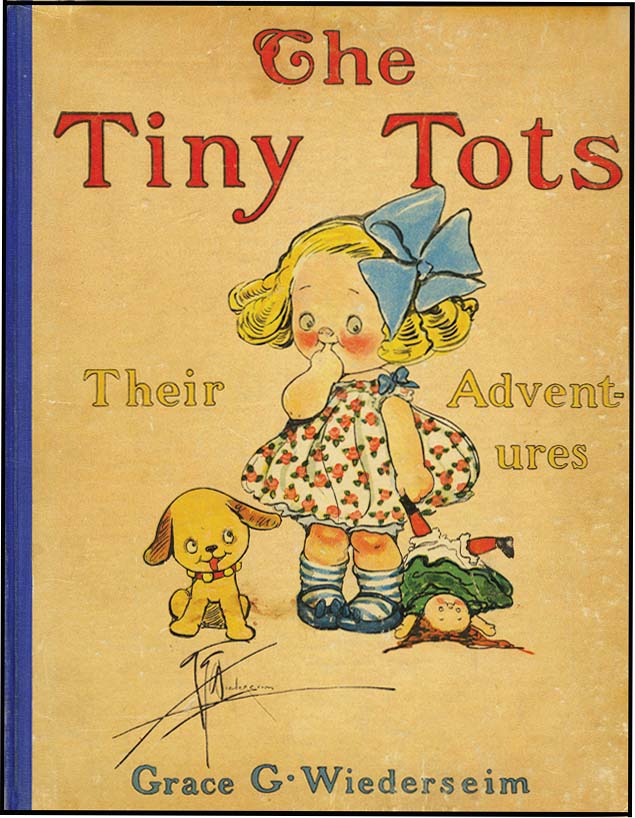 Her income-producers were the comic strips, the children's books (Chicken Cheepie, Tiny Tots, and Bunny's Birthday, among them), paper dolls (Dolly Dingle Cut-Outs), and the Campbell's Kids. She did very well.
Extremely Prolfic
In The New York Times obituary, the reporter quoted a previously-published article where Grace Drayton was asked about how she produced so much so quickly.
She answered: "I work all the time because I love what I am doing, and I draw fast because I can't wait to see the picture myself."
***
To learn about another female cartoonist, read about Jackie Ormes, First African American Female Cartoonist.
To read about Brenda Starr, star reporter, click here.