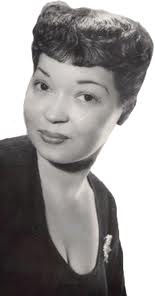 Ormes' comic strips were syndicated in black newspapers in the 1930s and '40s, making her the only nationally syndicated black woman cartoonist until the 1990s.
Her characters were fashionable and intelligent, setting a new precedent for black depictions of that day (1937-56).
A doll based on one of her comic strip characters (ca. 1950) offered African-American children one of the first real toy options that was not a negative stereotype.
Jackie Ormes was born Zelda Jackson in a small town outside Pittsburgh. At a time when it was not easy to be a working woman of any color, Jackie Ormes was a stylish woman who worked in a male-dominated world of journalism and cartooning.
She was a self-taught artist who had several successful comic strips and cartoon characters, and they were precedent-setting. The characters were fashionable and professional. Often the focus of a strip was on humor, but Ormes was happy to use her comics as a platform for commentary on society's ills as well. Her targets were frequently racial issues, but in 1953-54, her comic strip character, Torchy, took on environmental pollution, particularly as it was occurring in black neighborhoods. This was long before strips like Pogo had become the "issue" strip we think of today.
Starting Out
Her first job was as a proofreader for the weekly African-American newspaper, The Pittsburgh Courier. Her job at the Courier must have given her the opportunity to show her work to editors, because in 1937 her comic strip character, Torchy Brown, was appearing in "Dixie to Harlem," a strip about a teenager from Mississippi who travels to Harlem to perform at the Cotton Club. The strip was part action, part adventure, and part comedy, and it frequently featured the struggles that Ormes observed among African-Americans of the day. In one of the strips Torchy is in a southern train station trying to decide whether to try to pass for white to ride in the more comfortable "White" section or whether to simply follow the arrow to the "Colored" car.
In 1942 Ormes moved to Chicago and began writing occasional articles and a society column for the Chicago Defender, one of the nation's leading black newspapers. At the end of the war, the Defender started running a single panel cartoon, Candy by Ormes. It was about an attractive and wisecracking housemaid.
Shortly after this, Ormes took her work back to the Courier. This time the single-panel cartoon was about two sisters. Ginger was the older and wiser sister but the entire strip was narrated by the precocious Patty Jo who voiced all commentary for the strip.
Patty Jo Doll
The Ginger 'n' Patty Jo strip was very popular and ran for eleven years. Ormes made a deal with the Terri Lee Doll Company (1946-1962) in 1947 to produce a doll based on the Patty Jo cartoon character. The company was making a white Terri Lee doll, so Patty Jo had a brown body from the Terri Lee mold with a face that was the image of the cartoon character.
While Patti Jo was certainly not the first African-American doll, it was one of the early ones that wasn't a Mammy or a "pickaninny." Patty Jo was special because she was the first to have many of the characteristics that were wanted by white children in their dolls. She was made of plastic so she held up well, but best of all, she had comb-able hair and an extensive wardrobe (dresses, formals, shoes, hats, nightgowns, robes, skating and cowgirl costumes).
Torchy in Heartbeats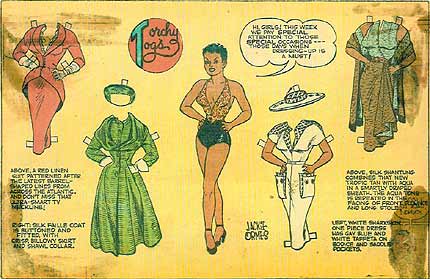 In 1950, the Courier began an eight-page color comic insert. Jackie Ormes was asked to bring back Torchy, and she did, "Torchy in Heartbeats." By this time Ormes was well-established, and she used her character as a great looking role model who also took on issues like sexism, racism, and the polluting of the environment.
She continued the cartoon strip until 1956.
Personal Life
Jackie Ormes was happily married for 45 years to Earl Clark Ormes, who was the manager of the Sutherland Hotel, a well-regarded Chicago hotel for African-Americans at a time when they were not welcome at many white establishments. Together they were part of Chicago's black elite, and they socialized with the leading political figures and entertainers of the day. She was questioned several times.
Theoretically, Ormes comic strip was not what brought her to the attention of the FBI during the McCarthy era. Her presence at a bookstore where a couple of Communists were thought to have spoken is what was supposed to have led to the FBI opening a file on her in the late 1940s.
Even after she no longer was creating the strip she continued as a serious artist, painting murals and portraits. She was also on the board of directors of the DuSable Museum of African-American History and Art.
Jackie Ormes died in Chicago on January 2, 1986.
Black Cartoon Art Needs to be Collected
Nancy Goldstein, who has written a well-documented biography of Jackie Ormes, concludes her book with the fact that in general, the work of African-American cartoonists has not been well preserved or collected.
If you or anyone you know are aware of the whereabouts of any of this work, two good places to contact would be the DuSable Museum of African-American History and Art or the Cartoon Library and Museum at Ohio State University in Columbus.