Ethel Waters was an enormously popular jazz and blues singer from the 1920s until her death in 1977. She broke barriers in many cultural areas and created a path for Blacks to star on Broadway. Her quieter more interpretive style of presenting a song brought blues out of the jazz clubs and into the cultural mainstream.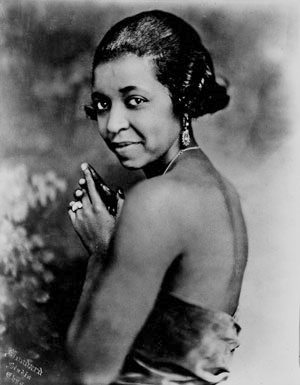 Yet when she first started out—even early in her singing career—all she wanted was stability and knowing she had a place to sleep at night. In her autobiography, His Eye Is on the Sparrow, she thought being a rich lady's companion sounded ideal—an interesting life of travel but a guarantee of a next meal.
But her life took a very different turn, largely because of her outsized talent.
Many Firsts
Ethel Waters achieved many notable accomplishments:
She was the first Black woman to have permission directly from composer W.C. Handy to introduce his song, "St. Louis Blues."
Waters was the first Black woman to star in her own television show (1939). In 1950, she starred in another television show, Beulah. She continued to be the only Black woman with this credential.
In 1949, Waters was the second Black woman nominated for an Academy Award.
She was voted best actress by the New York Drama Critics Circle Award for Carson McCullers's stage play, The Member of the Wedding in 1950.
In 1962 she was the first Black woman nominated for a primetime Emmy Award for a single performance by an actress in a series ("Goodnight Sweet Blues," Route 66).
In 1994, she was featured on a U.S. postage stamp, and in 2004, she was honored with a star on the Hollywood Walk of Fame.
Songs recorded by Ethel Waters have achieved special recognition: Her recordings of "Am I Blue?", "Stormy Weather," and "Dinah" are all in the Grammy Hall of Fame.
"Stormy Weather" (recorded in 1933) and "Am I Blue?" (1929) are listed in the National Recording Registry maintained by the Library of Congress.
Growing Up Unwanted
Ethel Waters was born in Chester, Pennsylvania, and was an unwanted baby. Her mother was only 13 years old when she was raped by jazz pianist John Waters, who never took any responsibility for the child. Ethel's mother was so young that Ethel's grandmother, Sally Anderson, knew she would have to raise Ethel.
Sally Anderson worked as a live-in housekeeper and returned home only once each week. She left Ethel in the care of extended family, but no one was in any condition to truly watch out for a little one.
The family home was in a neighborhood just off the red-light district of Chester. Ethel gained an early education from those around her. She frequently was asked to be on the lookout for the police or a pimp one of the women was trying to avoid. This gave Ethel some spending money, but she still had no normal home or regular way to be fed.
Shoplifting To Eat
When an aunt or one of their partners sent Ethel to the store for food (these were general store establishments), Ethel viewed this as a shoplifting opportunity. At the counter, she requested something from the grocer. When he went to the back for flour or any other request, Ethel snuck other food into her pockets or the bottom of her shopping basket.
During her childhood, Ethel picked up an inappropriate vocabulary. When she felt pressured, she let out a torrent of bad words. This bad behavior often saved her by keeping people away.
Her grandmother was aware that Ethel was not well looked after, but she did not have good options. When she could, she moved Ethel to other more child-friendly places. Ethel's fondest memory was of the house of a relative where she stayed for 15 months. This was a longevity record for a little girl who longed for stability.
School for Ethel Waters
Ethel's birth mother was very religious, and religious devotion was important to Ethel as well. Because of her chaotic family life, she did not have a specific church to attend, but that did not diminish the strength of her prayers.
At one point, Ethel's grandmother was able to enroll her in a Quaker school. Ethel loved the opportunity to learn, but each lunchtime, she was perplexed by a problem. While other children brought lunches with them, Ethel's home never had enough food that she could pack herself a lunch. Her solution? She acted out in the late morning so that she would be denied going to lunch with the class.
The teachers soon noted the pattern and saw what caused it. From that day forward, Ethel Waters was excused from regular lunch hour and told to report to the teacher's room. There, the instructors shared their own lunches with her.
Ethel Discovered
As Ethel Waters writes in her autobiography, His Eye Is On the Sparrow, her neighbors were often outside in the summers, and many of them enjoyed singing. As a result, Ethel was always surrounded by music and often joined in.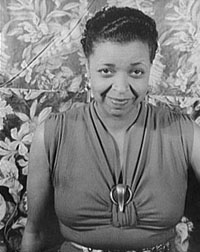 When she was about 20, she was with a big group of young people at a saloon. The performer scheduled to appear that night never showed. Someone in the audience suggested Ethel: "She can sing!"
Ethel Waters had little hesitation. She enjoyed music and knew many songs well. Black performers Bessie Smith and Ma Rainey were popular at that time. They made their mark with songs that were delivered with great power and volume. But the audience who heard Ethel Waters that night heard something different.
Waters's singing style was softer. To her, the important part of the song was interpreting the feeling. She was very good at it, and as her career built, her dramatic skill grew.
Job Offer
That night a businessman in the audience needed a fill-in for a Black vaudeville troupe that he was sending on the road. He offered the job to Ethel. That gave her pause. She had a steady job as a hotel maid. The regular paycheck meant everything to her.
When she went home with the news, her mother pushed her to take the job offer. Ethel agreed, with one stipulation: her mother was to fill in for her at the hotel so that the housekeeping job would be waiting for her when she returned.
Once committed, Waters considered her program. She heard and loved W.C. Handy's latest song: "St. Louis Blues." In the days before radio saturation, songs were released in a calculated manner to build interest. At that time, only one male singer had permission to perform it. Waters wrote to W.C. Handy (1873-1958) for permission to sing his song.
Permission was granted. Audiences loved it, and they loved her.
Sweet Mama Stringbean
In addition to her singing, Ethel Waters was known for her shimmy-dancing. In her twenties, she was 5 '10 inches tall and rail thin. The promoter began introducing her as "Sweet Mama Stringbean." There was a popular male vaudevillian who went by the name, "Stringbean." The promoter's nickname for her capitalized on that.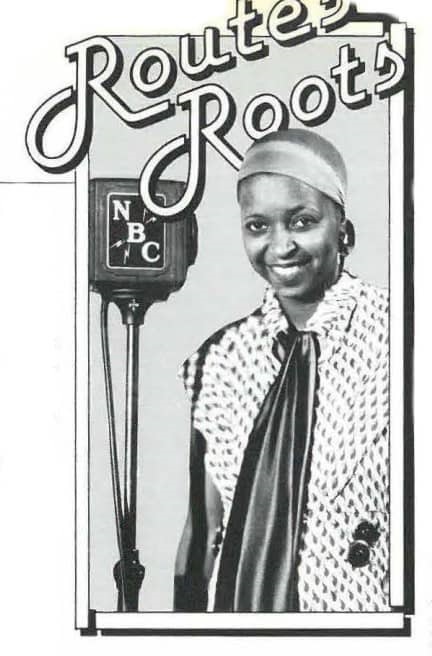 Later, she joined a duo, the Hill Sisters. The new trio continued to perform in Black theaters. She didn't need to return to hotel housekeeping at that time.
But when the country hit an economic downturn, the Black vaudeville opportunities dried up. She was still performing with the Hill Sisters, and they were invited to join a traveling carnival. The pay was less than they had been making, and they often slept in barns as they traveled from town to town. In her view, at least it was work.
When that job ended, Evelyn Waters found herself near New York City. She took a job at a Horn & Hardart cafeteria until other work came along. For Ethel, it was always about stability.
Stage and Screen
Ethel Waters found plenty of work in New York night clubs. While there were ones that offered steady, good employment, there were also big ones like the Cotton Club that added greater visibility.
In 1932, Ethel Waters was booked for The Cotton Club for several weeks. During that time, composer Irving Berlin was told he needed to get to Harlem to hear Ethel Waters's interpretation of his song, "Stormy Weather." When he heard her, Irving Berlin realized Waters was a rare talent.
At that time, Berlin was staging a Broadway review, "As Thousands Cheer," that would introduce his new song, "Easter Parade." He had three other songs that he knew Waters could fully deliver. "Harlem on my Mind," and Heat Wave" were two of them.
The third was "Supper Time," a poignant song that addressed racism. This was a topic that was avoided in most forms of entertainment. In "Supper Time," Waters has just learned that her husband was lynched. The song talks of how to tell the children their father won't be home for that night—or any other night. It delivered an important and tough message at a time when white audiences were not accustomed to it.
Other Performances
Among her other Broadway appearances were Africana (1927), On with the Show where she sang "Am I Blue?", (1929) Tales of Manhattan (1941) Cairo (1942), and Stage Door Canteen (1943).
While "Am I Blue?" was staged stereotypically—Waters comes on stage in work clothes, carrying a big basket of newly-picked cotton. The song itself transcended genres. It became highly popular well beyond Broadway. Click this link to see her perform "Am I Blue?" from On With the Show in 1929.
Wanted Dramatic Roles
Waters worked regularly in musicals and in night clubs, but she had a wish: She wanted dramatic roles where she could prove she could act. These roles eluded her for a time. Then in 1938, she was cast as the lead in Mamba's Daughters, a play based on a book from the 1930s. This made Waters the first Black actress to have a lead role in a straight play on Broadway.
Her most notable stage role was that of Berenice in Carson McCullers's Member of the Wedding (1950). Though the play was not a musical, Berenice (Waters) has a scene where she sings "His Eye is on the Sparrow," a song Waters knew well, because her grandmother used to sing it.
Film and Recording Career Continued
She appeared in nine motion pictures with luminaries such as Lena Horne, Louis Armstrong, Butterfly McQueen, and Eddie Anderson. In 1949, she was nominated for best supporting actress for her role in the film, Pinky, directed by Elia Kazan.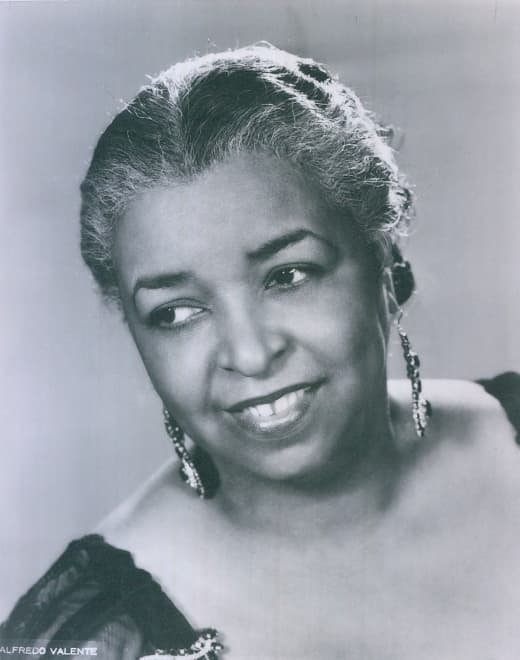 Black Swan Records signed her for her first recording contract. She remained with them for several years before signing with Columbia.
Ethel Waters was active in Negro Actors Guild, and she was on the executive council of Actors Equity. During World War II, she served on the Hollywood Victory committee and regularly performed on radio for the U.S.O.
Personal Life
When Ethel Waters was quite young, she had a suitor whom she kept putting off. Finally, she said, "Ask my mother," thinking that would be the end of it. As usual, her mother disappointed. She gave the suitor permission to marry her daughter. Ethel was only 13.
Ethel Waters left the marriage as soon as she could, though it took a few years. She later married a second time, but that marriage did not last either. Waters had several close relationships with women, but she did not write about them directly.
By mid-career, Ethel Waters was doing very well financially. She owned a home and had a comfortable, stable life. Unfortunately, many—including her financial advisors—took advantage of her. This led to trouble with the Internal Revenue Service, which took years to resolve. Later, a house guest living with her for a prolonged stay stole both money and jewelry.
Her Children
She loved children but never had any of her own. When her half-sister had a baby and couldn't care for her, Waters took in the little girl. She lived with Ethel for 12 years. The child returned home only when the girl's birth mother was better established.
From this experience, Waters knew that she enjoyed having children around. She took them in whenever she could. She wanted to provide them with the security she never had.
Over the years, she provided a home for about twenty young people. They can look back with gratitude to the love and support given them by Ethel Waters.
Final Chapter
In the late 1950s, Ethel Waters was introduced to Billy Graham. His religion and his evangelical style filled a hole in Ethel's life. She warmly embraced his church and the lifestyle of the crusaders. It became a very important and satisfying part of her life. She traveled with Graham's group until 1975.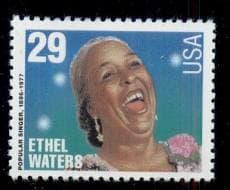 Her Songs and a Beautiful Portrait Live On
The Ethel Waters who aspired to be a ladies companion so that she would have a place to sleep and regular meals to eat, did not ever achieve a settled life. However, the world of jazz and blues is the richer for her having lived to sing so many heartfelt songs.
She also achieved her goal of being cast in dramatic roles. In so doing, she broke color barriers on Broadway and in arts awards and introduced her style of singing to the cultural mainstream.
To understand her appeal, watch this clip from late in her career where she is performing with Pearl Bailey. You'll see who steals the show:
Today we know that two of her recordings, "Stormy Weather" and "Am I Blue?" will forever be listed with the National Recording Registry at the Library of Congress.
In addition, "Am I Blue?, "Stormy Weather," and "Dinah, have received awards in the Grammy Hall of Fame. A stunning portrait of Ethel Waters is now owned by the Huntsville Museum of Art. Painted by portraitist Luigi Lucioni, it is a fitting tribute to a woman who should be long remembered for the gifts she shared with the world.