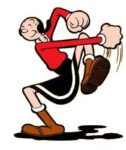 Popeye is one of the most famous cartoon characters from the 1930s. What most people don't know is that Olive Oyl, who eventually becomes his 'sweet patootie,' preceded him in the funny papers by a good ten years.
Thimble Theatre Beginning
Olive and her family were the main focus of the Thimble Theatre comic strip, which was created by Elzie Crisler Segar (1894-1938), a young cartoonist from Chester, Illinois who had taken a correspondence course about cartooning, completing the 20 lessons in 1916.  Thus his career was launched with an investment of $25.00 for the course.
Segar moved to Chicago where he was hired for as a staff cartoonist at the Chicago Herald.  He experimented with a few of his own features; his creation of Looping the Loop, a cartoon with a Chicago focus attracted the attention of a New York editor for Hearst's properties.  The editor invited Segar to New York to produce a strip for King Features.
Olive Oyl Plots
On December 19, 1919 Segar's  Thimble Theatre debuted in The New York Journal.Thimble Theatre started out with characters who spoofed popular films and plays of the day but it soon began to focus on the continuing adventures of Olive Oyl, her scheming brother Castor, and her boyfriend Harold Hamgravy who soon became Ham Gravy.
While the stories were well enough liked that the papers carrying Thimble Theatre kept doing so, no major break out in popularity occurred. A decade later Segar was still looking for the magic that would make the strip a must-read.
In January 1929, Olive's brother, Castor Oyl, needed someone who could navigate his ship to Dice Island and he picked up a sailor who hung out at the docks; his name was Popeye. Popeye made his debut with a great response to being asked if he was a sailor: "'Ja think I'm a cowboy?" Popeye became a permanent addition to the strip, and eventually he became so popular that the strip became known as Popeye.
Olive Herself
Olive Oyl was a super thin young lady who was well-suited to wear the flapper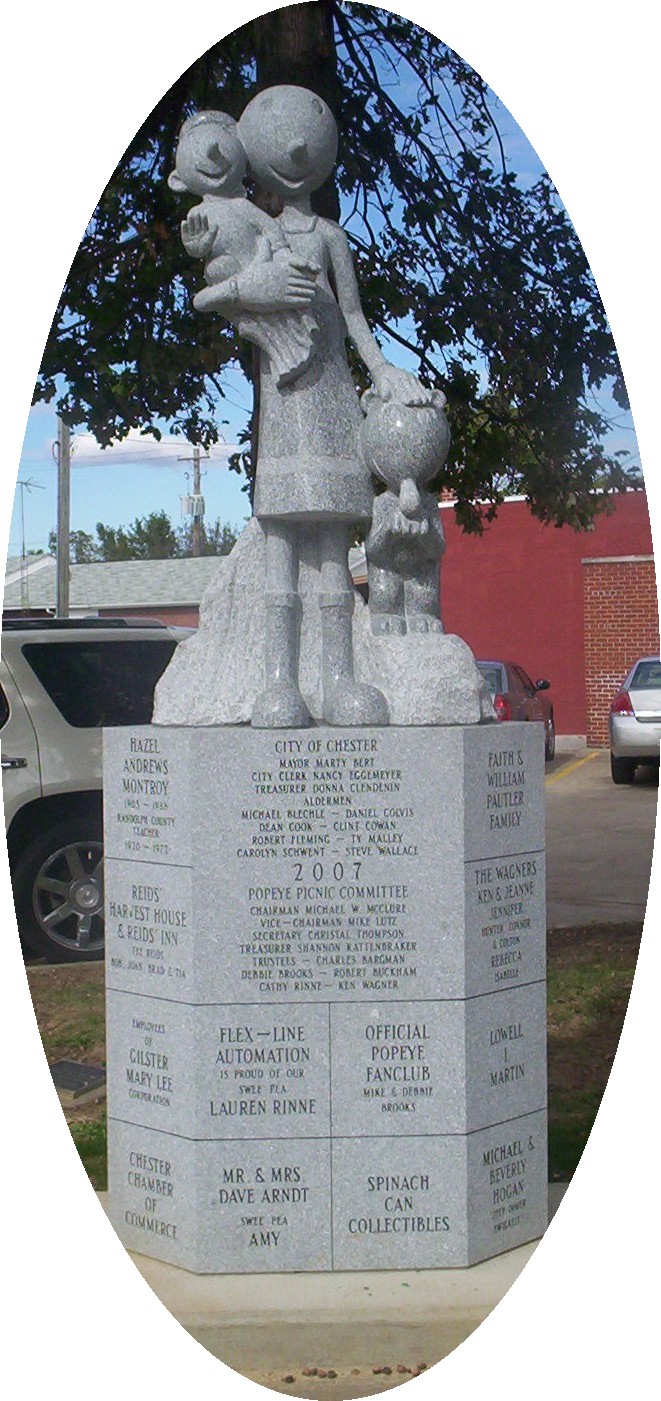 fashions of the 1920s.  She usually had her hair in a tight bun coiled low on the back of her head.   Her boyfriend Ham Gravy was a "lounge lizard" always in need of money.  He often expressed interest in well-to-do women and the stress this caused Olive was a frequent storyline.
Because Segar had no plans for Popeye to be a regular (until his popularity made it clear he needed to be), Popeye did not get paired with Olive Oyl until a little later.  Once it became clear there might be possibilities with Popeye instead of Ham, Olive and Popeye bantered for weeks before realizing they cared for each other.
Popeye vs. Bluto
Olive was sometimes attracted to other men but always ends up with Popeye.  Tough guy Bluto (aka Brutus) and Popeye have many issues they fight over, and Olive Oyl is a prime one…Bluto frequently kidnaps her and Popeye eventually ingests enough spinach to overcome Bluto and get her back.
When we remember Popeye and Olive Oyl, it is generally not in their comic strip form. Most baby boomers grew up with the animated Popeye cartoons being a popular show of the day.  These were created by Paramount/Famous Studios from 1942-57.
Cartoon Voice-Overs
Bonnie Poe was the first voice of Olive Oyl but soon Mae Questel, who was also the voice of Betty Boop took over.  Questel remained the voice until 1938; after that time Olive Oyl have been voiced by several other actresses.
Cartoonist Segar died of leukemia in 1938 but his characters, who excelled at slapstick comedy but still reflected very human themes and emotions, most definitely live on.
To read about other illustrators and cartoonists, see Campbell Kids Creator Grace Drayton and Brenda Starr, Reporter.