Brenda Starr was a fictional reporter who appeared in newspaper comic strips for more than 60 years. She and the woman who drew her, Dale (Dalia) Messick (1906-2005), were both great role models.
If you read the funnies growing up and were female, it was impossible to resist Brenda Starr. She was beautiful, wore stylish clothing, had a fascinating job as an investigative reporter, and had a mysterious boyfriend who appeared now and then. For living vicariously, readers couldn't do much better than that.
The strip began in 1940 when men were enlisting to serve in World War II. An independent working female proved to be right for the time.
Dale Messick's Start
Dalia Messick was born in South Bend, Indiana in 1906; her father was a commercial artist who encouraged her to attend art school in Chicago, which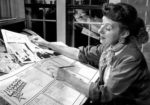 she did briefly. She soon was hired by a greeting card company, before moving to New York where she was also able to find work as a card illustrator.
Messick aspired to have a comic strip and worked evenings to assemble a portfolio. She had eight possible strips to pitch by the time she began contacting newspapers. Among them were Streamline Babies, which was about two independent women moving to New York; another was about a woman pirate (this idea was probably because of the success of Terry and the Pirates by Milton Caniff, first published in 1934). But the one strip idea that finally got a reluctant go-ahead was Brenda Starr, Reporter.

Messick's name change from Dalia to Dale signals that it was likely not easy to make it as a female cartoonist. There had been a few who started in commercial art.  Grace Drayton (1877-1936) specialized in drawing children, and her characters went on to be the Campbell's Soup Kids. Another female artist was Nell Brinkley (1886-1944) who created the Brinkley girl; the Brinkley character was a glamorous working girl who spanned from 1913 to almost 1940, and Messick must certainly have been influenced by her.
Another working woman had also appeared in the comics and had very popular from 1920 on. However, Winnie Winkle, Breadwinner, was male-produced; it was created and drawn by Martin Branner.
Meeting with a Publisher
When Messick met with the Chicago Tribune-New York News syndicate publisher, Joseph Medill Patterson, Patterson was not enthusiastic. His right-hand aid, journalist Mollie Slott (1893-1967), advocated for Messick and Brenda Starr.  Patterson reluctantly agreed to experiment with the strip in a newspaper supplement, not on the regular funny pages. (Patterson published Winnie Winkle.  His hesitancy may have been about working with a female cartoonist or about Brenda's sex appeal.)
Brenda Starr Proves Popular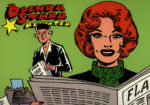 The character was popular with readers. By 1945 Messick had moved from a Sunday strip to producing a daily strip for syndication, making her the first woman cartoonist whose strip was syndicated.
Messick started the strip with Brenda facing a very female work dilemma of the day. Brenda sits at her desk frustrated with being given the birth and death notices instead of a "real" story. It doesn't take long before the fiery redhead storms her boss' office and demands a chance at a better story. She succeeds, of course, and goes on to travel the world reporting on stories and finding herself in much more frightening (and glamorous) situations than what would happen to most reporters.
The strip is peopled with friends and co-workers. Her boss was Mr. Livright, and Hank O'Hair was one of the many newsroom presences who kept Brenda grounded with good advice. Basil St. John is the mystery man who sported a black eye patch; he enters Brenda's life now and then, usually announcing any upcoming pending arrival via a delivery of black orchids sent to Brenda.
Plot Developments Continue
If you lost track of what happened to Brenda Starr as time went on, there were several significant plot developments. Basil and Brenda married in 1976 and had a daughter named Starr Twinkle; they subsequently divorced. Brenda learned that Basil had fathered a child with talk show host Wanda Fonda. Despite this,  Wanda and Brenda go on to become good friends.
Like other news organizations in recent years, The Flash (the name of the newspaper) hit on hard times in the 21st century. Brenda was forced to take an unpaid leave; she left for India after arranging to cover stories for an editor friend at another paper. When she returns to The Flash, she finds that it has been converted to a free newspaper and is now also publishing bloggers.
Keeping Brenda Starr Going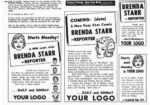 Dale Messick retired from the strip in 1980 but a series of women creators followed her. Ramona Fradon was the first to take on the job of both drawing and writing; in 1982, she was joined by Linda Sutter to handle the writing. Fradon remained as illustrator until her retirement in 1995 when the art component was taken on by June Brigman.
When Sutter gave up the writing gig, Mary Schmich, a columnist for the Chicago Tribune, worked along with June Brigman. In 2010 they decided it was time to move on from Brenda Starr, and the syndicate opted to retire the strip from the regularity of syndication but to issue occasional books about Brenda.
At its height, the comic strip appeared in 250 papers. By 2010 the number was down to 65.
Extending the Brand?
Television and movies were a logical extension of the brand but Brenda never caught on in other mediums. A 1945 serial was produced but met with little success. In 1976 Jill St. John starred in a film about Brenda followed by another effort in 1989 starring Brooke Shields.
The final strip was published on Sunday, January 2, 2011. Brenda announces her retirement at the company holiday party. She bids everyone good-bye and walks out with tears in her eyes. As she leaves the party she receives a box containing a black orchid, and a card with the initials B.S.J.
To read about another female cartoonist, read Jackie Ormes, the African American cartoonist.