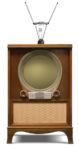 Today big screen TVs and flat screen TVs, and I guess eventually 3-D TVs, are all about the size of the viewing screen.
My husband George has married his work life in the television industry with a hobby—learning all about old and new technology, including ferreting out facts about old TVs and how they were sold.
On CNET this week he posted his blog about how televisions used to be sold as a piece of furniture. The color of the wood was important, and of course, the customer wanted to be able to close the doors in front of the television screen, I suppose to give the impression that most family members spent their time reading books.
To see some great vintage ads for televisions and read George's blog, click here.