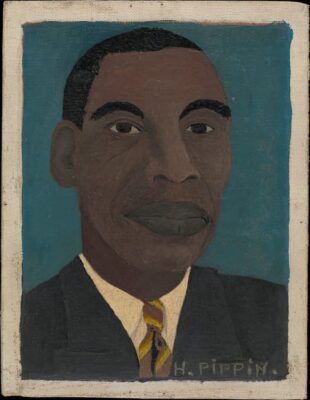 When it became clear that the U.S. would enter World War I, Horace Pippin left his job with a moving company in Paterson, New Jersey and enlisted. He was 29 and was placed in the 369th Colored Infantry Regiment of the 93rd Division of the U.S. Army. The unit was known as the Harlem Hellfighters.
The 369th were a formidable all-black fighting unit. They remained on the front lines for longer than any other unit—191 days. Of those who survived, an unusual number went on to achieve fame in music and art.
After 14 months in the field, Horace Pippin was wounded. He needed several months of medical care and was left with only partial use of his right arm.
Pippin eventually created a way to support his weakened right arm with his left arm, which permitted him to paint though the pain remained. He remarked that the war supplied him with inspiration and imagery to paint. His paintings ranged from scenes from war and history to rural black home life in America.
Horace Pippin earned the respect of the art world, including such luminaries as painter and illustrator N.C. Wyeth and collector Dr. Albert C. Barnes. He achieved this against all odds and at a time when it wasn't easy for African Americans to earn acclaim in any field.
Share to Google Classroom:
Horace Pippin's Life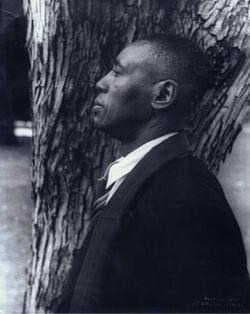 Horace Pippin (1888-1946) was born in 1888 in West Chester, Pennsylvania. His grandparents were slaves, and his mother Christine was a domestic. In 1891, she was offered a job in a town just north of New York City. She, her husband, and their two sons moved to Goshen, New York, where Pippin grew up.
Horace's father died when he was ten, and Christine soon remarried, Over time, she gave birth to four daughters.
For a few years, Pippin attended a segregated one-room schoolhouse in Goshen. On more than one occasion, the teacher made him stay after school to "correct" his work. Pippin habitually drew pictures on his assignments. When the teacher dictated spelling words, he wrote the correct word, DOG, and also sketched the picture. She made him stay after school to re-write all the words without pictures.
"Draw Me!"
In 1898, Horace saw a newspaper ad placed by an art supply company. The ad read, "Draw me!" followed by a funny face. Prizes were offered to winning submissions. Horace sent off his entry, and a few weeks later he was elated to learn that he was a winner. His prize was a box of crayons, a set of water colors, and two brushes—supplies he never could have afforded but longed to have.
When Christine's second husband left the family, Horace recognized that he needed to help feed the family. At age 14, he dropped out of school and worked odd jobs.
Goshen had a harness-racing track that attracted wealthy visitors who stayed at the St. Elmo Hotel. Horace got a job as a porter. Exposure to the guests broadened his world. Former president Ulysses S. Grant was a frequent guest, and as a result, Pippin heard stories about Grant and about Lincoln, "the Great Emancipator." While he had no time to paint during those years, some of the topics he learned about appeared in his paintings later on.
Horace was in his early twenties when his mother died in 1911. He decided to move to Paterson, New Jersey, where he worked for a moving company, packing and crating beautiful furniture and painting owned by the well-to-do families. This exposed him to art he never would have seen otherwise.
War Years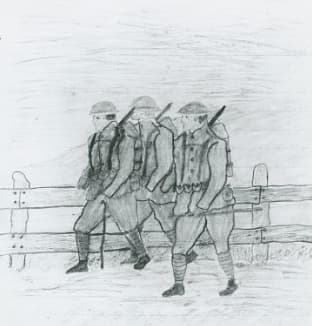 In 1917 when it was clear that the U.S. would enter the war, Horace enlisted. He was assigned to an all-black National Guard unit that became the 369th Colored Infantry. For training, the Harlem Hellfighters were sent to Spartansburg, South Carolina.
White southerners were angered by black men in American uniforms, and violence kept erupting. To calm the situation, the Army opted to send the men directly to France with no training. On arrival, their unit was assigned menial tasks such as unloading ships, laying railroad track, and guarding prison camps.
Black Soldiers Welcomed by France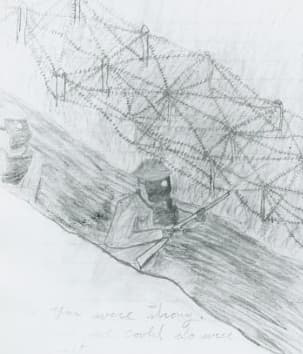 American troops had no intention of serving beside their black fellow citizens, but the French Army had been decimated by terrible losses and needed men. The Harlem Hellfighters were soon folded into the French military and had to master using French equipment. Few on either side could speak the other's language, but somehow they worked it out.
Kept Journals
Pippin found it soothing to keep journals, writing and sketching what he saw. He finished a journal and routinely destroyed it, feared that the information might give knowledge to the enemy if a journal fell into the wrong hands. (Only his final journal went home with him.)
After the war, he sometimes talked about his experience. In his memory—and eventually in his paintings—he portrayed it as a "mud war, " walking, sleeping and eating in mud, with little relief from the dampness and discomfort. The boredom in the trenches was juxtaposed with the abject fear the men felt during fighting, not knowing who in their group would survive.
Pippin Injured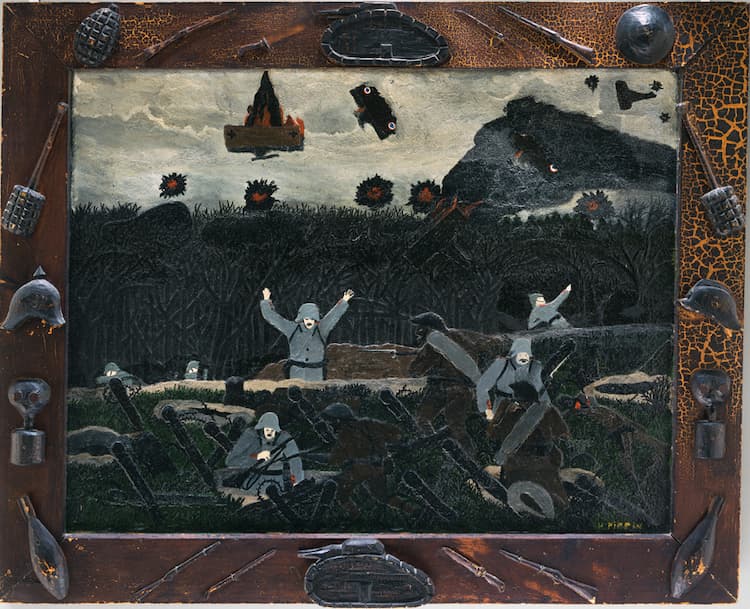 After 14 months in combat (October 1918), Horace Pippin was hit by a German sniper. The unit was under orders to advance so though Pippin's right shoulder was shattered, little could be done for him at that time. Fellow soldiers wrapped his wound, but he and others waited a day and a half until the French could bring in stretchers to remove the wounded.
Eventually Pippin was carried to a field hospital where the physician used a steel plate to attach his upper arm to Pippin's shoulder. It wasn't much, but it was better than losing the arm.
Sent Home
When he arrived in New York on a hospital transport ship on January 5, 1919, he was hospitalized for several months. Six weeks after Pippin arrived, the 369th Regiment returned triumphant, the first of the American military units to arrive in the U.S. On February 17, New York honored them with a parade. (They were not included in the Victory Parade held for all the military later in the spring, however.)
Another huge honor came from the French. The 369th was the first American unit to receive the Croix de Guerre, the highest military honor given by the French government.
The U.S., however, was slow with other recognitions of the men from the 369th. Pippin and others waited 27 years for Purple Hearts they earned. Another of their heroes, Henry Johnson, will never know that he was given a Congressional Medal of Honor in 2015 for his heroic fight in the war. (To read his story, click here.)
New Stage of Life
In May of 1922, Horace received an honorable discharge and was awarded a $22.50 monthly disability pension.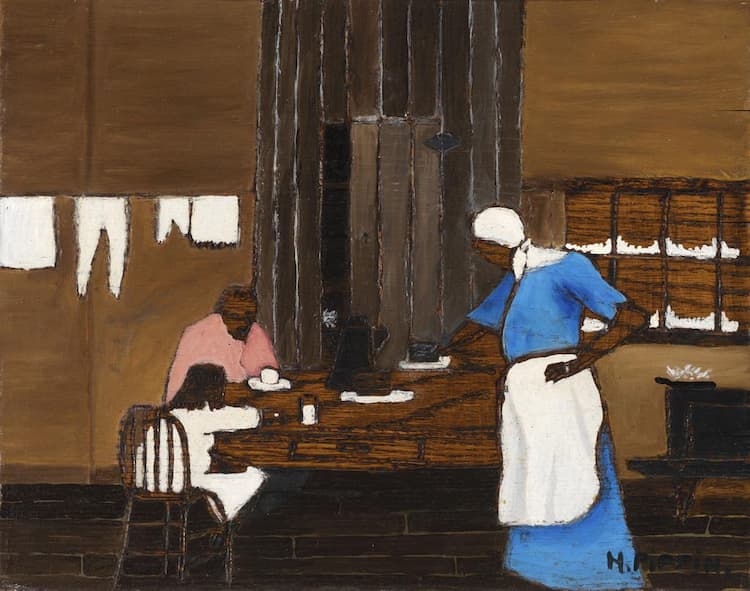 He returned to Goshen with his small pension, but no house, no job, and suspecting that he would have a lifetime of pain. However, he found happiness through marriage. He wed a twice-widowed woman, Jennie Ora Featherstone Wade, who was raising her 6-year-old son alone.
Jennie's extended family lived in West Chester, Pennsylvania, the same community where Horace was born. It was an easy decision for the couple to move there to build a life. She took in laundry to help supplement Horace's disability checks, and though he could not lift his arm above the shoulder and had little strength in his right hand, he helped where he could.
Among his commitments were community activities that could involve Jennie's son Richard. Pippin started a black boy scout troop, worked with the YMCA (segregated), and also organized an all-black football team. He personally enjoyed attending meetings at the American Legion, and his love of music led him to create an American Legion drum corps, which he led.
The three of them created a good family life. A peaceful painting of that era, called "After Summer West Chester," shows a comfortable scene with a mixed-race group of children playing "London Bridge."
"Shell Shock"
Horace Pippin and many other men who fought in World War I, suffered what was called "shell shock," what we now call Post-Traumatic Stress Disorder." Horace attended group meetings at the American Legion to talk of his experience. Some members suggested he might rid himself of nightmares by writing about what he saw. But writing did not seem likely to allay his discomfort and fears.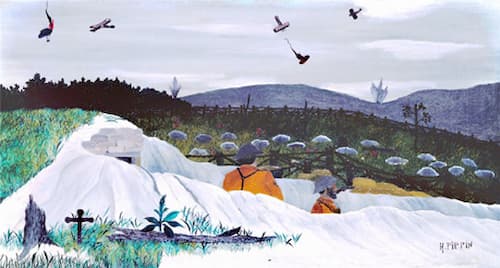 He wondered about going back to art but didn't know how he could do it—he couldn't hold a pencil in his right hand. One winter day he was sitting by the cook stove, and he picked up a hot poker and outlined a rough image on wood. He balanced the poker across his right arm and then held the weight of the poker in his stronger left hand, Slowly and tediously, he began burning scenes into wood.
As he worked, he considered adding paint, He scrounged around his neighborhood for left over house paint that people no longer needed.
Long Learning Curve
It took him three years to develop a style he was comfortable with and complete a painting. The painting process was painstaking and painful. He started with short, light strokes, using hundreds of small touches to cover an area. He often painted so many layers that the art looked carved.
One of his earliest, "The End of War: Starting Home," was completed in 1931. It showed the trauma of war. One German soldier raises his hands in surrender to a black soldier. The other figures look for safety amidst the trauma of war. For the frame, he carved grenades, tanks, bombs, rifles, bayonets, and gas masks into a heavy frame.
Today "The End of War: Starting Home" is still considered among the best paintings of World War I.
Fame Took Time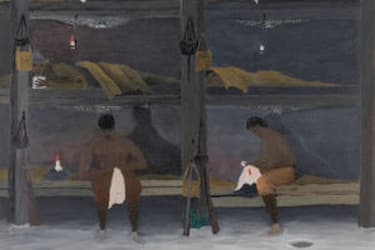 Merchants in downtown West Chester were among the first to show Pippin's work. In some cases, he offered a painting in lieu of money he owed. Most of the time he simply asked shopkeepers to display his work so that someone might buy it. He was in his 40s when he was finally "discovered."
Local artist and illustrator N.C. Wyeth saw two of Pippin's paintings in the window of the local shoemaker. Wyeth contacted the fellow who ran the West Chester County Art Association. Both men were impressed.
They visited Horace to tell them about their annual art show. Of Pippin's paintings, two were selected. Art critics, collectors, and society ladies from Philadelphia came down to see the show as did art dealers and critics, and this offered opportunities for Pippin.
Gained Representation
A New York gallery owner took one of Pippin's paintings to display. Philadelphia art dealer, Robert Carlen, saw it, and contacted Pippin about representing him. Carlen and Pippin came to an agreement, and Carlen devoted himself to promoting Pippin for the rest of Horace's career. Carlen also introduced his paintings to well-respected collector Dr. Alfred C. Barnes, who bought several.
Barnes knew Pippin was self-taught, so he invited him to attend some of the lectures at the Barnes Institute. Pippin did not last long as a student, but he saw from the exposure that his work would benefit from more color.
Carlen began helping him with preparing canvases and obtaining tubes of artists' paint—now including, yellow ocher, raw umber, and zinc white—which changed the look of the paintings.
His topics ranged from images of war to everyday scenes from home and community. He also favored historic topics like his John Brown series and paintings featuring Abraham Lincoln. Both he and Jennie were devoutly religious, and an animal series he painted was heavily based in scripture.
Came to National Attention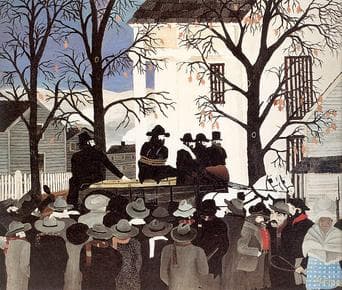 In 1938, the Museum of Modern Art planned a display of a new type of art—that being done by self-taught artists (sometimes called "primitive" art"). There were several European painters, including Henri Rousseau and André Bauchant, as well as many Americans, including Edward Hicks and Horace Pippin. Pippin had four paintings selected for the "Masters of Popular Painting" exhibit.
This put him on track for additional gallery shows, and he and Jennie divided their life between times when Horace needed to be home working, and when they needed to appear at openings.
He was given major shows all over the country, including Chicago's Arts Club, the San Francisco Museum of Art, and the Carnegie Institute Museum of Fine Art, and many others.
While national and international fame were coming Pippin's way, there was still discrimination in the art field. The Saturday Evening Post rebuffed Carlen when he brought them a painting by Pippin to consider for the cover of the magazine. Pippin's painting was refused because he was black.
Downward Spiral
Perhaps because of his lifelong pain as well as the pressure to produce an increasing number of paintings, Horace began drinking more. Jennie, too, had trouble coping with their new lifestyle. As Jennie's mental health declined, Horace tried to stay home more to take care of her. However, in March of 1946, she suffered a mental breakdown. Horace felt his only option was putting her in an institution.
Without Jennie at home, Horace usually started drinking while working in the afternoon. Then he went to the local bar, eventually finding his way home at closing time.
In July of 1946, the woman who came in to help around the house was concerned when he didn't get up at noon as he usually did. She fretted for a time, but finally about 3:30 pm she peeked in to his bedroom and found him lifeless. The coroner listed the cause of death as "coronary occlusion."
Two weeks later—still institutionalized–Jennie died. They were buried in the annex of the Chester Grove Cemetery.
Horace Pippin's Legacy
Horace Pippin was known nationally and internationally for talent that far exceeded anything having to do with the color of his skin. In his work, he created some of modern art's fundamental characteristics, including shadowless forms and clearly delineated colors. His life and his expressive power, composition and form in his art are an authentic expression of the American spirit.
"Pippin's art is distinctly American; in its ruggedness, vivid drama, stark simplicity, picturesqueness, and accentuated rhythms," wrote art patron Dr. Albert C. Barnes of Pippin who was internationally known at the time of his death.
Professor and commentator Dr. Cornel West noted that Pippin brought grandeur to ordinary lives: [With Pippin we] "sit at the feet of the familiar."
***
To read more about some of these men, read about Henry Johnson, a war hero, bandleader James Reese Europe, and for the story of the Hellfighters, click here.
To see other paintings by Pippin, click here.