Showed great talent in art and broke ground in a field that was not welcoming to women or people of color.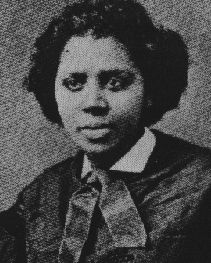 Inspired generations of artists for what she was able to achieve in her work.
First African-American sculptor to celebrate Emancipation through her artwork.
Edmonia Lewis was born to an African-American father (from Haiti) and a mother who was of both Native American (Chippewa) and African descent. The family lived in what is now Rensselaer, New York.  Her mother was a gifted craftsperson and weaver and must have inspired Edmonia's love of beauty.
When Edmonia was about nine, both parents died within a year of each other. She and her brother went to live with her mother's sisters who supported themselves by selling their hand woven baskets to tourists who visited Niagara Falls and Buffalo.
College
Her brother went on to succeed as a gold prospector and offered to send Edmonia to college.  When she did not do well at New York Central College, he suggested she try Oberlin, a school that was working to include women and people of color.  It was at Oberlin that she begun studying art seriously.
In 1863 she moved to Boston to study under sculptor Edward Augustus Brackett, and that city offered her the opportunity to meet and see many of the abolitionists, among them Union Colonel Robert Gould Shaw who was to command the all-black 54th  Infantry unit from Massachusetts.  Her bust of him was so successful that she made one hundred plaster copies and sold them very successfully.  This also brought her commissions for other projects and she did medallion portraits of John Brown and William Lloyd Garrison and also featured fictional characters like Hiawatha from Henry Wadsworth Longfellow's famous poem.
Moves to Rome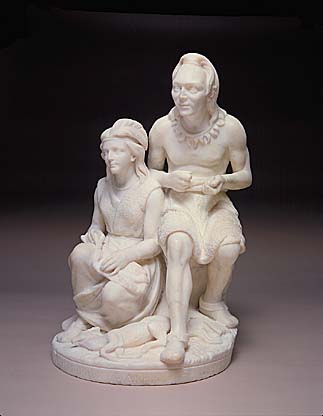 Edmonia was intrigued by the neoclassical artwork being produced in Rome and decided to move there to study.  The experience greatly influenced her artwork. Even though her subjects were still often American, they were likely to be dressed in classical robes and posed as if they were from the ancient world.
Among those who sought her out for her gifted work was Ulysses S. Grant and she did a bust of him.
Work Chosen for the Centennial Exposition
One of her big successes was having her work accepted at the Centennial Exposition in Philadelphia in 1876. The work chosen for the exhibition was The Death of Cleopatra which drew thousands of viewers because of its stark portrayal of death.
Unfortunately the work was lost after the Exposition, resurfacing a century later.  For a time it was at a racetrack in Forest Park, Illinois being displayed on the grave of a horse named Cleopatra.  Next it was moved to a shopping mall.  At some point it was painted over by a troop of Boy Scouts who have meant to be "fixing it up." Finally the Forest Park Historical Society identified it and the sculpture was donated to the Smithsonian where it has been restored to its near-original state.
Edmonia led a stormy life, often battling with people around her, and she never felt included in the art community in Rome.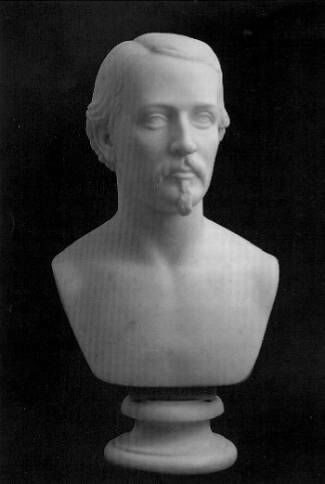 Because of that, and because  interest in the classical style of art was fading, Edmonia knew she needed to make a change so she planed to return to the U.S. and began placing ads for her work describing herself as "the colored sculptor."
She never married and was not able to revive her career once the downward spiral began.  However her work expanded the possibilities for artists from all backgrounds and her work lives on as a testimonial to her fine artistry.
She is included on a list of 100 Greatest African Americans, compiled in 2002.