"Noble and goofy" is how Lloyd Burlingame describes the two seeing eye dogs with which he has been partnered over the past fifteen years or so.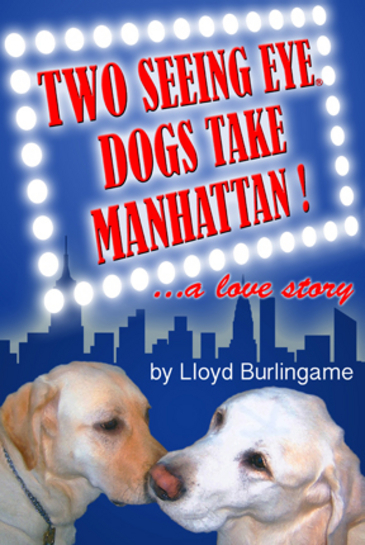 And "noble and goofy" is very much the spirit of the book he has written about navigating Manhattan with his two different dogs. While readers are given interesting background information about how the dogs are raised and trained, Burlingame also reminds us of the fun it is to live with lively, goodhearted animals.
Vision Loss Occurred Mid-Career
Lloyd Burlingame was in the midst of a very successful career as a set, lighting and costume designer for productions on Broadway as well as for opera companies. As a result of his success in the theatre, he was sought out by the NYU School of Arts to step in to help create a new vision for their fledgling design department.
Unfortunately, in the midst of many wonderful career achievements, Burlingame slowly began to lose his vision. While he could maintain his work as chair of the design department at NYU, theatre work became difficult and his own art work had to change, too.
He also began to have difficulty navigating through the city, and he began using a white cane to find his way. Because he had been bitten by a dog as a child, he never considered a seeing eye dog; he worried about adapting to life with an animal.
An unfortunate experience changed his mind. When attempting to cross a busy and confusing intersection, some construction workers on their lunch break thought it would be funny to tell the man with the cane "all clear." When Burlingame started across the street, he was nearly hit by a taxi.
He retreated to his apartment and was fearful of going out unless absolutely necessary until a friend came to discuss with him his options. Burlingame was soon put in touch with The Seeing Eye in Morristown, New Jersey and was accepted into their training program to see if he and a dog could create a partnership.
The work involved for the two of them required overcoming fears and learning many new skills, but Burlingame became a "seeing eye dog convert."
The decision to write his first book, Two Seeing Eye Dogs Take Manhattan: A Love Story, grew out of a desire to explain his new world to others. "I wanted to share the miracle of how your life can be totally turned around," says Lloyd Burlingame.
The Book Picks Up With Hickory
The story of Two Seeing Eye Dogs… is told by the dogs themselves. Burlingame had kept journal entries about his experiences but when he looked back at them, he realized he needed a more interesting way to tell the story.
Hickory, his first dog, is described as the more refined fellow of the two dogs. He is a hard worker, extremely loyal, and very friendly but pays attention to what he needs to. However, Hickory is not above snatching a chunk of bagel from the sidewalk or temporarily becoming distracted by oh-so-inviting smells. He is also a master at watching carefully for dropped bites at restaurants, and frequently resorts to napkin-stealing, devouring the tasty parts.
Burlingame frequently attends the opera, and we get a Hickory-eye and a Hickory-ear view of the experience: Intermissions are fun, and most of the musical parts are best used for naps. There is an exception–operas that involve loud sounds like lightning and thunder. Hickory soon learned if he acted terrified—and he was the first time—it was worth a few mid-opera Milk Bones. After that he looked forward to the exciting operas that had loud and frightening dramatic moments.
During their time together, Burlingame was still active at NYU and took on various new cultural board responsibilities. Hickory makes clear how he felt about these issues. He notes that another "board" for Lloyd will provide for Hickory another form of "bored."
Retirement?
Life as a guide dog in Manhattan is hard work and stressful, and after eight years of dealing with bike messengers, mothers with strollers, kids on skateboards, huge crowds, and the unending city noises of subways and buses and trains, Hickory seemed to be slowing down. Burlingame began to consider that Hickory might need to retire. After much worry and thought, Burlingame finally decided it was the right thing to do. Working with The Seeing Eye School, Burlingame finds Hickory a dream home and family with a big property in Virginia.
From there the book alternates between Hickory's very happy life in retirement and Burlingame's new adventure with his Labrador-golden retriever, Kemp. The story is told via email between the two dogs.
Kemp, too, strives to be a great partner for "the Old Prof." The two dogs compare notes about the sights and sounds and friends in Manhattan as well as how Burlingame frequently confuses left from right, so the dogs are forced to make their best guess as to what he means.
During this second visit for training at The Seeing Eye, Burlingame shares more about the training of guide dogs. We learn why working dogs must be left alone when in harness, how the person—not the dog—makes all decisions about where they are going and when they will cross streets, and how a dog is taught "intelligent disobedience" in preparation for occasions when the vision-impaired person gives a command that would endanger the team.
Burlingame's literary and musical knowledge coupled with his sense of humor about himself and the lives of his dogs' makes this book a fun and enlightening read. Anyone who has lived with animals can't help but chuckle frequently while reading Two Seeing Eye Dogs Take Manhattan. The dogs' personalities are delightful, and one can't help thinking, "Yes, that's what my dog would think, too."
Burlingame is very close to releasing his next book, a theatre memoir: Sets, Lights and Lunacy: A Stage Designer's Adventures on Broadway and in Opera.