Geronimo is an elegant greyhound, weighing 80 pounds and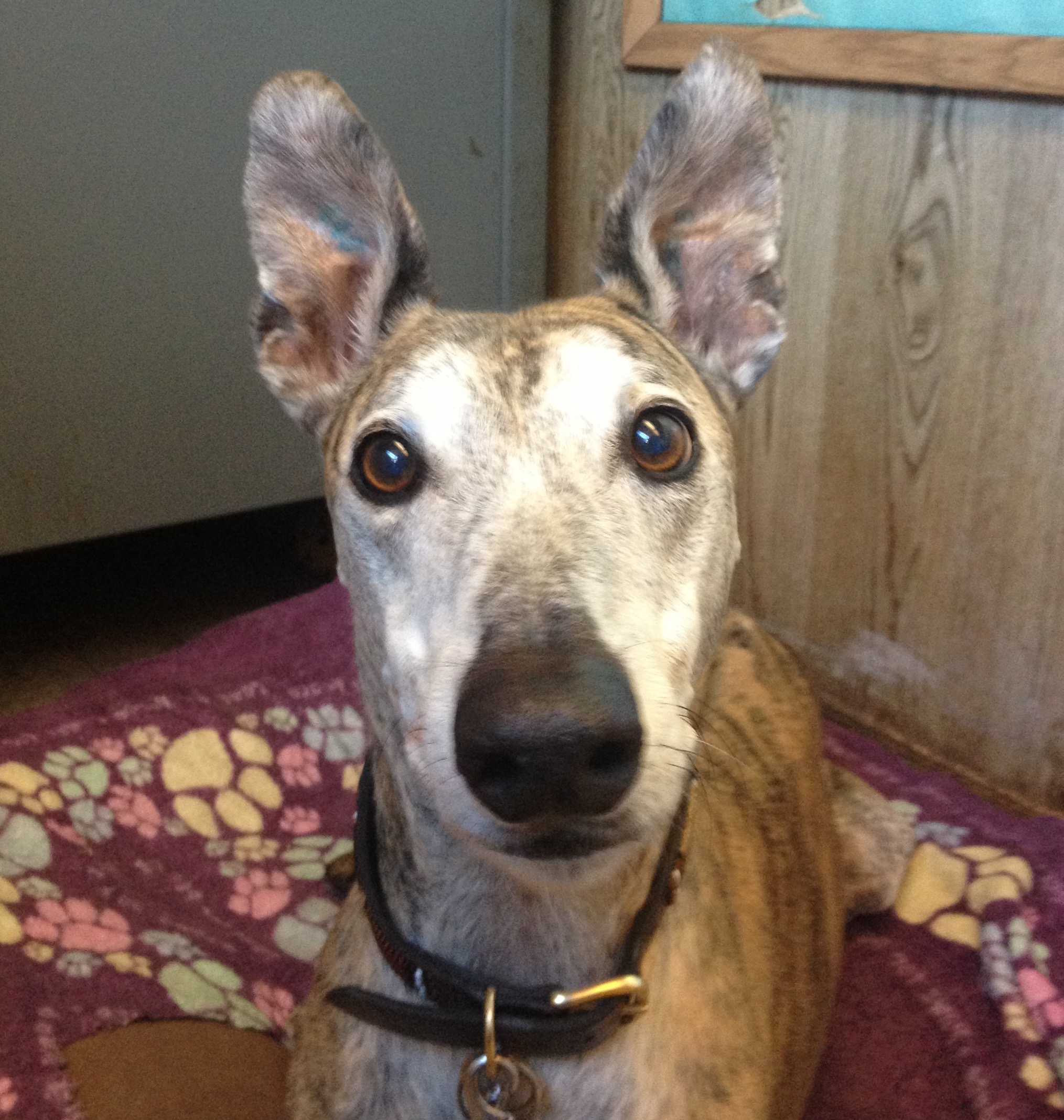 standing hip-high to individuals of average height. He came to live with Linda and Mike Bates about five years ago when he was in need of a home.  They loved him on sight, but as they learned of Geronimo's past, they loved him even more.
"I have never known a dog so loved by so many," says Linda Bates, who has been around dogs all her life.  "He has touched many lives."
Geronimo's arrival was to forever change the Bates household. "We learned his life began on a racetrack where he lived for four years; this made us think about what was happening to other greyhounds like him when their owners retired them. That question introduced them to Greysave, the Greyhound Adoption Group of Southern California, that takes the dogs from racetracks and puts them in foster homes until a permanent home can be found. Since that time, the Bates have fostered 13 greyhounds. Most have been placed elsewhere by GreySave; two besides Geronimo are now part of the Bates family.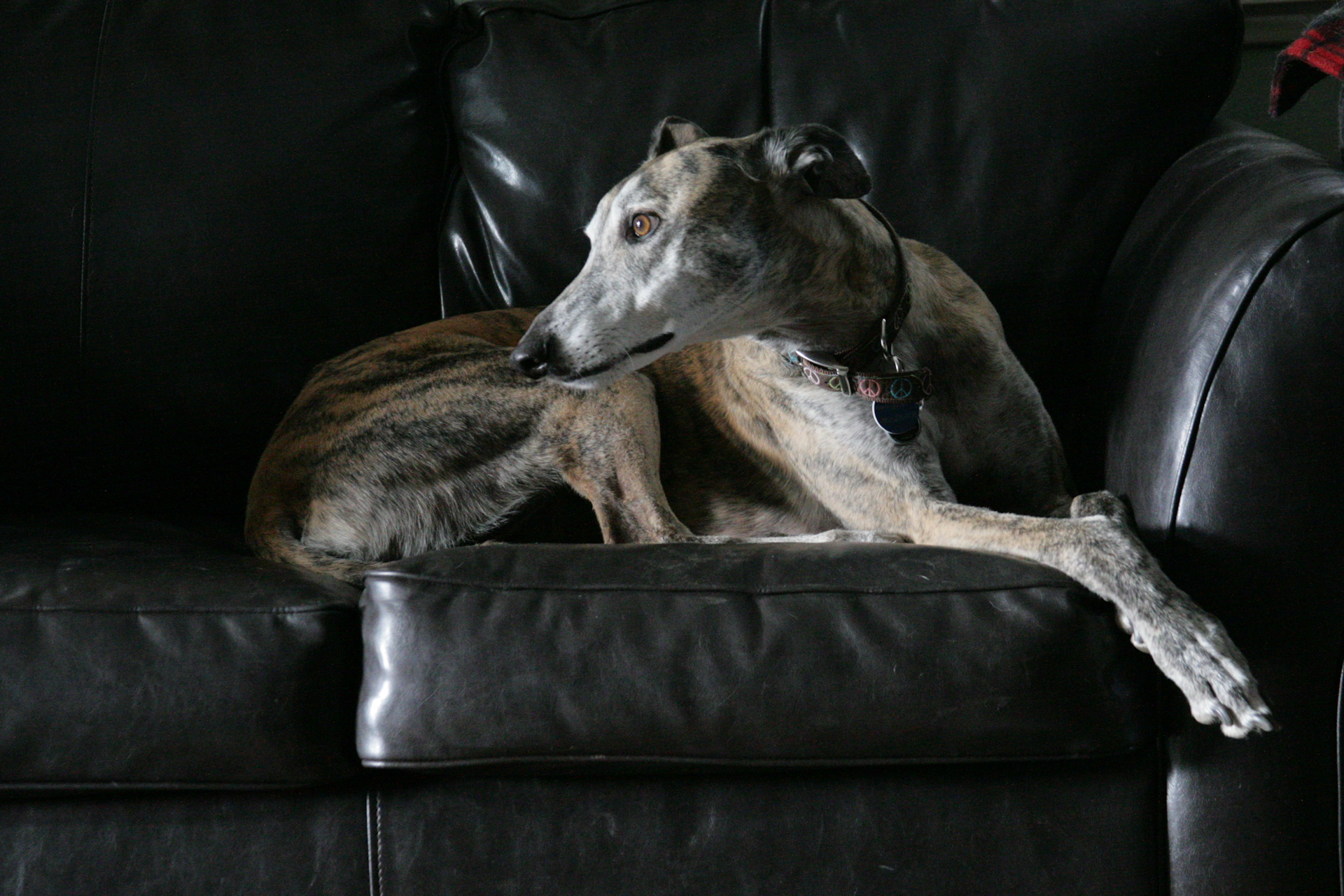 Linda and Mike were the perfect couple to take on this new responsibility. Both grew up around animals, and Linda also serves as an evaluator for BARK Therapy Dogs; she is an evaluator for the American Kennel Club Canine Good Citizen program, and is president of the Downey Dog Obedience Group, which offers obedience classes, pet support, and does fundraising for animal-related causes.
And all those responsibilities are her sidelines. She is also co-owner and works with her husband, Mike, running Arrow Abrasive & Terrazzo Company, a manufacturing company in Downey.
Need for an Assistance Dog Developed
Several years ago, Linda was diagnosed with adult-onset spinal muscular atrophy. The symptoms came on rather gradually. One day she found that she was having trouble standing up, so she experimented with using Geronimo to help her.  She learned that if she placed her hand on his upper back (across the shoulders), he knew to stand still and let her get her bearings.  As a dog trainer, Linda was skilled and comfortable with reinforcing Geronimo's instinct to be there for her.
As her condition has continued to reduce some of her capabilities, Linda began using a cane some of the time.  Even with the cane it was sometimes hard for her to step forward. But Geronimo was right there. Together they choreographed it so he could provide stability for her and also help her with forward motion. Geronimo is also vital for any kind of step or curbs. "I couldn't do it without him," says Linda.
Many Lives
Geronimo has lived many lives. His early years were spent on the racing circuit, primarily working in Arizona and Colorado. He is big and has stamina, and the fact that he lasted on the track for four years is proof of his success there.
When he was retired from racing, his next home was with Hemopet, a nonprofit animal blood bank and greyhound adoption program.  It was started by Dr. Jean Dodds in 1986 as a nonprofit national blood bank program for canines.
As a veterinarian and hematologist, Dodds knew that blood donated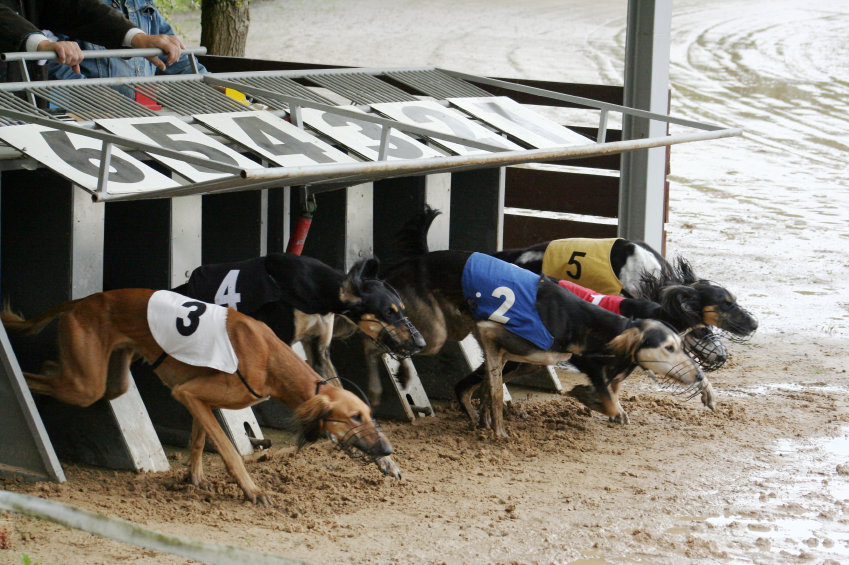 by greyhounds is compatible with most dog blood types, so her first effort involved rescuing dogs who were being retired from racetracks.  The usual process for Hemopet is to keep the dog as a blood donor for about a year, during which the blood drawn can be offered to veterinarians nationwide to save the lives of other animals.  When the dog has been with them for 12-18 months, they then find good homes for them.
Linda still buys Geronimo's dog food from Hemopet.  The first time they returned to buy food, she wondered how Geronimo would react. No need to worry. Geronimo was welcomed by everyone there, and before Linda knew it, he was holding court on the couch.
Geronimo's Next Home
After Geronimo had been with Hemopet for about a year, he was adopted by Pam, a woman living in Long Beach. Almost three years after she adopted Geronimo, Pam was diagnosed with terminal cancer.  One of her chief concerns was what would happen to Geronimo.  She had been a donor to BARK Therapy Dogs, and when Josie Gavieres, who heads up BARK Therapy, learned about her concern she thought immediately of Linda Bates.
Linda and Mike were happy to help. They had taken in strays before—this, too, was a dog in need of a home. Pam's family suggested a date for them to stop by, but when they arrived, the Bates learned that Pam was having a hard day. Geronimo came out to see who had arrived, and when Pam heard who was there, she insisted Linda and Mike come in to see her.
Geronimo led them back into Pam's bedroom where they stood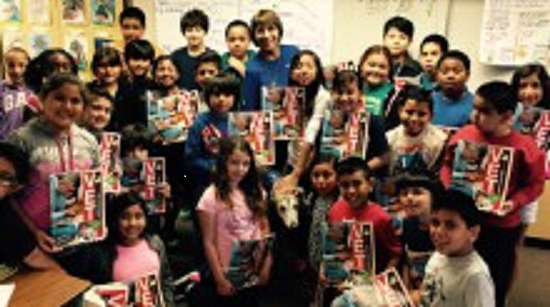 talking by the bedside. Geronimo stood between them with his head on the bed—listening, as if he knew exactly what was being said. Among the things that Linda promised Pam were that Geronimo, with Linda at his side, would become a BARK dog. Since the organization had been a passion of Pam's this pleased her, but she added: "He'll have to be tested first."  Of course, Linda is the evaluator so she had more than a passing hunch that Geronimo would do just fine.
Geronimo stayed with Pam through the end and remained in the household as long as the family was still there. Linda visited regularly so that he could get to know her before moving households.
When it was time for Geronimo to move to the Bates' home, the transition was smooth. Linda still takes Geronimo back to the neighborhood for something Pam and Geronimo enjoyed—Yappy Hour with the neighbors.
The Bates Household
Of the greyhounds—other than Geronimo–that have passed through the Bates household, Sierra and Guy are now permanent residents. Sierra was the eighth dog that the Bates rescued.  "Sierra arrived with so many anxiety issues," says Linda. "We've made great strides with her, but we would never put her in a situation where she had to adjust again."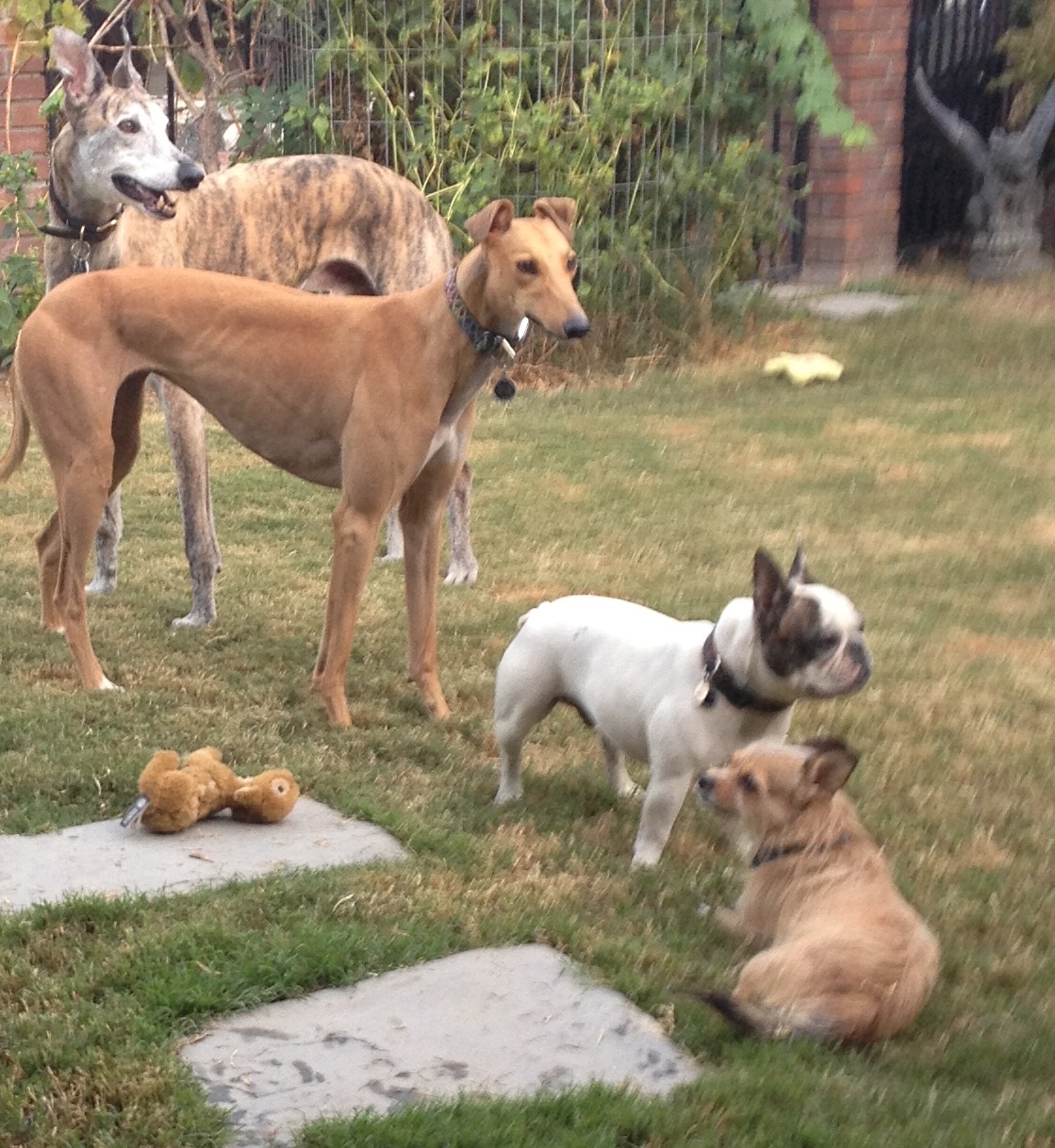 Because Linda would probably keep all the dogs, she relies on Mike's gut feeling as to which dogs they keep.  Guy, #13 for the Bates greyhound mission, was one where Mike made a decision.  Guy had a great temperament and is good-sized like Geronimo. "We'll keep him, said Mike. "I have a feeling about this dog."
As it turns out, Guy will one day be trained to stand in for Geronimo. "He's big and he has that capability. When the time comes, we'll work with him to give him the skills he'll need to help me," says Linda.
Geronimo's Busy Life Today
In the meantime, Geronimo has a full and rewarding life with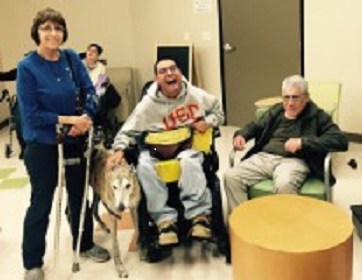 Linda. He accompanies her to work each day and on any errands or commitments she has as well. Once a week she takes him to a nearby program for adults with disabilities, WAPADH (Whittier Area Parents' Association for Adults with Developmental  Handicaps).  The adults in the group love having Geronimo visit, and he brings smiles to every face. One woman with difficulty with hand coordination has learned to brush Geronimo; Geronimo is very happy with her assignment to brush him each week.
This spring, Linda and Geronimo took another assignment given her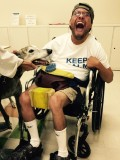 by BARK Therapy. (BARK's specialty is working with children in schools, usually helping them with reading.)  A school speech therapist, Mitch, was working with a 15-year-old who has selective mutism, meaning she is too anxious to speak when out of her own home. He thought a BARK team might be helpful.  Linda and Geronimo took the assignment.
"That first day, she was so anxious that she wouldn't even sit down with us," says Linda. "I had to open the bag of treats and show her how to feed Geronimo. The next week, she knew what to expect and she was opening the bags of treats herself and giving Geronimo quite a nice reward for just sitting there. We then moved on to her walking Geronimo around the classroom, but we had not yet progressed to her taking him outside.
"After about five visits, I pulled up in my car and saw Mitch and the young lady waiting for me to arrive. We unloaded Geronimo, and she happily walked him in to school.  Maybe next year we can encourage her to talk to Geronimo."
She and Geronimo, as well as other BARK team members, were also called recently to visit the Downey Public Library to greet some of the Special Olympic athletes who were in town for the 2015 games in Los Angeles.
Life at Home
Geronimo's home life is a happy one.  When he is not helping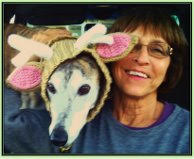 Linda, he has other dogs to play with: There are the two greyhounds, Sierra and Guy, a French bulldog, Zag, and a terrier mix named Wing. Wing was found as a puppy, dumped near their manufacturing plant. He acquired the name Wing as he sometimes rides on Mike's motorcycle with him. There are also cats.
Because greyhounds have little body fat, they are very sensitive to temperature. While Geronimo would require a winter jacket in the East, here in Southern California all he needs are some toasty pajamas (a bed jacket) at night for the cooler winter months.
Geronimo means the world to Linda, and very clearly, Geronimo has made a place for himself in the hearts of many. He is beloved by the adults and children he visits each week in his role as therapy dog, and by all those whose pets have received Geronimo's blood when in need.  A very special dog indeed.