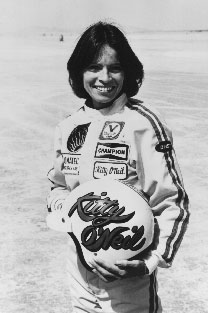 Athlete, Record-Setter, and First Woman in Stunts Unlimited
Kitty O'Neil was a champion swimmer, an award-winning diver, and a racer in motorcycle and car competitions. She thrived on speed.
Her athletic ability combined with her willingness to try new challenges led to her becoming a stuntwoman in television and movies. O'Neil was the first woman to be accepted into Stunts Unlimited (1976), an organization of Hollywood's top stunt people.
She was never stopped by the fact that she suffered profound hearing loss as a baby. "Deaf people can do anything," O'Neil told a class at the Holy Trinity School for the Deaf in Chicago in 1979, according to The Chicago Tribune. She advised students never to let hearing loss be an impediment to their lives. "When I was 18, I was told I couldn't get a job because I was deaf. But I said someday I'm going to be famous in sports to show them I can do anything."
In interviews, she sometimes speculated that her deafness was an advantage as it deepened her concentration for whatever she undertook.
Kitty O'Neil's Early Life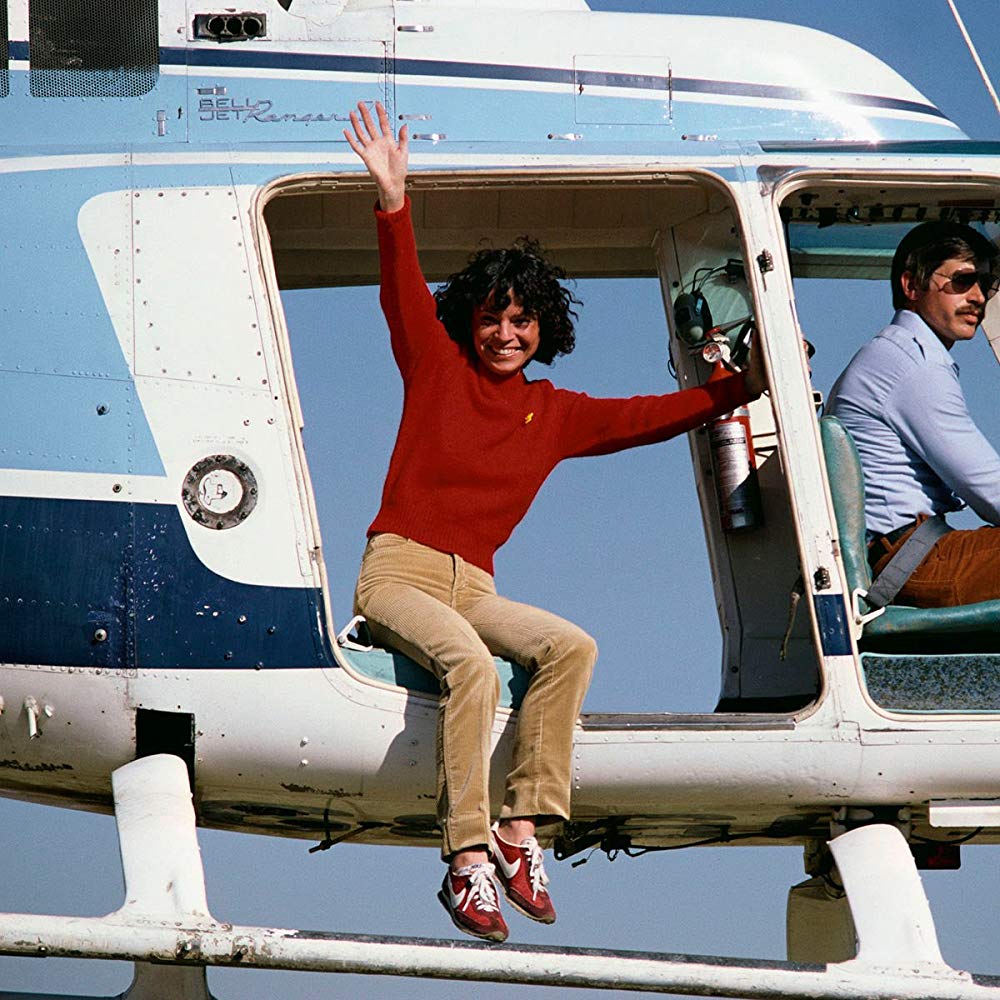 O'Neil was born in 1946 in Corpus Christi, Texas. She was only a few months old when she experienced a very high fever caused by the onset of a combination of measles, mumps, and smallpox. The fever destroyed nerves and led to her deafness.
Her mother Patsy Compton O'Neil, a full-blooded Cherokee, concluded that Kitty would do best if home-schooled. Her mother took education classes at the University of Texas and began teaching Kitty at home. She fully believed that Kitty needed to be able to lip read so that she wasn't totally reliant on sign language. By third grade Kitty O'Neil was able to attend public school. (Based on her experience with Kitty, Patsy was among the founders of the Listening Eyes School for the Deaf in Wichita Falls, Texas.)
Kitty's father worked as a wildcatter in the oil fields and may have contributed to Kitty's love of speed. The New York Times obituary for Kitty reports that when she was 4, Kitty demanded that her father let her ride with him atop his ride-on lawn mower and make it go as fast as he could.
Her father died while Kitty was still a child.
Swimming Champ
During elementary school, Kitty O'Neil began swimming competitively, eventually falling in love with diving. In 1962, her mother moved the family to Anaheim, California, so that Kitty could study diving under nationally-known coach, Sammy Lee. Kitty finished twelfth in the U.S. team trials for the Tokyo Olympics in 1964. Her Olympic dreams ended later that year when she became quite ill with spinal meningitis.
With a trip to the Olympics off her plate, she experimented with other sports, including hang gliding, water skiing, and sky diving. Water skiing speed-racing fit what she was looking for, and in 1970, she set the women's water ski speed record, 104.85 miles per hour.
New Career
From there, she progressed to racing motorcycles and rocket-fueled cars, setting many speed records.
In the 1970s she was competing in a motorcycle race in Valencia, California, and met Ronald "Duffy" Hambleton, a stuntman. Hambleton actually forced O'Neil out of a race when she crashed her cycle and suffered a severe hand injury. He took her to an emergency room, and his fast-thinking was credited with the fact that the doctors were able to save the use of her fingers. (They became a couple and were married for several years.)
Through Hambleton, O'Neil met Hal Needham who was a former stuntman-turned-director. Needham gave her a start as a stuntwoman, and her career took off. She performed stunts in many top movies and television shows including the television series, Bionic Woman (1976-1978), Wonder "Woman 1977-1979," and the movies, Blues Brothers (1980) and Smokey and the Bandit II (1980), and other productions.
More Speed Records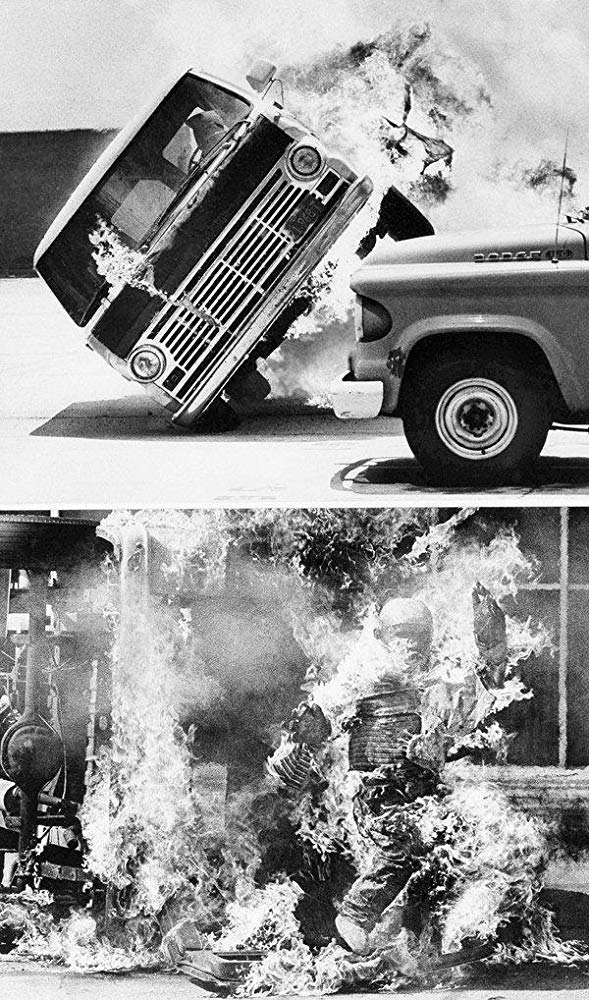 Her stunt work connected her with people who were creating experimental cars. In 1976, O'Neil was asked to drive a three-wheeled rocket-powered car on a track in the Alvord Desert (southeastern Oregon). She took the car up to 618 miles per hour. Her round trip in it averaged 512.7 miles per hour. This beat by about 200 mph the previous land-speed record for women.
Several of her stunts also set other types or records: In 1977 she completed the longest fall for a woman and the highest attempted fall while afire in a protective suit.
Achieved Fame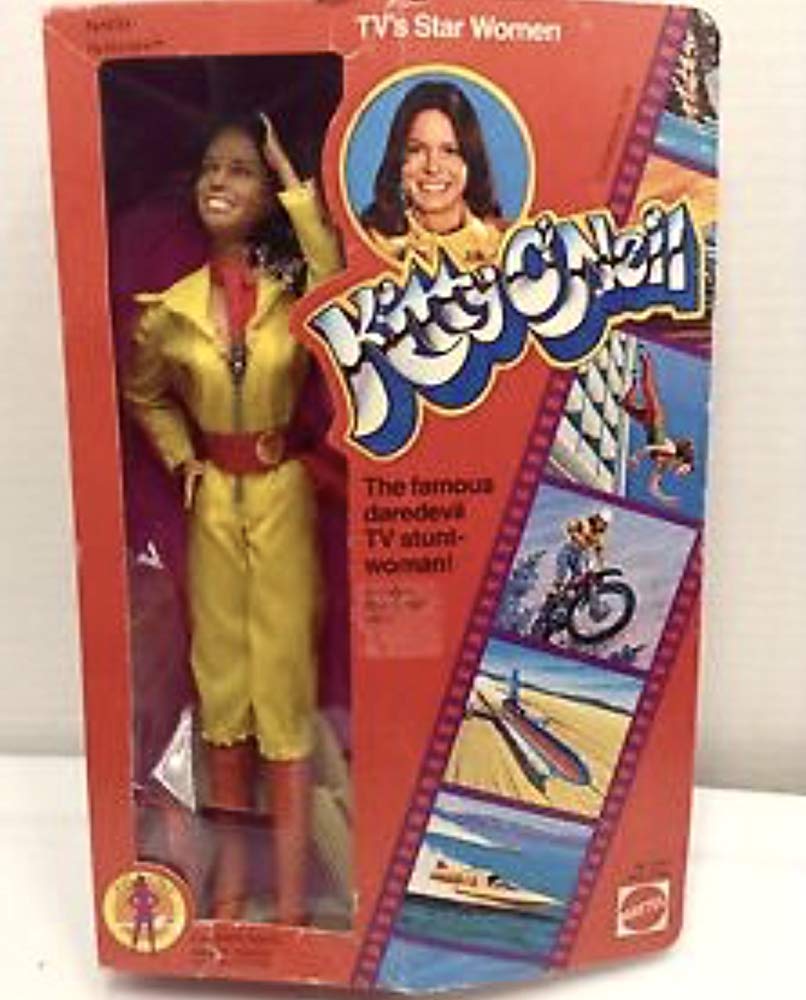 In 1979. a film was made about her life, Silent Victory: The Kitty O'Neil Story. The film starred Stockard Channing, with O'Neil doing her own stunts. Mattel also made an action figure based on Kitty O'Neil (1978).
After seeing two of her friends die performing stunts, Kitty O'Neil decided it was time to retire (1986). She and long-time companion Raymond Waid lived in Elk River, Minnesota, and then in 1993, they moved to Eureka SD where she prized the peaceful lifestyle.
She also devoted time to the American Cancer Society. Though she never had breast cancer, she promoted awareness of the illness and to encourage regular mammograms to catch the disease early.
She died November 2, 2018.
***
To read about the young child that inspired establishing schools for the deaf in America, read about Alice Cogswell.
And for another story about a woman who performed stunts for the movies, read about Pancho Barnes, an early aviator.