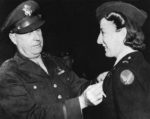 First woman to receive the Air Medal, 1943
Second Lieutenant Elsie S. Ott was a pioneer in air evacuation of military casualties.
As World War II progressed on two fronts, the Allies were becoming increasingly concerned about what to do about the wounded. The numbers were high enough that getting them out of a battle zone was highly problematic, and with advances in aeronautics, the possibility of evacuating the wounded via military plane began to seem feasible. However, no one had done any investigation of what would be necessary to operate a fleet of "Air Ambulances."
Second Lieutenant Elsie Ott was the first nurse to prepare for an evacuation of the injured. She had never been on an airplane before; she was given 24 hours notice; and she was responsible for supplying and preparing the plane for her passengers.
Elsie Ott was born in 1913 in Smithtown, New York, and after high school she attended Lenox Hill Hospital School of Nursing in New York City. After several positions in area hospitals, Ott joined the Army Air Force Nurse Corps in September of 1941. She was commissioned as a Second Lieutenant and had assignments in Louisiana and Virginia before being sent to Karachi, India.
Plan Underway
Military leaders planned this first evacuation to be from Karachi, India to Walter Reed Hospital in Washington, D.C. With Ott selected for the flight, the Army pushed forward to get the plan underway. The same plane that would drop off combat troops would then carry back the wounded—no special facilities were on board other than webbing to secure the litters carrying the patients were on board. Ott gathered blankets, sheets, and pillows for the trip but the only medical equipment available to her was the equivalent of a first aid kit.
No medical professional screened the patients who were to fly with Ott, and she and a sergeant with a background as a medical technician were the only people on board to care for the patients. There were five people who were injured or ill—two were paralyzed from the waist down, the other three were ambulatory, one with tuberculosis, another with glaucoma, and the fifth person was suffering manic-depressive psychosis.
On January17, 1943, the plane left Karachi, making fuel stops in Salalah and Aden in Saudi Arabia, Khartoum and El Fasher in the Sudan. In Accra, Ghana, they were all moved to a different plane and 11 patients were added. From there the airplane flew to Ascension Islands in the South Atlantic; Belem, Brazil, and Borinquen, Puerto Rico. They entered the U.S. planning for a short stop in Florida but there was a several-hour delay before they could go on to Washington, D.C., where they finally landed on January 23.
Though the trip was long and arduous for Ott as well as the patients, this flight that spanned six-and-a-half days would have normally taken three months by ship and ground.
Ott knew that her report on the trip would be crucial for further planning, and she immediately sat down to make notes for future flights. Among the suggestions she listed were the need for oxygen, more wound dressing supplies, extra coffee and blankets. She also noted that wearing a skirt was impractical for this kind of duty.
Two months later, Ott received the first Air Medal ever given to a woman in the United States Army. While some still protested the use of women as nurses on these flights, by the autumn of 1943, General Davis N. Grant overrode those concerns, and started the first ever training program for flight nurses at Bowman Army Air Field in Kentucky.
Ott was sent back to India that October with an official role in the 803rd Military Air Evacuation Squad. She was promoted to Captain before being discharged in 1946, and almost twenty years later (1965) she was selected to christen a new type of air ambulance (a C-9), called the "Nightingale."