Pancho Barnes (1901-1975) was a fearless pilot and aviation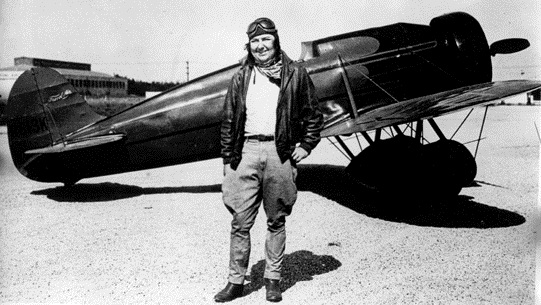 pioneer, flying at a time when flight was in its infancy. She went on to work as a Hollywood stunt pilot, among many other things. Pancho pursued just about anything that interested her, including partying. (The parties were generally at her house with Pancho providing the liquor.) Marriage and motherhood were part of her life, but she never let them slow her down.
Born Florence Leontine Lowe in 1901, she acquired the nickname of Pancho on a trip through Mexico with a fellow adventurer. The friend called her "Pancho" to his Don Quixote… "You mean Sancho," she corrected him. "Sancho Panza," describes Lauren Kessler in her biography of Pancho Barnes, The Happy Bottom Riding Club.  But Pancho was the name that stuck, and few ever knew her by Florence after that.
Famous Grandfather, Moneyed Family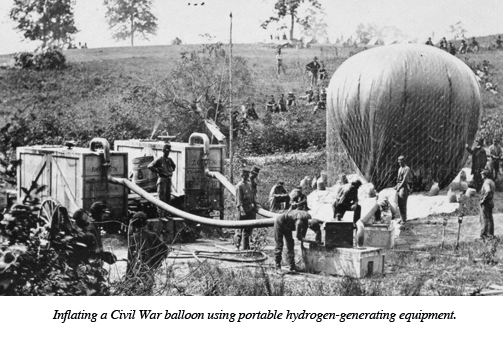 Pancho's grandfather was Thaddeus Lowe, the man who created the Balloon Corps for the Union Army in the Civil War. After the war, Lowe started several successful companies. On a business trip to Southern California, he fell in love with Pasadena and moved his family there. Lowe went on to found the Pacific-Lowe Gas and Electric Company, the Citizens Ice Company, and the Citizens Bank of Los Angeles.
As those businesses grew, he began construction of a narrow-gauge railroad that wound along the San Gabriel Mountains in northern Los Angeles County, offering riders breathtaking views. He was at work on an expansion line when the financial panic of 1893 rocked the country. By 1894, Thaddeus Lowe found himself having to liquidate most of his holdings.
His son and Pancho's father, Thaddeus Lowe II, had married well. Despite the elder Lowe's business reversals, Pancho was raised in a family with great wealth.
The elder Thaddeus Lowe remained in Pasadena near his son's family, and he adored his granddaughter. It was he who took her to her first air show.
Pancho's father followed his own passion, which was raising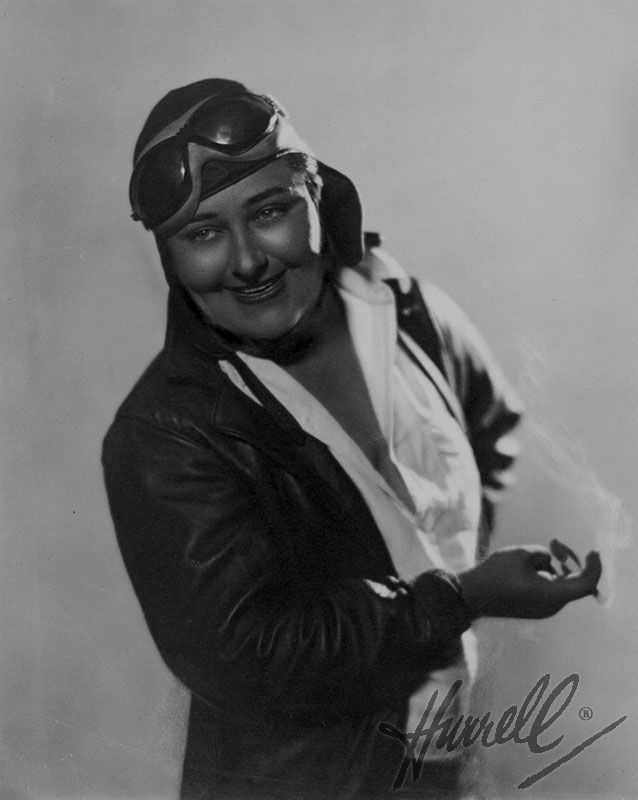 thoroughbred horses. Under his tutelage, Pancho became a superb equestrian. Her mother's focus was on Pancho's sickly brother. Pancho tried to conform to be the more feminine daughter her mother would have preferred, but it never seemed to work out well.
In school, Pancho was prone to creating mischief. Her parents decided a Catholic boarding school might be a solution, but Pancho found ways to stir up trouble there, too. As Pancho neared graduation, her mother was intent on arranging a "proper" marriage. She hoped this would encourage her daughter to settle down.
Pancho's Planned Marriage
C. Rankin Barnes, a young, single reverend, moved to Pasadena to assist the minister of the church the Lowe family attended. Mrs. Lowe felt Barnes offered a solution to "what to do about her daughter." Over time, the young couple were paired together often enough that everyone agreed that Pancho could become the rector's wife.
According to Pancho, the marriage was consummated only once–on the couple's honeymoon. Pancho became pregnant, and after her son was born, Pancho felt truly stuck. On a reverend's salary, she couldn't afford the household help that she had experienced growing up.
The Barnes had a nurse for a time, and Pancho made the most of her freedom. She generally left for the stables and took one of her several horses out riding in the surrounding hills.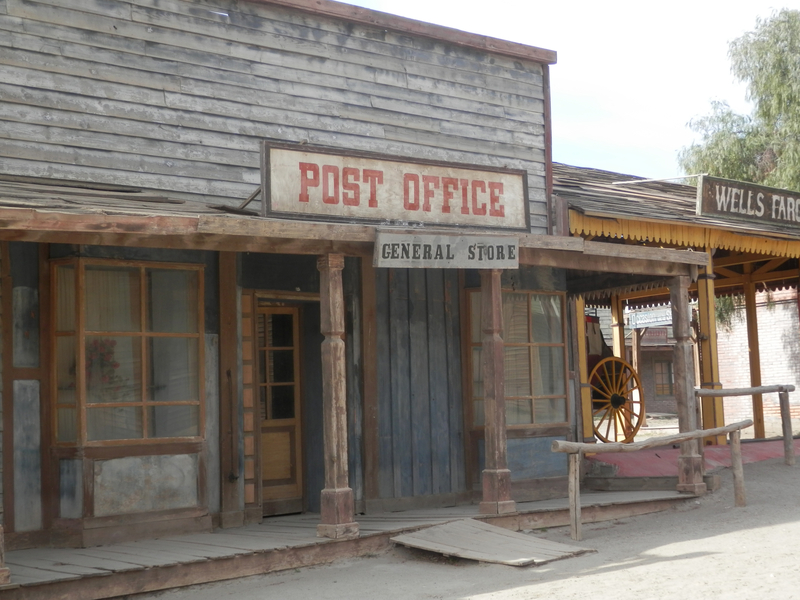 The area around Pasadena was largely unsettled, and land was cheap. This brought out the Hollywood film companies to set up satellite offices for filming the Western movies that were popular at the time. Pancho soon saw a business opportunity. Film companies needed to lease horses for the films. Leasing a horse brought in one fee, but a higher price could be charged if she trained the horse for a specific scene. If she was needed as a background rider or as a double, there was even more money involved.
Income brought her freedom from home, and she soon became enamored of the early airplanes that were darting around Los Angeles. The pilots found the area to be ideal for flying—good weather, clear skies, and open land were a great combination.
Pancho Takes Up Flight
Some enterprising pilots were teaching others to fly, and soon Pancho was paying $5 to go up for fifteen minutes of instruction.
There was not a great deal that could be taught. Planes were controlled by a stick and rudder system. The dashboard had an oil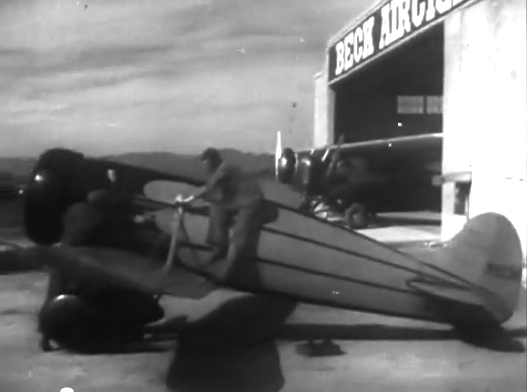 gauge but gas levels needed to be checked in advance of each flight. To do so, the pilot dipped a string in the gas tank to gauge quantity. Once in the open cockpit, a pilot judged altitude by peering over the side of the plane and looking down. Another flight "gauge" required hanging a key chain from a knob on the control board. If the chain hung straight down, it meant the plane was flying straight.
The instructor had no way to talk to the student pilot, so hand signals were used. A hand up indicated the student should move the nose of the plane up; down, of course, meant down. A hand on the right cheek meant the plane was slipping or skidding right and needed a correction.
Simply put, planes were maneuvered via quick thinking and guts.
After six hours of instruction, Pancho was ready to solo. She had plenty of guts.
Air Races
Pancho dedicated herself to advocating for women in flight. In 1929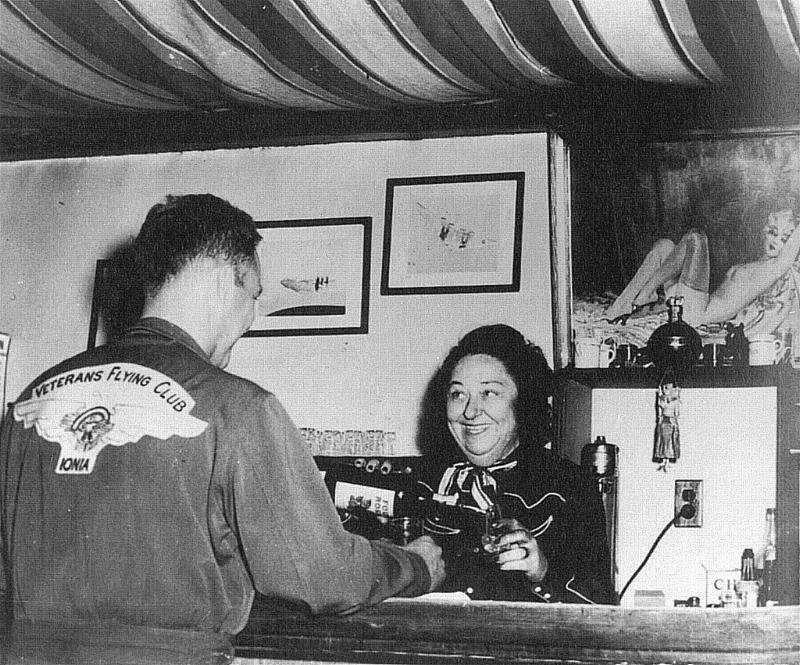 she arranged for an all-female cross-country derby that would arrive in Cleveland, Ohio, when the national air races were taking place. Eighteen women signed up to participate.
The group left from Santa Monica, and there were planned-for stops for refueling and resting for the night. No one flew in the dark at that time as the country was much darker then, and no air strip had landing lights. From a publicity standpoint, frequent stops were perfect anyway. Crowds stormed the women at every airport, and so women in the cockpit made news everywhere.
Ultimately, a good number of the women made it successfully to Cleveland, but several suffered setbacks. Pilot Ruth Elder had to end her trip when all of her maps blew out of the cockpit, and Pancho was not among the early arrivals as she had lost her way and drifted into Mexico before correcting her course.
Pancho's Stunt Race
Pancho was always up for any challenge, and the better-regarded her competition, the more excited she was.
One of the best known pilots of the day was a fellow named Roscoe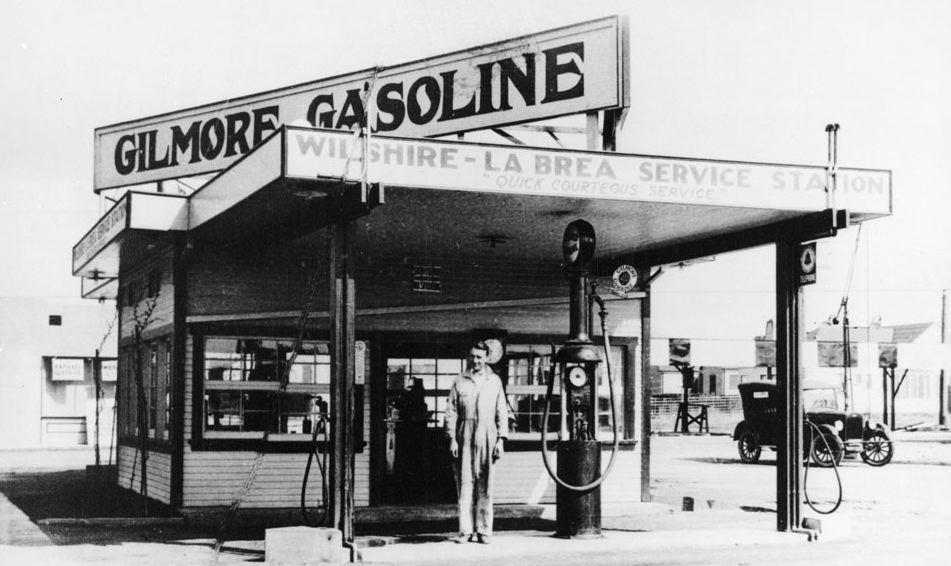 Turner who flew promotionally for Gilmore Gasoline of Los Angeles. Turner was a flashy dresser who wore a powder-blue military jacket adorned with diamond-studded epaulets, knee-high boots, and a belt with a huge silver buckle. He topped this off with a gold and crimson helmet and goggles. He added to his high profile by flying with a tiger cub he named Gilmore. When Turner and the cub touched down anywhere, a crowd was guaranteed.
Turner was known to have said, "The only reason for an airplane is to go fast."
As far as Pancho was concerned, "Game on!"
The stunt that was arranged for Pancho and Roscoe was this: In 1928, Stanford was playing an afternoon football game in Palo Alto. Each pilot would leave San Francisco immediately following the game carrying an undeveloped film of the game. Roscoe was to deliver his to The Los Angeles Examiner; Pancho was taking hers to The Los Angeles Times. Which paper would get the film first?
Pancho, with no cargo compartment, carried the film under her arm the whole way. She arrived in Los Angeles twenty minutes before Turner did.
Out to Best Amelia Earhart's Flying Record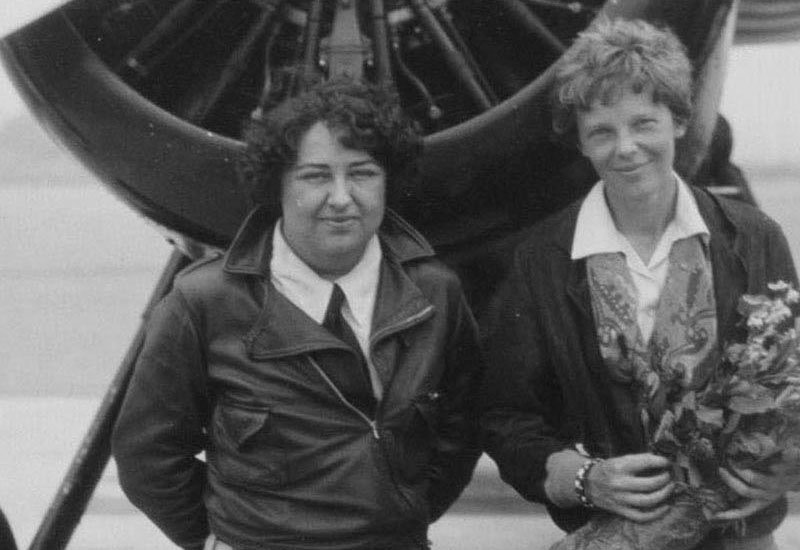 In 1930, Pancho set out to break Amelia Earhart's record for air speed. She had acquired a Travel Air Model R "Mystery Ship." These planes were wire-braced, low-wing racing planes built in the late 1920s and early 1930s by the Travel Air Company. They were known as "mystery ships," as the first models were built in total secrecy. Some of the most notable pilots of the day flew Type R's, including Air Force pioneer aviators Jimmy Doolittle and Frank Hawks.  And of course, one of the planes was sold to Pancho.
In her "mystery ship," she flew 196.19 miles per hour, breaking Earhart's record.
Added to Income
Though most pilots refused to fly at night, Pancho knew the serenity and the beauty of night flying. She was so familiar with the airport at Carpinteria, that she soon began selling tickets for night flights.
With Pancho rarely home, and with her husband, the reverend, apparently comforting women in his congregation with late-night visits, the marriage ended amicably. Surprisingly, the two remained good friends and kept an active correspondence for many years, according to Lauren Kessler in The Happy Bottom Riding Club: The Life and Times of Pancho Barnes.
Stunt Pilots
Hollywood filmmakers lusted after anything new that they could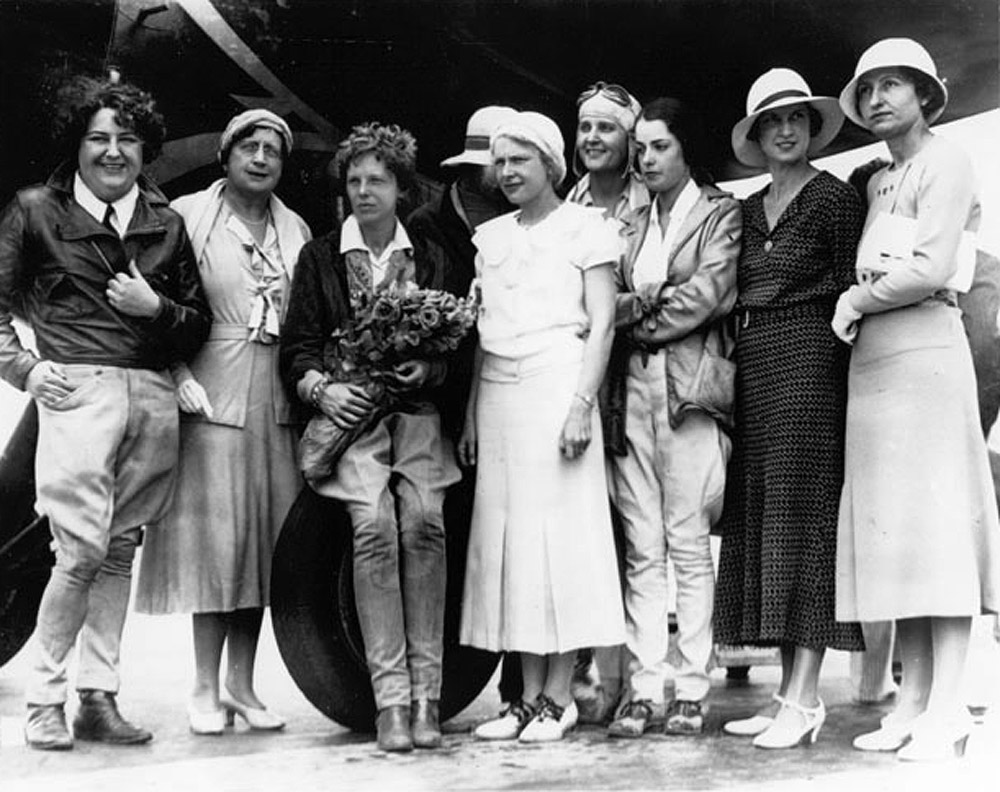 bring to audiences, and flight was no exception. One of the major films being worked on during the late 1920s was Howard Hughes's epic, Hell's Angels (released in 1930). Pancho was among the stunt pilots working on the film, and she decided the stunt pilot needed a union. It was a dangerous job, and there needed to be some way to maintain certain safety standards and to be sure the pilots were well paid. In 1932, she began the Associated Motion Picture Pilots, a union of film industry stunt fliers.
Happy Bottom Riding Club
Though Pancho had been resourceful in earning money, she never paid attention to how to manage it. Like so many others, she was wiped out during the Great Depression.  She sold her real estate holdings. In March of 1935, she bought 180 acres of land in the Mohave Desert, near what was becoming Muroc Air Field (this would eventually become Edwards Air Force Base).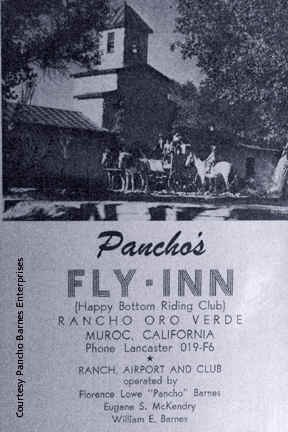 By this time, she had reunited with her grown son, Bill, and he joined her for several years at the ranch, helping her run her multiple businesses: she farmed alfalfa, kept dairy cattle, and she set up a trash hauling service for the air field.
But Pancho loved having people around, and they came to visit her anyway, so she also created a dude ranch. It was originally called the Rancho Oro Verde Fly-Inn Dude Ranch. Over time, she added a restaurant and bar, a pool, and a dance hall. There was a stable of horses to ride, and on the weekends she sponsored rodeos.
The personnel at the air field visited regularly, but so did Pancho's Hollywood pals. They knew there would be great parties.
Her favorite visitors were the military test pilots, including Buzz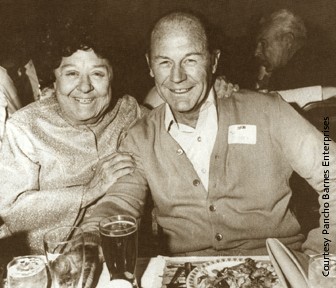 Aldrin, Chuck Yeager, and General Jimmy Doolittle. From them she picked up all the news of what was happening at the air field.
On October 13, 1947, Chuck Yeager had been at Pancho's hanging out with the best of them. The next morning he reported to Edwards and took the controls of the rocket-powered Bell X-1 rocket pushing, it to 700 miles per hour. When Pancho heard the sonic boom, she knew her friend had been first to break the sound barrier (10-14-1947), just as he intended to be. There wasn't much that happened at the Air Field that Pancho didn't know about.
Fly-Inn Becomes Happy Bottom
It was General Jimmy Doolittle who gave the ranch its new name,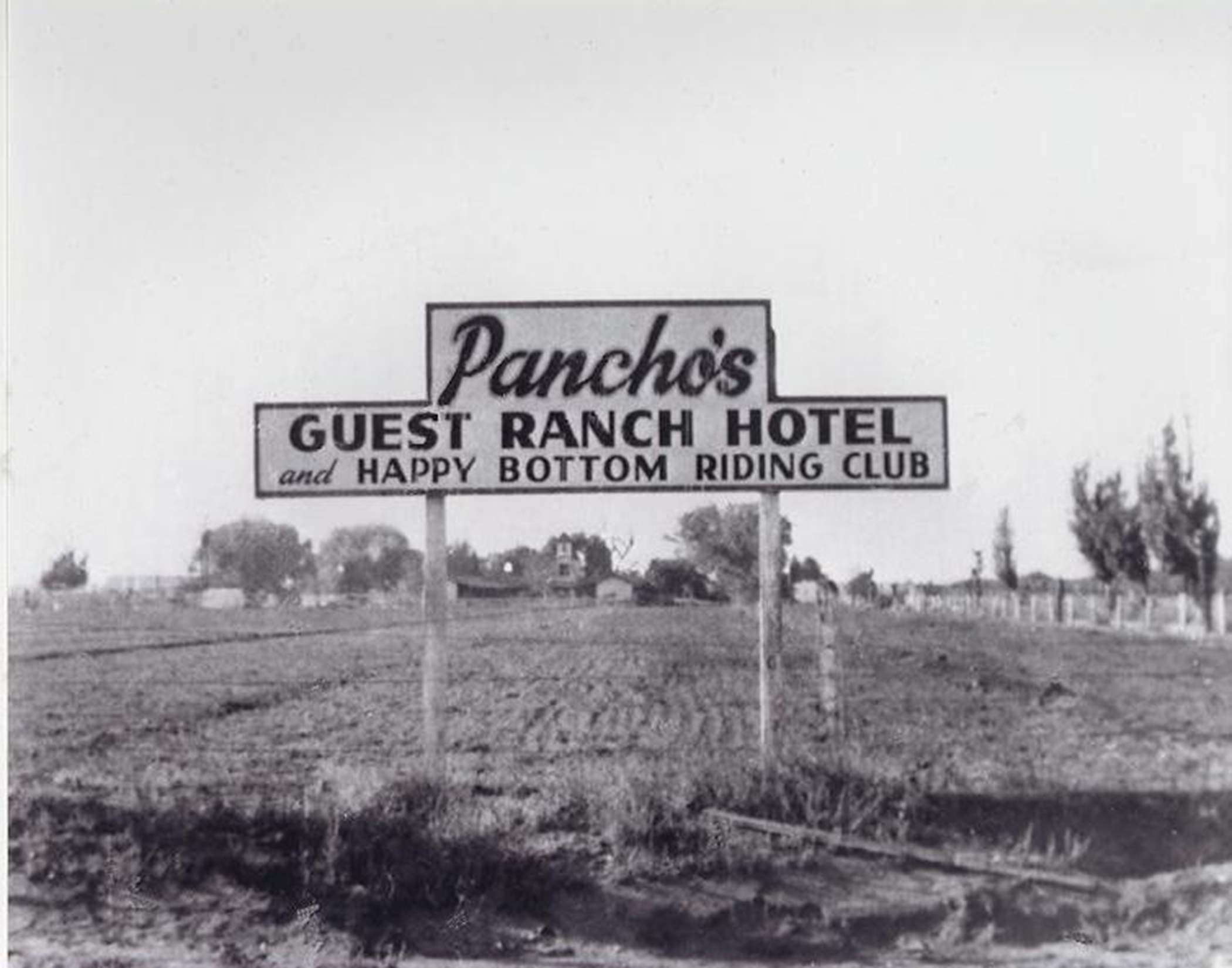 The Happy Bottom Riding Club. After a long ride on one of Pancho's horses. Doolittle noted that he had a "happy bottom." Of course, the signage with the alluring cowgirl referenced something more.
Pancho often found herself mired in lawsuits, and one of them led to an investigation of whether or not she was running a prostitution ring. After a close and careful examination, the case ended with the conclusion that while some of the staff might have been paid for their sexual services, Pancho was not running the operation, and she did not take a cut of it.
Hard Time in the 1950s
In 1952 Edwards Air Force Base came under new command, and the new general wanted nothing to do with Pancho Barnes. He wanted
to expand the base, which meant buying out Pancho. She fought the effort with a lawsuit, and they countered with one of their own. Then in 1953, the main ranch house burned in a fire of mysterious origin.
Pancho continued to press her case, stating that the government owed her due consideration since her grandfather "founded the US Air Force." She was eventually awarded $375,000 for her property and business.
After the sale, Pancho moved to Kern County, California, with some of her horses, but she was no longer able to take care of herself or them. One of her four former husbands checked in on her regularly but this was a sad and desperate time for Pancho.
Fortunately, Pancho lived long enough to be re-discovered. Several groups around Edward Air Force Base brought her down to the area to honor her and to let her tell stories. Pancho loved every minute of it.
Late in life, her prime disappointment was that she could no longer qualify to be in the cockpit. Aviation had become too sophisticated.