• Sought fame and fortune by taking a plunge over Niagara Falls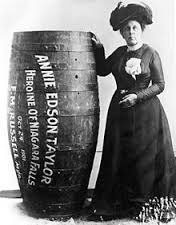 • First person ever to successfully go over the Falls in a barrel
• Used scientific calculations to prepare her barrel
• Afterward pronounced: "No one ought ever to do that again."
While no parent aspires to raise a "daredevil," this is a category of adventurer that is usually dominated by men. So this year—our fourth year celebrating Women's History Month at America Comes Alive—it seems fitting to start with a woman who demonstrated the same type of pluck and courage as her male counterparts at the turn of the 20th century.
While today none of us would think that going over a waterfall in a barrel was a very good idea, Annie Taylor's qualities are the same as those of astronauts, arctic scientists, deep sea divers, explorers, and our field conservationists. Today we would just expect to harness those qualities differently.
Early Life
Annie Edson Taylor was born near Niagara Falls in Lockport, NY. She was one of eight children. Teaching was one of the few professions open to women in the mid-19th century, and while she was studying to become a teacher, she met and married David Taylor. They were married for seven years, but he died while fighting in the Civil War, leaving her a widow.
Their infant son also died, so Taylor felt rootless and moved from teaching job to teaching job never really settling down. By the time she was 60 years old, she was relying on financial support from her sister-in-law and was looking for a way to make money.
Annie Edson Taylor: Looking for Income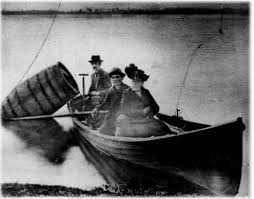 The Pan-American Exposition was taking place in Buffalo, New York in 1901, and it occurred to Annie Taylor that Niagara Falls would likely have additional tourists who would come to the nearby Falls after visiting the Exposition. This gave her an idea.
In addition to being a popular tourist destination, Niagara Falls had caught the interest of daredevils. Swimmers had risked their lives to swim across difficult sections of the river; tightrope walkers had strung high wires above the Falls and navigated across the span. Now a new trend was underway… riding the Whirlpool Rapids below the Falls in a barrel.
Annie Taylor decided the way to fame and fortune would be to take the barrel stunt one step further by daring to go over the Falls in a barrel.
"You're a goose!" was the reaction she got from her friends, but she persevered and began to put together a plan that she thought would work. She chose to have a pickle barrel rebuilt to her specifications:
The barrel needed to be big enough to hold her. The rebuilt barrel was about 4.5 feet high and about 3 feet in diameter, and at that, she could just squeeze in and have padding added around her.

She needed a team to take her out and launch the barrel. Ultimately, Annie hired a carnival promoter to manage the event, as she realized she needed someone to coordinate details and publicize it.

Within the barrel, it was important to remain upright as much as possible. She had a 200-lb. anvil attached to the bottom of the barrel so that the barrel would quickly right itself whenever it rolled over.

She needed to have enough air in the cavity to last until the ride was over. A couple of emergency air holes were drilled in the top of the barrel; they had cork stoppers that she could punch out if necessary. In addition, when the men sealed her in, a bicycle pump was used to pump extra air into the cavity for the trip.
The system needed to be tested to see if the barrel would survive with a living thing inside. Earlier in the week a domestic cat was put in the barrel, and the barrel was sent on the journey it would make with Taylor. The barrel was fine, and though some reports are that the cat suffocated, other reports are that the cat made it. There is a photograph of Annie and a cat with her barrel, so perhaps the cat was annoyed but fine.
The Big Day
On October 24, 1901, reporters and several thousand spectators gathered to see if Annie Edson Taylor would live or die.
Taylor rode in the boat with her team, the barrel bobbing along behind them. About a mile before the brink of the Falls, the men pulled in at Grass Island where Taylor took off her heavier clothing, climbed into the barrel, and was fastened into a harness of sorts that held her in place as much as possible. Pillows were added on either side of her head to provide cushioning. The top was sealed in place, and the extra air was pumped in.
Annie Taylor, in her barrel, was set adrift at about 4:05 p.m. according to The New York Times. The barrel sped along, passing out of sight from the crowd now and then but then racing toward Horseshoe Falls where it dropped at a height of about 158 feet.
Spectators and the rescue boat were all relieved when they saw the barrel bob up from beneath the Falls. However, it took the rescue boat about another 20 minutes to get into a position to open the barrel to see how Annie fared. About one hour and 20 minutes had elapsed from time the barrel was first closed to the moment when the top was opened.
Did She Live or Die?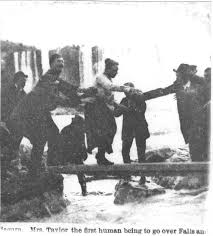 To open the barrel, the top had to be sawed off which took a little extra time, but to everyone's relief, Annie Taylor was alive and talking. She was bumped and bruised and had a 3-inch gash behind one ear. It was thought she suffered a mild concussion, but after the top was open, she was able to be helped out of the barrel and walk along the shore to the Maid of the Mist dock. A carriage was waiting to take her back to her rooming house. Doctors checked on her throughout the night.
Later she said: "I felt as though I was being knocked to pieces and churned all over…I struck rocks three times and the water seemed to come in the barrel everywhere. I knew when I went over the fall, and lost my senses just a minute…. People here have been good to me and I did this to help those who helped me. I hope some good will come of it.
"I would rather face a cannon knowing that I would be blown to pieces, then go over the falls again."
The Aftermath
Though she enjoyed an initial wave of publicity, it did not last. After being paid for a few of the speeches she gave, she was reduced to going from souvenir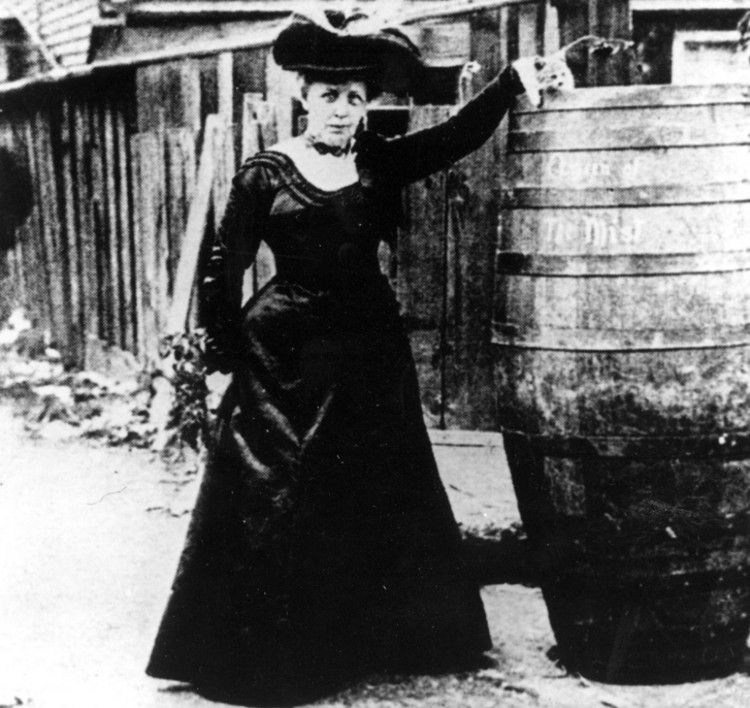 shop to souvenir shop to sell postcards of herself or to hope for a tip if someone wanted to take a picture of her.
In 1921 she died a pauper, but a few friends raised funds so that she could be buried in the "Stunters" section of Oakwood Cemetery in Niagara Falls. The headstone noted her 1901 accomplishment.
Today activities at the Falls are tightly regulated; if anyone challenges the Falls and does not have a permit, it is punishable with imprisonment and fines.