First player to break color barrier in tennis
Won 56 tennis tournaments, including five Grand Slam singles titles
First African American Wimbledon champion and first African American to enter and win the championship at Forest Hills
Althea Gibson (1927-2003) was born in Silver, South Carolina in 1927 but she grew up in Harlem where her family moved when she was very young.  She was an unlikely tennis champion because of her color. In addition, there was no avenue for her to learn to play a sport like tennis.
Her father taught her to box, and she won Police Athletic League contests. But Gibson lacked support and inspiration for playing  a game like tennis. When she was 13, she dropped out of school and lived at a facility run by the Society of Prevention of Cruelty to Children. New York Times reporter Robert McG. Thomas Jr. wrote in 2003 that during that time Gibson was "an eighth-grade dropout who haunted pool halls and bowling lanes and made the back alleys her home."
She was also a natural athlete, and while she resisted applying herself to any one thing, her ability attracted attention.  Musician Buddy Walker noticed her skill at paddle ball, and thought she might do well in tennis. He brought her to the Harlem River Tennis Courts, where she learned the game and began to excel.
Masters Tennis
By 1942 Gibson had won the girls' singles event at the American Tennis Association's New York State Tournament. (The ATA was an all-black organization, providing tournament opportunities not otherwise available to black tennis players.) In 1944 and 1945 she again won ATA tournaments.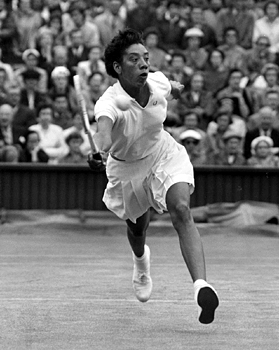 Gibson's strong serve, fast pace and dominant court presence caught the attention of two African American doctors when they saw her play in an ATA championship match in Wilberforce, Ohio. Gibson lost that match, but the men were intrigued.  Both Hubert Eaton from North Carolina and Robert W. Johnson of Virginia played tennis themselves, and they wanted to help a player break the color barrier in tennis.
The men saw that Gibson's lack of discipline and her inattention at school was not helping.  They arranged for her to live with Hubert Eaton's family in North Carolina. She attended the local high school and Eaton arranged for her to take tennis lessons. During the summer Robert Johnson toured with her while she played tournaments.  (Johnson also sponsored Arthur Ashe a good number of years later.)
Althea Gibson: Break Color Barrier?
Gibson continued winning in the ATA (1947-56) but other tennis tournaments remained closed to her until 1950–most notably, the American Lawn Tennis Association championship at Forest Hills.  In 1950 white tennis champion Alice Marble wrote an article in American Lawn Tennis magazine, noting that this excellent player was not able to participate in the better-known championships, for no reason other than bigotry:  "If Althea Gibson represents a challenge to the present crop of players then it's only fair that they meet this challenge on the courts."
She added: "The entrance of Negroes into national tennis is as inevitable as it has proven to be in baseball, in football, or in boxing."
On August 22, 1950, the U.S. Lawn Association (forerunner of the U.S. Tennis Association)  relented, and Gibson was allowed to play. Her first match was against Louise Brough, the reigning Wimbledon champion. The match was called because of rain, and when it resumed the next day, Gibson was overwhelmed by the press coverage and the photographers.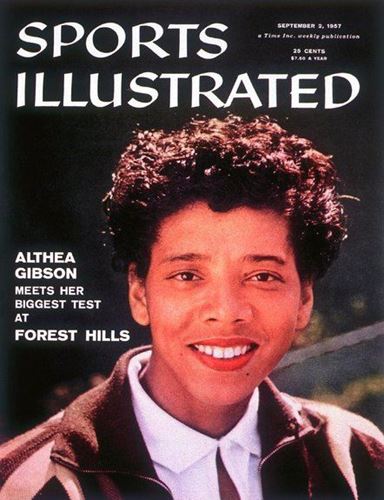 During those years, she was an inconsistent player, so while she played some stand-out matches, championships still eluded her.  Then in 1956 she won her first championship in France and in 1957 she won the U.S. Nationals.  That year the Associated Press voted her Female Athlete of the Year, the first African American woman to receive that honor.
The Honors Come to Althea Gibson
In the late 1950s, Gibson won eleven major titles including three straight doubles at the French Open in 1956, 1957 and 1958. She was winner of the French Open in 1956, Wimbledon in 1957 and 1958 and the U.S. Open in both those years as well.
She was featured on the covers of both Sports Illustrated and Time magazine in 1957.
In her autobiography, she wrote of  Wimbledon: "Shaking hands with the Queen of England was a long way from being forced to sit in the colored section of the bus going into downtown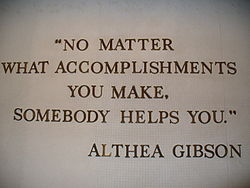 Wilmington, N.C."
As with Jackie Robinson in baseball, Gibson won tournaments but in many cities, she was denied hotel rooms.  One restaurant refused to book a luncheon in her honor.
In 1958 she retired from amateur tennis.  In that day there was no prize money (other than an expense allowance) no endorsement deals, and  no professional tour for women.  Gibson was limited to play in a series of exhibition tours.
In 1971 she was inducted into the International Tennis Hall of Fame.
Gibson Moves on to Golf
In 1963, Gibson switched her concentration to golf. That year, she became the first African-American woman to join the Ladies Professional Golf Association, where she remained a member for fifteen years. Though she had a strong swing, she was old for picking up a new sport, and her best tournament finish was second place.
In 1975, Althea Gibson was named the New Jersey Commissioner of Athletics. She held this position for ten years and also served on both the State's Athletics Control Board and the Governor's Council on Physical Fitness.
Health and Money Issues
In 1992 Gibson suffered severe health issues and faced financial problems trying to pay for her medical care.  Her former doubles partner, Angela Buxton, wrote a letter that appeared in a tennis magazine asking for help for her friend. There was an outpouring of support, and Gibson received more than $1 million in donations from around the world.
Althea Gibson died in 2003 at the age of 76.
In 1998 a foundation was created in her honor, and it still exists today to raise money to help identify and support gifted golf or tennis players who live in urban environments.
USTA Adds Gibson Statue at U.S. Open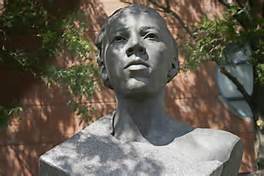 As the 2019 tennis championship got underway at the U.S. Open in Forest Hills, Queens, the United States Tennis Association gave Althea Gibson her due.
On August 26, 2019, a statue of Gibson was unveiled. Althea Gibson was a remarkable athlete and a champion tennis player who successfully broke the color barrier in tennis. It is only fitting that a monument to this woman sit on the grounds near Arthur Ashe stadium.
***
To read about Jackie Robinson, click here.   Even once he was accepted on a team, he was barred from flying to spring training.