• Third woman elected to the National Academy of Science (1944)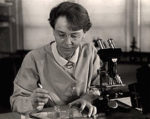 • First woman president of the Genetics Society of America (1945)
• Received the National Medal of Science (1971)
• First American woman to be sole winner of a Nobel Laureate in Physiology or Medicine (1983)
Barbara McClintock was born in Hartford, Connecticut, the third of four children born to a physician and his wife. Because Dr. Thomas McClintock was still establishing a practice, the decision was made for three-year-old Barbara to stay with an aunt and uncle in Brooklyn for several years.
She later attended Erasmus Hall High School in Brooklyn where her interest in science blossomed. She wanted to attend Cornell University to continue her studies. She was accepted but her father's financial problems and her mother's resistance to the thought of her daughters going to college instead of marrying almost waylaid McClintock's dream. Fortunately, her father recognized her passion and found a way to send her to Cornell where she obtained her undergraduate and doctoral degrees at the College of Agriculture.
Study of Genetics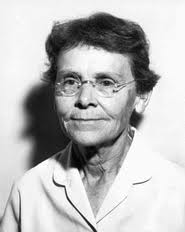 While at Cornell, her interest was further captured by Professor C.B. Hutchinson who was teaching the only course concerning genetics that was open to undergraduates.
McClintock wrote of the era: "Genetics as a discipline had not yet received general acceptance. Only twenty-one years had passed since the rediscovery of Mendel's principles of heredity. Genetic experiments, guided by these principles, expanded rapidly in the years between 1900 and 1921. The results of these studies provided a solid conceptual framework into which subsequent results could be fitted. Nevertheless, there was reluctance on the part of some professional biologists to accept the revolutionary concepts that were surfacing. This reluctance was soon dispelled as the logic underlying genetic investigations became increasingly evident."
McClintock's attentiveness had caught the professor's attention, and he invited her into the only other genetics class—one for graduate students—offered at Cornell. By 1927 she had earned a Ph.D. She stayed to teach botany and soon was given a fellowship from the National Research Council.
During these years, Cornell became a hub for others interested in plant genetics, and soon McClintock was working with a stimulating group where there was a feeling of support and collegiality. McClintock's focus was on cytogenetics of maize (the genetic study of maize at the cellular level) and she began to develop the theory that genes could move around and between chromosomes. A fellow scientist at Cornell noted that McClintock's 1929 "Genetics" paper triggered scientific interest in maize cytogenetics, and he attributed to his female colleague 10 of the 17 significant advances in the field that were made by Cornell scientists between 1929 and 1935.
Gender Bias
Unfortunately, the collegial atmosphere did not last. There were those who resented or were skeptical about accomplishments of women in the sciences, and McClintock left Cornell in

1936 because of resentment on the part of one of the scientists with whom she was working. She took a position at the University of Missouri but soon realized that being female was going to keep her from advancing there, no matter how remarkable her scientific accomplishments. In 1942 she accepted an appointment to the Carnegie Institute at Cold Spring Harbor and maintained a working relationship with the Cold Spring Harbor Laboratory for the rest of her life.
In 1944 she became only the third woman to be elected a member of the National Academy of Sciences. In 1971 she received the National Medal of Science, the U.S. government's highest science award.
Finally in the late 1970s and early 1980s there were improvements in molecular techniques that allowed other scientists to confirm her work; consequently she was awarded the Nobel Prize in Physiology or Medicine in 1983, the first American woman to win one on her work alone.
In 1981 she was awarded a MacArthur Prize and she received fourteen honorary Doctor of Science degrees as well as an Honorary Doctor of Humane Letters. In 1986 she was inducted into the National Women's Hall of Fame.
Though the ability to study science at the molecular level greatly changed McClintock's world of genetics, her work is still highly esteemed and still relevant despite the fact that much of it was completed over half a century ago.