Created a product that launched in international empire

Helena Rubinstein was the eldest of eight daughters born to a store owner and his wife in Kraków, Poland.
At the age of 32, Helena moved to Australia to stay with relatives. She wore stylish clothing and had beautiful skin so she attracted attention.  Local women, who were well-acquainted with the drying effects of the Australian sun and wind, wanted to know the secret of her complexion.  Rubinstein used a skin crème prepared by Hungarian chemist, Jacob Lykusky.  She realized if she could duplicate it, there was a market.
The key ingredient in the cream was lanolin from the wool of sheep, and of course, sheep were in abundant supply in western Australia.  The challenge was finding a way to mask the pungent smell of the lanolin. Rubinstein experimented with lavender, pine bark, and water lilies until she found a combination that worked.
Building a Business
Rubinstein moved to Melbourne and took a job as a waitress until she could find someone interested in investing in her product, Crème Valaze, as she called it. After finding an investor who put up $1500, she established a small beauty salon where women could come to buy the product.  Rubinstein worked in the shop herself so she began to learn about her customer.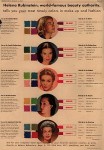 Over time, Rubinstein came up with the fact that the "sell" for skin care needed to be something special.  Women were encouraged to come in to have their skin "diagnosed" and a treatment prescribed.  Within two years Rubinstein's reputation was assured. She repaid the $1,500 and expanded to Sydney.
Rubinstein had dreams of expanding beyond Australia, but because women could not get business loans at the time, she decided she would save the money herself instead of taking partners or investors.  Five years later she had saved $100,000, enough to open a salon in London.
Rubinstein was on her way to building her empire and one of the world's first cosmetic companies; several of her sisters came to run various parts of the company for her.
Personal Life
In 1908 she married journalist Edward Titus and gave birth to sons in 1909 and 1912.  In 1914 they moved to Paris, where Rubinstein ran the business end of the company but also saw the benefits of circulating within society to increase interest in her product.
In 1915 with the outbreak of World War I, she and her family moved to the United States, settling in Greenwich, Connecticut. She opened her first Maison de Beauté in New York City in a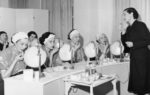 brownstone on West 49th Street.
She also encountered a prime competitor, Elizabeth Arden. The competition did not slow either company, and it may have been that the two powerhouse businesswomen helped drive demand.   As in Europe, the prime market for makeup in the U.S. was limited to those who appeared on stage, so the marketing of Elizabeth Arden and the Rubinstein empire helped build awareness among an untapped female clientele who were willing to spend money on cosmetics.
Rubinstein soon found that her single salon soon proved inadequate and she rapidly opened salons in Boston, Chicago, Philadelphia, San Francisco, Washington DC, and Toronto, Canada.
Rubinstein was a brilliant innovator in training her saleswomen and teaching them to explain to customers the importance of making the creams and cosmetics a regular part of their routine. This, of course, increased demand.  She also inaugurated a "Day of Beauty" in her salons which became an instant success.
Perhaps partially because of having seven sisters, Rubinstein was particularly comfortable in the setting of running a business that was specifically for women. "Here [women] have found a field that is their own province—working for women with women, and giving that which only women can give—an intimate understanding of feminine needs and feminine desires," she was known to have said.
Sold U.S. Company Temporarily
In 1928, Rubinstein made the decision that she should concentrate on her companies in Europe, and she sold controlling interest in her United States holdings to Lehman Brothers. They paid $7.3 million (the equivalent of about $88 million today). One year later—after the stock market crash–Rubinstein decided that Lehman could not maintain the quality she had established for her business, and she purchased back the controlling stock for $1.5 million.
Rubinstein was enormously successful and while she invested in art and sculpture and enjoyed wearing designer clothes, she was frugal about many things. The best example of this was that Helena Rubinstein arrived at work most days with her home-packed lunch in a brown bag.
In 1938 she and Edward Titus divorced, and later that same year Rubinstein married a Russian, Prince Artchil Gourielli-Tchkonia, several years her junior.  Together they established a gentlemen's product line through the House of Gourielli in New York City.
Widowed in 1955, Rubinstein maintained a demanding work schedule throughout her life. She also paid attention to her charitable interests. The Helena Rubinstein Foundation, created in 1953 and still operating today, has primarily focused on giving to organizations concerned with health, medical research, and rehabilitation. She also felt strongly about Israel and supported the American Israel Cultural Foundation and awarded scholarships to Israelis. The Foundation also funded the Helena Rubinstein Pavilion of Contemporary Art in Tel Aviv where a collection of miniature rooms she collected is displayed.
Helena Rubinstein died in New York City in 1965 at the age of 94.