Considered America's first major prima ballerina and first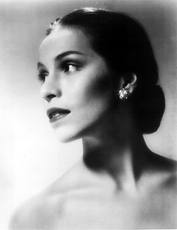 Native American to achieve that distinction
Elizabeth Marie Tall Chief was born on an Indian reservation in Fairfax, Oklahoma in 1925.  Her mother was of Irish and Scottish descent and her father was a member of the Osage tribe.
The Osages were a semi-nomadic tribe and traveled throughout the Missouri and Arkansas area until the United States removed the Osage people from their native lands, pushing them into Kansas. In 1865 her grandfather, a tribe leader, helped negotiate a treaty with the U.S. that gave the tribe land in Oklahoma. Of key importance to the Osage people was that the treaty maintained mineral rights to the land. This proved a wise move on their part when oil was discovered a few years later. All those who remained with the Osage Nation benefited financially.
 Growing Up on the Reservation
In her autobiography, Maria Tallchief: America's Prima Ballerina (1997), she wrote of her childhood: "I was a good student and fit in at Sacred Heart (Catholic school). But in many ways, I was a typical Indian girl — shy, docile, introverted. I loved being outdoors and spent most of my time wandering around my big front yard, where there was an old swing and a garden. I'd also ramble around the grounds of our summer cottage hunting for arrowheads in the grass. Finding one made me shiver with excitement. Mostly, I longed to be in the pasture, running around where the horses were…"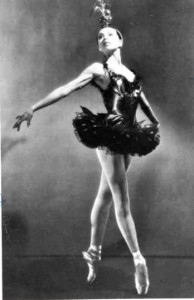 When Betty Marie (as her family called her) was eight, the family relocated to Los Angeles. Her mother wanted to enroll Betty Marie and her sister, Marjorie, in a good dance school, and a dance teacher named Ernest Belcher was recommended. Belcher, whose daughter would grow up to be film and television star Marge Champion, was the perfect teacher for the sisters. He saw that the training the young girls had received thus far established poor habits if they were serious about careers as dancers. He helped re-train them, for which Tallchief always gave him thankful credit.
After several years with Belcher, Mrs. Tallchief moved her girls to a ballet teacher. Madame Nijinska was the sister of a great Russian ballet dancer, Vaslav Nijinsky, and had just begun a school in Beverly Hills. Betty Marie and Marjorie began taking classes there.
Betty Marie attended Beverly Vista High School where she faced frequent taunting. Other students teased her mercilessly about her last name, making war whoops when she walked by and asked where her feathers were. She and Marjorie also found that Tall Chief confused teachers…should they be alphabetized with the "T's" or the "C's"?  For these reasons, the girls assumed the surname "Tallchief."
Maria Tallchief, Professional Dancer
In addition to her ballet work, Betty was beginning to be hired for professional work; she was a dancer in a Judy Garland movie Presenting Lily Mars as well as a few other films.
When the highly acclaimed Russian ballet company, the Ballet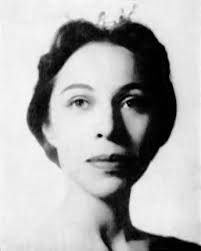 Russe de Monte Carlo, came to Los Angeles in the late 1930s, it was arranged for Betty to have an audition. The company director was impressed and wanted her for his company, but insisted she finish high school first.
Not long after Betty Marie arrived in New York, a dancer left the Ballet Russe.  This gave the Native American dancer her start.  Later when she was learning a role for Rodeo, choreographed by Agnes de Mille, de Mille suggested that she call herself Maria, since there were already several Elizabeths and Maries in the Ballet Russe.  From that time forward she was Maria Tallchief.
Professional Career
Tallchief proved to be an exceptional dancer. She brought an unusual feel for the music to her work as well as remarkable speed, energy, and fire.  As a result of her talent and excellent work ethic, she was soon appearing as a soloist.  She danced in several of George Balanchine's works. Balanchine was so inspired by her that he choreographed many parts specifically for her, including Firebird, Swan Lake, The Nutcracker, and Orpheus, to name just a few.
He also fell in love with her. They were married in 1946.  After working together at the Paris Opera in 1947, Balanchine brought Tallchief home to his Ballet Society, the company that would become New York City Ballet.
With each new company she joined, Tallchief's heritage was greeted with skepticism—she was not Russian or European… or even white American.  Each time, she had to prove herself, but it did not take long for her talent, dedication, and artistic ability to win out; the public fell in love with Maria Tallchief. Tallchief was called upon to dance as many as eight performances each week, and her legend grew.
Tallchief as Prima Ballerina
At the New York City Ballet, Tallchief became recognized as one of the greatest dancers in the world. She became the prima (lead) ballerina for the company and held that position for eighteen years until she left the company.
Though her role in Firebird became her most famous work, Tallchief's personal triumphs extended beyond Balancine's choreography. She appeared with Erik Bruhn at the American Ballet Theatre and was Rudolf Nureyev's partner of choice in the young Russian defector's American debut in 1962, which was televised.
Personal Life, Retirement, and Honors
She and Balanchine separated in the early 1950s, and Tallchief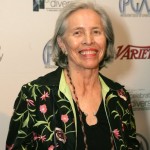 continued with the company but also accepted guest artist invitations.  She joined the Ballet Russe de Monte Carlo as a guest artist in 1955 and 1956, receiving the highest salary ever paid any dancer.
In 1956 she remarried and took her only leave from ballet in order to become a mother (1958). She returned briefly to the New York City Ballet and then joined the American Ballet Theatre in 1960.
Tallchief surprised the world by announcing her retirement in 1965, when she had just turned 41. After retirement, Maria Tallchief worked with the Lyric Opera Ballet and the Chicago City Ballet, which she and her sister Marjorie, also an acclaimed dancer, helped found. She also served as an honorary artistic advisor to the Chicago Festival Ballet.
In 1996, Maria Tallchief was a recipient of the Kennedy Center Honors for her contributions to the arts; in 1999, she was  presented with a National Medal of the Arts award by the National Endowment for the Arts. She was also inducted into the National Women's Hall of Fame.
Maria Tallchief died in 2013 at the age of 88.
To see a wonderful clip of Tallchief in her role in Firebird, click here.