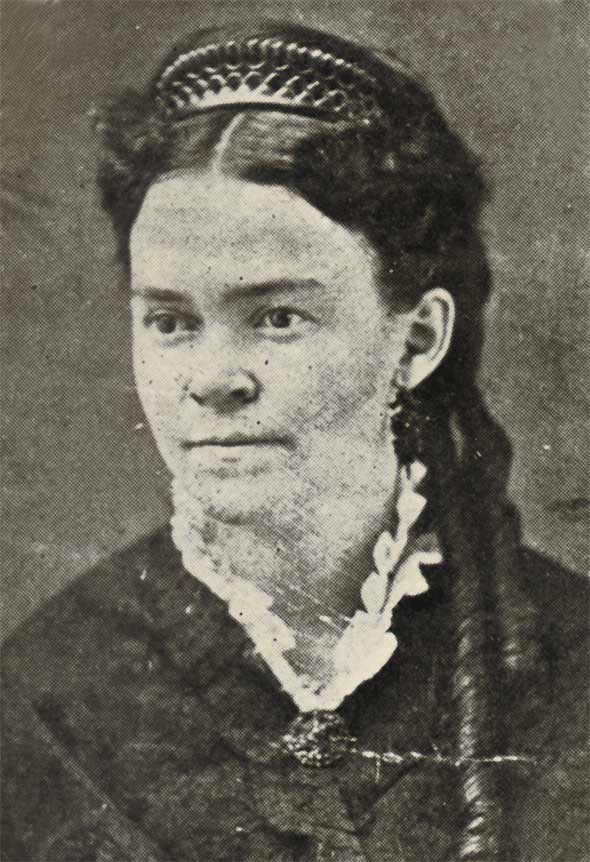 Her approach was more radical than most, but in some ways she was a forerunner of a future group of women, Mothers Against Drunk Driving
She resorted to violence to make her point but also assured her critics that she wouldn't have had to choose this route if women had the right to vote
Carrie Amelia Moore Nation was born in 1846 in Kentucky to a slave-owning family that was very religious.  In 1854 the family moved to Cass County in western Missouri, which turned out to be close to the fighting going on in Kansas over slavery. At various times then and during the Civil War, Carrie Nation was among the women who aided injured soldiers in the area.
In 1867 Carrie married a young physician who had boarded with the family for a time.  Charles Gloyd had a serious drinking problem and he soon abandoned Carrie, who was pregnant with their child.  He died about a year after the baby was born.  Carrie sold all that she owned so that she could build a small house in Holden, Missouri where she lived with her daughter and her mother-in-law.  She taught school there for several years.
Mother Nation
In 1874 she married David Nation, a widowed journalist and lawyer, and she became a mother to his children.  David Nation did not seem to be consistently employed, and in 1889 the family moved to Medicine Lodge, Kansas where he became a preacher. Carrie devoted her days to helping the unfortunate in the community, and she soon became known as Mother Nation.
She worked with women and children and also volunteered at the prisons, which reinforced her belief that alcohol was and tobacco were at the root of most society's evils.  Shortly after arriving in Medicine Lodge, she formed a local chapter of the Woman's Christian Temperance Union (WCTU) with the goal of banning the sale of alcohol.  (The Save-a-Soul Mission in Guys and Dolls is based on the  nationwide WCTU.)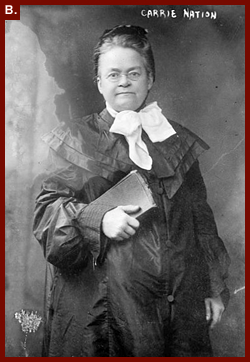 Eventually Kansas passed a law that it was illegal to sell alcohol but clubs and restaurants still found ways to serve those who wanted it.  As Carrie became aware of this, she gathered WCTU members and they would stand outside the offending saloon saying prayers and singing hymns; the bars soon quit serving alcohol.
She felt so strongly about the issue that she would sometimes go alone. Carrie was almost 6 feet tall and weighed about 175 pounds, so as she went into the saloons unaccompanied, she would have been an imposing figure.  Her words were often: "I have come to save you from a drunkard's state."
In 1900 Carry believed she had been visited by God and that he wanted her to go to Kiowa, Kansas to close the bars there. Rather than using prayers and singing, Carrie arrived with rocks ("saloon smashers") and when she got in, she would aim for the bottles of alcohol, trying to break as many as she could.  She continued this violence in Wichita and Topeka.  In Topeka someone provided her with a hatchet, and the image of this almost 6-foot tall woman wielding a hatchet became iconic.
Carrie Nation was physically assaulted and often arrested while carrying out her mission, but she continued on.
Carrie also began publishing a newspaper where she wrote about the evils of drinking as well as other issues that were important to her, including advice on child rearing and the importance of women gaining the vote; she pointed out that the vote provided a peaceful method for working out differences of opinion.
By the early 1900s, her marriage had disintegrated so Nation supported herself by traveling a lecture circuit and selling replica hatchets to fund her cause.  By about 1903 she had raised enough money to buy a house in Kansas City, Kansas. She lived there and provided shelter to women who had to leave their homes because of alcoholic husbands.
In 1903 her autobiography was to be published, so Carrie officially changed the spelling of her first name to Carry.  She explained that with change of spelling it communicated that she was ready to Carry A. Nation.  She also trademarked the name with the new spelling.
Her Legacy
At one speaking engagement on a college campus, students invited her indicating they supported her but once she was there they taunted her for her beliefs.  She remained calm and left them with the words, "The loving moral influence of mothers must be put in the ballot box."
Shortly after, she retired to Eureka Springs, Arkansas and again purchased a home large enough to offer shelter to women who needed it.  In 1911 she collapsed while giving a speech and died shortly after.
Carry Nation's work paved the way for the Eighteenth Amendment (passed in 1919) prohibiting the sale of alcohol, but her work also helped push forward the Nineteenth Amendment that gave women the right to vote, which was ratified in 1920. In 1933 Prohibition ended with another constitutional amendment.